Healthy Homemade Twinkies
Healthy Homemade Twinkies!  These little cakes are sweet, moist and spongy, and they're stuffed with a creamy, vanilla bean speckled filling.
They're not exact replicas of those storebought "things" that will expire seventy generations from now, but they'll do just fine in place of them.  They're the perfect size for snacks, a filling dessert and satisfying breakfast (yes, breakfast).  Oh, and the best part?  They're sugar free, low carb, low fat, high protein, high fiber and gluten free!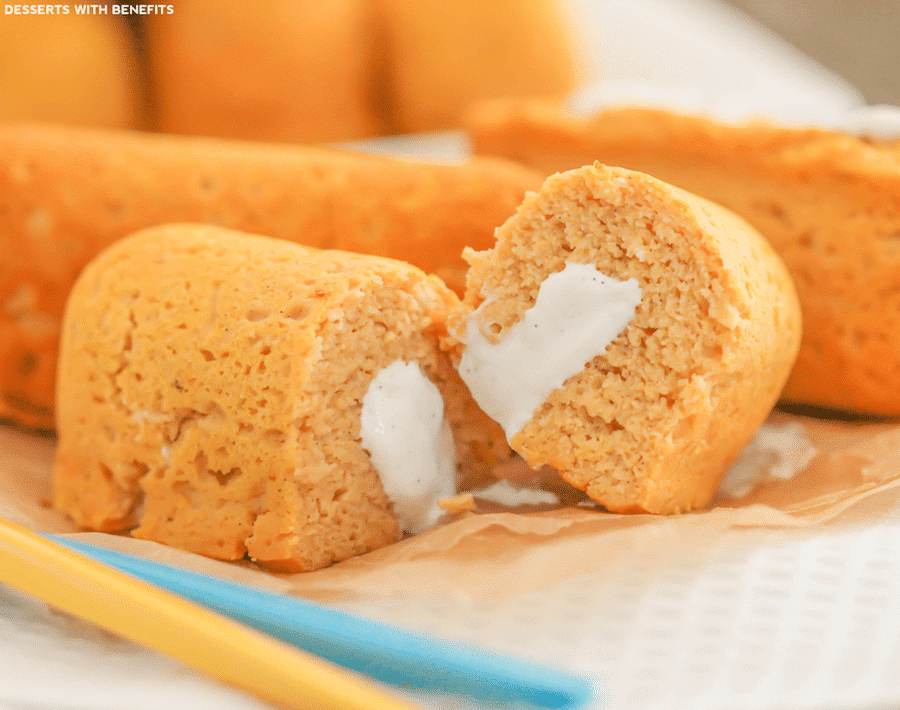 I was curious to see what the ingredients were for the original Twinkies, and oh my goodness, they're deplorable (Hostess doesn't even list them on their website):
Enriched Bleached Wheat Flour, Water, Sugar, Corn Syrup, High Fructose Corn Syrup, Partially Hydrogenated Oil, Eggs, Dextrose, Soy Lecithin, Sodium Acid Pyrophosphate, Baking Soda, Corn Starch, Monocalcium Phosphate, Whey, Modified Corn Starch, Glucose, Soy Flour, Salt, Monoglycerides, Diglycerides, Cellulose Gum, Corn Starch, Sodium Stearoyl Lactylate, Natural Flavor, Artificial Flavor, Sorbic Acid, Polysorbate 60, Soy Protein Isolate, Calcium Caseinate, Sodium Caseinate, Yellow #5, Red #40.
I have issues with the bolded stuff…  white flour, white sugar, HFCS, PHOs?!?
*gags*
Don't worry, these DIY Twinkies don't have any of those nasties  🙂
Healthy Homemade Twinkies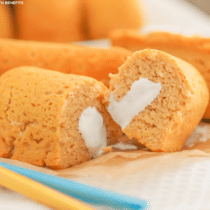 Ingredients:
.
Twinkies:
112g (1 cup) Coconut Flour
48g (¼ cup) Organic Stevia Mix** or Truvia Spoonable
½ tbs Double-Acting Baking Powder
⅛ tsp Salt
185g (¾ cup) 100% Pure Pumpkin Puree, canned (don't worry, you don't taste the pumpkin)
½ cup + 2 tbs Unsweetened Vanilla Almond Milk
114g (½ cup) Plain, Nonfat Greek Yogurt
3 Large Organic Eggs
2 Large Organic Egg Whites
½ tbs Vanilla Paste (I used homemade!)
½ tbs Stevia Extract
Vanilla Filling:
Directions:
Preheat the oven to 350 degrees Fahrenheit and spray a Twinkie pan with cooking spray.
In a medium-sized bowl, whisk together the coconut flour, stevia/Truvia, baking powder and salt.
In a large bowl, whisk together the pumpkin, almond milk, yogurt, eggs, egg whites, vanilla paste and stevia extract. Dump the dry ingredients over the wet ingredients and whisk vigorously to remove any clumps.
Scoop the batter into the prepared pan. Gently tap the pan on the counter to flatten the batter and bake for ~38 minutes, or until the surface of the cakes spring back when tapped.
Flip the Twinkies on a wire cooling rack and let cool completely. While the Twinkies cool, make the filling of your choice (I used my Homemade Cannoli Dip.
Scoop the filling into a piping bag (I used a #27 Star Tip) and carefully fill the Twinkies. Puncture the bottom of the Twinkie in 3 spots and squeeze in some of the filling (not too much otherwise the cake will burst).
Serve immediately or store in a tightly sealed container in the fridge.
Notes:
**I bought a bag of Earth's Pride Organics Organic Stevia at BJ's Wholesale. It's a mix of Erythritol and Stevia Extract (both organic and non-GMO) and is 2x as sweet as sugar so sugar will not substitute. An alternative is Truvia Spoonable.

This recipe is: sugar free, low carb, high protein, high fiber and gluten free!
Here is the recipe's nutrition label:
(doesn't include the filling since there are a couple different options)
Not too shabby, huh?  Only 3.5g fat and 2g sugar, plus 7g of fiber and 8g protein!  One storebought Twinkie has 140 calories, 4.5g fat, 18g sugar and 1g protein.  And negligible vitamins and minerals, obviously  😉
So um…  I think I'll take the whole tray of these Healthy Homemade Twinkies and keep them for myself  😉
Sharing isn't fun anyways.