Healthy Homemade Vanilla Pudding
When I scooped a (GIANT) spoonful of this Healthy Homemade Vanilla Pudding and shoved it into my pie hole, I was beyond shocked at how smooth, silky, creamy, sweet, and flavorful it was.  But why on Earth was I so shocked?  Because it's refined sugar free, low carb, gluten free, and dairy free!
*makes shocked face*
This Healthy Homemade Vanilla Pudding makes the storebought puddings in those plastic little tubs taste like garbage.  And once you read their ingredient lists, you'll realize that they ARE garbage.  I'm ashamed I used to eat that stuff allll the time.  This healthy pudding and that unhealthy pudding are not comparable.  They are not even in the same league.  That is how much better this recipe is!  I'm sure you'll love it just as much as we did.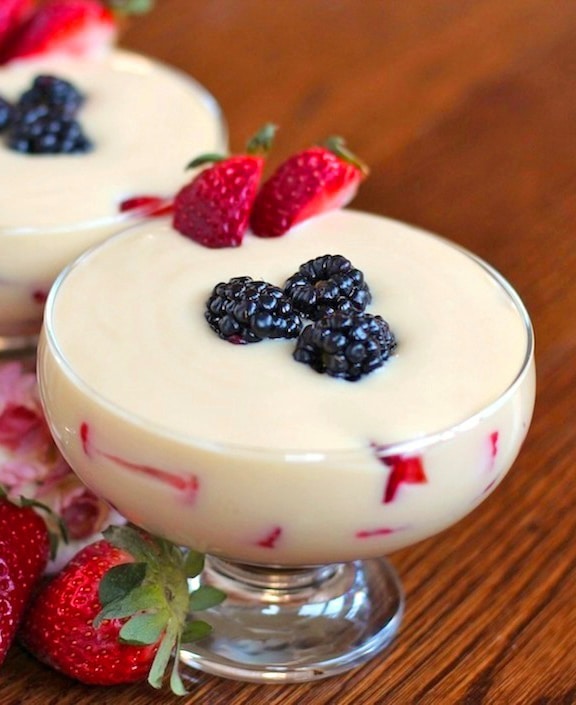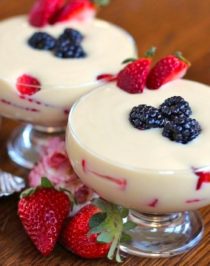 Print Recipe
Pin Recipe
Healthy Homemade Vanilla Pudding
This easy homemade Vanilla Pudding is silky smooth, the flavor is jam-packed full of vanilla, it's sweet, it's satisfying... it's perfect!
Ingredients
one

13.5oz can

Light Coconut Milk

4

Large

Egg Yolks

(room temperature)

50g

(5 tbs)

Arrowroot Starch

*

1

tsp

Vanilla Paste
Instructions
In a double boiler placed over medium heat, whisk together a tiny splash of the coconut milk, the egg yolks, and starch, until smooth.  Then, whisk in the rest of the coconut milk.  Whisk occasionally for the first 5-7 minutes or so.  Once it heats up, whisk constantly until thickened and pudding-like (total, it takes me ~12-13 minutes). DO NOT overcook!  When I took my mixture off the stove, I stuck a thermometer in it and its temperature was 140 degrees Fahrenheit.

Whisk in the vanilla paste and stevia extract.

Strain the mixture through a fine mesh sieve into a heat-proof bowl and let cool to room temperature.  Cover and refrigerate overnight.  Serve and enjoy!
Nutrition Facts
Healthy Homemade Vanilla Pudding
Amount Per Serving (1 serving)
Calories 180
Calories from Fat 108
% Daily Value*
Fat 12g18%
Cholesterol 210mg70%
Sodium 90mg4%
Potassium 20mg1%
Carbohydrates 16g5%
Protein 4g8%
Vitamin A 250IU5%
Calcium 40mg4%
Iron 0.9mg5%
* Percent Daily Values are based on a 2000 calorie diet.

Only 180 calories per serving for this rich, creamy, and insanely addictive Vanilla Pudding!
Compared to a ½ cup serving of the Epicurious Vanilla Pudding recipe, my Healthy Vanilla Pudding has:
50 less calories
HALF the carbohydrates (original recipe:  32g carbs)
ZERO grams of added sugar (original recipe:  26g sugar — that's more than 2 tablespoons)
I would gladly take an extra serving of my Healthy Homemade Vanilla Pudding instead of a single bite of the original pudding recipe.  The texture is silky smooth, the flavor is jam-packed full of vanilla, it's sweet, it's satisfying…  it's perfect.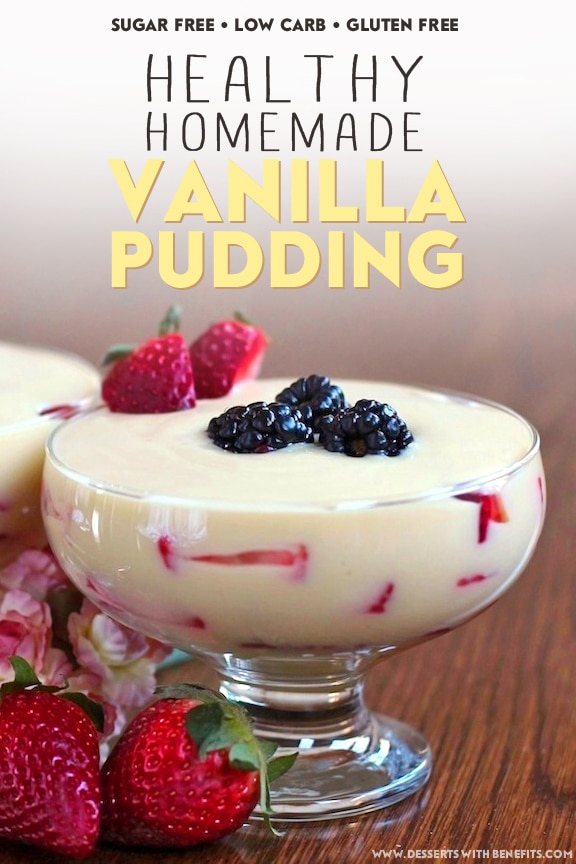 Make this.  Make this NOW!!
.
– Jess
.