Guilt Free French Silk Pie (Guaranteed Crowdpleaser!)
ATTENTION.  THIS IS NOT A DRILL.  THIS GUILT-FREE FRENCH SILK PIE IS THE BOMB AND IT'LL CHANGE YOUR LIFE!
Sorry (not sorry) for shouting, but it was absolutely necessary that I get your attention.  This pie.  THIS PIE.  It's the ultimate pie for the chocolate-lover in you — it's incredibly rich and creamy and sweet and chocolatey.
This French Silk Pie will satisfy your sweet tooth and intense chocolate craving in one fell swoop.
But wait, didn't you say it was guilt-free?  Oh yes, dear friend, yes I did.  Typical French Silk Pies are made with a pastry dough (main ingredients:  bleached all-purpose flour and lots of butter) and a chocolate sabayon (main ingredients:  egg yolks, lots of sugar, and even more butter).  A single pie can contain up to 3 sticks of butter and 1¾ cups of sugar!  But NOPE, not here.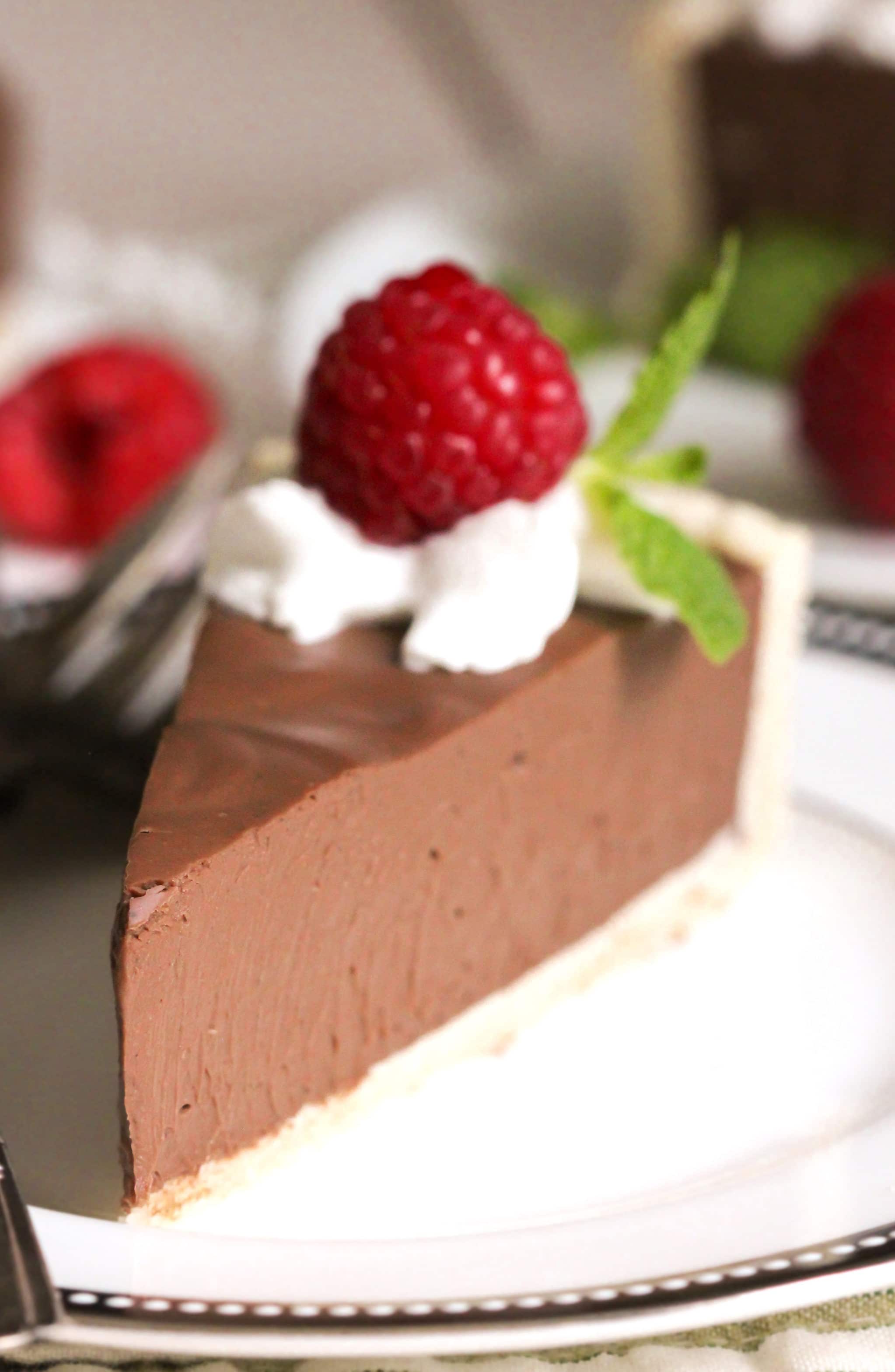 I took out all of the added butter and sugar, and kept all of the yummy delicious ahhhmazing flavor.  One bite of this Guilt-Free French Silk Pie, though, and you'd think I'm lying.  It's too rich to be free of butter.  It's too sweet to be made without the added sugar.  It's too damn good to be…  guilt-free!
French Silk Pie doesn't have to be a daunting recipe.  A lot of people get anxiety (including me) over pie crusts and sabayon, but you don't need to worry about those in this recipe.
Top off with these absolutely NON-negotiable toppings:  natural whipped cream, fresh raspberries, grated chocolate, homemade Chocolate Syrup, a light dusting of powdered erythritol, or even a scoop of softened Healthy Vanilla Ice Cream.
I got 99 problems but dessert ain't one.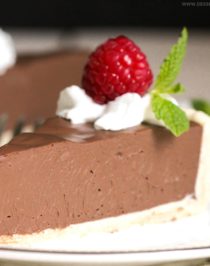 Print Recipe
Pin Recipe
Guilt-Free French Silk Pie
This French Silk Pie is the ultimate pie for the chocolate-lover in you -- it's incredibly rich and creamy and sweet and chocolatey!
Ingredients
Crust:
1 

Ready-to-Bake Rolled Pie Crust

(I used Immaculate Baking Co.)
Filling:
one

13.5oz can

Light Coconut Milk

4

Large

Egg Yolks

50g

(5 packed tbs)

Corn Starch

2

tsp

Vanilla Paste

or Vanilla Extract
Instructions
For the Crust:
Preheat your oven to 350 degrees Fahrenheit.

Bring the rolled pie crust out of the fridge and let it sit at room temp for about 20 minutes, or until slightly softened (if you unroll it cold, it could tear).  Unroll the pie crust into a 6" springform pan.  Press the crust firmly against the walls of the pan, and use a knife to cut away the excess crust.  I cut the crust ~2" high all around the pan (you can reroll the excess crust and use it to make mini galettes, pie pops, or even individual quiches!).  Bake for ~11 minutes, or until fully baked and set.  Let cool while you make the filling.
For the Filling:
In a double boiler placed over medium heat, whisk together a tiny splash of the coconut milk, egg yolks, and corn starch, until completely smooth.  Whisk in the remainder of the coconut milk.  Once it heats up, whisk constantly until thick and pudding-like.

Strain the mixture through a fine mesh sieve into a heat-proof bowl and whisk in the vanilla, stevia extract, and chocolate chips.  Pour into the cooled pie crust.

Cover and refrigerate overnight.  Slice, serve, and enjoy!

Stawp everything you're doing and make this Guilt-Free French Silk Pie (now that's an order!) — it will make your day as magical as can be.
.
With love and good eats,
.
– Jess
.