Healthy S'mores Pie
After completely failing at making a Healthy S'mores Pie just last Friday, I had to redeem myself and make a real one!  This time around, I got the firm and decadent chocolate filling I was looking for and an actual marshmallow fluff topping…  yes, I remembered to buy the eggs in advance…   *sighs*
Just look at that delicious veil of marshmallowy goodness!  Get ready to see what's underneath:
And what is hiding beneath the veil?
A thick and creamy chocolate filling,
A thick and chewy graham cracker crust,
And what I consider to be happiness, slipped in there too.
Can you say, "YUM" for me?  My mouth is full of this delicious, sweet and fudgy pie.
*blushes*
Healthy S'mores Pie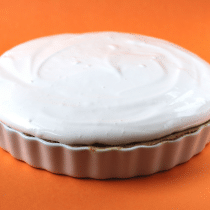 Ingredients:
"Graham Cracker" Crust:
Chocolate Filling:
Marshmallow Fluff Topping:
Directions:
For the Crust:
Blend the oats and sucanat until it's flour-like, pour into a large bowl. Whisk in the protein powder, cinnamon and salt.
Microwave the coconut butter, honey and molasses at 20-second intervals, stirring between each one, until runny. Pour over dry ingredients and fold together.
Spray a deep dish pie pan with cooking spray and dust with flour (I used brown rice flour). Use more flour to coat a flat surface for rolling.
Form a ball with the dough and place onto the floured surface. Roll to desired thickness (I like super thick crusts, and I still had some crust leftover... I ate some while cooking, I recommend doing so too, it's delicious), and press into your pie pan. Refrigerate while you make the filling.
For the Filling:
Microwave the chocolate at 30-second intervals, stirring between each one, until melted.
In a large mixing bowl, whisk together the cream cheese, sucanat, vanilla paste and stevia. Add the protein powder and whisk again.
Slowly whisk in the melted chocolate. Spread into the pie pan and refrigerate overnight. The filling should be firm, cracks may appear on the surface (this is okay, you are going to cover it with a mounds of marshmallow fluff). The next day, make the topping.
For the Topping:
(Here is a great photo tutorial: http://www.justgetoffyourbuttandbake.com/?p=934)
Prepare all the ingredients and have them handy. Put the egg whites and salt into a large bowl and beat with a hand mixer on a high speed until it is white in color (it should look like fluffy clouds)
Slowly add the erythritol, bit by bit, still whipping at high speed, until it is thick and glossy.
Slowly drizzle in the agave/maple syrup, still whipping at high speed, then add the almond flavor.
Whip until mixture is stiff. If you dip a fork in just a little bit and pull it out, the peaks should stay standing (I have a feeling that I didn't whip it long enough as the raised edges I made slowly rounded, but the mixture was overflowing out of my cereal bowl, so I couldn't whip it any longer. That's why I said put the eggs and salt into a large bowl... silly, silly me).
Spread the mixture over the pie and sprinkle with some good cinnamon.
This recipe is a fantastic way to enjoy the classic campfire treat, just without the campfire (or oven, for that matter).  I love how this was easy to prepare, fun to look at and amazing to eat.  You definitely need to make it for yourself.
Can you believe this is healthy??  It sure doesn't taste like it!