Dairy Free S'mores Pie
GUYS!  HI!  HI HI HI HI HI!  I have something very important to say…  S'mores Pie.  Yes, I said it.  I made a S'MORES PIE.
I almost sprained my fingers typing out this post because I'm so damn excited to share the recipe with you.  It's freakin' legendary.
Thanks to Immaculate Baking Co. for sponsoring this post, and thank YOU for supporting the brands that keep Desserts With Benefits going!  All opinions are mine and mine alone.

There's really nothin' much better than this S'mores Pie.
It's like a S'mores x 10294.75
It's like a S'mores reloaded.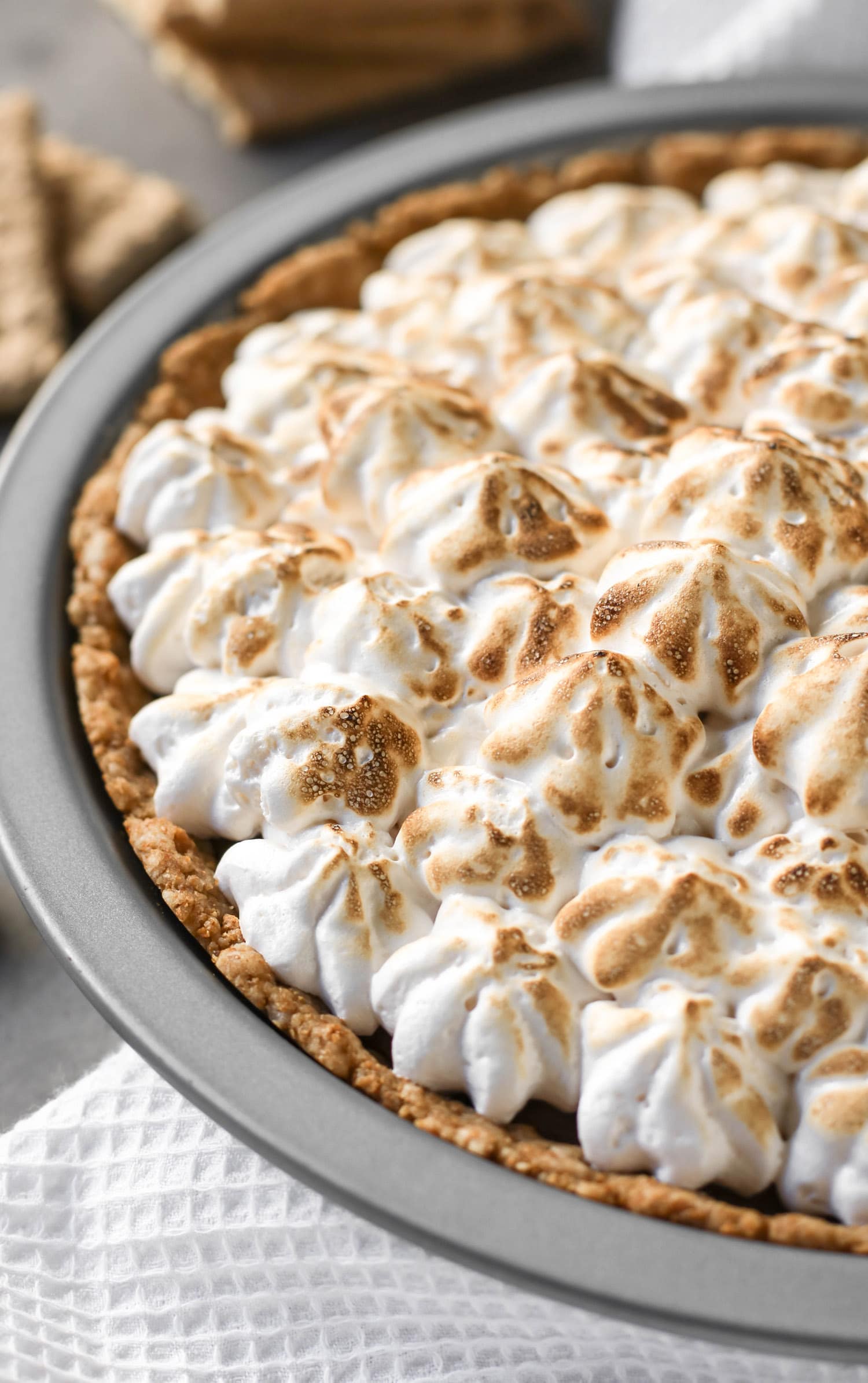 From the comforting graham cracker crust to the decadent, silky smooth chocolatey filling, to the from-scratch, cloud-like marshmallow fluff topping, you'll find it hard (read: impossible) to say "no" to another bite.
This is a seriously show-stopping dessert.  I brought out the big guns (aka my kitchen blow torch) and toasted the heck out of that mallow!  I mean, just look at that crisp-on-the-outside-gooey-on-the-inside marshmallowy goodness!  Now get ready to look under the hood: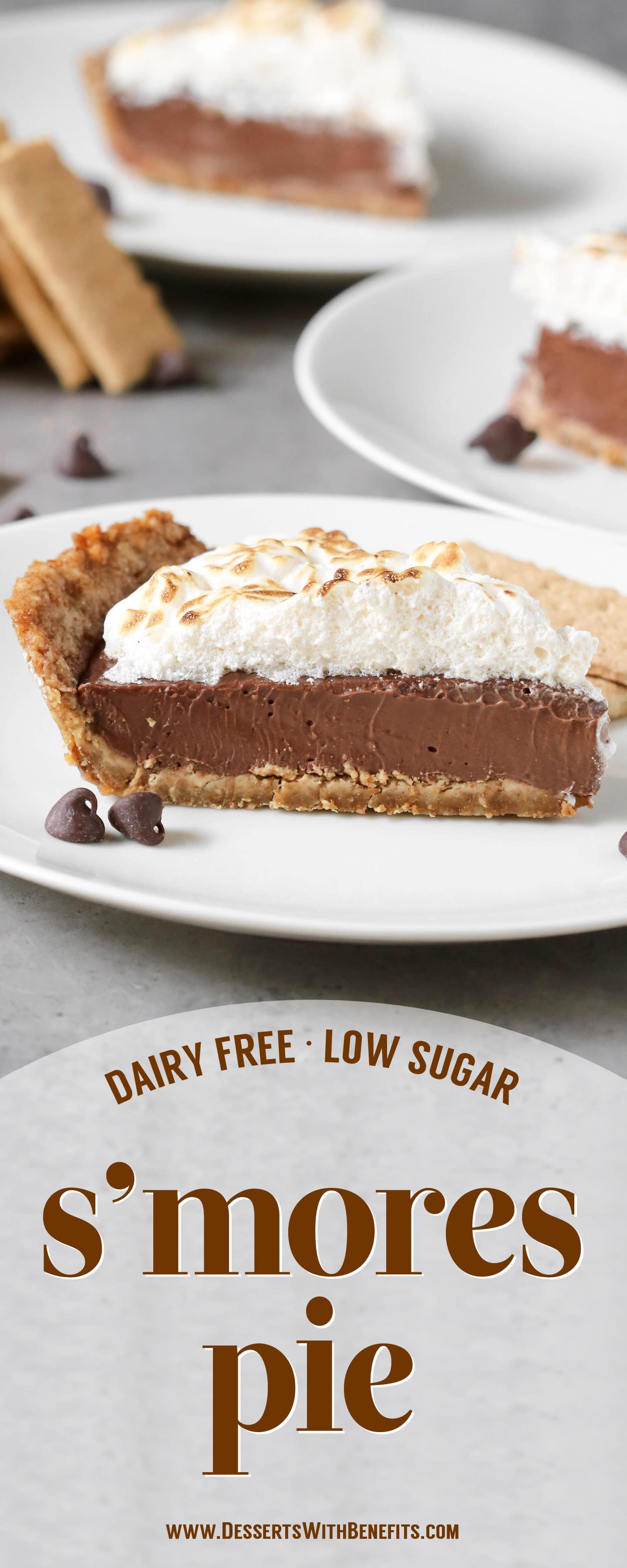 Awwww yeahhhh.  We've got a buttery and delicious graham cracker crust, a rich and creamy dairy-free chocolate filling, and a refined sugar-free marshmallow fluff topping.  And what I consider to be happiness slipped in there too.
Can you say, "YUM!" for me?  My mouth may or may not be completely full of this delicious pie…  *blushes*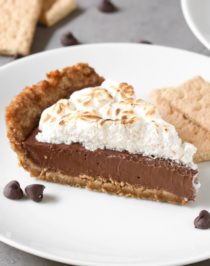 Print Recipe
Pin Recipe
Healthy S'mores Pie
This decadent S'mores Pie has a deliciously comforting graham cracker crust, a rich and creamy chocolate filling, and a homemade marshmallow fluff topping.
Instructions
For the Crust:
Preheat your oven to 350 degrees Fahrenheit.  Take the pie crust out of the fridge and let it thaw at room temperature for ~45 minutes, or until soft and dough-like.

In a large bowl, stir together the graham cracker crumbs and melted coconut oil.  Then, dump in the softened pie dough and mix together with your hands.

Press the mixture into two 8" pie pans.  Bake for 10 minutes.  Let cool completely.
For the Filling:
Place a

double boiler

over medium heat with about 2" of water.  In the top portion of the double boiler, whisk together the erythritol, cocoa powder, corn starch, and just a splash of the coconut milk, until completely smooth.  Then whisk in the remainder of the coconut milk.  Whisk occasionally.

When the water in the double boiler starts to boil, whisk the mixture constantly.  It should seem like it's not going anywhere for a while, then it will thicken quite suddenly.  When this happens, turn off the heat but keep whisking the mixture over the double boiler for ~1 minute, or until it's thick like a pudding.

Remove the top portion from the double boiler and whisk in the vanilla extract.

Add the chocolate and let sit for 1 minute.  Whisk until completely smooth.  Pour the mixture into the pie crusts and let cool at room temperature for ~2 hours.  Cover with plastic wrap touching the surface of the filling.  Refrigerate overnight.
For the Topping:
In a stand mixer fitted with a whisk attachment, add the egg whites and turn on high speed.

In a small saucepan over medium-high heat, add the agave nectar.  Add a candy thermometer and cook until it reaches 160 degrees Fahrenheit.  While that is heating on the stove, add the erythritol and salt to the whipping egg whites.

When the agave reaches 160 degrees, remove it from the heat and add it to the whipping egg whites in a VERY SLOW AND STEADY STREAM along the side of the bowl.  Whip on high for 6 minutes total, adding the vanilla paste in the last minute.  Mixture should be firm, thick, white, and glossy.

Spoon or pipe the mixture over the pies, then toast with a kitchen torch.  Serve immediately.
Recipe Notes
You can try subbing the granulated erythritol with a granulated sweetener of choice (like organic cane sugar) if you like!
I've been making S'mores Pie for years now.  The first time I ever made one was in 2011 during my freshman year in college!  Since then, I've made plenty of variations.
Sometimes with a graham cracker crust, sometimes with a Gingersnap Cookie base.
Sometimes with a chocolate cream cheese filling, sometimes with a Chocolate Silk Pie filling.
Sometimes with a thick marshmallow topping, sometimes with a marshmallow-fluff-like veil of drippy, sticky goodness.
The recipe I posted above is my ALL TIME FAVORITE version.  But here are some shots of the runner up (has a Gingersnap base, chocolate cream cheese filling, and a cloak of marshmallow fluff):

You can still enjoy S'mores — the all-time classic campfire treat — even without the campfire!
This S'mores Pie is incredibly unique, fun to make, and mind-blowing to eat.
You definitely need to make it for yourself.  This is pure comfort in a pie pan…  but without the excess sugar and artificial ingredients.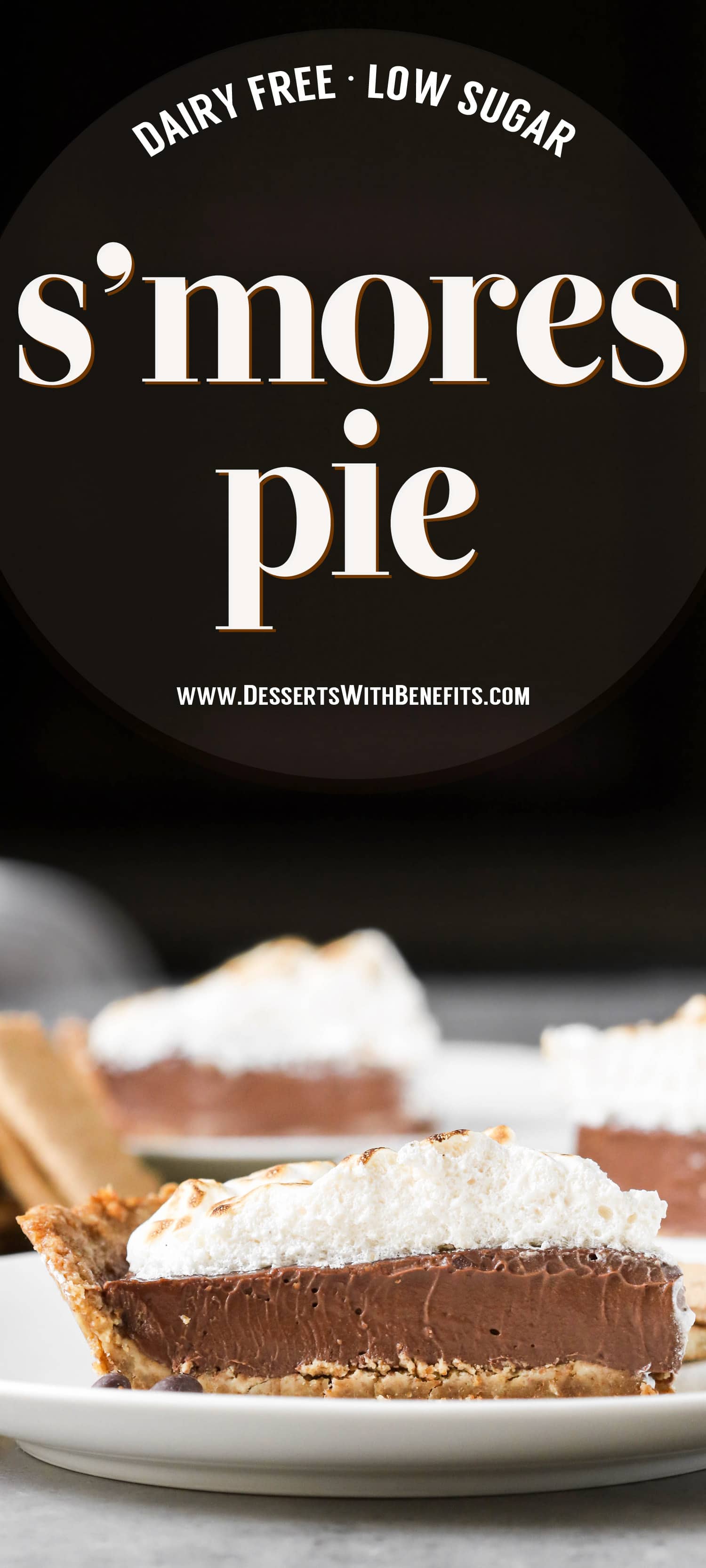 Oh, S'mores Pie, I love you.
Enjoy!
.
With love and good eats,
.
– Jess
.