Healthy Lemon Frozen Yogurt
A few months ago when my sister graduated from university I (gladly) agreed to watch two entire seasons of Scandal with her…  on the couch…  in four days.  I am so ashamed to say that, but I actually got a lot of work done during so I don't feel too bad about it.  The point of me telling you that (embarrassing) story, is that the commercials we saw inspired this recipe.  You know how Hulu requires you to watch a couple commercials a few times throughout every episode?  Well, Haagen Dazs clearly paid Hulu BANK for their commercials.  For two weeks straight my sister and I were repeating, "Cap-uu-ciiii-no," and "Liiii-mon-cellll-o," to each other.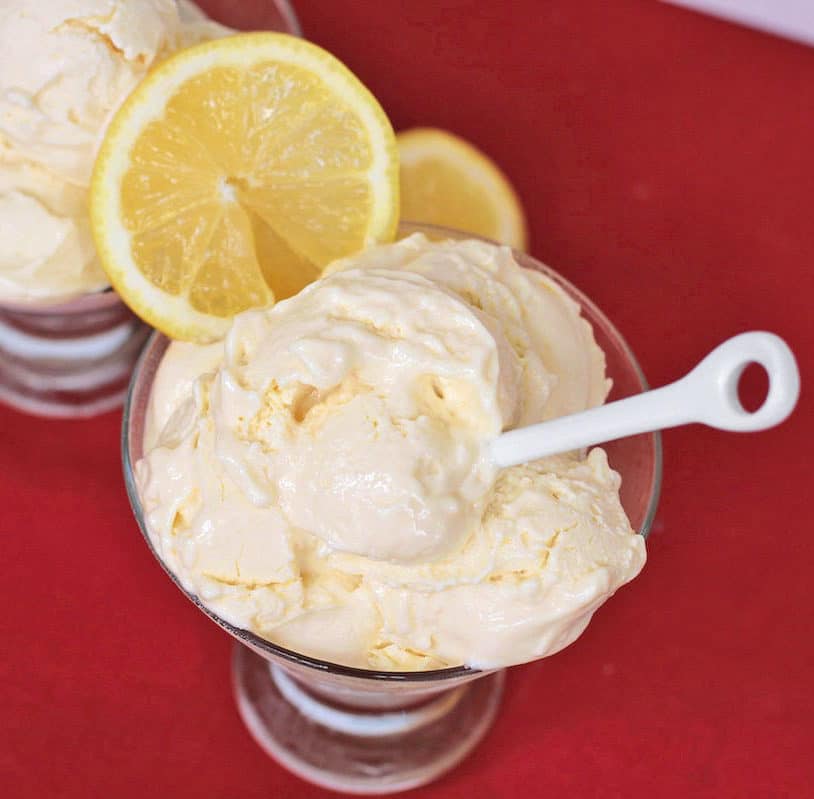 Totally annoying, but catchy.  And I just saw the commercial a week ago and it reminded me of that glorious 4-day TV marathon  🙂
And it also made me want Limoncello.  Ice cream, I mean.  So I made a batch of healthy Lemon Frozen Yogurt!  Super creamy, super lemony, super satisfying.  This is the perfect fro yo to have on hand after a hot day, after a long day, or at any time of day really  🙂
Healthy Lemon Frozen Yogurt
Prep Time: 30 minutes
Cook Time: 0 minutes
Total Time: 30 minutes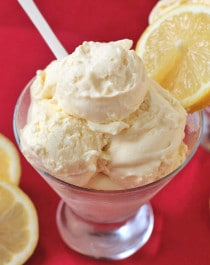 Calories per serving: 110
Ingredients:
Directions:
Freeze your ice cream maker bowl for 24+ hours (I used my KitchenAid ice cream maker attachment).
In a blender, add the yogurt, Limoncello, stevia, lemon flavor, vanilla extract, and butter flavor. Blend until smooth.
In a small bowl, whisk together the corn starch, xanthan gum, baking soda, and salt.  With the blender running, slowly add in the dry ingredients.  Blend until smooth.  Feel free to add natural yellow food coloring or ground turmeric for color!
Place the frozen ice cream maker attachment onto the stand mixer and turn on the "stir" speed. Pour ice cream mixture into the ice cream bowl and churn until soft-serve consistency.
Transfer the ice cream into a freezer-safe dish. Cover and freeze until it's the texture you prefer (~3-5 hours). Serve and enjoy!
Notes:
All images and text ©
.
.
Here is the recipe's nutrition label:
Compared to Haagen Dazs Limoncello Gelato, my Healthy Lemon Frozen Yogurt has 130 less calories, 9g less fat (and actually has zero fat), 19g less sugar, and 7g more protein.  What a difference, yes?!  Plus, my recipe doesn't contain any heavy cream, sugar, corn syrup, and egg yolks like the Haagen Dazs version.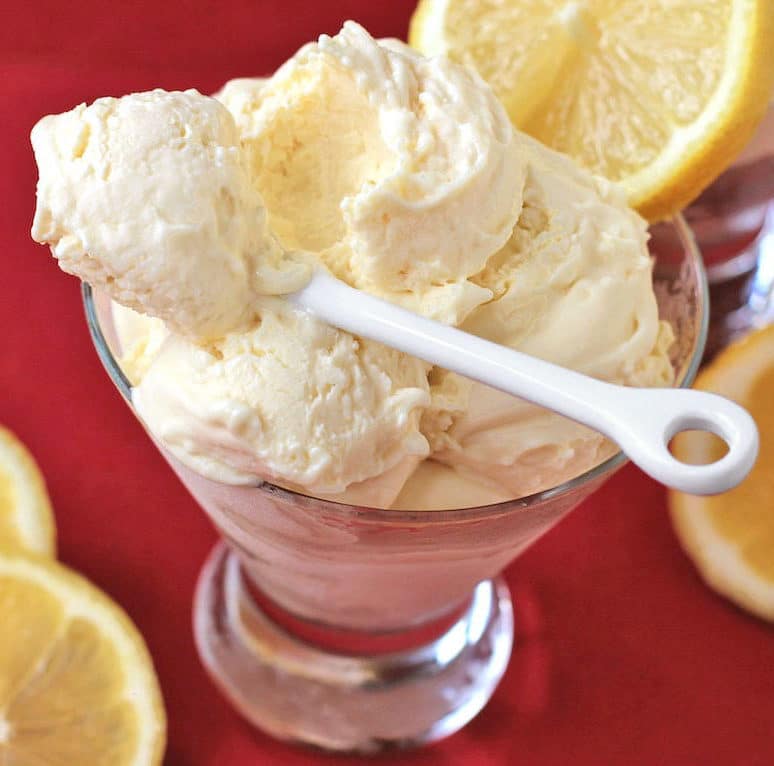 Mmmm so good.  I'll take two cups please  🙂
.
With love and good eats,
.
– Jess
.