Healthy Vegan Nanaimo Bars
As a true, born-and-raised Canadian I thought I would make a classic dessert from the country currently above me here in the US.  It might not have maple syrup in it, but it sure is Canadian  😉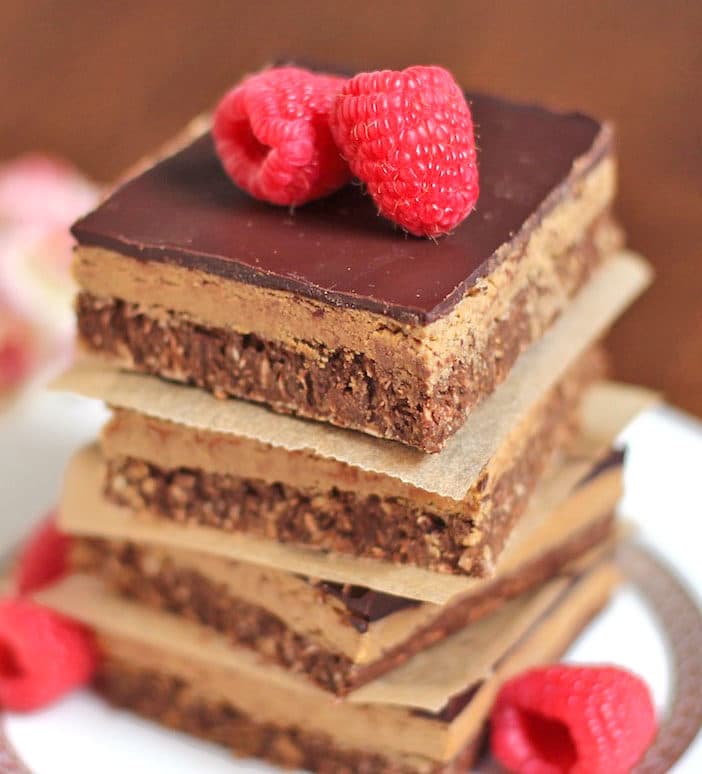 We call this dessert, "Nanaimo Bars!"  Strange name, right?  Well, it might ring a bell because this isn't the first time I've made it…  I made Nanaimo Bars last February but I decided to revisit my recipe.  Even though my bars were absolutely friggin delicious and were gobbled up in less than five seconds minutes flat, I got some flak from a commenter saying, "Nanaimo Bars they are not."
*sad face*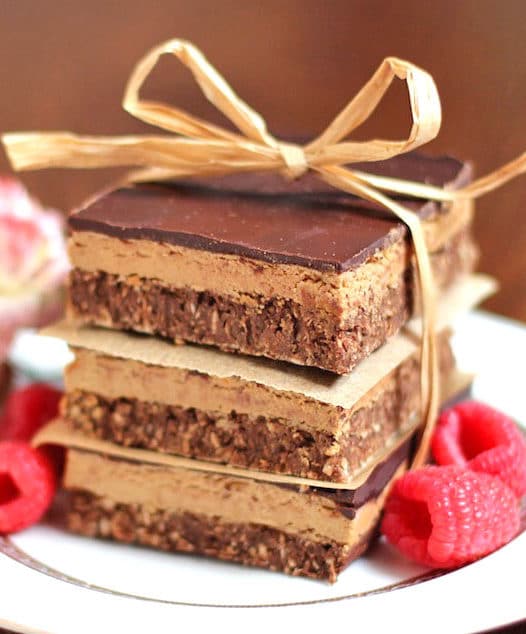 But I totally agreed with him, the "crust" was a no-bake base made of not-so-authentic ingredients (like coconut butter, coconut milk, chocolate and oats).  At the time I hadn't made my graham cracker recipe yet and didn't want to purchase crackers from the store that were full of refined sugars, starches and processed flours.  I was also living at a high altitude so I wouldn't be able to post a recipe that everyone could make (that means the majority of you who live at sea-level!) because baking at different altitudes has an effect on the baking temperature and measurements…  such a hassle, but that's the science of baking for ya.  The filling in my older recipe was suuuper delicious, but it was a tad bit gooey.  Once again, not so authentic.  Oh, and then my chocolate topping layer was "too thick."  Like that's a crime.  Let's sue everyone who likes a little extra chocolate on their desserts!!
Hmph.
Just kidding, I'm totally not mad!  If the layer of chocolate was supposed to be thinner, I will make it thinner.  But to fit in some extra chocolate (because that's what every chocoholic thinks about doing to their food) I would just eat the Nanaimo Bar with a glass of chocolate almond milk  😉
Focus on the good things in life and make these Healthy Vegan Nanaimo Bars — a soft graham cracker crust infused with chocolate and coconut, a filling with a sweet vanilla flavor and a topping of rich dark chocolate.
Because a decadent (yet healthy) dessert is what turns an "OK" day into a "holy-crap-freakin'-AMAZING" day.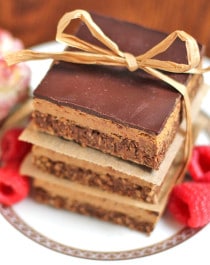 Print Recipe
Pin Recipe
Healthy Vegan Nanaimo Bars
Instructions
For the Crust:
Preheat the oven to 350 degrees Fahrenheit and line an 8" brownie pan with parchment paper both ways.

In a large bowl, stir together the graham cracker crumbs, coconut, cocoa powder and salt.

Stir in the applesauce and butter extract, then the optional nuts (mixture should be soft yet thick cookie dough).

Press mixture into the prepared pan and flatten. Dock the crust every inch or so, bake for ~22 minutes, or until firm to touch. Let sit on the counter while you prepare the rest of the recipe.
For the Filling:
In a large bowl, whisk together the almond milk, nut butter and extracts.

In a small bowl, whisk together the protein powder and custard powder. Dump into the wet ingredients and fold together (mixture should be very thick, like cookie dough). Scoop over the slightly warm crust and flatten.
For the Topping:
Add the chocolate to a small, microwave-safe bowl. Microwave at 30-second intervals, stirring between each one, until melted.

Stir in the coconut oil, then stir in the stevia extract. Pour over the filling layer and tap the pan so that the chocolate spreads to all the corners of the pan. Refrigerate for 1-2 hours, or until chocolate is just set.

Take the pan out of the fridge and slice into bars.
Recipe Notes
**If you don't have the custard powder, this is the filling I used the other time I made these bars:
¾ cup Light Coconut Milk, canned
2 tbs Coconut Oil, melted
1½ tsp Stevia Extract
126g (6 scoops) Vanilla Brown Rice Protein Powder
180g (1½ cups) Powdered Erythritol
Nutrition Facts
Healthy Vegan Nanaimo Bars
Amount Per Serving (1 bar)
Calories 160
Calories from Fat 72
% Daily Value*
Fat 8g12%
Sodium 95mg4%
Carbohydrates 16g5%
Protein 8g16%
Vitamin C 3.3mg4%
Calcium 40mg4%
Iron 1.8mg10%
* Percent Daily Values are based on a 2000 calorie diet.
As a reference, this is the nutrition label for a typical Nanaimo Bar.
What a difference, eh?  The Desserts with Benefits Nanaimo Bars are nearly half the calories of the typical bars you would find in Canada.  Not to mention, mine are lower fat and made up of healthy fats (no butter or cream in these babies), and far lower in carbs and sugar.  The typical Nanaimo Bar out there has about 1 tablespoon of butter and 2 tablespoons of sugar per bar.  That is crazy.
So make the Healthy Vegan Nanaimo Bars and you can grab a second serving.  These are the most delicious guilt-free treat ever… like, in the entire world!  It's like magic.  And you need it in your life ASAP (Canadian or not).
.
With love and good eats,
.
– Jess
.