Healthy No-Bake Chocolate Peanut Butter Granola Bars
Healthy No-Bake Chocolate Peanut Butter Granola Bars — chewy and hearty, sweet, chocolate-peanut butter deliciousness.  Secretly refined sugar free, high protein, high fiber, and gluten free too!
These Chocolate Peanut Butter Granola Bars are soft and chewy, not hard and crunchy like the typical storebought ones.
I'll take the whole pan if you don't mind.  These are perfect bars of… perfectness.  Hah.  I'm sorry if my words aren't making any sense.  I'm enjoying a bar of "perfectness" as we speak.
*blushes*
I love how these are filled with chocolate-peanut butter flavor, and I appreciate that they're mildly sweet.  While I'm totally okay with tooth-achingly sweet goodies in the morning, most people prefer something a little more tame as their first meal.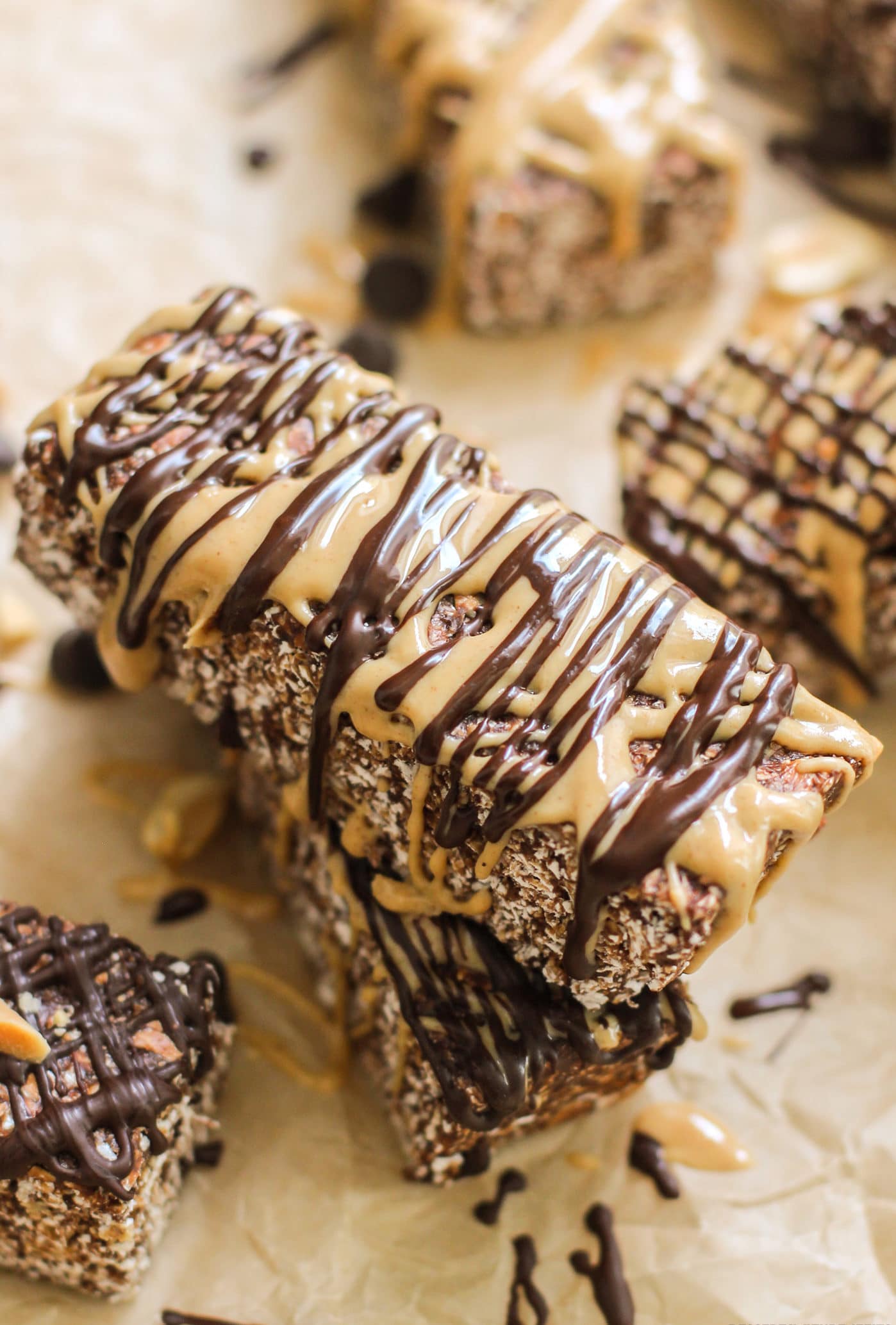 It would be an understatement to say this GIANT granola bar was "calling my name."  It was basically yelling at me to chomp its head off.
I swear.
And so I did.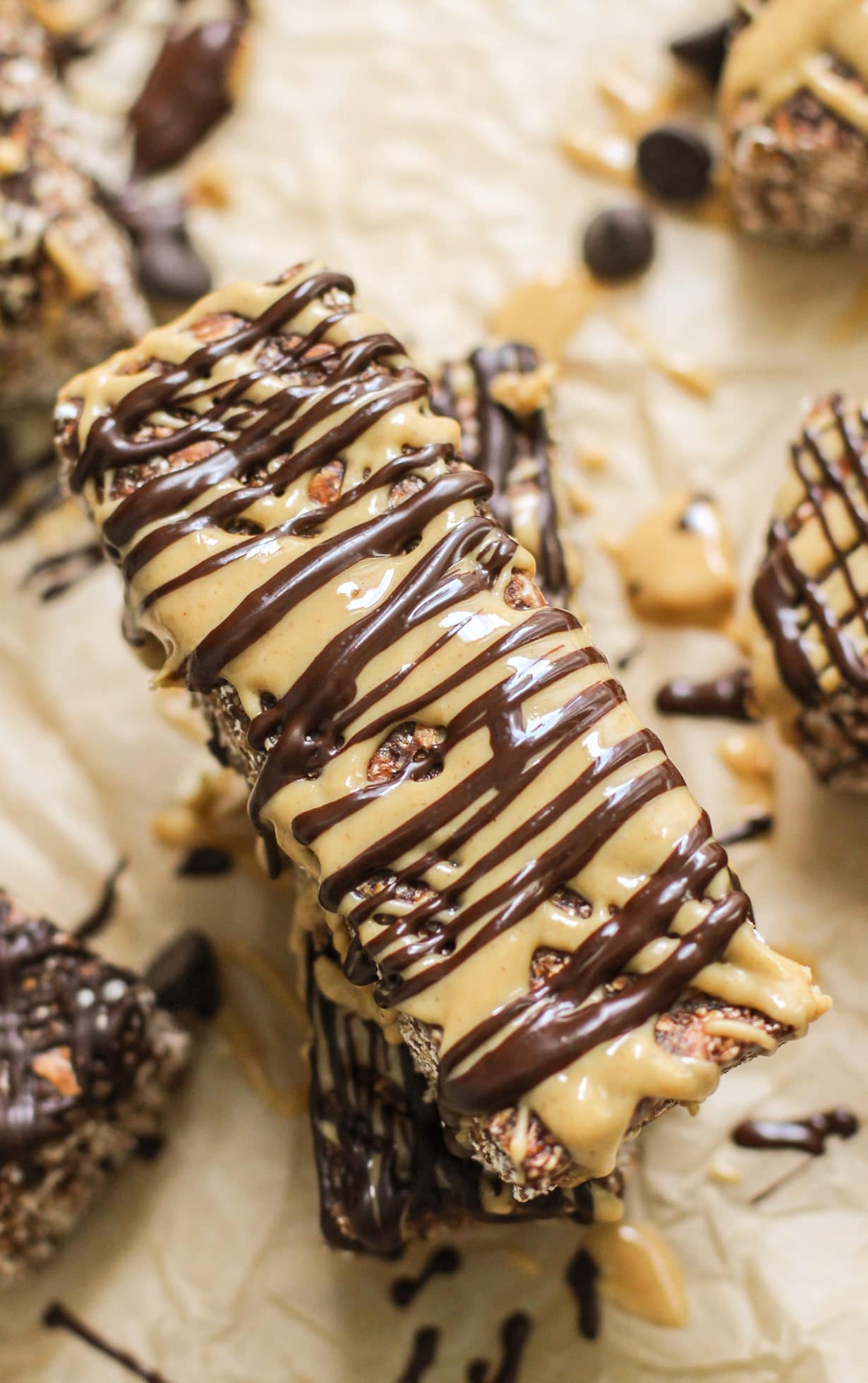 Healthy No-Bake Chocolate Peanut Butter Granola Bars
Prep Time: 30 minutes
Cook Time: 0 minutes
Total Time: 30 minutes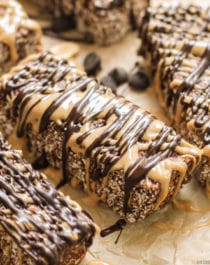 Fat per serving: 11
Calories per serving: 330
Ingredients:
246g (1 cup) Unsweetened Applesauce
128g (½ cup) Natural Peanut Butter
128g (1⅓ cups) Unflavored Whey Protein Powder
27g (⅓ cup) Unsweetened Natural Cocoa Powder
¼ tsp Salt
480g (5 cups) Old Fashioned Rolled Oats
Directions:
Line a 9″ brownie pan with parchment paper both ways.
In a stand mixer with with beater attachment, add the applesauce, peanut butter and stevia extract.  Mix on low speed.
Turn off the stand mixer and add the protein powder, cocoa powder and salt.  Mix on low speed until fully combined.
Dump in the oats and mix until fully combined.  Scoop the mixture into the prepared pan and spread it out.  Place a sheet of parchment paper on top and press the mixture down further until compact.  Cover the pan and refrigerate overnight.
The next day, slice and serve!  To store, place the granola bars on a plate lined with a sheet of parchment paper and keep in the refrigerator.  Keeps for ~1 week.
Notes:
Feel free to add a handful of roasted peanuts and/or mini dark chocolate chips to the recipe!
These granola bars are quite large (especially if you top 'em with warmed peanut butter and melted dark chocolate, like I did), so if you want smaller portions, feel free to slice the pan into 15 pieces (5×3), or whatever size you like.  Bigger is always better when it comes to healthy desserts (and breakfasts), in my book!
.
Here is the recipe's nutrition label:
330 calories that sure tastes like 3,300!  Not to mention, a whopping 19g of protein, 7g of fiber, and NO added sugar.

I put each granola bar in a sandwich baggie in the fridge so it would be easy to grab when ravenous and on-the-go.  Enjoy!
.
– Jess
.