Healthy Peanut Butter Cookie Dough Dip
Do you like Peanut Butter Cookies?  Do you like Cookie Dough?  Then this Peanut Butter Cookie Dough Dip recipe is for YOU!  It's so thick, sweet, and rich, you'll never know it's actually good for you and made with all healthy ingredients.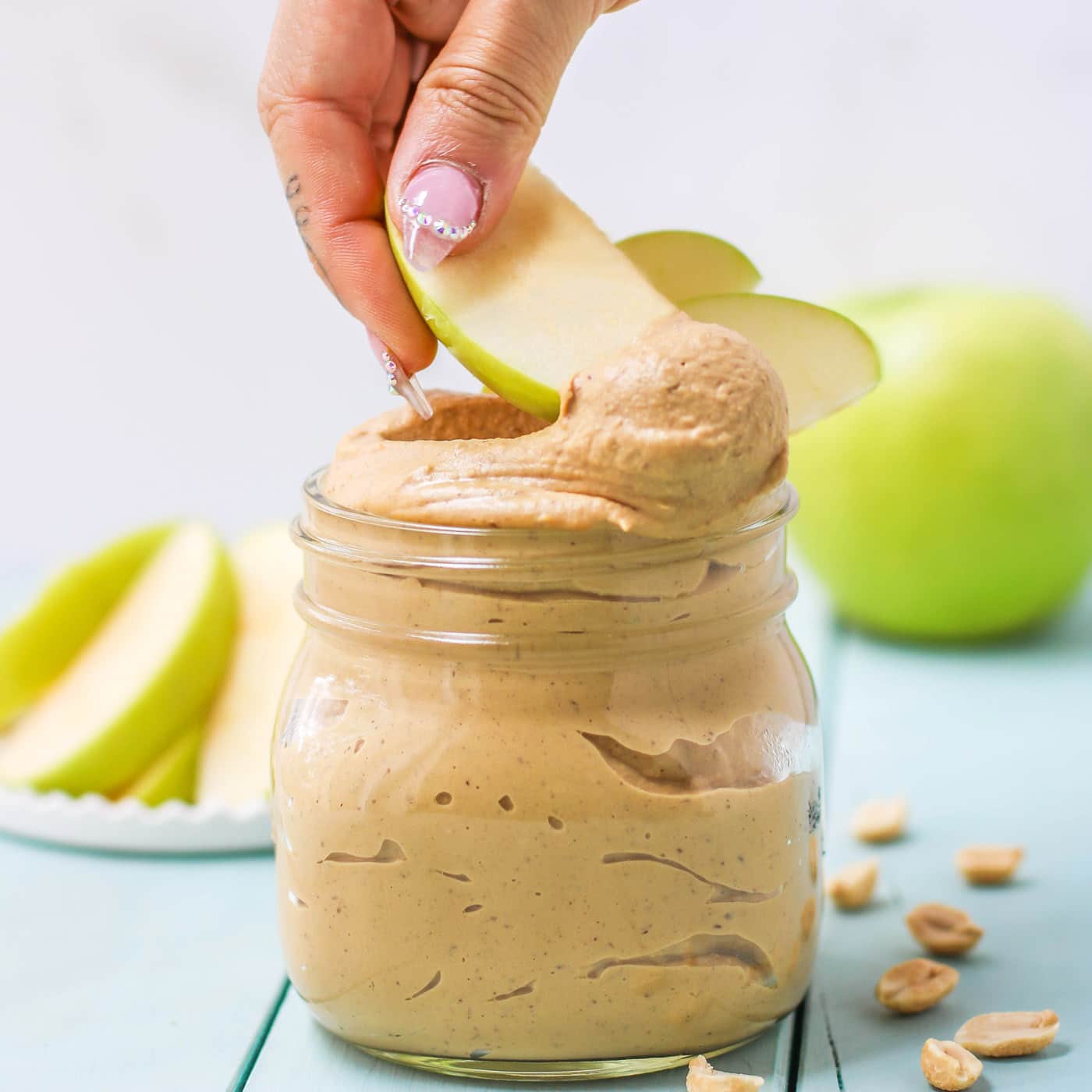 What can you dip in this healthy Peanut Butter Cookie Dough Dip?  How about fresh strawberries, sliced apples, Homemade Graham Crackers…  and a spoon of course!
😉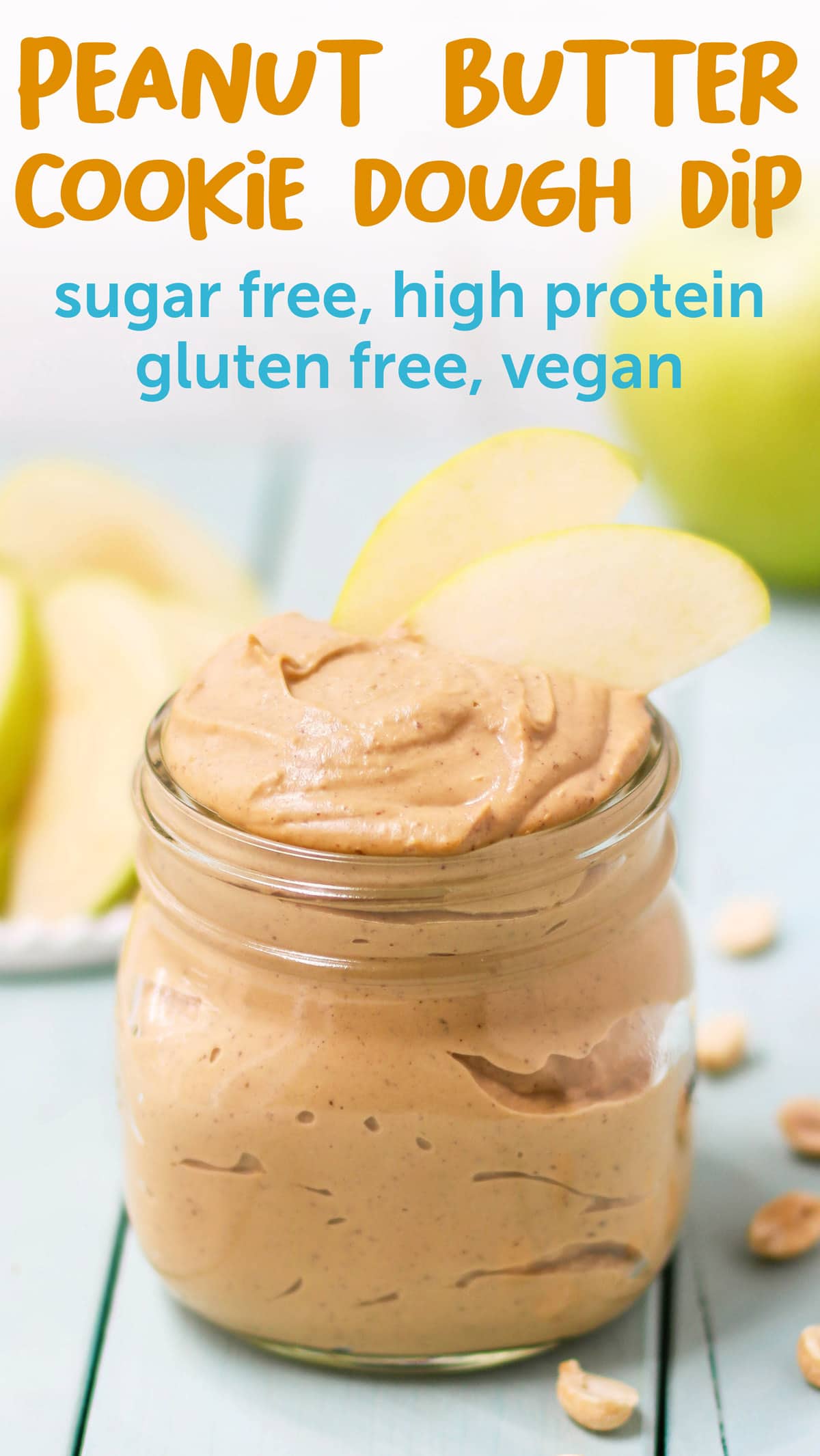 Oh, and because it's eggless, it's totally safe to eat it raw.
That means it's spoon-licking time  😉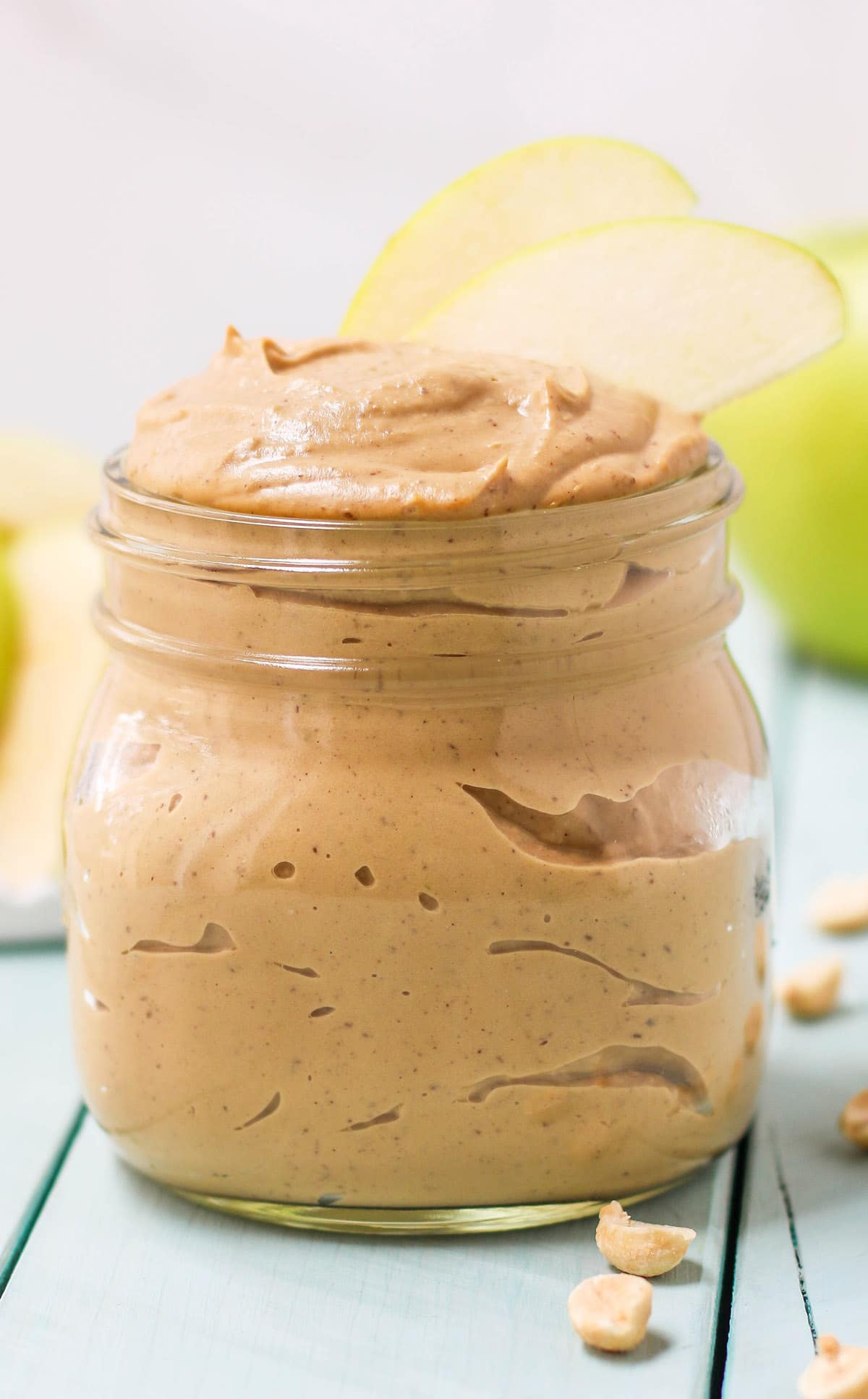 Or, just use the spoon to ladle it into your mouth.  As I did……
So take the edge off and grab a bowl of this (secretly) healthy Peanut Butter Cookie Dough Dip.  Put your feet up and reelaaaaxxxxxxxx, this is some serious comfort food – just the thing you need for a long day of work.  In my case, a long day of travel…  I just came back from a trip to Billings, Montana.  And flights to Billings from Austin, Texas are always connecting flights (the worst).  So this dip is mostly what I looked forward to when I came home.  Not my couch, not my TV, just a big bowl of cookie dough and some fruit for dippin'  🙂
This Peanut Butter Cookie Dough Dip is so fast and easy to make too!
Luckily, it's comfort food without, ya know, all the unhealthy ingredients.  This Peanut Butter Cookie Dough Dip isn't unhealthy like storebought cookie dough, this recipe doesn't have any flour, sugar, butter, shortening (aka trans fats), preservatives, or artificial flavorings…  just pure peanut butter goodness!
This surprisingly healthy dip is made of all natural peanut butter and a little secret ingredient that you can't taste.  I swear.  Because I hate this "particular ingredient" on its own, and I can eat spoonful after (giant) spoonful of this with a smile from ear to ear, while simultaneously doing a totally embarrassing happy dance around my kitchen.
Thank goodness I'm telling you this on a blog instead of real life, because I bet you're laughing at me right now.  ANYWAYSSSSS…
This Peanut Butter Cookie Dough Dip is totally breakfast-worthy — it's that healthy!
I mean, dessert for breakfast?  Hell yeah, sign me up!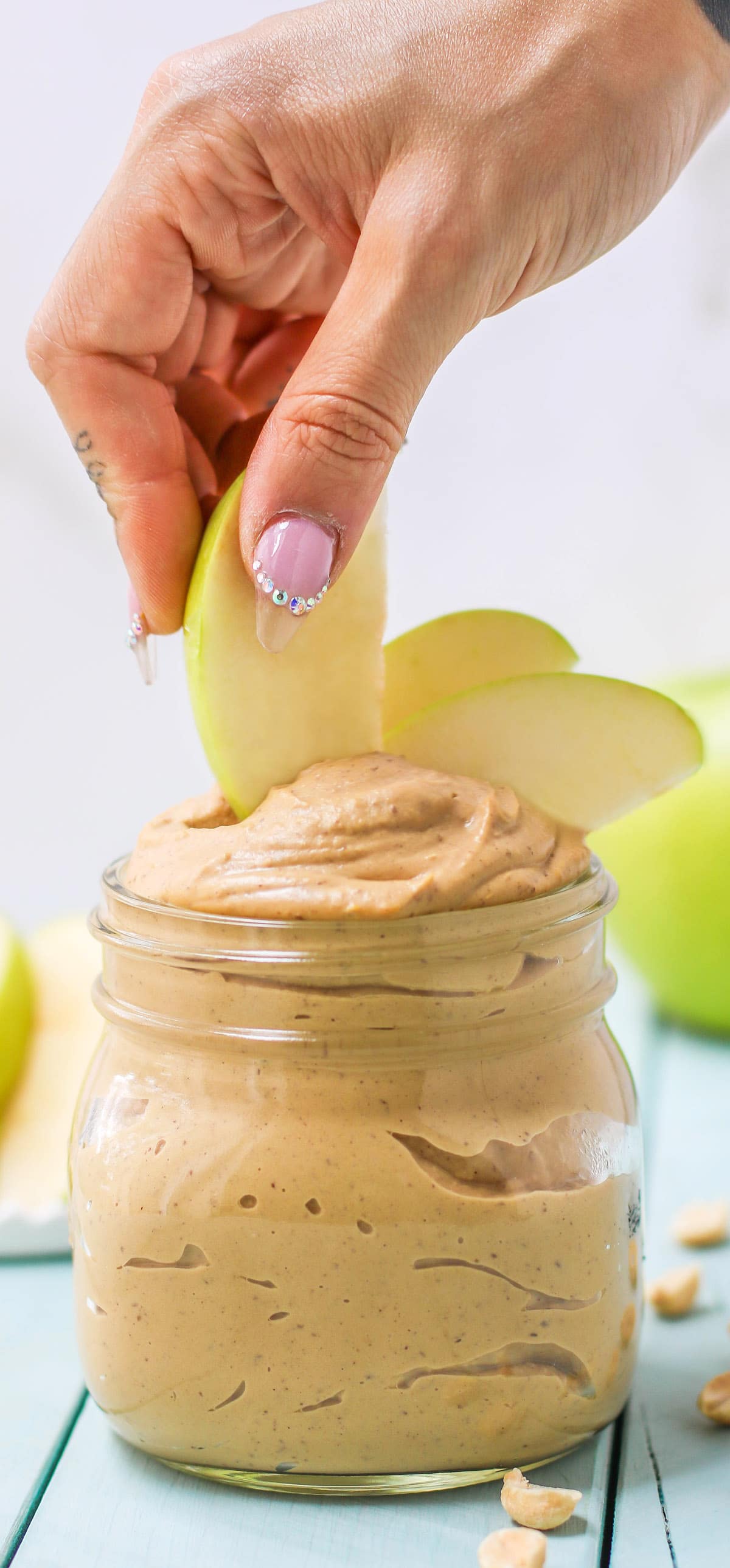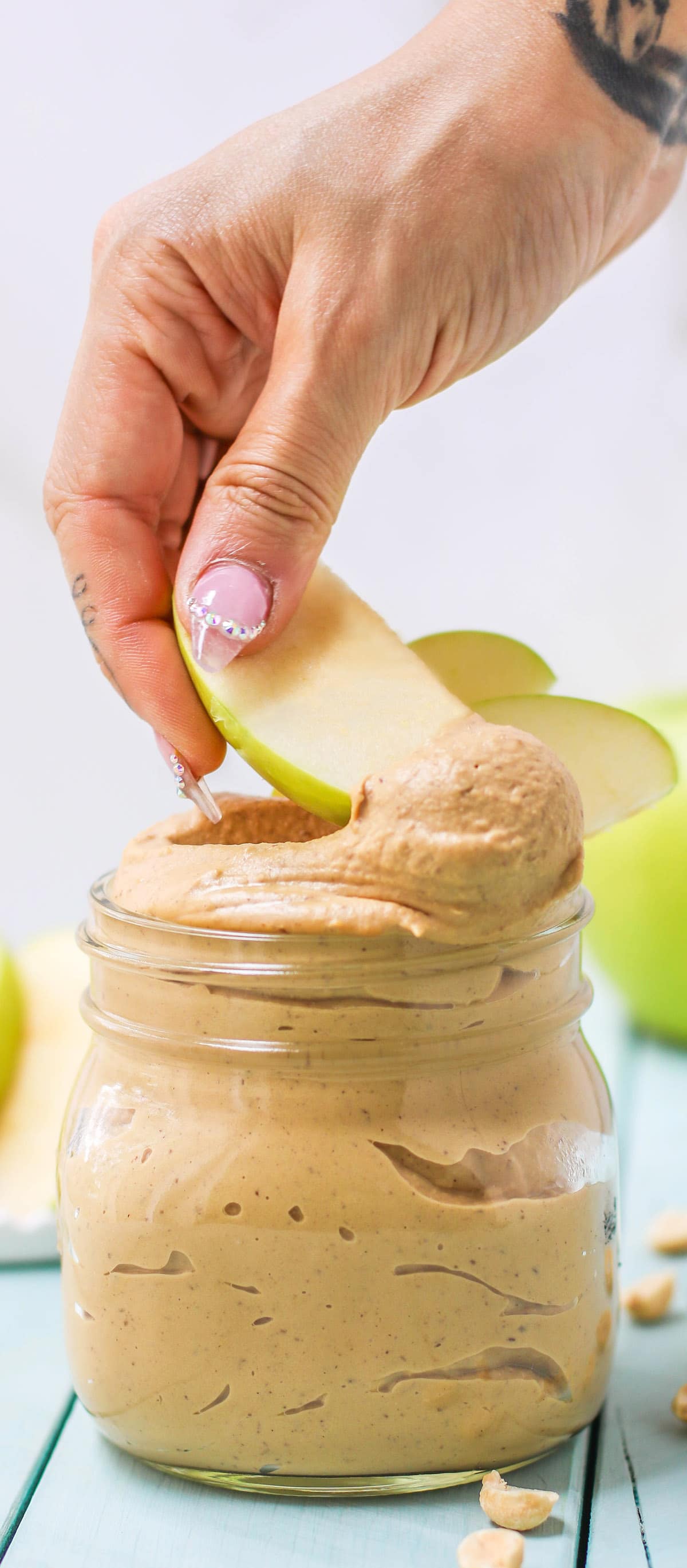 Mmmm.
Healthy Peanut Butter Cookie Dough Dip without the healthy taste?  Yes, puhhhleeease.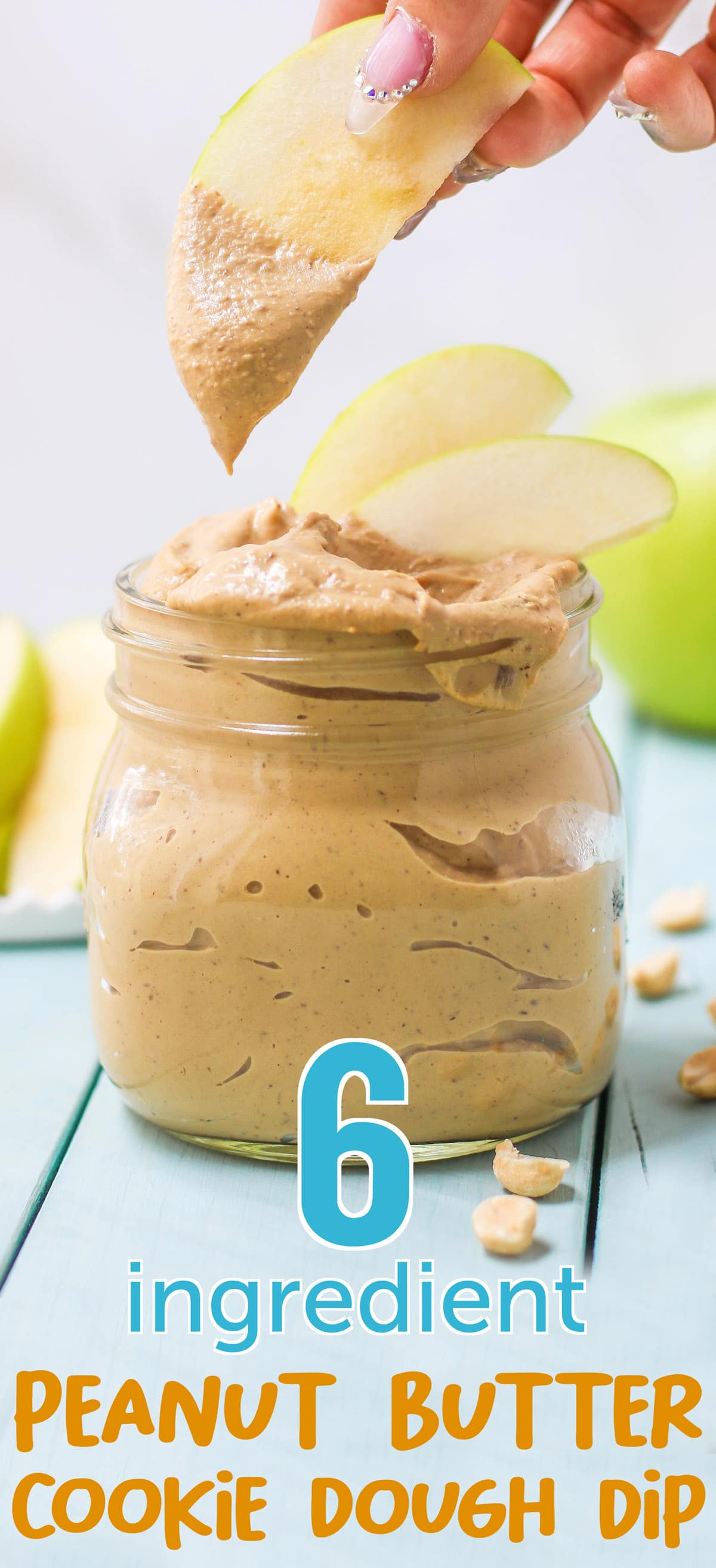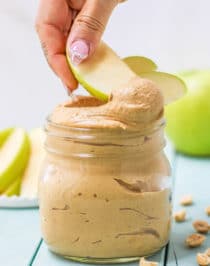 Print Recipe
Pin Recipe
Healthy Peanut Butter Cookie Dough Dip
Like Peanut Butter Cookies? Like Cookie Dough? Then this healthy Peanut Butter Cookie Dough Dip is for you! It's so sweet and rich you'll never know it's actually healthy. It's delicious as a dip for strawberries or sliced apples, and it's perfect smeared onto some graham crackers!

Instructions
In a blender or food processor, add all of the ingredients and blend until smooth. Scrape down the sides of the bowl and blend again.

Give it a taste and add more stevia or salt if you feel it needs it. Scoop mixture into a large bowl and refrigerate covered overnight. Serve and enjoy the next day!
Recipe Notes
A 15oz can should yield 1½ cups beans after draining and rinsing.

 

Mine yield 235g.
Nutrition Facts
Healthy Peanut Butter Cookie Dough Dip
Amount Per Serving (1 serving = ½ cup)
Calories 230
Calories from Fat 95
% Daily Value*
Fat 10.5g16%
Sodium 180mg8%
Carbohydrates 16.5g6%
Protein 20.5g41%
Vitamin A 100IU2%
Calcium 140mg14%
Iron 2mg11%
* Percent Daily Values are based on a 2000 calorie diet.
I'm sure I've drilled into your head that this dip is healthy, but now I want to show you that it's healthy too.  I calculated the nutrition facts for my recipe, which you can see if you scroll down.  Now, compare that to the nutrition label for Land O'Lakes recipe.
WOW.  That's cray cray.  This is pretty much what my face looks like every time I look at the Land O'Lakes nutrition label:
(Yes, I love Spongebob)
½ cup of cookie dough should NOT have over 620 calories, 45g of fat, trans fats, and 39g of sugar.  Nope.
So make this uber decadent, rich, and delicious Peanut Butter Cookie Dough Dip.  You will eat this by the spoonful.  But that's no problem at all, this delicious dip contains no butter, oil, cream cheese, sugar, flour, eggs, or trans fats.  That's like a win-win…  win-win-win-win-win.
Oooo, and if you're serving this for dessert just top it with dark chocolate chips!
Enjoy  🙂
.
With love and good eats,
.
– Jess
.