Healthy Homemade Protein-Packed Peanut Butter Spread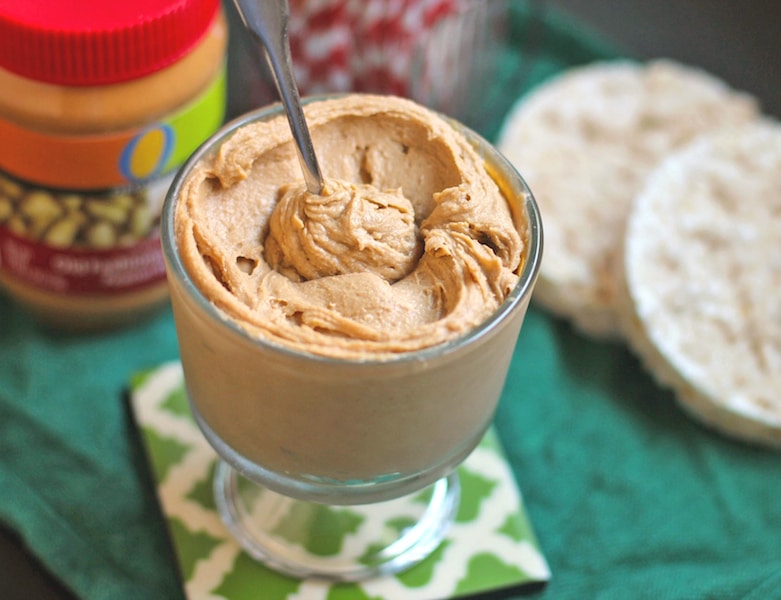 NEWS FLASH:  I love peanut butter!
Okay, I know that's not news, I just had to put that out there (again).
Peanut butter on a spoon.  I've been there, you've been there, we've ALL been there.  And while (natural) peanut butter is totally healthy, it IS really high in fat and calories.
"Moderation is key!"  Yeah, yeah, but that's not what goes through your head when you're digging into a peanut butter jar  😉
So, I made a lower calorie peanut butter spread that is just as rich, just as smooth and just as creamy as regular peanut butter.  Go ahead, have a couple (or seven…) spoonfuls.
Healthy Homemade Protein-Packed Peanut Butter Spread (sugar free, low carb, low fat, vegan)
Ingredients
1/2 cup Unsweetened Vanilla Soy Milk, divided (or "milk" of choice)
30g (1/4 cup) Vanilla Brown Rice Protein Powder (I used SunWarrior)
6 packets Truvia (or sweetener of choice)
128g (1/2 cup) Natural Peanut Butter* (no sugar/oil added)
Instructions
In a small bowl, whisk together 1/4 cup of the soy milk, protein powder and trivia until smooth.
In a medium-sized bowl, whisk together the peanut butter and 1/4 cup of soy milk until completely smooth.
Pour the ingredients from the small bowl into the medium-sized bowl and whisk together vigorously.
Give it a taste and add more sweetener or a pinch of salt to taste. Scoop into a jar, seal tightly and refrigerate to store.
Notes
*My peanut butter was salted. As a nutritional reference, 2 tbs contained 120mg sodium.
This recipe is: sugar free, high fiber, high protein, gluten free and vegan!
https://dessertswithbenefits.com/healthy-protein-packed-peanut-butter-spread/
www.DessertsWithBenefits.com
I thought I would show you the comparisons between my Protein Packed Peanut Butter and regular PB.
The regular PB nutrition label is on the left,  the Protein Packed Peanut Butter nutrition label is on the right:
Look at the difference!!!  Where is my spoon??  I need some of this right now!
My protein-packed peanut butter recipe has half the calories, half the fat and half the carbs of regular peanut butter!  I know the label for my protein peanut butter shows less protein than the regular version, but the percentage of calories coming from protein is higher in my recipe than regular peanut butter.  My PB recipe is 22% protein while regular PB is 14% protein.
YUM.
This protein-packed peanut butter spreads just like regular peanut butter.  If anything, it spreads a little better because you get to use MORE of it  😉
---
.
Like this recipe?  Then you'll LOVE the DIY Protein Bars Cookbook!  With 48 dessert-like protein bar recipes, full-color pages and photos for every recipe, you'll never think twice about buying protein bars from the store again.  See this page for more information on the book, including the Table of Contents, some sneak peaks and sample images.
Get your copy from Amazon here! 💕