Healthy Protein Peanut Butter Spread
This Healthy Protein Peanut Butter has more fiber, more protein, less calories, and less fat than regular peanut butter, but it tastes JUST AS GOOD!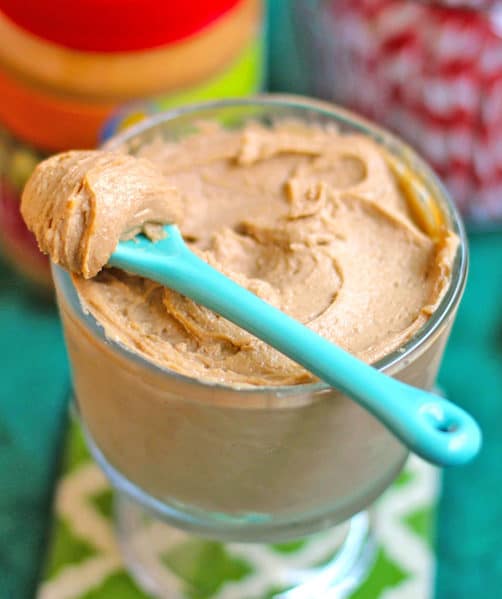 NEWS FLASH:  I love peanut butter!
Okay, I know that's not news, I just had to put that out there (again).
Peanut butter on a spoon.  I've been there, you've been there, we've ALL been there.  And while (natural) peanut butter is totally healthy, it IS really high in fat and calories.
"Moderation is key!"  Yeah, yeah, but that's not what goes through your head when you're digging into a peanut butter jar  😉
So, I made a lower calorie peanut butter spread that is just as rich, just as smooth and just as creamy as regular peanut butter.  Go ahead, have a couple (or seven…) spoonfuls.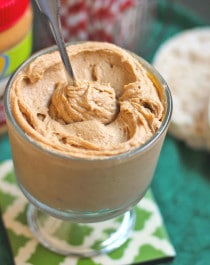 Print Recipe
Pin Recipe
Healthy Homemade Protein-Packed Peanut Butter Spread
Instructions
In a small bowl, whisk together ¼ cup of the milk, protein powder and sweetener until smooth.

Whisk in the peanut butter and the remaining ¼ cup of milk until completely smooth. Give it a taste and add more sweetener or a pinch of salt to taste. Scoop into a jar, seal tightly, and refrigerate to store.
Nutrition Facts
Healthy Homemade Protein-Packed Peanut Butter Spread
Amount Per Serving (2 tbs)
Calories 90
Calories from Fat 54
% Daily Value*
Fat 6g9%
Sodium 55mg2%
Carbohydrates 3g1%
Protein 5g10%
Calcium 20mg2%
Iron 0.7mg4%
* Percent Daily Values are based on a 2000 calorie diet.
Compared to regular peanut butter, my Protein Peanut Butter has 100 less calories, 11g less fat, and half the carbs!  What a difference!
Now where is my spoon??  I need some of this right, STAT.
The grams of protein for this recipe shows as 2g less than regular peanut butter, but the ratio of protein to calories or fat is much higher than regular peanut butter.  This PB recipe is 22% protein while regular PB is 14% protein.
This protein peanut butter spreads just like regular peanut butter.  If anything, it spreads a little better because you get to use MORE of it  😉
.
With love and good eats,
.
– Jess
.