Healthy Quinoa Protein Waffles
Gluten-Free Quinoa Protein Waffles!  Now HERE'S a healthy breakfast!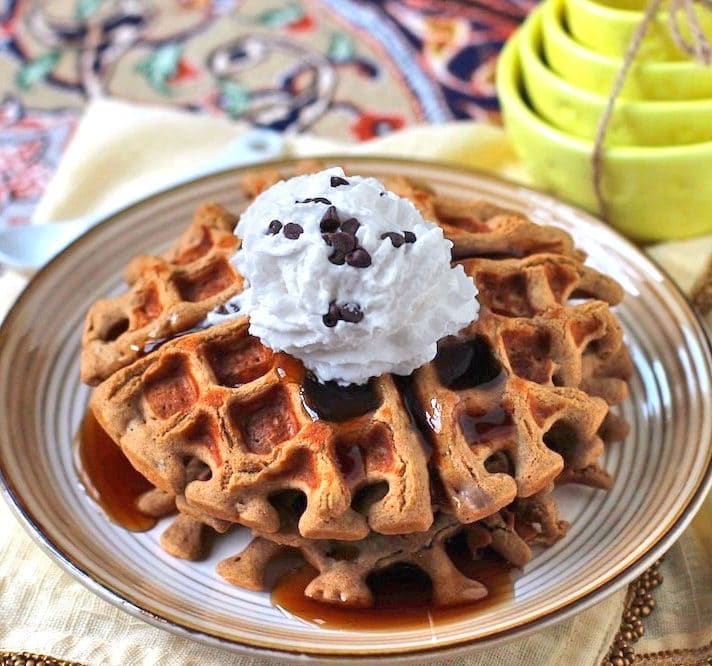 Both soft and moist without the butter, buttermilk or oil.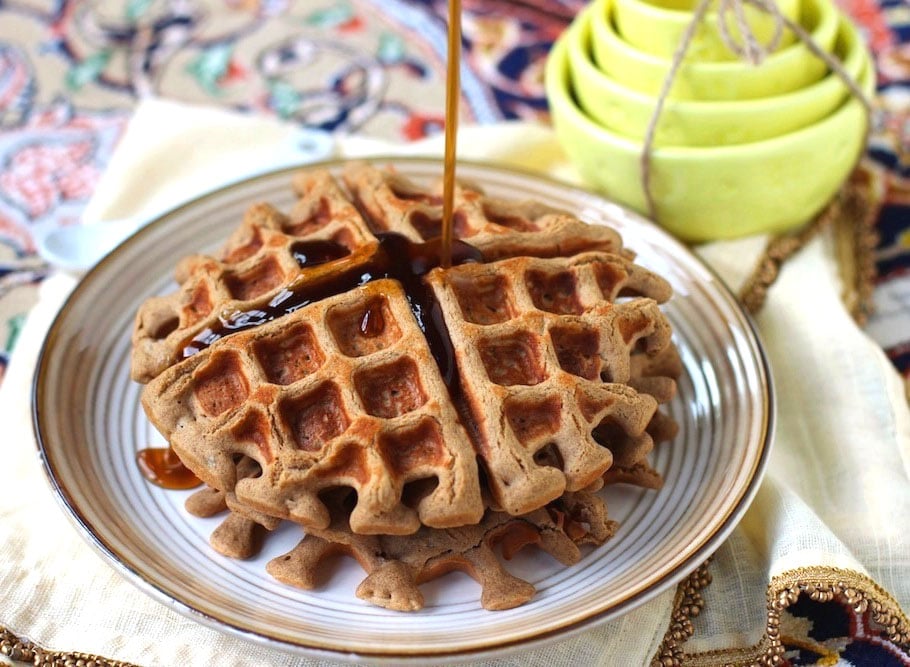 Both sweet and comforting without the refined white sugar and excess calories.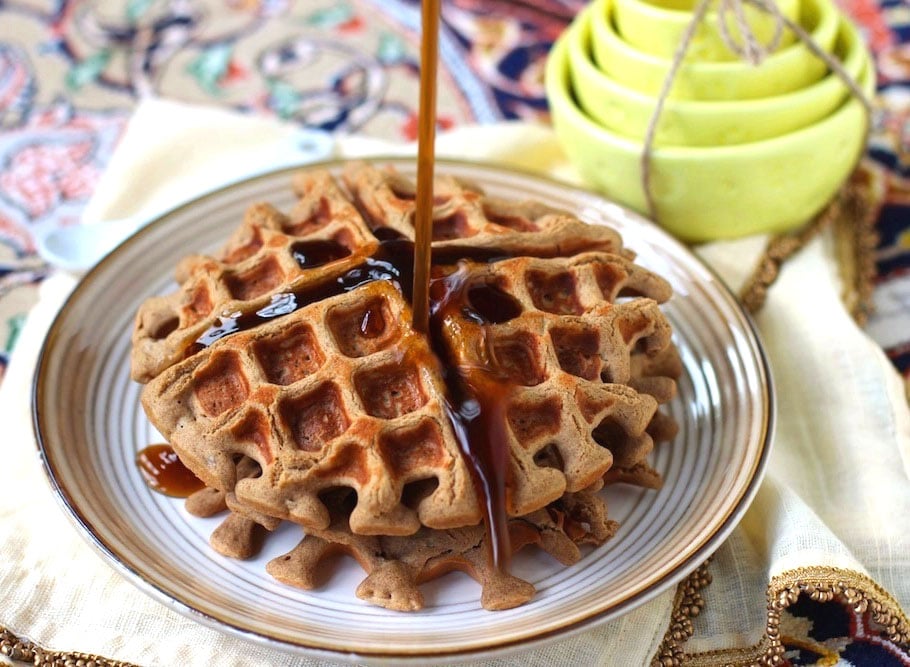 Yes, I'm serious.  These guilt-free Quinoa Protein Waffles are free of high-glycemic white sugar and added butter or oil.  Plus, they're high in fiber and protein!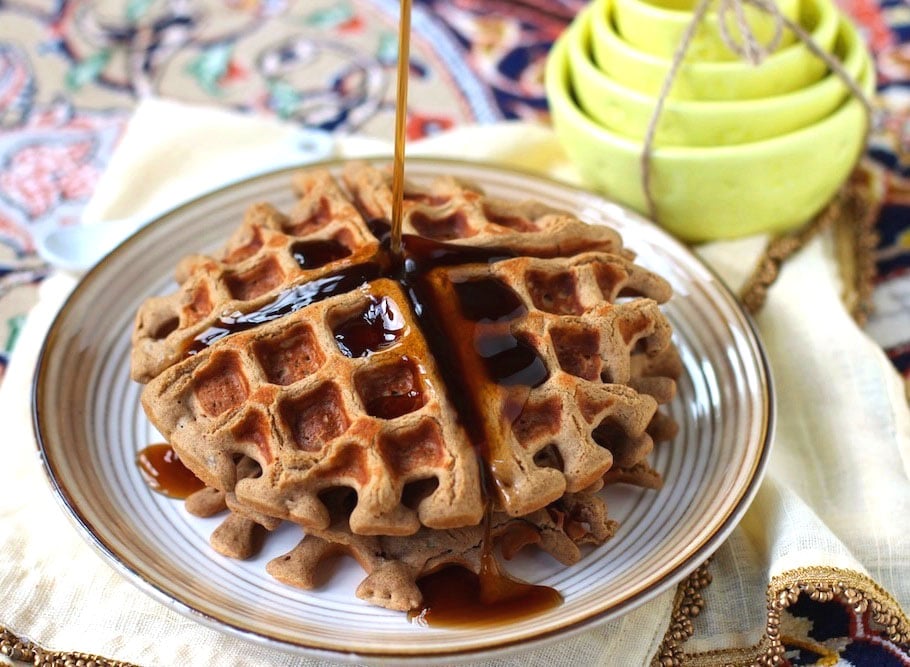 High quality nutritional aspects, such as the ones listed above, will leave you feeling full and satiated for hours.  Best of all, no crazy cravings, sugar rushes and sugar crashes.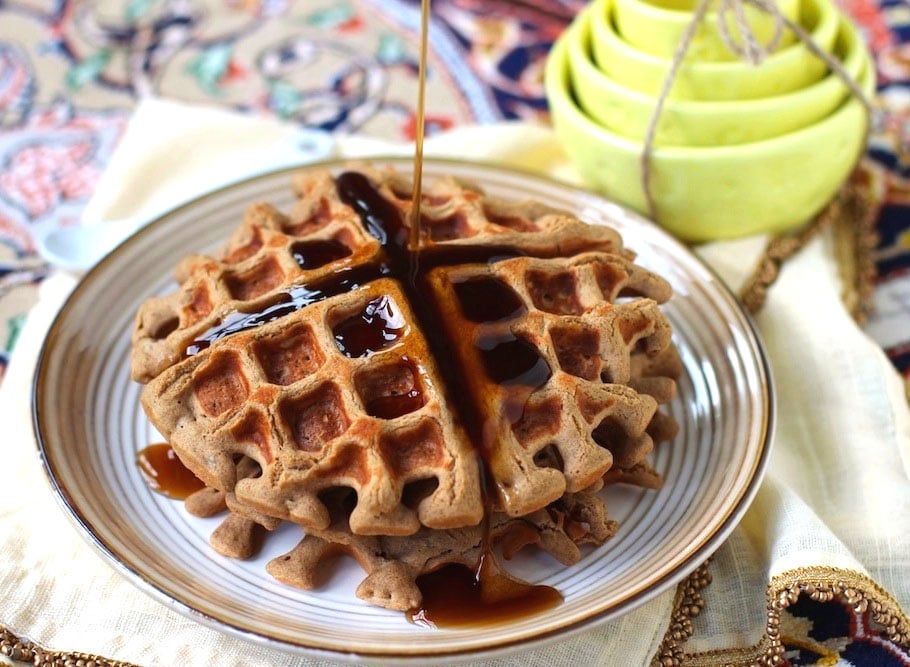 Yeah, feel free to add a gallon some pure maple syrup on top (no fake "maple" stuff here).
This is the kind of breakfast your mom (and doctor!) will be proud of you for eating.  These waffles might be a quick and easy breakfast food, but it sure ain't IHOP or McDonalds!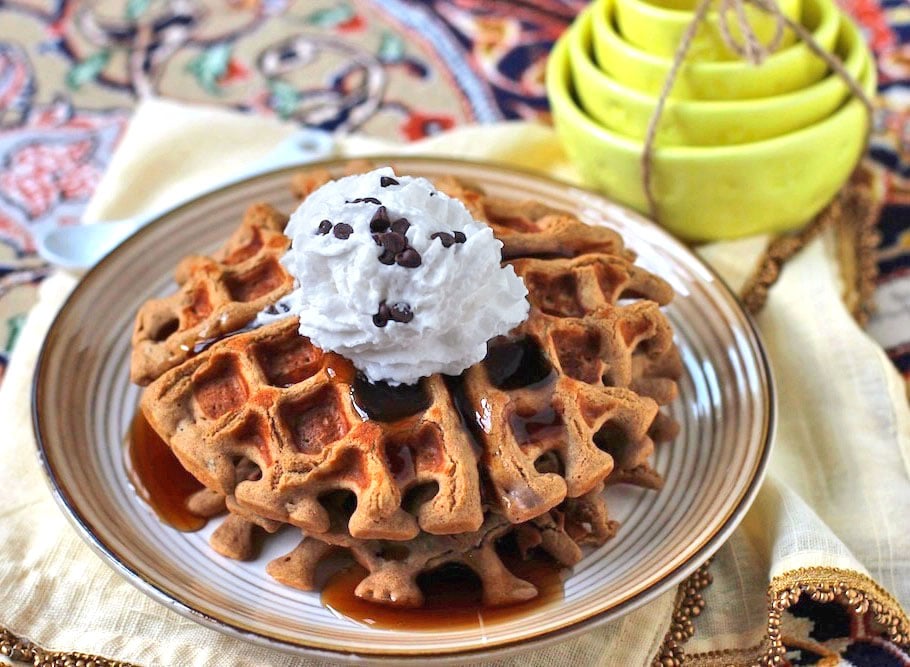 Healthy Quinoa Protein Waffles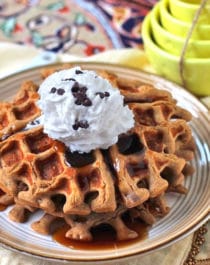 Ingredients:
Directions:
Preheat your waffle iron to medium/high heat.
In a small bowl, whisk together the quinoa flour, protein powder, sweetener, cinnamon, baking powder, and salt.
In a large bowl, whisk together the milk, egg white, and applesauce. Dump the dry over the wet and whisk together.
Spray the waffle iron with cooking spray. Pour half of the batter into the waffle maker and cook for 30 seconds. Flip upside down and cook for ~2 minutes. Flip back upright and check on the doneness, cook additional time if needed (it took me 3-4 minutes total for each waffle).  Douse with maple syrup and enjoy!
I thought I would compare the nutrition stats of this recipe to another waffle.  I then thought of IHOP, a horrible restaurant that I used to go to all the time as a kid.  I compared my recipe's nutrition label to the IHOP Simple & Fit Belgian Waffle (HAHA, what an stupid name for a heart-attack-inducing breakfast).
**IHOP's nutrition label is on the left, the Desserts With Benefits nutrition label is on the right**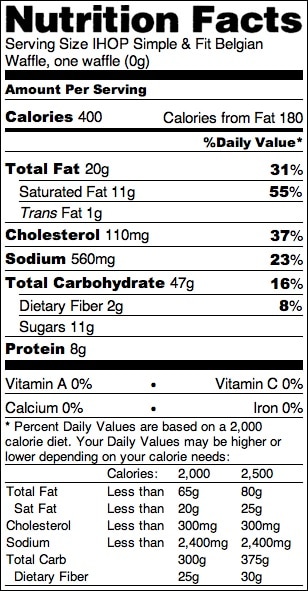 I'm pretty satisfied with the Desserts with Benefits nutrition label!  Not so sure about the IHOP one…  Just one waffle has 400 calories, and that's not even include the butter they add on it for serving.  The IHOP waffle also has 20g total fat, 11g saturated fat (the unhealthy kind) and 1g of TRANS FATS (*gasp* that's the unhealthiest kind that causes cancer, disease, stroke, etc).  Oh, and to top it all off, it also has refined white sugar.  Please, someone tell me why they call it "SIMPLE and FIT"  ????  Who the hell thought of that?
Anyways, so while ONE waffle at IHOP has 400 calories, TWO waffles from Desserts with Benefits has 280 calories.  Because these waffles are low in fat I am free to top the waffles with a bunch of chocolate chips  😉  When I'm in a serious chocolate mood I spread on some Homemade Dark Chocolate Almond Butter!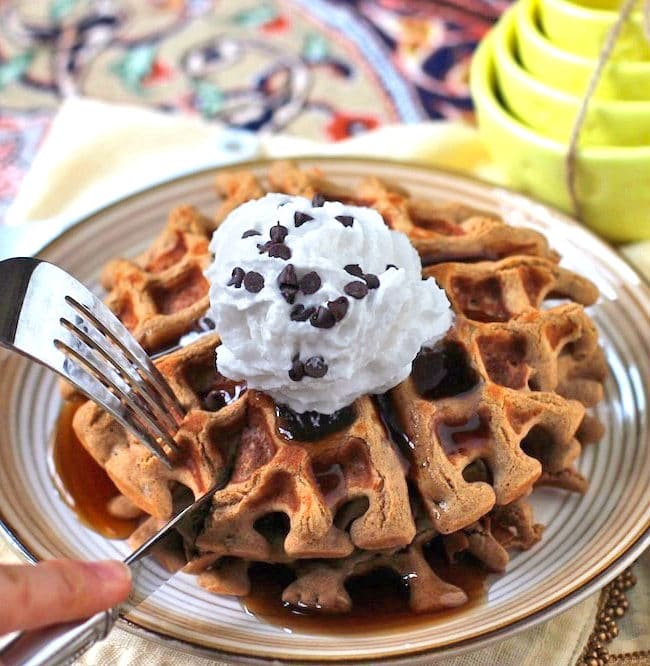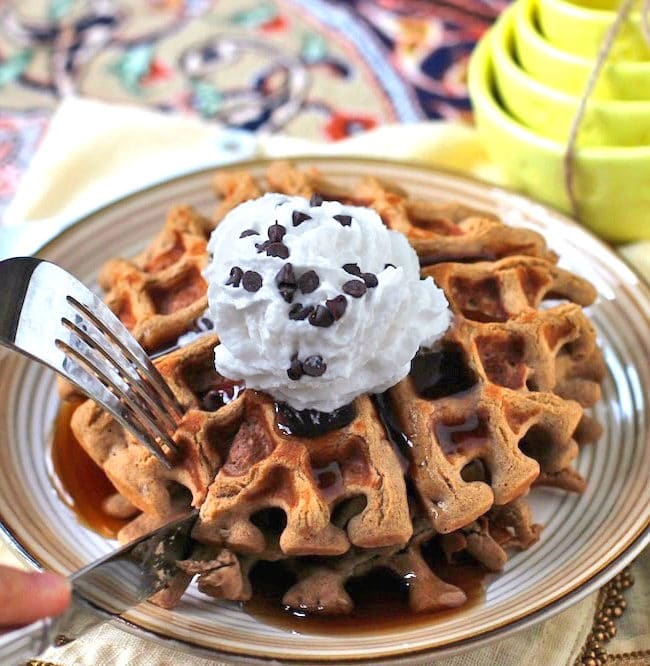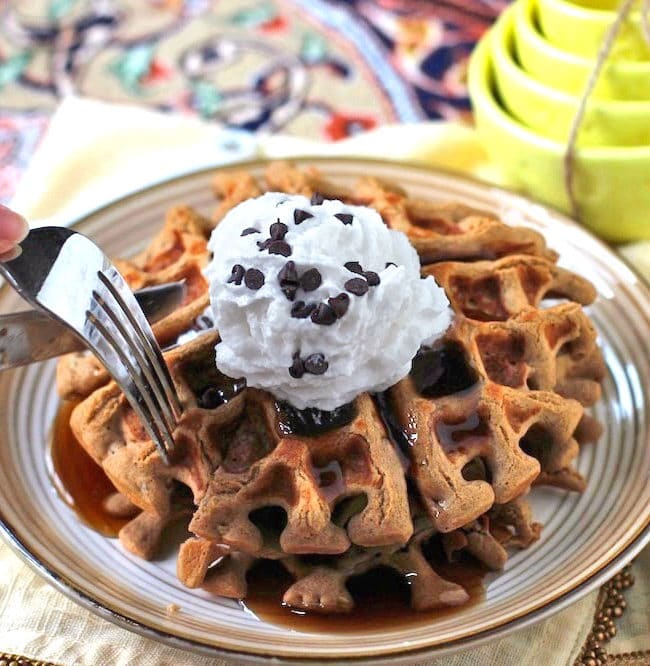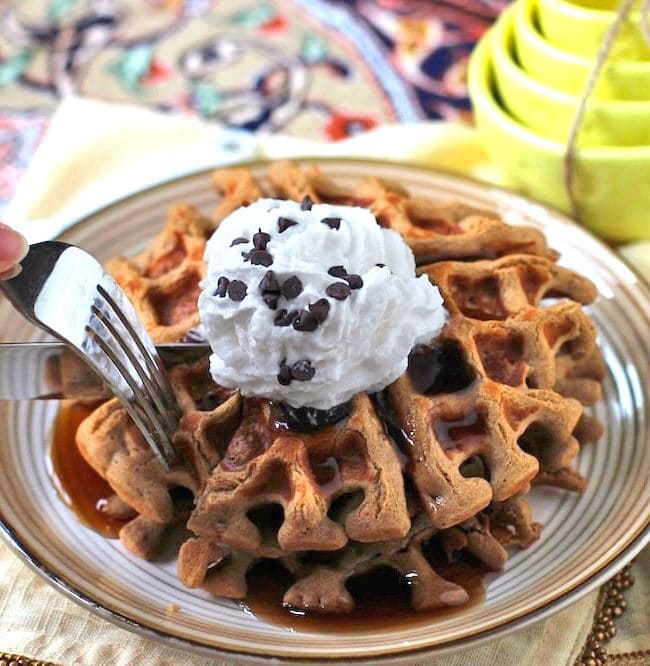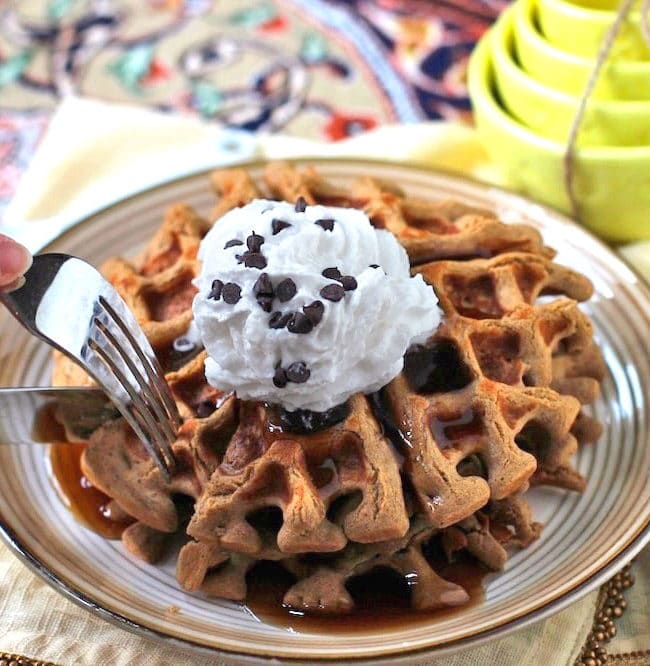 I guess I know what my breakfast is going to be all weekend…
.
With love and good eats,
.
– Jess
???
.
Be sure to follow @DessertsWithBenefits on Instagram!  If you try this recipe, make sure to snap a picture of it, tag me @DessertsWithBenefits, and hashtag #DessertsWithBenefits.  I'd love to see it and feature you on #FanFaveFridays!
.