Healthy Raspberry Lemon Bars
What happens when you add raspberries to delicious Lemon Bars?  You get Raspberry Lemon Bars!  But don't let their size fool you, these bars may be small but they pack a punch FULL of flavor.
This palm-sized dessert is incredibly tart from the lemons and refreshing from the raspberries.
These bars are sweet, simple and ultimately satisfying for the sweet tooth out there.  They taste like they are full of sugar and butter, but shhhh, they're sugar-free and butter-free (oh, and high-protein and gluten-free too!)
Mmmm…  a soft almond crust with a smooth and creamy raspberry lemon filling.  These healthy Pink Raspberry Lemon Bars were gone.  IN.  A.  FLASH!
Healthy Pink Raspberry Lemonade Bars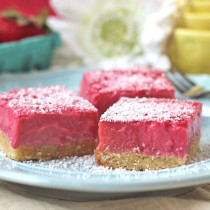 Ingredients:
Crust:*
Filling:
1¼ cups Fresh Raspberry Puree, sieved**
5 Large Organic Eggs
2 tsp Stevia Extract
32g (3 tbs) Organic Corn Starch
1 tbs Roasted Beet Puree OR Natural Red Food Coloring
¾ cup Lemon Juice, freshly squeezed
Directions:
For the Crust:
Preheat the oven to 350 degrees and line an 8" brownie pan with parchment paper both ways. Fold a strip of foil into a finger-length sized rectangle and fold over the parchment paper to keep it upright against the side of the pan so it doesn't fall.
In a medium-sized bowl, stir together the almond meal, erythritol and salt.
In a small bowl, stir together the soymilk and butter extract. Pour over the dry ingredients and fold together (it should be like a pasty cookie dough).
Scoop the dough into the prepared pan and spread to the edges (you can wet your fingers and press down on the dough to help).
Bake for 30 minutes, or until the surface is firm to touch. Make the filling while this bakes.
For the Filling:
**Put two 6oz containers worth of raspberries in a large sieve over a bowl. Press on the raspberries with a spoon until they crush/burst and their juices flow into the bowl (occasionally scrape the underside of the sieve to get the puree clinging to the sieve). You should get 1+1/4 cups of puree, pour this into a stand mixer bowl with whisk attachment (you could probably put the raspberries in a blender and then strain the raspberries later).
Add the eggs and stevia extract to the stand mixer and whisk on medium/low speed.
Slowly add the corn starch while whisking, then add the beet puree.  Add the lemon juice and whisk thoroughly.  Pour the batter over the baked crust and bake for ~25-28 minutes, or until the center no longer jiggles when pan is shaken lightly.
Let cool for ~20 minutes in the pan, then transfer to a wire cooling rack to cool completely.  Slice and place bars on a serving platter. Refrigerate overnight and serve the next day!
Just like with my Original Lemon Bar recipe, I thought I would include a nutrition label comparison to compare the nutrition stats of my recipe and another recipe I found online.  The Annie's Eats nutrition label is on the left,  the Desserts with Benefits nutrition label is on the right:
Wow, I was expecting a large discrepancy in the calorie count but I sure wasn't expecting THAT much of a difference!  Compared to the other recipe, my recipe has less than half the calories, 2.5x the protein and contains healthy fats only.

Other than the ingredient list, this nutrition label comparison shows how healthy the DWB recipe is.  I mean, with no white sugar, hormone-filled butter and bleached flour, you can't really go wrong now can you?  Refined/processed ingredients not only add a ton of calories, but they add a ton of empty/non-nutritive calories.  The ingredients used in this recipe are quality ingredients — good for you, nutritious and do your body good rather than harm.
So make these (secretly healthy) Raspberry Lemon Bars.  You can have an extra serving (or two) without feeling weighed down or shaky from the excess sugar.  If you are a sweet tooth like me, you will be in (guilt-free) dessert heaven  😉