Healthy Red Velvet Pancakes
THIS sure doesn't sound like your typical good-for-you breakfast…  I mean, Healthy Red Velvet Pancakes??  You CRAZY?!?
Yes, I might be crazy, and so might these pancakes, but that's not necessarily a bad thing.  These are the softest, fluffiest, sweetest guilt-free pancakes in all the land!  It's hard to believe these are sugar free, low fat, low calorie, high protein, high fiber, gluten free, and dairy free…  try saying that 5x fast with a big mouthful of this decadent deliciousness.

If you're in the market for a super indulgent, yet guilt-free meal, you have found THE ONE.
Unlike typical Red Velvet Pancakes, these HEALTHY Red Velvet Pancakes are made without the white sugar, white flour, oil, butter, and artificial food coloring.
Yes, these pancakes are naturally red.  But HOW???  Oh, a secret ingredient, my dear friends…  a secret ingredient…

BEETS!
Trust me, y'all, it works.
So go ahead, have some dessert for breakfast.  Top it all off with natural whipped cream (I used Soyatoo Rice Whip), Homemade Chocolate Syrup (pure maple syrup also works but I like the extra hit of chocolate), and mini dark chocolate chips.  You will be in HEEEAAVENNNNN.
Healthy Red Velvet Pancakes
Prep Time: 10 minutes
Cook Time: 20 minutes
Total Time: 30 minutes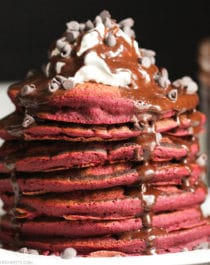 Fat per serving: 2.5
Calories per serving: 270
Ingredients:
90g (⅔ cup) Sweet White Sorghum Flour
10g (2 tbs) Unsweetened Natural Cocoa Powder
1 tsp Double-Acting Baking Powder
¼ tsp Xanthan Gum
pinch of Salt
123g (½ cup) Roasted Beet Puree, room temp (see this post for Directions)
4 Large Egg Whites
½ cup Unsweetened Vanilla Almond Milk
1 tbs Vanilla Extract
1 tsp Natural Butter Flavor
1 tsp White Vinegar
Directions:
Spray a nonstick griddle with cooking spray and place over medium/low heat.
In a small bowl, whisk together the sorghum flour, cocoa powder, baking powder, xanthan gum, sweetener, and salt.
In a medium-sized bowl, whisk together the beet puree and egg whites. Whisk vigorously, until the egg whites are completely incorporated.  Whisk in the almond milk, vanilla extract, and butter flavor.
Dump the dry ingredients into the wet ingredients and whisk vigorously.
Scoop ~¼ cup of the batter onto the griddle.  Cook until bubbles appear on the surface of the pancake and the edges appear dry.  Flip and cook the other side (If the pancakes appear to cook too fast, reduce the heat!  These need to cook on a slightly lower heat than typical pancakes, for a longer time.  Too high and too fast will make them brown). Continue this until all the batter is used up.
Serve immediately with all natural whipped cream, Healthy Homemade Chocolate Syrup, and mini dark chocolate chips!
All images and text ©
.
.
Here is the recipe's nutrition label:
Daaaaaang!  Pretty impressive, if I do say so myself.
Just 270 calories and 2.5g of fat, plus 7g of fiber and 13g of protein.  BOOYAH.
To see how my nutrition label stacks up to the competition, check out the nutrition label for a typical (aka unhealthy) Red Velvet Pancake recipe here.  Yeah, 4 unhealthy pancakes for 400 calories and 15g of fat vs. 4 healthy pancakes for just 270 calories and 2.5g of fat.  Um, yeah, I think I'll go with the healthy version, thanks.
And I'm not choosing my recipe because I am totally bias cuz I made it, I'm not choosing my recipe because it's lower calorie, lower fat/saturated fat, higher fiber, higher protein, and sugar free.  I am choosing my pancake recipe because it is secretly good for you and 100% nutritious.  These Healthy Red Velvet Pancakes are all natural and make for a balanced dessert-for-breakfast.  You won't get hungry again in 30 minutes like you would if you were to eat typical pancakes, you'll stay full for hours thanks to the 7g of filling fiber and 13g of satiating protein!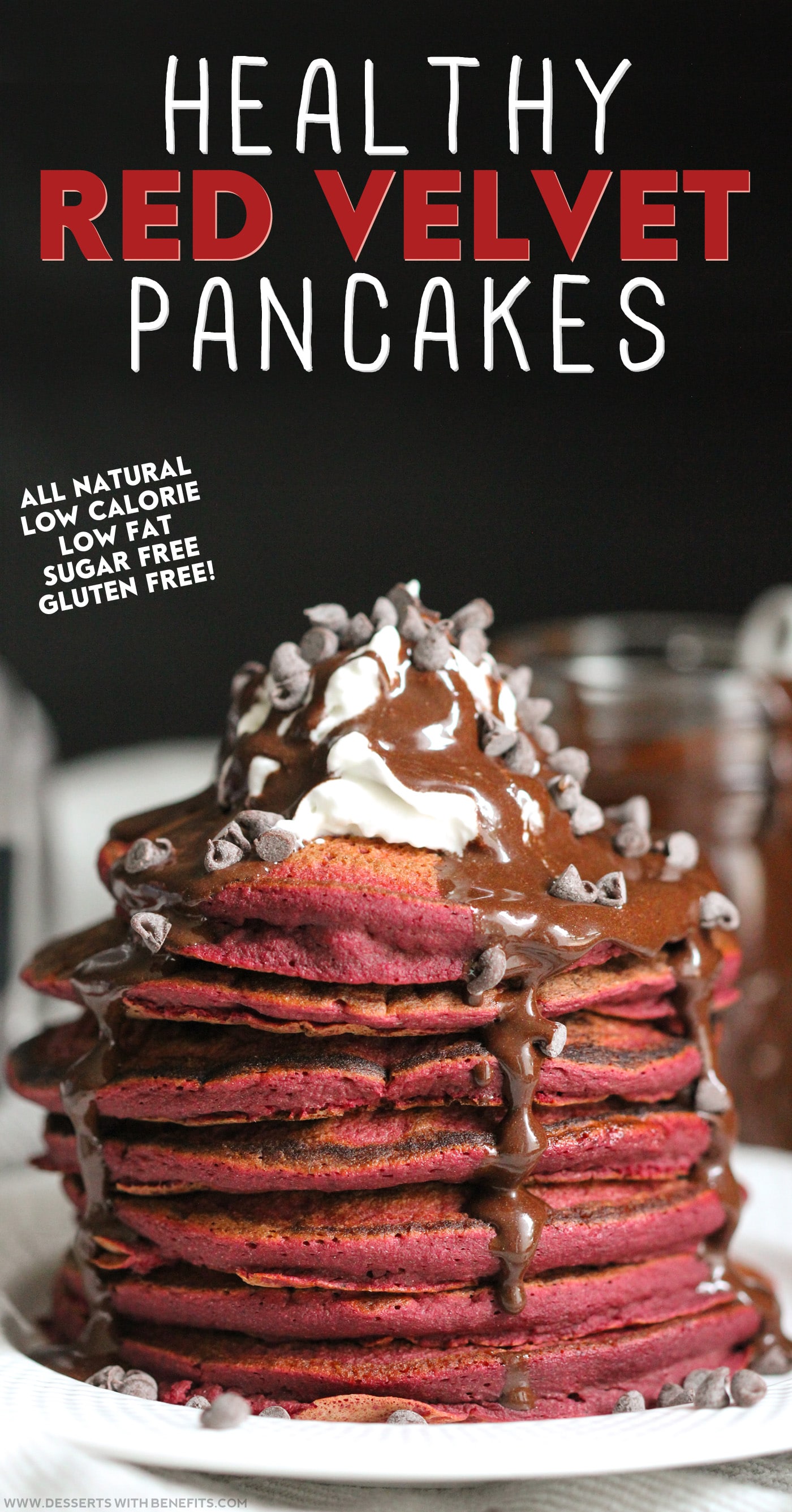 This is the perfect breakfast to make on a special occasion (or no occasion at all).  These Healthy Red Velvet Pancakes are basically a health food masked as a decadent diet buster.  Who wouldn't want this for breakfast?!?
Enjoy!
.
– Jess
.