Healthy Skinny Minties (Homemade Thin Mints)
Healthy Skinny Minties (aka Homemade Thin Mints)!  They're crunchy, they're sweet, they're chocolatey, and they're minty fresh.  You'd never know they're made without the refined flour, trans fats, and white sugar.
I'll take a dozen thank you very much  😉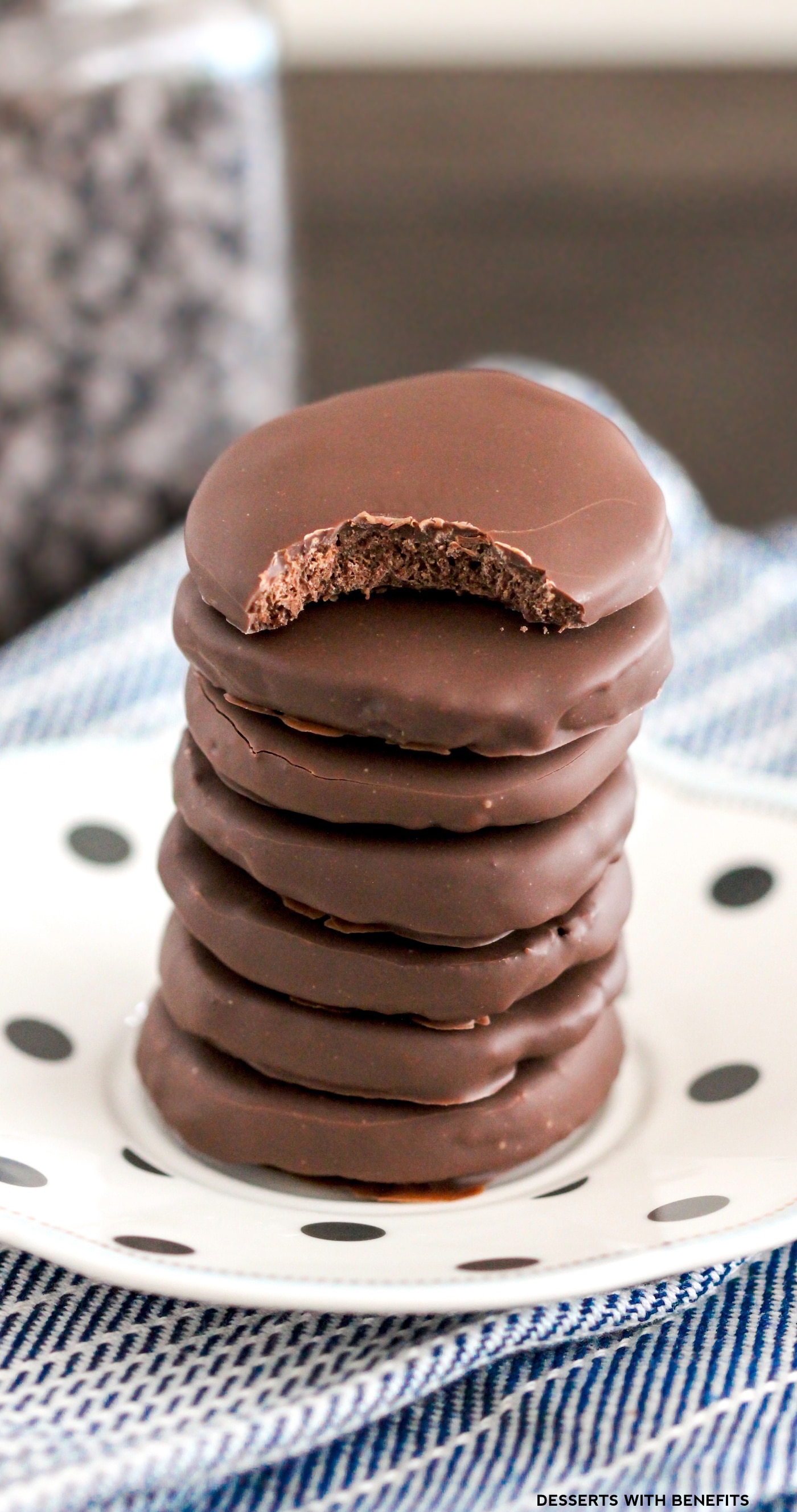 Making a healthy, homemade version of these classic Girl Scout cookies has been on my Baking To-Do list for years.  Yes, years.  I put it off because I was intimidated.
What if the cookies weren't crunchy enough?
What if the coating wasn't minty enough?
How would they compare to the originals?
But seriously, Jessica?  It's a damn cookie!  Chillllaaaax.
Anyways, I finally made this recipe because my best friend eats Thin Mints like they're a major food group.  My fear of making homemade Thin Mints that weren't exactly like the originals was ridiculous.  Who cares if they're the same, as long as they taste good, right?  With your first bite, these Healthy Skinny Minties are crunchy.  You instantly get the hit of mint, then the rich chocolate, and the perfect, non-overpowering sweetness.
They're not exactly like the Girl Scouts version, but they're still amazing.  So amazing that I ate five (or six…) during the food photography session alone.  I mean, why not?  They don't have the dangerous hydrogenated oils, unhealthy white sugar and bad-for-you bleached flour like the Girl Scouts version.
They're so good, so healthy, and so holiday-appropriate with the mint and chocolate, I MUST GIFT THEM TO EVERYONE I KNOW!  I mean, wouldn't you be thrilled to get a freshly baked batch of these Skinny Minties?  🙂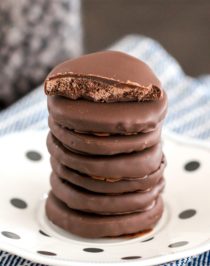 Print Recipe
Pin Recipe
Healthy Skinny Minties (Homemade Thin Mints)
These Healthy Homemade Thin Mints are better for you than those pre-packaged Girl Scouts cookies, yet they taste JUST like the original!
Ingredients
Chocolate Cookies:
120g

(1 cup)

Oat Flour

144g

(¾ cup)

Granulated Erythritol

40g

(½ cup)

Unsweetened Natural Cocoa Powder

1

tsp 

Double-Acting Baking Powder

¼

tsp 

Salt

80g

(⅓ cup)

Unsweetened Vanilla Almond Milk

42g

(3 tbs)

Coconut Oil

2

tsp 

Vanilla Extract
Instructions
In a small bowl, whisk together the oat flour, erythritol, cocoa powder, baking powder and salt.

In a large microwave-safe bowl, add the almond milk, coconut oil and vanilla extract.  Microwave at 15-second intervals, stirring between each one, until the coconut oil is melted.

Dump the dry ingredients into the wet ingredients and stir together until fully mixed. Dump the dough onto some plastic wrap. Pat the dough into a ball, then form into a log shape. Wrap the dough with the plastic wrap, then form into a smooth log.

Refrigerate the dough for 1-1½ hours.

Preheat the oven to 350 degrees Fahrenheit and line a cookie sheet with parchment paper.

With a sharp knife, slice the log into cookies. The dough is slightly delicate, so the bottoms of some slices may crumble off. It's really easy to just stick it back on though!

Put the cookie dough rounds onto the prepared cookie sheet and bake for 11 minutes.  The cookies will be sponge-like right now, but don't worry, they firm up as they cool!

When the cookies are completely cool, add the dark chocolate and cacao butter to a small microwave-safe bowl.  Microwave at 30-second intervals, stirring between each one, until melted.  Stir in the peppermint flavor.  Dip the cookies into the melted chocolate, tap off the excess, then place back on the cookie sheet.  Refrigerate until completely firm.  Serve and enjoy!  Keeps for ~5 days.
Nutrition Facts
Healthy Skinny Minties (Homemade Thin Mints)
Amount Per Serving (1 serving = 3 skinny minties)
Calories 160
Calories from Fat 108
% Daily Value*
Fat 12g18%
Sodium 100mg4%
Carbohydrates 12g4%
Protein 3g6%
Calcium 60mg6%
Iron 1.8mg10%
* Percent Daily Values are based on a 2000 calorie diet.
And are you curious to see the ingredients inside the Girl Scouts Thin Mints?  Look no further: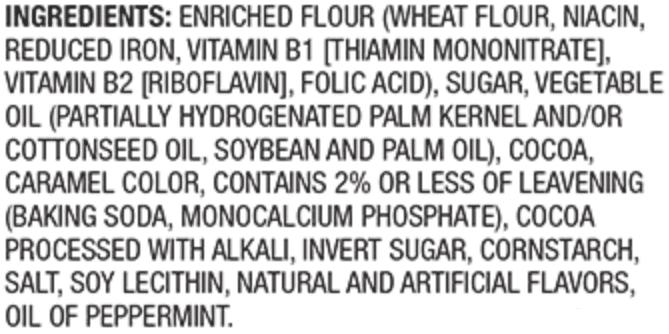 Ughhhh whyyyyy??
1st ingredient: refined white flour.
2nd ingredient: bleached white sugar.
3rd ingredient: hydrogenated oils (aka dangerous trans fats).
*shakes head*
I'm so glad I finally got around to making these healthy homemade Thin Mints.  If I weren't gifting them to friends and family, I would definitely probably eat the entire batch…  😉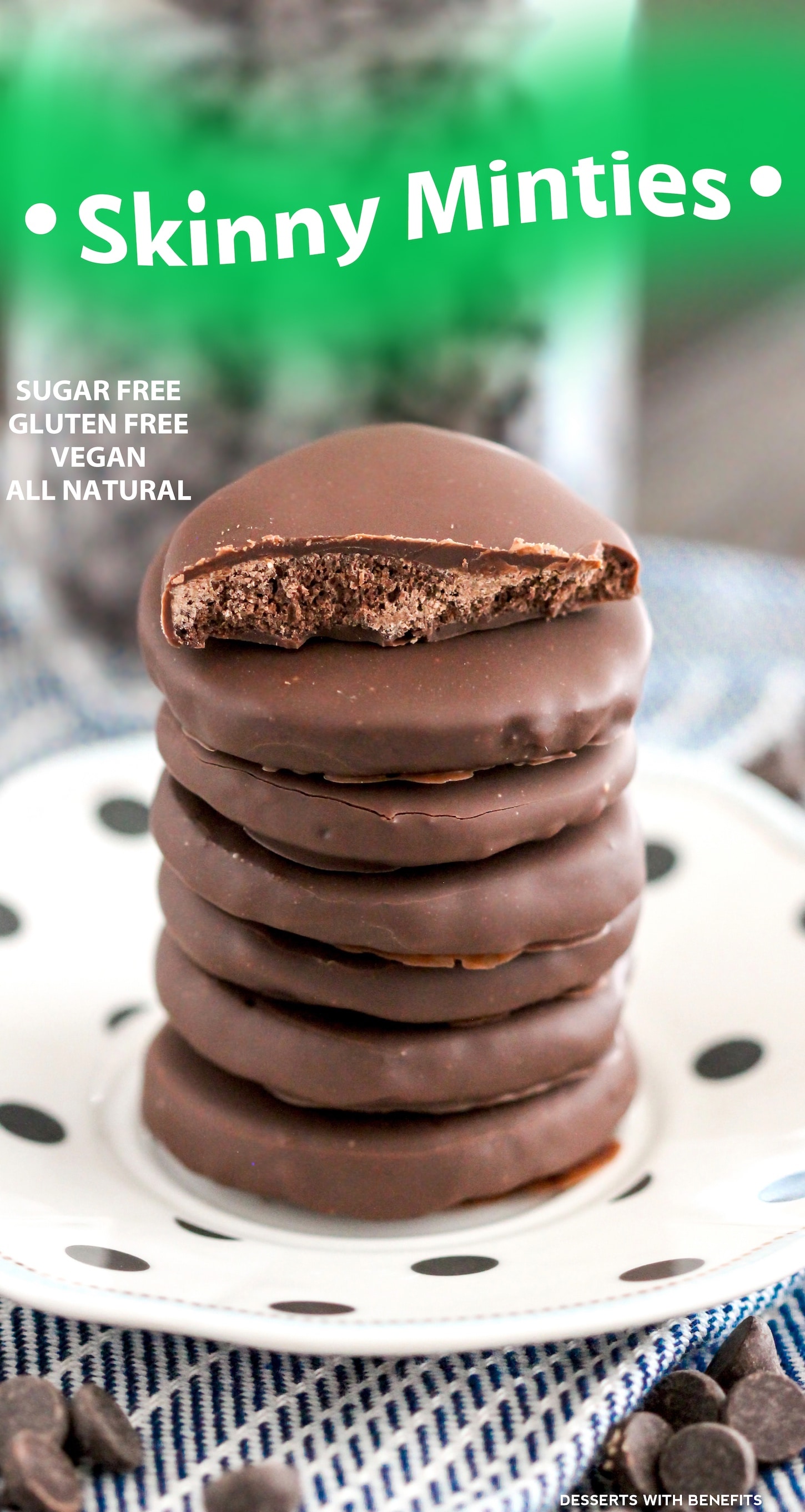 Enjoy!
.
With love and good eats,
.
– Jess
.