Healthy Homemade Fruit Snacks — Peach Mango Flavored
These Peach Mango Fruit Snacks are soft and squishy bite-sized treats bursting with tropical mango and peach flavors.  You'd never know they're fat free, sugar free, gluten free, and all natural!
Yup, that means no high-fructose corn syrup, artificial food flavorings, synthetic food dyes or preservatives whatsoever.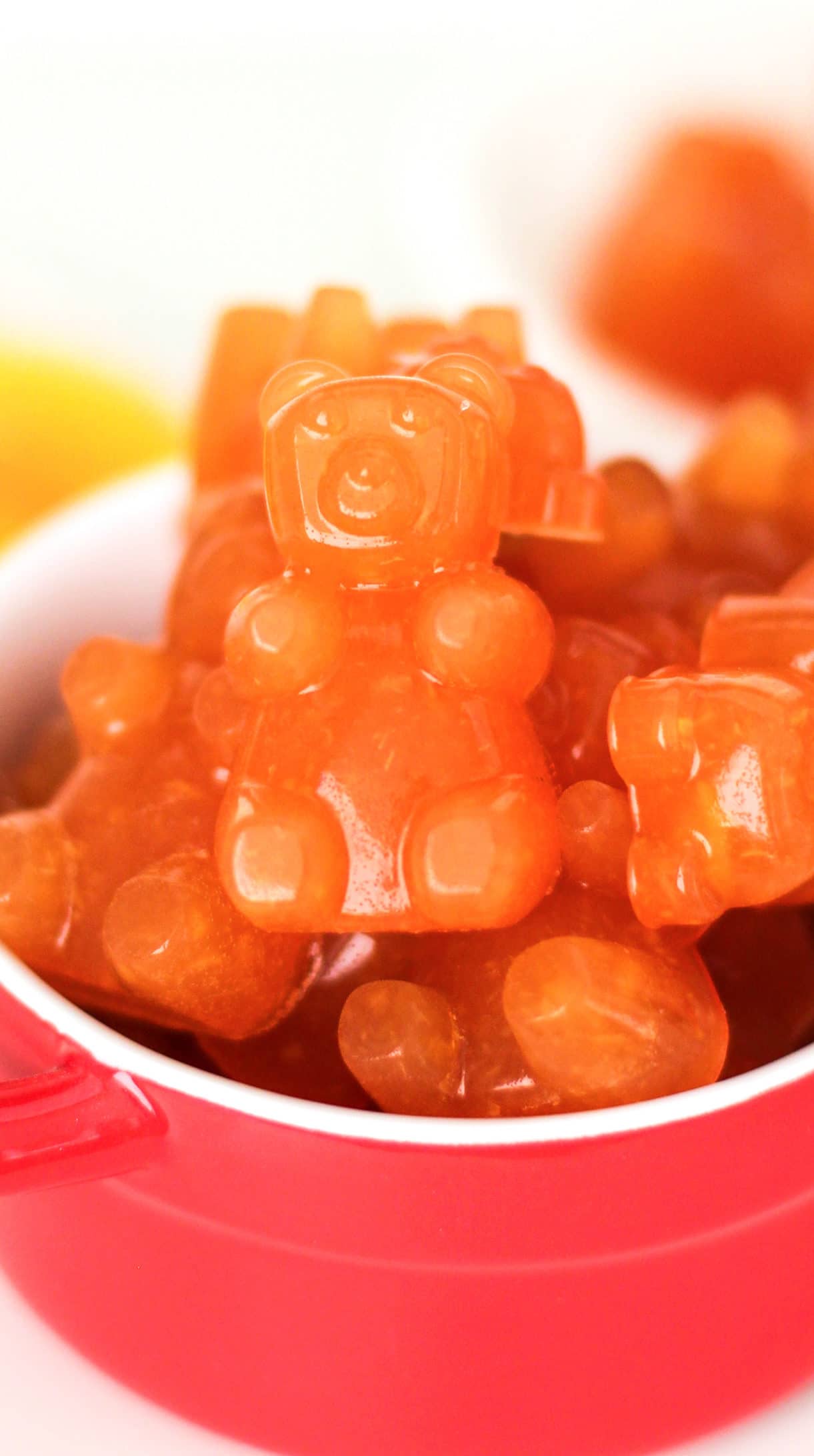 These are so good you'll eat a dozen in a row.  Because that's what I did.  And I'll take a dozen more, thank you very much!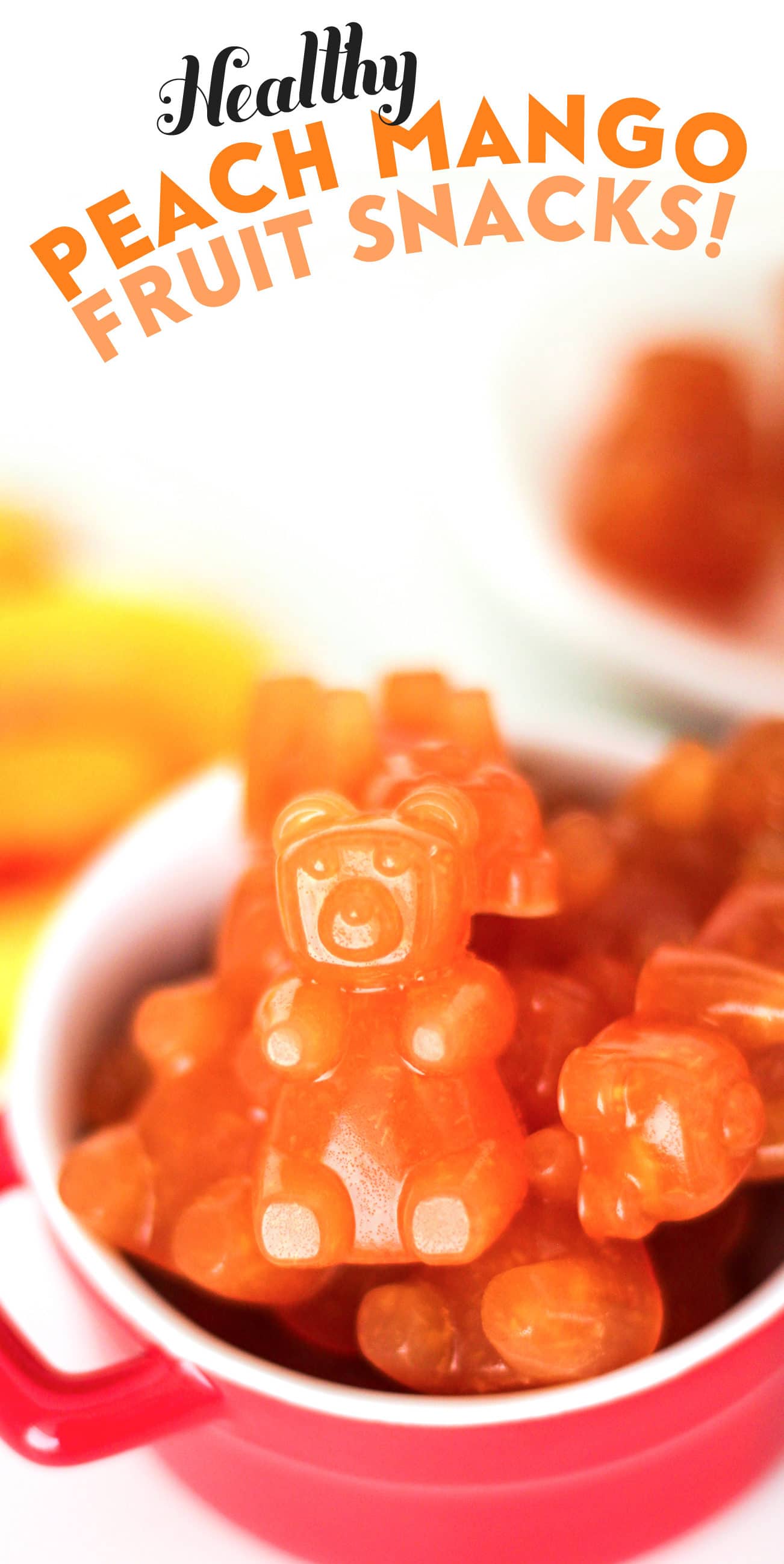 Healthy Peach Mango Fruit Snacks
Prep Time: 30 minutes
Cook Time: 15 minutes
Total Time: 1 hour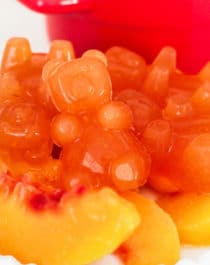 Calories per serving: 40
Ingredients:
4 packets Peach Mango Lipton Herbal Tea
1½ cups Hot Water
8oz Frozen Peach Slices, unsweetened
⅓ cup Lemon Juice
60g (6 tbs) Unflavored Gelatin
¼ tsp Stevia Extract
Directions:
Brew the tea in the hot water for 5 minutes, then remove the tea bags.  Press all the liquid out of the tea bags to capture that remaining flavor!
Add the frozen peaches and lemon juice to a blender and pour in the hot tea.  Blend until smooth.  Pour the mixture into a small saucepan.
Sprinkle the gelatin into the saucepan and let it all sit for 5 minutes.
Place the pan over medium/medium-high heat.  Whisk occasionally.  When the mixture begins to bubble around the edges of the pan, and when the bubbles return almost immediately after you stop whisking, remove from the heat.
Whisk in the optional stevia extract.
Place your gummy bear molds on a cookie sheet.  Carefully pour the mixture into the molds (I use a ¼ cup measuring cup).  Let cool on the counter for about 1 hour, then place the pan in the fridge.  Refrigerate until firm (I leave them overnight).
Notes:
All images and text ©
.
.
Here is the recipe's nutrition label:
Jumbo gummy bear-shaped fruit snacks for only 10 calories a piece?  I'LL TAKE IT.
These fruit snacks are so good, I was tempted to walk to the fridge every ten minutes to grab a couple to snack on, but I had to save some for the tight-knit Afternoon Tea + Dessert Party I was hosting.  I made big pitchers of both Peach Mango and Cinnamon Apple Herbal Teas, plus some Healthy Homemade Peach Mango Fruit Snacks, Raw Red Velvet Fudge, Raw Matcha Green Tea Fudge, Raw Blueberry Coconut Fudge, and DIY Thin Mints, and provided some fresh Honeycrisp Apples.
The bite-sized treats were perfect little party munchers over some good conversation and catching up.  It's been so long since my friends and I had a reunion.  We're all pretty laid back twenty-somethings…  we don't need to go out and party or jump up and down at concerts (although, we do that occasionally).  We're the ones who prefer getting comfy in our pajamas and cooking at home and watching episode after episode of our favorite TV shows..
I won't lie, I think I ate the majority of the Peach Mango Fruit Snacks at the party.  I couldn't stop.  I know I'll be making this recipe again and again and again.  It's just SO fun and easy…  and delicious.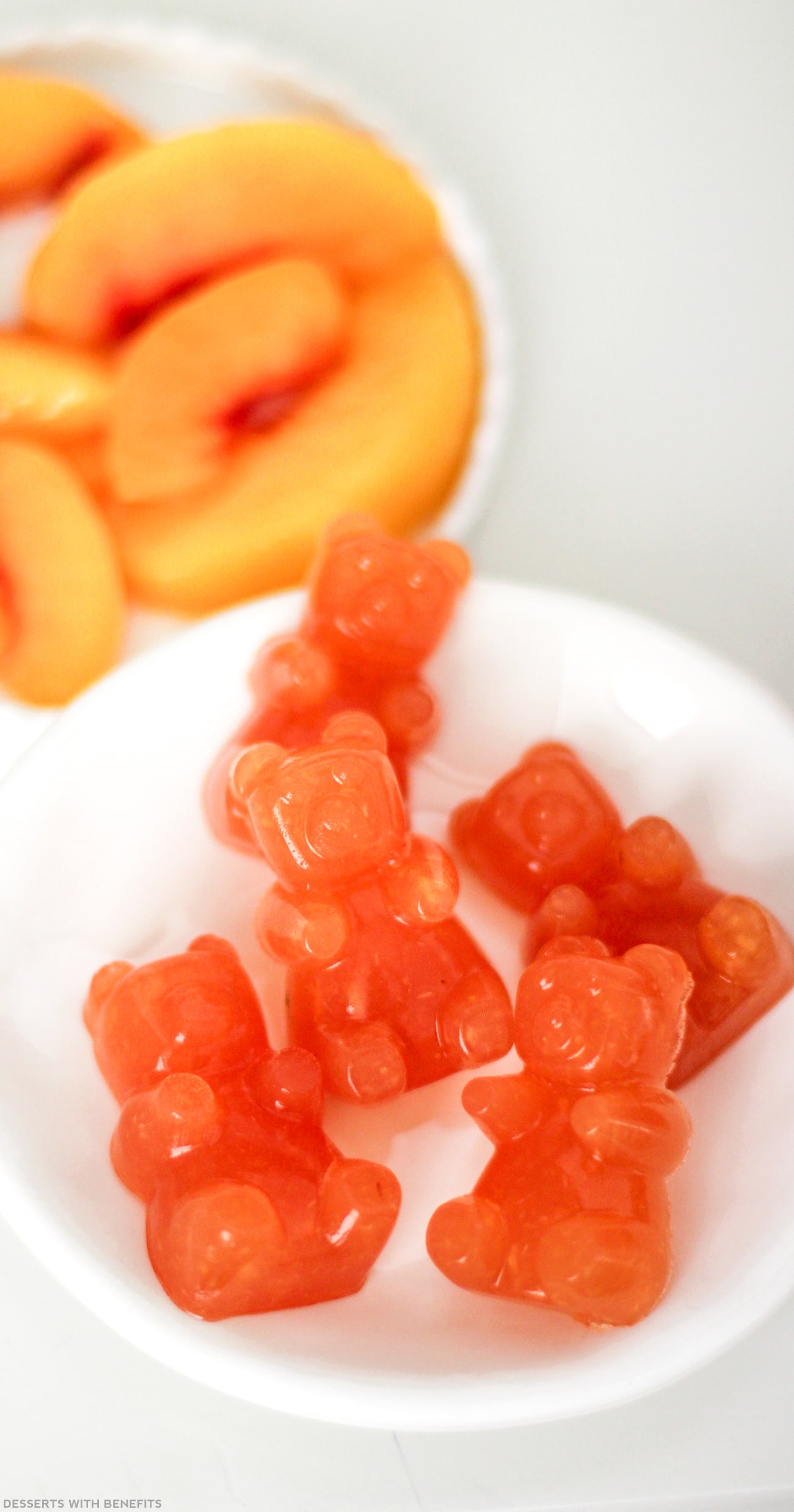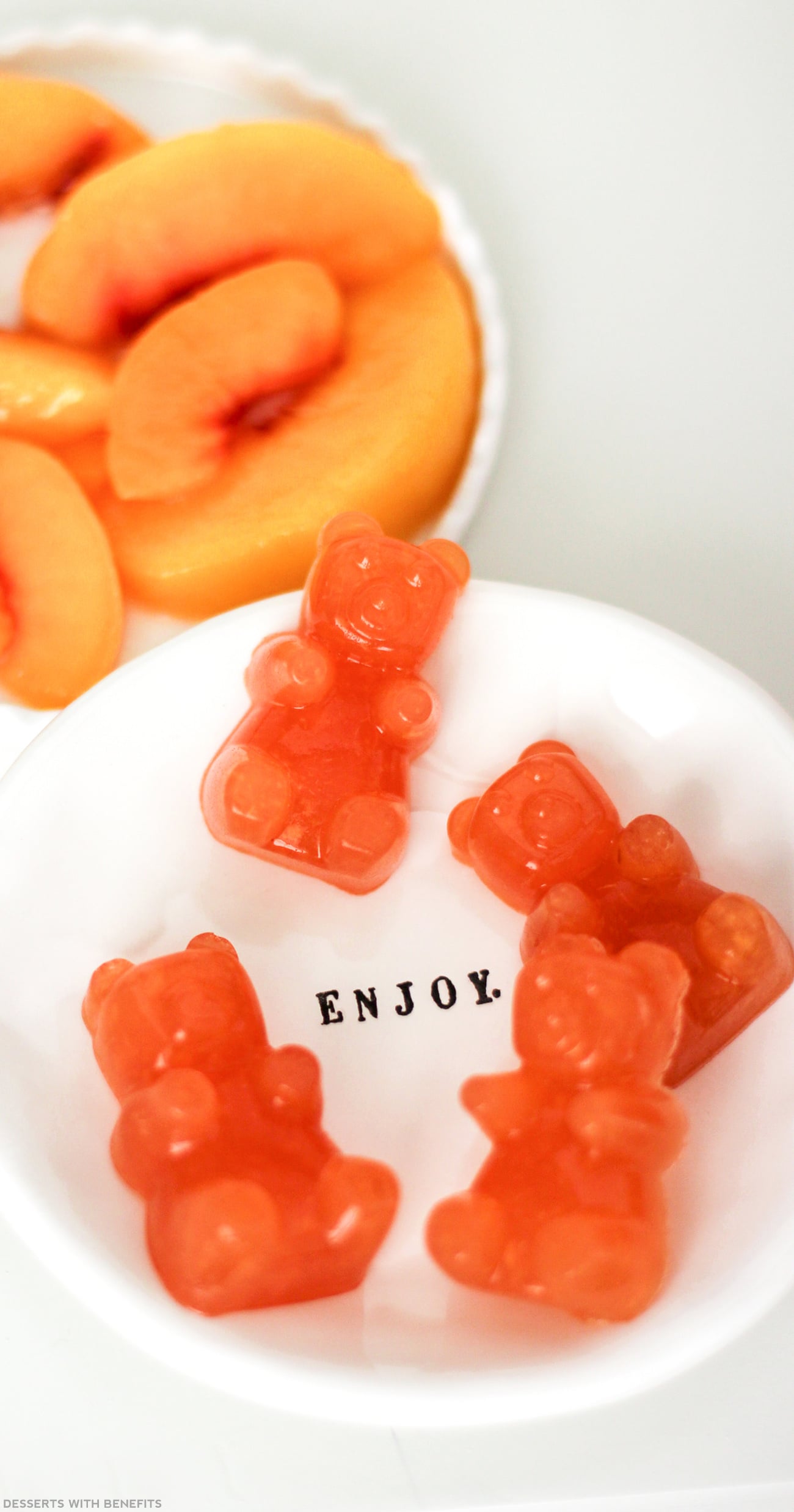 Enjoy!  I think you will  😉
.
With love and good eats,
.
– Jess
.