Healthy Snickerdoodles
Snickerdoodles have been on my Recipe Wishlist for months now and I have finally healthified the typically guilty cookie recipe.  After a few sad baking fails I have made the successful Healthy Snickerdoodles I was always dreaming of.  These cookies are soft, chewy, moist and delicious, you'd never know that they are secretly good for you  😉
Regular old Snickerdoodles are packed with butter and sugar and refined flour, but not anymore!  The cookies you see here are free of hormone-filled butter, refined white sugar and bleached, processed flours.  These Healthy Snickerdoodles are 100% whole grain, low in sugar and secretly gluten free and vegan — the perfect cookie recipe for the health-conscience sweet tooth out there  🙂
Healthy Snickerdoodles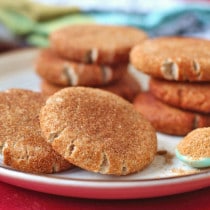 Ingredients:
Cookies:
Cinnamon-Sugar Coating:
1/2 cup DIY Vanilla Sugar
1 tbs Cinnamon
Directions:
For the Cookie Dough:
Preheat the oven to 350 degrees Fahrenheit and line two cookie sheets with parchment paper or Silpats.
In a small bowl, whisk together the soy milk, oil, vanilla sugar, stevia extract, vanilla paste and butter extract.
In a large bowl, whisk together the oat flour, sorghum flour, starch, egg replacer powder, cream of tartar and salt.
Pour the wet ingredients over the dry ingredients and fold together.
For the Cinnamon-Sugar Coating:
In a small bowl, stir together the erythritol and cinnamon.
Use a cookie scoop to scoop the dough out of the bowl and place inside the cinnamon-sugar mixture.
Roll the ball around until completely coating then place on the baking sheet. Flatten slightly with your palms.
Bake for 10-14 minutes, then slide parchment paper off the hot baking sheet and let cool on the counter.
It's time for a nutrition label showdown!  Here I compare a typical Snickerdoodle recipe to my healthified version to show you all how different the two can be in terms of calories, fat, sugar, etc…  The Food Network recipe nutrition label is on the left,  the Desserts with Benefits recipe nutrition label is on the right:
The nutrition labels above are for two cookies (because who can just have one??) and my recipe has:
150 less calories
6g less fat (and less saturated fat too)
ZERO trans fats (the dangerous and unhealthy fats that cause cancer, diseases, clogged arteries, sickness, etc)
ZERO cholesterol
ZERO refined sugar
Less sodium and less carbohydrates
More fiber and more protein
People correspond the word "dessert" with butter, sugar and extra empty calories added to the day's total, but not here on Desserts with Benefits.  The healthy dessert recipes featured on this blog can be eaten every single day without feeling guilty ONE BIT!
Enjoy  😀