Healthy Tiramisu Brownies
Ummm, guys?  Y'all need to get ready for this.  Like, hold onto your pants because things are about to get epic…  today, I bring you these Healthy Tiramisu Brownies.
I repeat, HEALTHY TIRAMISU BROWNIES.
Did your socks pants just fly off?
Becaaaaauuuuseee I think mine did…  😉
These are healthy, and yes, these are real.  Decadent and uber fudgy, chocolatey brownies topped with an incredibly rich mascarpone swirl.  Like a true Tiramisu, these brownies have got the important components:  coffee, mascarpone, and rum.
Heckin' YES.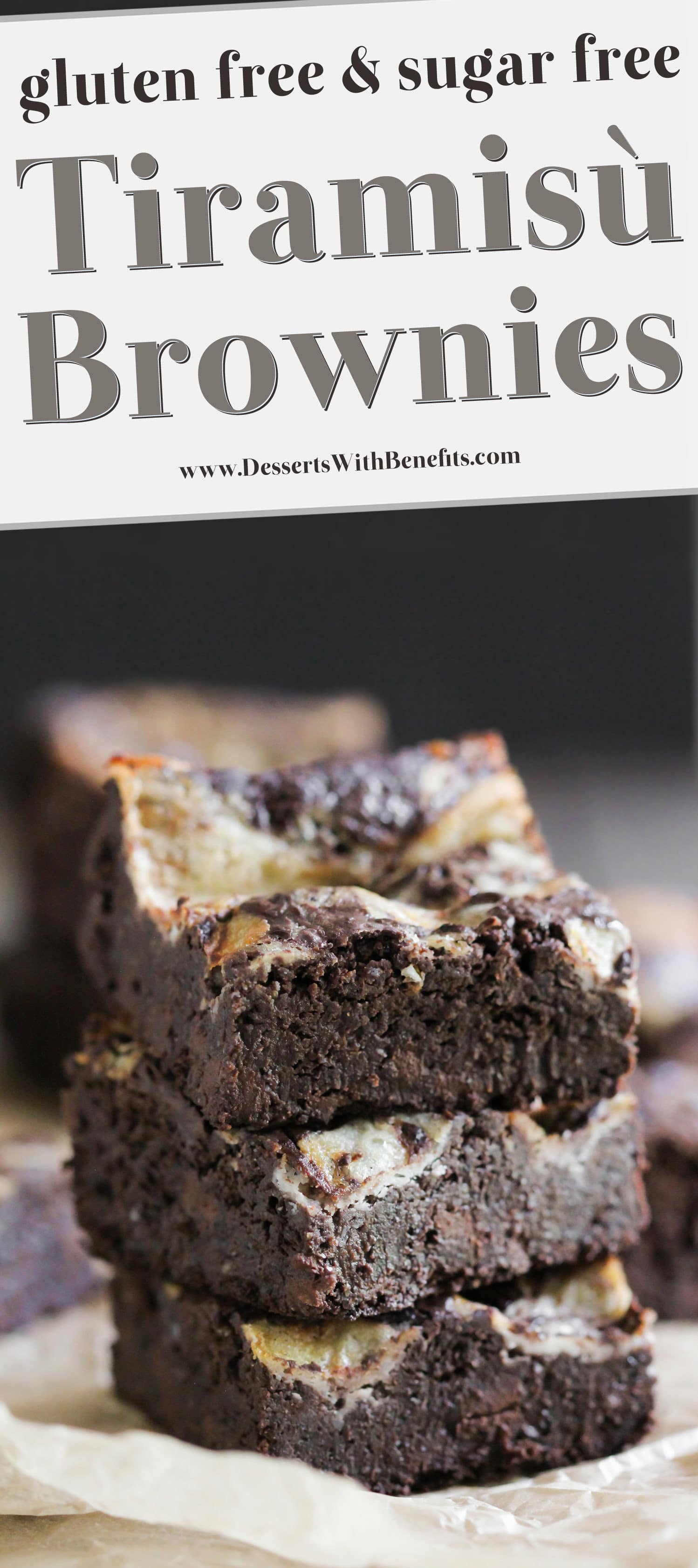 While these Tiramisu Brownies aren't vegan, the brownie base actually is vegan!  These brownies are my go-to because they're honestly just the best damn brownies ever.  And I've made a lot of brownies in my day.  They've got a secret ingredient, but I promise you, you'll never taste it.  These brownies are ALL about the chocolate and Tiramisu flavors!

Healthy Tiramisu Brownies
Prep Time: 45 minutes
Cook Time: 45 minutes
Total Time: 1 hour 30 minutes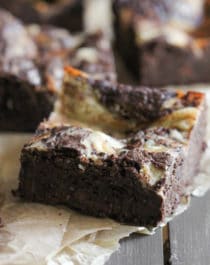 Fat per serving: 9.5
Calories per serving: 180
Ingredients:
Brownies:
one 15.5oz can Black Beans
140g (1 cup) Fresh Blueberries
⅓ cup Strong Brewed Coffee, room temperature
1 tbs Vanilla Extract
½ tsp Stevia Extract
96g (½ cup) Granulated Erythritol
60g (¾ cup) Unsweetened Natural Cocoa Powder
34g (¼ cup) Sweet White Sorghum Flour
21g (3 tbs) Ground Flaxseed
1½ tsp Double Acting Baking Powder
½ tsp Baking Soda
¼ tsp Salt
Swirl:
4oz Mascarpone, room temperature
2 tsp Gold Rum or Brandy
¼ tsp Stevia Extract
Directions:
Preheat the oven to 350 degrees Fahrenheit and line an 8×8″ brownie pan with parchment paper both ways.
In a small bowl, whisk together the Swirl ingredients until completely smooth and even.  Set aside.
Drain the can of black beans and rinse well!  Drain off the excess water.  My beans weighed 250g after draining.
In a blender or food processor, add the beans, blueberries, coffee, vanilla extract, and stevia extract.  Puree until completely smooth.
In a large bowl, whisk together the erythritol, cocoa powder, sorghum flour, flaxseed, baking powder, baking soda, salt, and chocolate chips.  Pour the blended mixture into the bowl (scrape out as much as you can!) and fold together until completely mixed through.
Scoop the mixture into the prepared pan and spread it out.  Tap the pan a few times to flatten out the brownie batter.
Scoop spoonfuls of the Swirl mixture over the brownie batter and swirl it in using a toothpick.  Tap the pan a few times once again to flatten out the batter.  Bake for ~43-45 minutes, or until the mascarpone turns a nice, light golden color.  Let cool completely in the pan.
Completely wrap the brownies and refrigerate overnight.  Slice the following the day.  Serve and enjoy!
Notes:
Store in a tightly sealed container in the fridge for up to 5 days.
.
Here is the recipe's nutrition label:
GUYS.  CAN YOU BELIEVE IT??  IS THIS REAL LIFE??  Only 180 calories for a seriously decadent and fudgy Tiramisu Brownie??
I just died and went to heaven.
With every delicious bite, it gets harder and harder to believe these are sugar free, gluten free, whole grain, high fiber, and high protein.  I ate these brownies for breakfast 3 mornings in a row, which I find perfectly acceptable  😉

This is a must-make recipe.  This is utterly life-changing goodness.
Enjoy!
.
With love and good eats,
.
– Jess
.