Healthy Peanut Butter Dark Chocolate Shortbread Bars
Wait.  WHAT???  Did you just say, HEALTHY Peanut Butter Dark Chocolate Shortbread Bars?!?
Oh, yes.  Yes I did!  These bad boys have a:
Butter-free shortbread base comprised of whole grain oats, honey, and natural protein powder
Soft peanut butter filling that is TO DIE for, made with natural peanut butter and stevia
Delicious and thick layer of chocolate to make this one over-the-top treat
Are you drooling yet?  I sure am.  But you know me, it took a few trials to get this recipe just right.  Ah, and so we begin…
.
Trial #1:
When we're talkin' peanut butter and chocolate, I don't think anyone could go wrong there.  Just because these bars were sticky and gooey, they were still mighty delicious!  These bars did not have a shortbread crust because I was aiming to make a portable protein bar-ish thing.
.
Trial #2:
I was really surprised at how shortbread-like the shortbread base turned out!  It was slightly crumbly and not too sweet, just like real shortbread cookies.  But, the base turned out much thicker than I wanted…  just as thick as the peanut butter filling!  In the next trial, I'll cut the shortbread base recipe in half.
As for the peanut butter filling, I was imagining a soft, fudgy texture.  Unfortunately, it was hard, dry, and crumbly. I think the dryness factor was because I used brown rice syrup, which is a lot thicker than honey.  I'll use honey in the next trial.
And finally, the chocolate topping.  It looked good, the texture was great, but the taste was awful.  I used 100% cacao unsweetened chocolate mixed with 2 tbs of peanut butter and and 20 drops of stevia extract, and not even that could rid the bitterness of the chocolate!  I'll use 60% cacao chocolate in the next trial for a more pleasant taste.
.
Trial #3:
FINALLY!  SUCCESS!  Sweet, sweet SUCCESS!  I don't think the word "delicious" can even begin to describe these addicting bites!  The "buttery" shortbread base, the soft and fudgy peanutty filling, the smooth chocolatey topping, mmmm.  These taste far better than the previous trials — no dryness and certainly no bitterness.
These Healthy Peanut Butter Dark Chocolate Shortbread Bars have the perfect balance of flavors with a healthy dose of nutrition inside!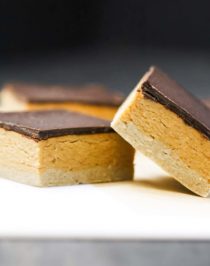 Print Recipe
Pin Recipe
Healthy Peanut Butter Dark Chocolate Shortbread Bars
These no-bake Healthy Peanut Butter Dark Chocolate Shortbread Bars are so rich and decadent, it's hard to believe they're refined sugar free, gluten free, and high protein too!
Ingredients
CHOCOLATE TOPPING:
4

oz

Dark Chocolate

(melted)
Instructions
FOR THE SHORTBREAD BASE:
Line an 8x8" brownie pan with parchment paper both ways for easy removal later.

In a large bowl, add all of the ingredients and mix together until everything is evenly incorporated.

Scoop the mixture into the prepared pan and press to flatten.  Refrigerate while you make the filling.
FOR THE PEANUT BUTTER FILLING:
Using the same bowl from the base mixture, add the peanut butter, agave, and stevia extract.  Stir until smooth.

Add the protein powder and stir again until everything is evenly incorporated.

Scoop the mixture onto the shortbread base and flatten it out.
FOR THE CHOCOLATE TOPPING:
Pour the melted chocolate over the peanut butter filling and rotate the pan around until the entire surface is coated in chocolate. Refrigerate until the chocolate has JUST hardened, then slice. Serve and enjoy! Store in a tightly sealed container in the fridge for up to ~1 week.
Nutrition Facts
Healthy Peanut Butter Dark Chocolate Shortbread Bars
Amount Per Serving (1 bar)
Calories 260
Calories from Fat 117
% Daily Value*
Fat 13g20%
Cholesterol 20mg7%
Sodium 65mg3%
Carbohydrates 24g8%
Protein 12g24%
Calcium 80mg8%
Iron 1.8mg10%
* Percent Daily Values are based on a 2000 calorie diet.
You can slice these into 9 large bars, 16 regular-sized bars (like I did), or 36 bites, depending on what you prefer and how many people you're serving.  These are very rich treats, so I prefer to slice these into 16 or 36.  They're perfect for parties!
These Peanut Butter Dark Chocolate Shortbread Bars are best eaten close to room temp.  Your teeth sink straight through the bar and you get all three flavors in one scrumptious bite!  Mmmm…  pure deliciousness.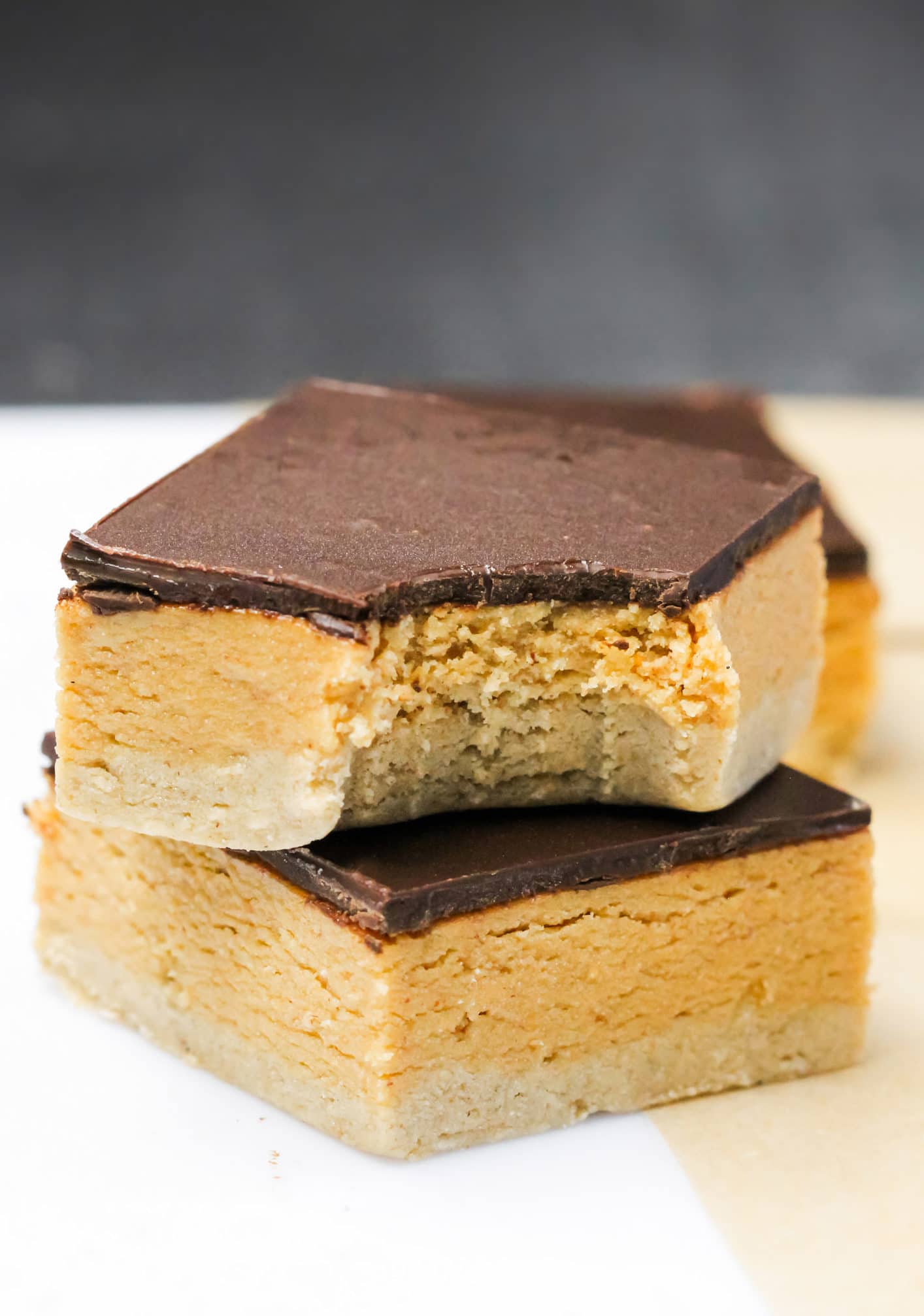 "I'll just have one more" you say.  Oh, those famous last words…

Enjoy!
.
With love and good eats,
.
– Jess
.