Healthy Fudgy Peanut Butter Swirled Black Bean Brownies
I'm a pretty quiet person, but I'll speak my mind if you let me.
I'm somewhat shy, but once you get to know me I won't shut up.
I'm an oddball, and most people don't get me at all.
I like washing dishes, cleaning my room, wearing pajamas all day (wait, I think everyone likes doing that), baking alone in complete silence, and most of all, making and eating desserts 24/7!  In case you were wondering, that includes dinner (but I don't think I'm alone on that one either…)
But today, I'm opening up about something other than my quirkiness.  To put it plainly, my life as a human being, and baker especially, has been ruined!
Okay, I'm being a little dramatic, but that's exactly what I thought when I received "the news."  I found out early 2012 that I have acquired some food intolerances.  I never thought I would be opening up about this publicly on my blog, but I think explaining a few things (like the new ingredients I'm using, some ingredients I no longer use, etc.) would answer some of your questions.
In September/October 2011, during the beginning of my sophomore year in university, I began to feel a little off.  I was experiencing a wide range of symptoms from which I had no idea the causes — extreme fatigue, trembling, bloating, etc.  I knew this was not normal, but I was in school with a heavy course load on my shoulders.  I pushed my symptoms off to the side and pressed forward.  After all, I was eating healthy, exercising regularly and feeling well most of the time.
After a month or so, however, my symptoms progressively got worse — erratic heart rate, sudden sickness, rashes, etc.  I started taking things more seriously and kept a food/symptom journal.  I noticed a few patterns here and there, but the only thing conclusive was that I was sensitive to wheat.  One morning I ate a whole wheat bagel with peanut butter and honey.  I walked to chemistry class and all of a sudden I thought I was going to hurl on my friend in the middle of a 300-student lecture!  For a couple of weeks I removed wheat and gluten from my diet (bye-bye bagels!) and I felt so much better, but only by 50%.
My symptoms did not cease.  Fall semester was a struggle, it was probably one of the biggest hurdles I have overcome in my entire life.  I was stressed out with school, not feeling well during exams and frustrated that I couldn't vent to my family who was across the country from me.  I felt physically uncomfortable walking to, sitting in, and leaving class…  the four-hour chem labs didn't help either!  It was even difficult to walk at times.  I felt like I was using the last bit of energy my body had to simply raise my arms over my head or get out of bed.
Why was I feeling sick so randomly?  I went to the doctor to answer that question.  I completed blood test after blood test, answered question after question, blah blah blah.
The results were in.  News that relieved me, but also news that made my heart sink.  To my doctors, I am in perfect health.  I have gained more muscle and lost more fat, I have an "astounding cholesterol ratio" with low LDL (the bad cholesterol) and high HDL (the good cholesterol).  My total cholesterol level today is lower than my LDL level alone in high school… something that surprised me since I'm a meat-eater and since high cholesterol runs in the family.  So while I was happy to learn that I am not at risk for anything major, I was saddened to hear that I am sensitive to gluten and wheat.
This was a pretty big shock to me.  I mean, I guess I was more surprised because I was eating at least one gluten-filled food per day!
As ridiculous as it may seem, I was angry.  I felt like my body was betraying me, like I was being punished for eating healthy.  I never experienced any sort of food allergies or sensitivities during my sugar-coma childhood!  Thankfully though, I realized that the grass was still green.  Food allergies and sensitivities don't mean it's the end of the world, I was just being a drama queen.  I mean, I wasn't allergic to chocolate, avocado, peanut butter, oats, and almonds, thank heavens.  I was just close-minded to all the new foods that I could have.
It took a lot of research to learn the ins and outs of my sensitivities, but to cure my symptoms, that time spent was worth it.  I'm glad I learned that spelt was not gluten free and that buckwheat was, despite its name.  I've come to the point where I can proudly say I have overcome this obstacle.  Life can be a struggle at times, like going to restaurants and the fact that I have to plan my meals beforehand.  Everyone has their problems, but we can always rise above.
How did I rise above?
I baked.
A LOT.
After finding out what I was sensitive to, I thought I would never be able to enjoy an authentic baked good again.  I would have to use unfamiliar flours and substitutes I have never heard of.  But like a superhero, chocolate saved the day (and my sanity) when I made these brownies…  the recipe quickly soared to being one of my blog's most popular posts!
But what tops those brownies?  What beats that recipe by like, 250%?
These sweet, incredibly fudgy (and secretly healthy) Peanut Butter Swirled Brownies that are packed with a peanut butter punch!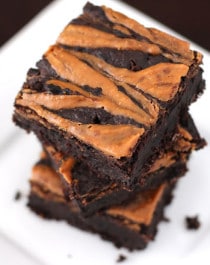 Print Recipe
Pin Recipe
Healthy Fudgy Peanut Butter Swirled Black Bean Brownies
Super moist and secretly healthy, ULTRA FUDGY Peanut Butter Swirled Black Bean Brownies! Low fat, sugar free, high fiber, high protein, gluten free and vegan!
Ingredients
20g

(3 tbs)

Ground Flaxseed

⅓

cup

Unsweetened Vanilla Almond Milk

156g

(¾ cup + 1 tbs)

Granulated Erythritol

(or dry sweetener of choice)

60g

(¾ cup)

Unsweetened Natural Cocoa Powder

34g

(¼ cup)

Quinoa Flour

1½

tsp

Double-Acting Baking Powder

½

tsp

Baking Soda

¼

tsp

Instant Coffee

⅛

tsp

Salt

½ cup

+ 1 tbs

Fresh Blueberry Puree

(see Instructions)

1

15.5oz can

Black Beans

(drained and rinsed well!)

14g

(1 tbs)

Grapeseed Oil

(or any other neutral oil)

1

tsp

Vanilla Extract

64g

(¼ cup)

Natural Peanut Butter

¼

tsp

Salt
Instructions
Preheat your oven to 350 degrees Fahrenheit and spray an 8" brownie pan with cooking spray, set aside.

In a small bowl, stir together the flax and almond milk, set aside to gel up.

In a large mixing bowl, whisk together the erythritol, cocoa powder, quinoa flour, baking powder, baking soda, instant coffee and salt.

In a blender, puree blueberries and measure 1/2 cup + 1 tbs. Remove any leftover puree from the blender and add the 1/2 cup + 1 tbs back in. Add the beans, oil, vanilla extract and flax gel and puree until smooth.

In a small microwave-safe bowl, stir together the peanut butter and salt and microwave for 20 seconds, or until warm.

Pour the dry over the wet and fold together (batter should be thick). Scoop into the prepared pan and drizzle the warmed PB mixture over the brownie batter in lines. Make swirls by dragging a knife the opposite way of the PB lines.

Bake for ~55 minutes, or until surface is firm when tapped. Let cool in the pan for ~30 minutes, then transfer to a wire cooling rack. Slice when completely cool (I sliced them the same day, but they were somewhat delicate so I recommend covering the brownies with plastic wrap, leave them overnight and slice them the next day)
Recipe Notes
Feel free to fold in some chocolate chips or your favorite nuts!
Nutrition Facts
Healthy Fudgy Peanut Butter Swirled Black Bean Brownies
Amount Per Serving (1 brownie)
Calories 150
Calories from Fat 63
% Daily Value*
Fat 7g11%
Sodium 280mg12%
Carbohydrates 19g6%
Protein 6g12%
Calcium 60mg6%
Iron 1.8mg10%
* Percent Daily Values are based on a 2000 calorie diet.
Can you believe it??  Super thick, fudgy and decadent Peanut Butter Swirl Brownies for only 150 calories a piece!  They taste like giant fudgy calorie-bombs.  They certainly don't taste sugar free, high protein, vegan or gluten free in the slightest.
So in case you were wondering… YES, you can have an extra brownie (or two) with no guilt involved.  This recipe is a must make!
Mmmmm!  Are you jealous?  Because you should be jealous  😉
You really gotta make these Healthy Fudgy Peanut Butter Swirled Black Bean Brownies.  Allergies or no allergies, they will rock your world!
.
With love and good eats,
.
– Jess
.