Healthy Green Mango Lassi
Just a few nights ago, my family and I went to an Indian restaurant — I probably haven't gone to one in over a year because Indian cuisine barely exists where I go to school — and it brought back so many memories! I used to look forward to going to Indian restaurants because I always got that popular, (super) sweet and creamy Mango Lassi.
I was thinking about it yesterday and decided to make my own version…  but with a little hint of veg…  a Spinach Mango Lassi!
And trust me.  It's delicious.  You don't taste the spinach at all  👌
Healthy Green Mango Lassi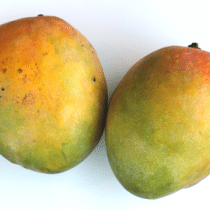 Ingredients:
2 large Mangos, peeled and chopped into chunks
1 cup Plain, Nonfat Greek Yogurt
1 cup Organic Baby Spinach
5-7 Ice Cubes
1-2 tbs Honey (optional)
pinch of Cardamom (optional, just for authenticity!)
Directions:
Put all of the ingredients into a blender and puree until completely smooth.  Add honey and cardamom to taste.
Enjoy!
This is a super thick smoothie, I ate part of it with a spoon!  But, if you are the type of person who likes more liquidy drinks, feel free to add 100% mango nectar (no added sugar) or even applesauce.  To lower the glycemic index, try adding coconut milk  😍