Healthy Quintuple Chocolate Cake (To Celebrate My 2nd Blogiversary!)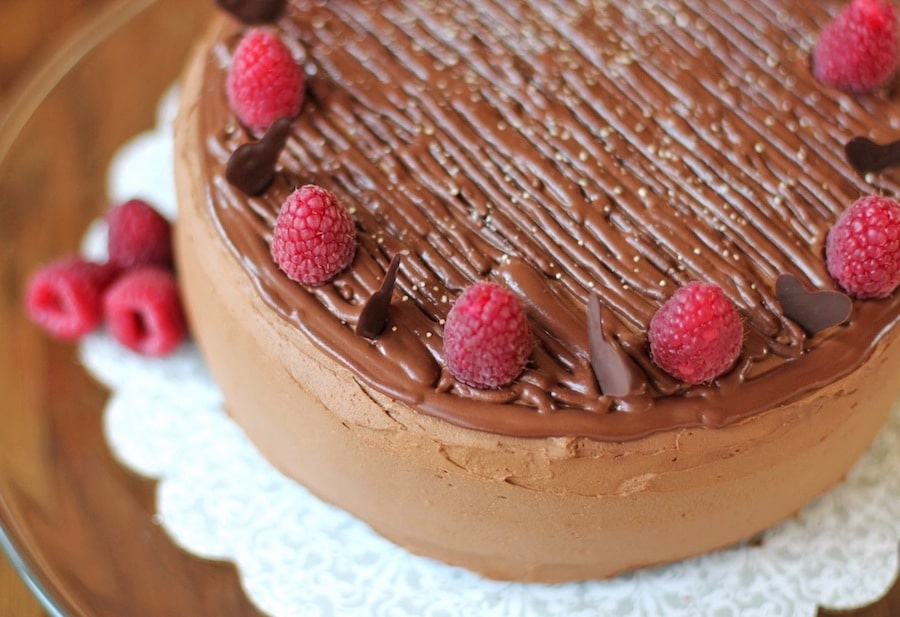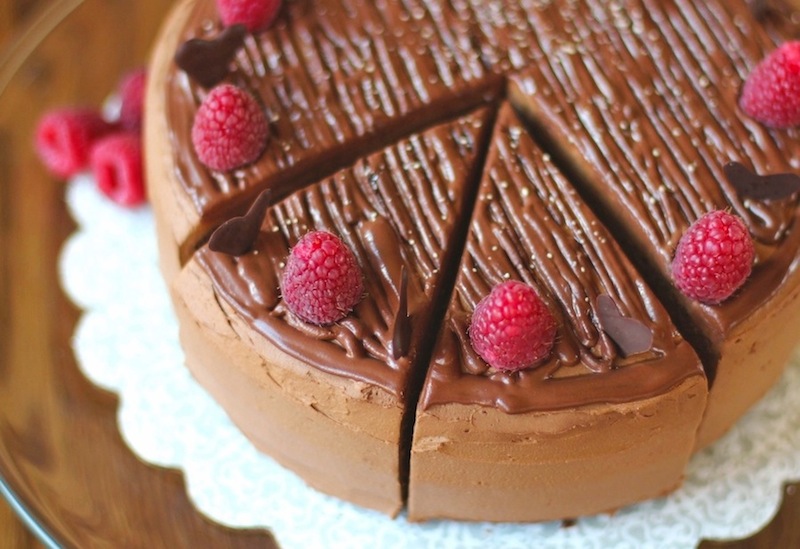 Wait, what?  It's been two years since my first post ever?  I feel like my first blogiversary was just a few months ago…  I'm floored.  Happy 2nd birthday bloggy woggy!  🙂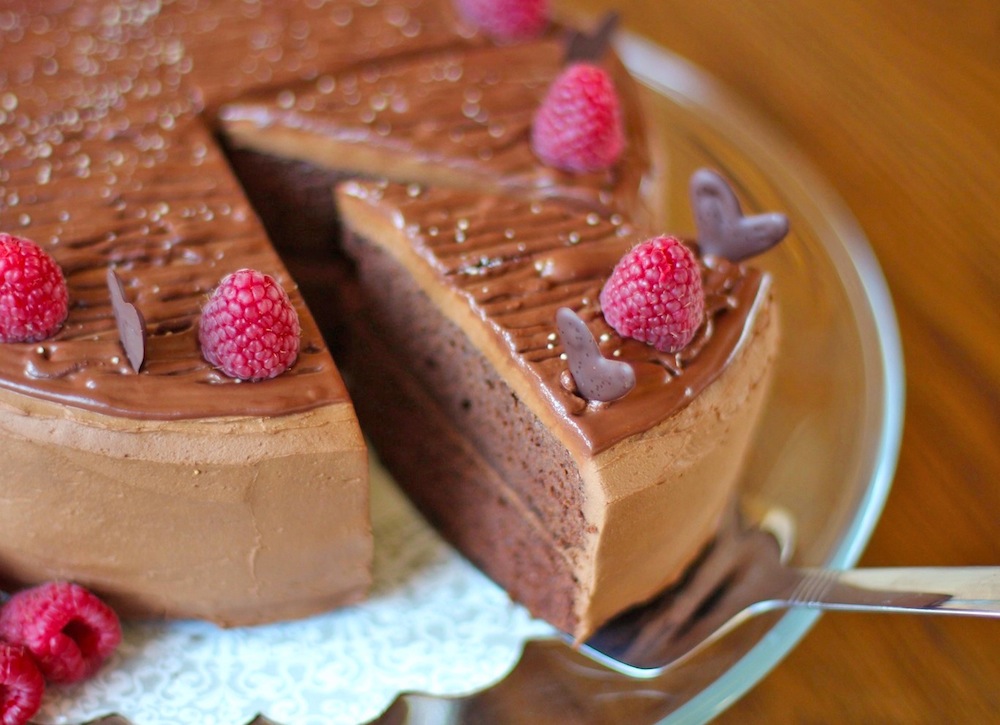 Nothing like a decadent QUINTUPLE chocolate cake to celebrate today's awesomeness (no, not because it's 420, that was just a fluke I swear)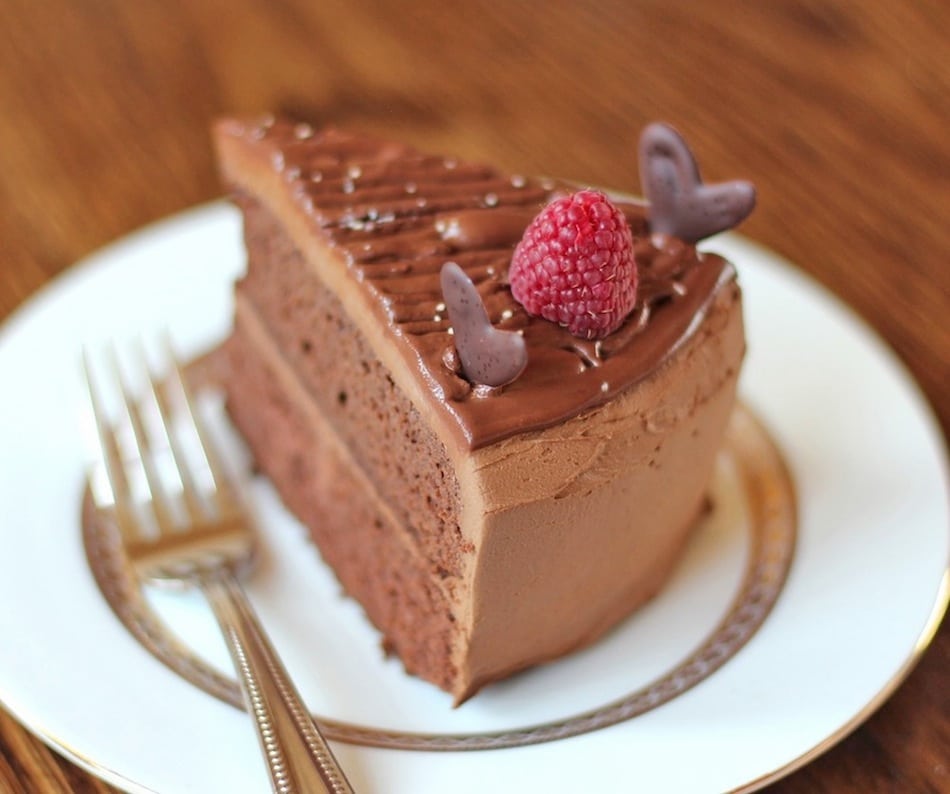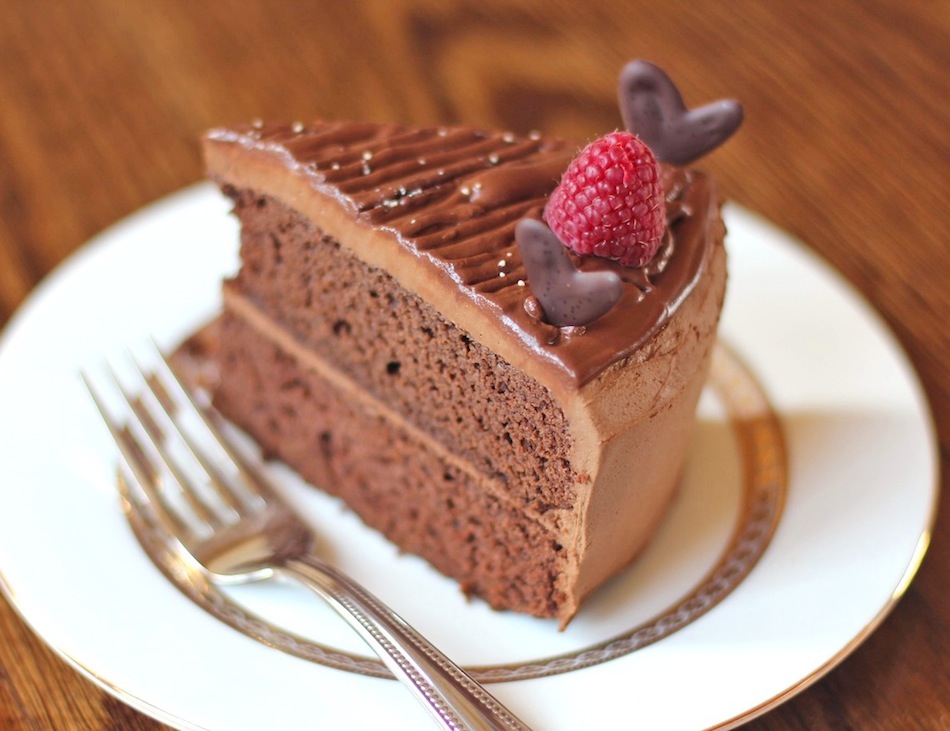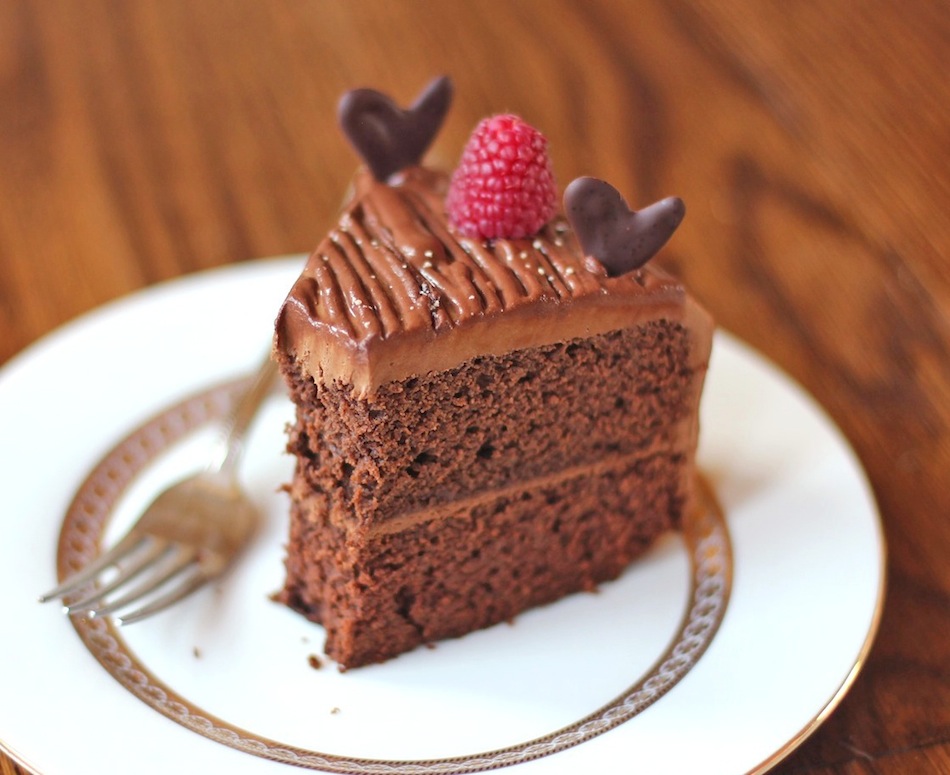 Here I am, 229 posts later, eating one of the best chocolate cakes of my life.  Why?  It's incredibly decadent with five sources of chocolate:  unsweetened cocoa powder, Dutch process cocoa, chocolate extract, chocolate protein powder and dark chocolate.
[technically, there are 6 sources of chocolate if you include those itty bitty chocolate hearts 😀 ]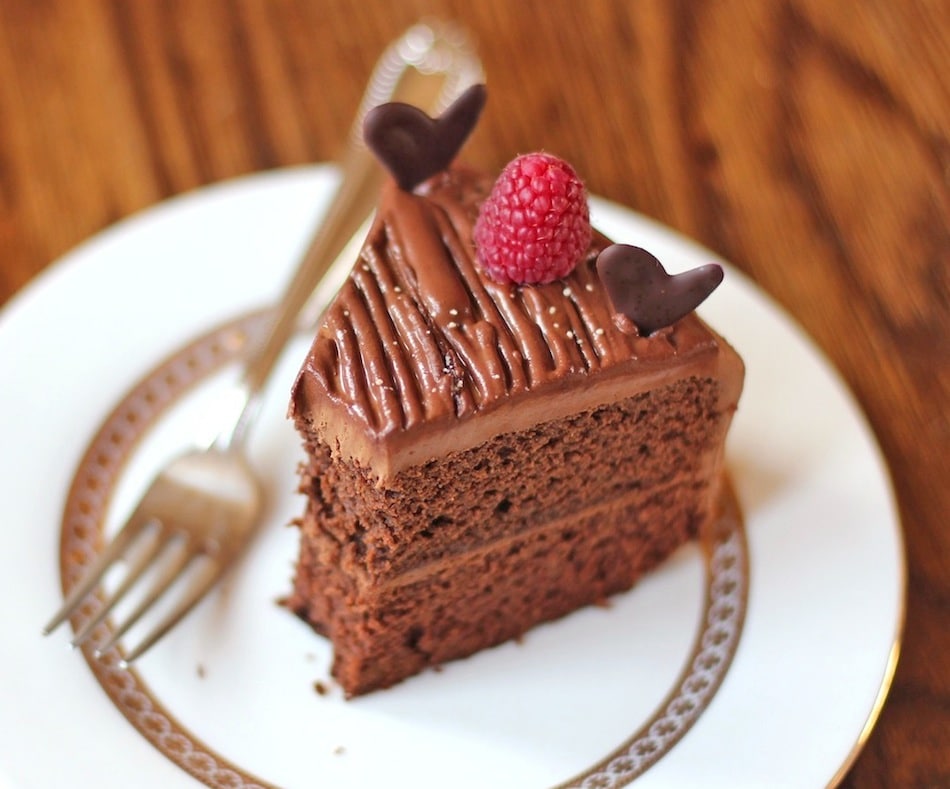 This cake is super moist, super decadent and it goes without saying…  it's chocolatey.  You would never know this cake is good for you, it's high in fiber and protein so it will fill you up after one slice (while the typical unhealthy chocolate cake will take us about four slices to feel full!).  Plus, it's refined sugar free…  yes, I'm serious!  Check out the nutrition label comparison below, you won't BELIEVE it!
Healthy Quintuple Chocolate Cake (gluten free)
Ingredients
Cake:

150g (1+1/3 cups) Coconut Flour
53g (2/3 cup) Unsweetened Regular Cocoa Powder
1 tsp Baking Powder
1 tsp Baking Soda
1/2 tsp Salt
3/4 tsp Instant Coffee
1 cup + 2 tbs Organic Whole Eggs (about 5 large eggs)
2/3 cups Organic Egg Whites
1 tbs Vanilla Extract
1 tbs Chocolate Extract
192g (1 cup) Granulated Erythritol (or dry sweetener of choice, I love sucanat in this recipe)
3/4 cup + 2 tbs Unsweetened Vanilla Almond Milk
200g (3/4 cup + 1 tbs) Unsweetened Applesauce

Frosting:

28g (2 tbs) Coconut Oil, melted
1 cup Unsweetened Vanilla Almond Milk
1 tsp Stevia Extract
1 tsp Butter Flavor
15g (2 tbs) Unsweetened Dutch Process Cocoa Powder
147g (7 scoops) Chocolate Brown Rice Protein Powder
2-4 tbs Light Coconut Milk, canned

Ganache:

1/2 cup - 1 tbs Light Coconut Milk, canned
1.5 tbs Date Syrup (or agave, honey, maple syrup, etc.)
1/2 tsp Stevia Extract
2.5-3.5oz Dark Chocolate*
Instructions
For the Cake:

Preheat the oven to 350 degrees Fahrenheit and generously spray two 8 inch cake pans with cooking spray (I also lined the pans with 8 inch parchment circles)
In a stand mixer bowl with beater attachment, add the eggs, egg whites, extracts, erythritol, almond milk and applesauce. Mix on low while you gather the dry ingredients.
In a medium-sized bowl, sift the coconut flour, cocoa powder, baking powder, baking soda, salt and instant coffee.
Slowly add the dry ingredients to the stand mixer while mixing. Once all is added, increase the mixer speed to medium, then medium high. Beat for about 30 seconds.
Pour batter into the prepared cake pans and bake for ~45 minutes, or until the surface springs back when tapped. Let the cakes cool inside the pans for about 20 minutes, then flip them onto a wire cooling rack.

For the Frosting:

In a microwave-safe bowl, add the coconut oil and almond milk. Microwave at 20-second intervals, stirring between each one, until coconut oil is melted. Stir in the extracts.
In a large bowl, whisk together the cocoa powder and protein powder.
Add the coconut oil/almond milk mixture into the dry ingredients and stir together. Add the coconut milk 1 tbs at a time, until you reach a frosting consistency.
Frost the cooled cakes.

For the Ganache**:

In a medium-sized bowl, whisk together the coconut milk, date syrup and stevia extract.
In a small, microwave-safe bowl, add the chocolate and microwave at 30-second intervals, stirring between each one, until melted. Slowly stir this into the coconut milk mixture, pour into squeeze bottle or piping bag and pipe whatever design you like.
Notes
*Use 2.5oz if you want a soft ganache, 3.5oz if you want it to firm up. Use unsweetened if you want that bitter bite to differentiate the ganache from the milk chocolatey frosting.
**The ganache should equal 3/4 cup. I used about 1/2-3/4 of it to top the cake and saved the rest for serving.
I melted unsweetened chocolate, put it in a squeeze bottle and drew little hearts with the chocolate to top the cake.
http://dessertswithbenefits.com/quintuple-chocolate-cake-my-blog-turns-two/
www.DessertsWithBenefits.com
I decided to compare the nutrition label of this cake to the classic unhealthy Hersheys chocolate cake.  Hersheys nutrition label is on the left, the Desserts with Benefits nutrition label is on the right:
This chocolate cake beats Hersheys in every way possible.  My cake has:
230 less calories (my cake has less than half the calories of Hersheys!)

9.5g less fat
43g less carbs
6g more fiber
37g less sugar (Hersheys has almost 1/4 cup of sugar in just one slice!)
5g more protein
Soooo have an extra slice for less calories and none of the useless butter, sugar and bleached flour.  It will make you feel like you're cheating but you're not  🙂
I've got plenty more amazing recipes to come (from DIY recipes to homemade protein bars to cookies to cakes and even ice cream!), so find me on Facebook, follow me on my brand new Twitter, connect with me on Pinterest or just leave a comment!  You have no idea how happy that will make me  🙂