Healthy Red Velvet Smoothie
Red Velvet Smoothie?  Healthy?!?  Oh yes, my love.  This thick and creamy smoothie is sweet, rich and chocolatey…  without being too "beet-y."  Oh yeah, did I mention this smoothie has beets in it?  I probably shouldn't have told you that, because you never would have guessed!
Healthy Red Velvet Smoothie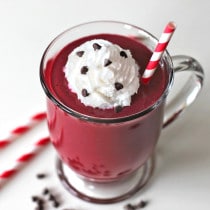 Ingredients:
3/4 cup Unsweetened Vanilla Almond Milk
1/2 cup Yogurt**
1/4 cup Roasted Beet Puree (see this post for Directions)
4 packets Truvia (or to taste)
Directions:
Add all the ingredients to a blender and puree until smooth. Add a few ice cubes to chill the smoothie or refrigerate for 30+ minutes. ENJOY!
Notes:
**I used a vanilla almond yogurt sweetened with fruit juice only, not sugar. However, this yogurt company went under and is no longer in production :( ... you can use whatever yogurt you like -- coconut, soy, dairy, etc., just make sure it doesn't have any sugar added!
This Red Velvet Smoothie doesn't taste healthy at all, I love the Dutch cocoa powder in this instead of regular cocoa powder because it is far more rich and chocolatey.  This smoothie is super filling because it is packed with fiber, proteins and a sneaky vegetable  😉