Healthy Banoffee Pie (Bananas, Toffee, Chocolate, OH MY!)
A few years back, a lovely reader requested that I make a Healthy Banoffee Pie.  Before reading her email, I have never tasted, let alone heard of, Banoffee Pie.  From what showed up on my Google search, I seriously wondered why that was.  It's basically the best pie flavor known to man.  It's got bananas, toffee, cream, chocolate, a bunch of sugar.  Sounds nom-nom-nom yummy, yes?
Well, it does until you calculate the calorie count at least.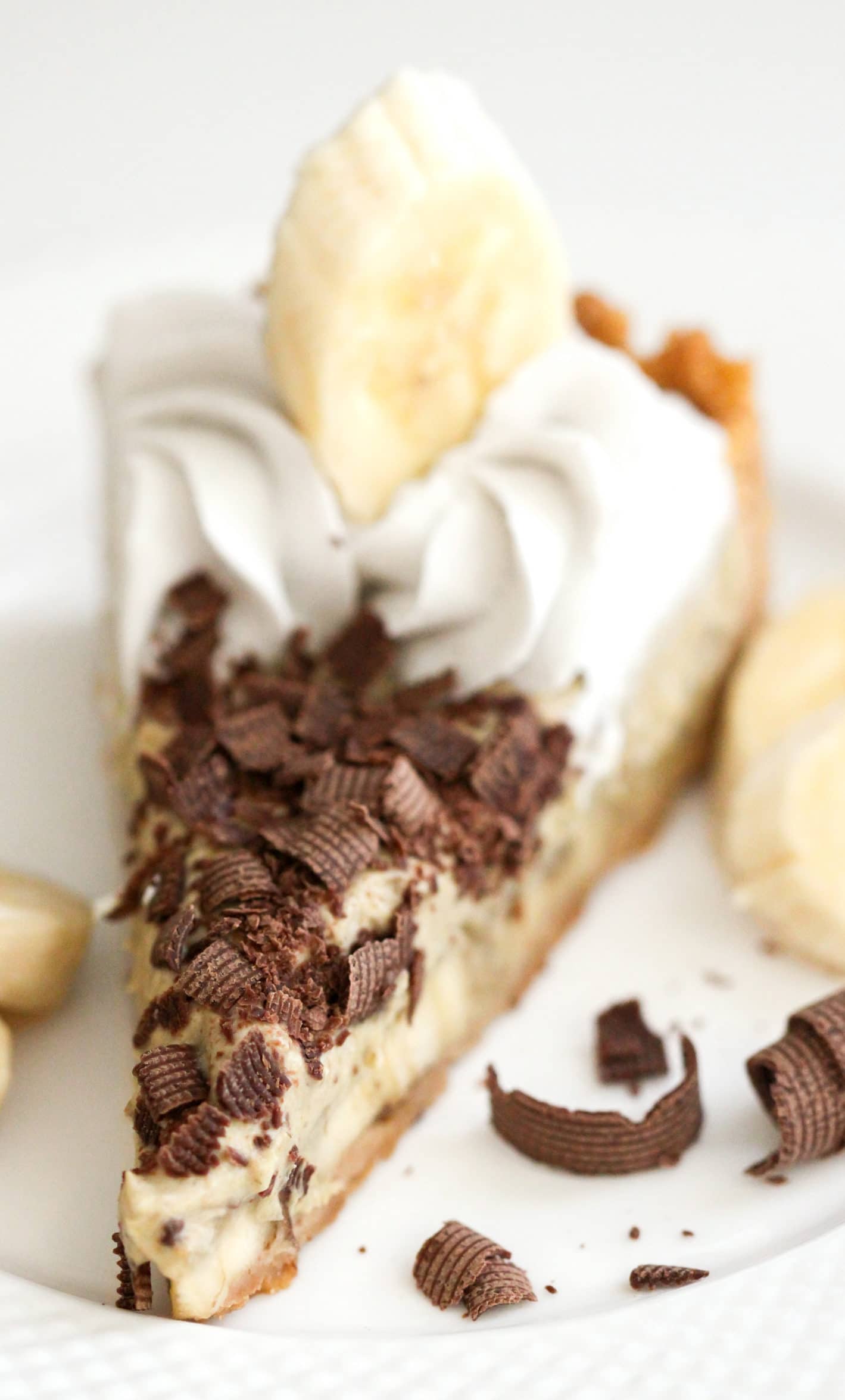 This pie was in desperate need of a healthy makeover.  I was on a mission to make the pie without butter, sweetened condensed milk, heavy cream, corn syrup, etc.  Despite how challenging that sounded, I couldn't wait to make my own version and have such a delicious pie in my very own fridge.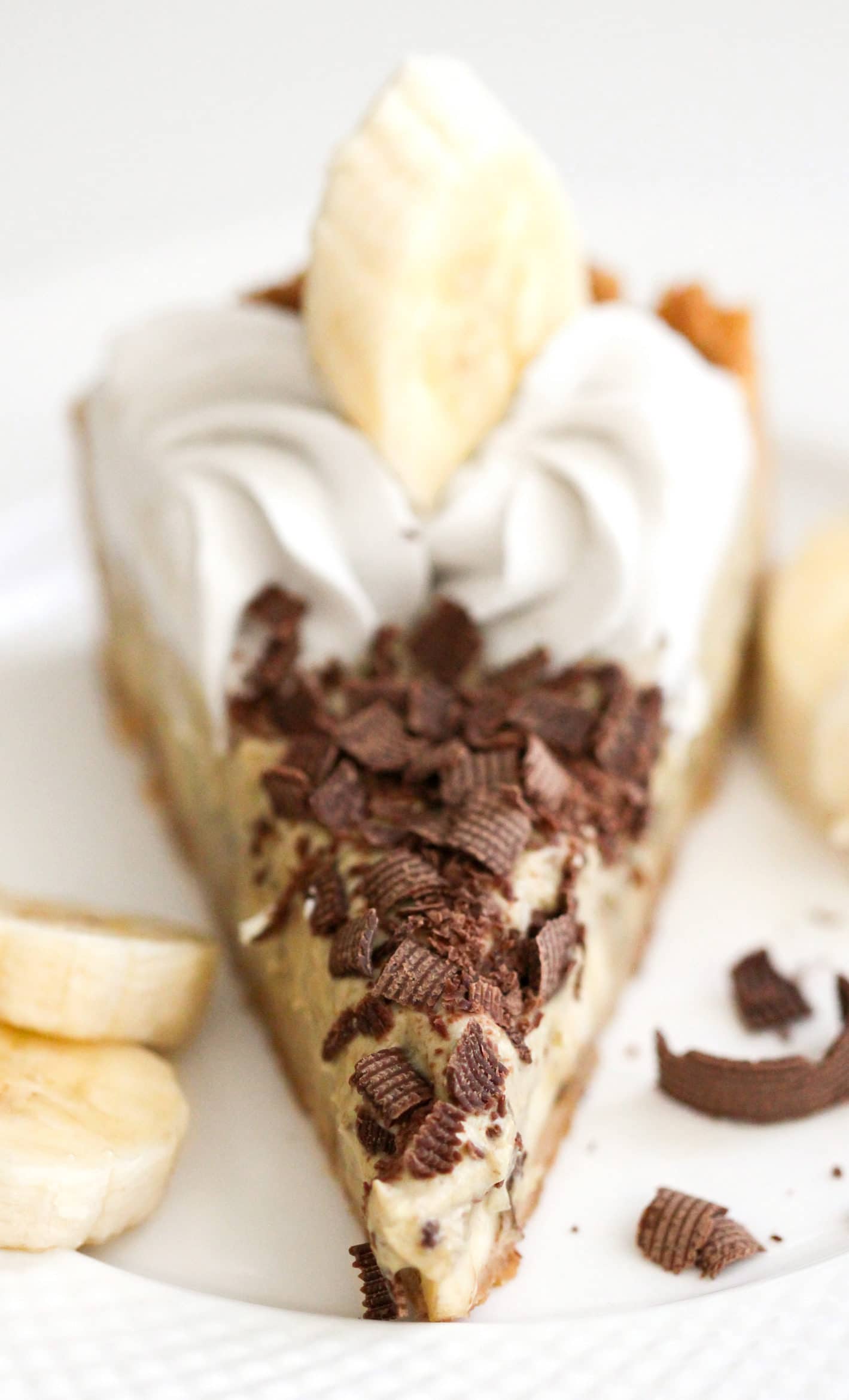 Surprisingly, this Healthy Banoffee Pie was a success on the first go (woohoo, we can skip the trial-and-error talk)!  The crust is thick and full of graham cracker flavor, the filling is smooth and creamy with the perfect amount of banana, and the whipped "cream" is fluffy, light, and decadent.  Oh, and the shaved chocolate topping?  Mmmmm…  that took this pie to another level.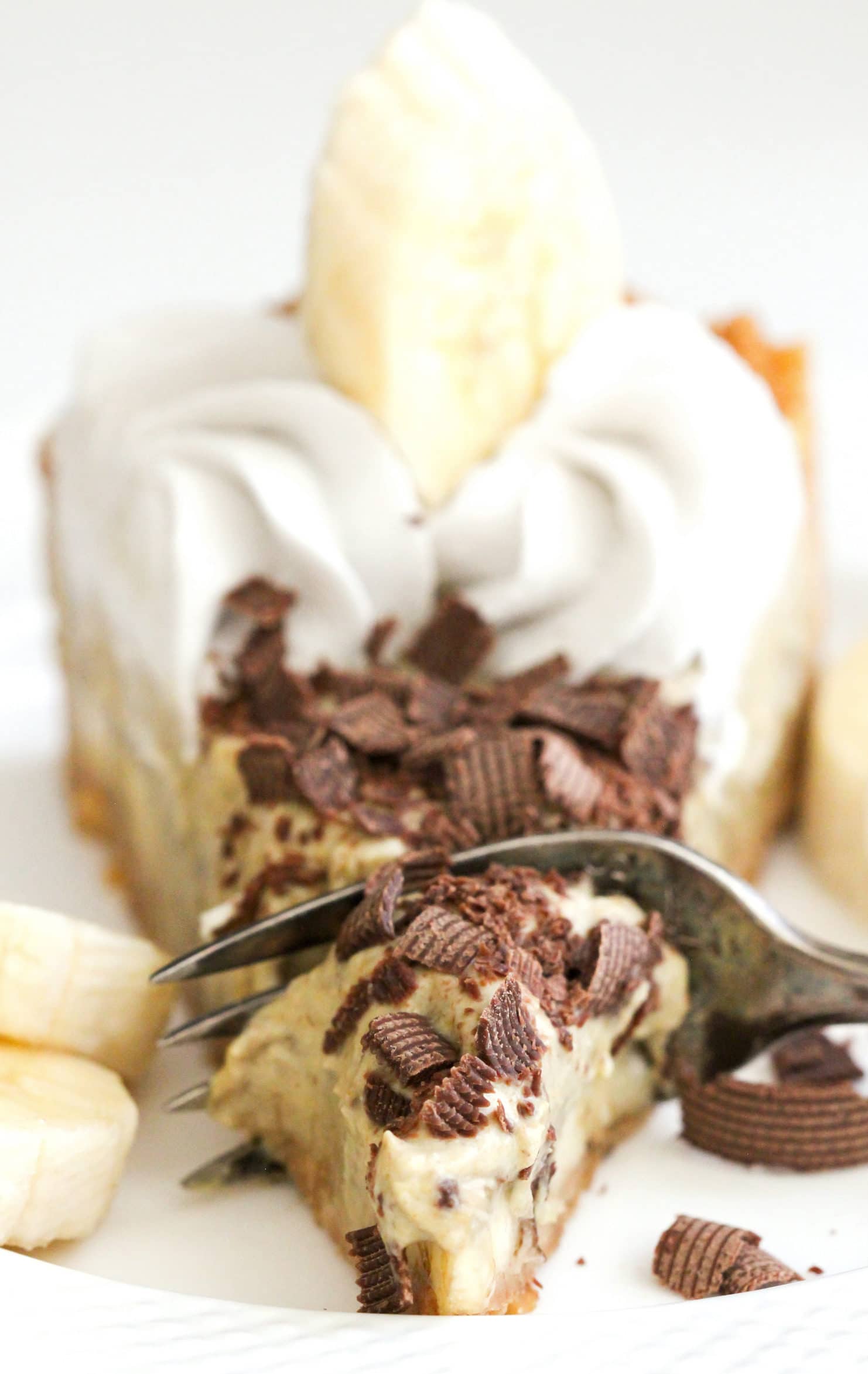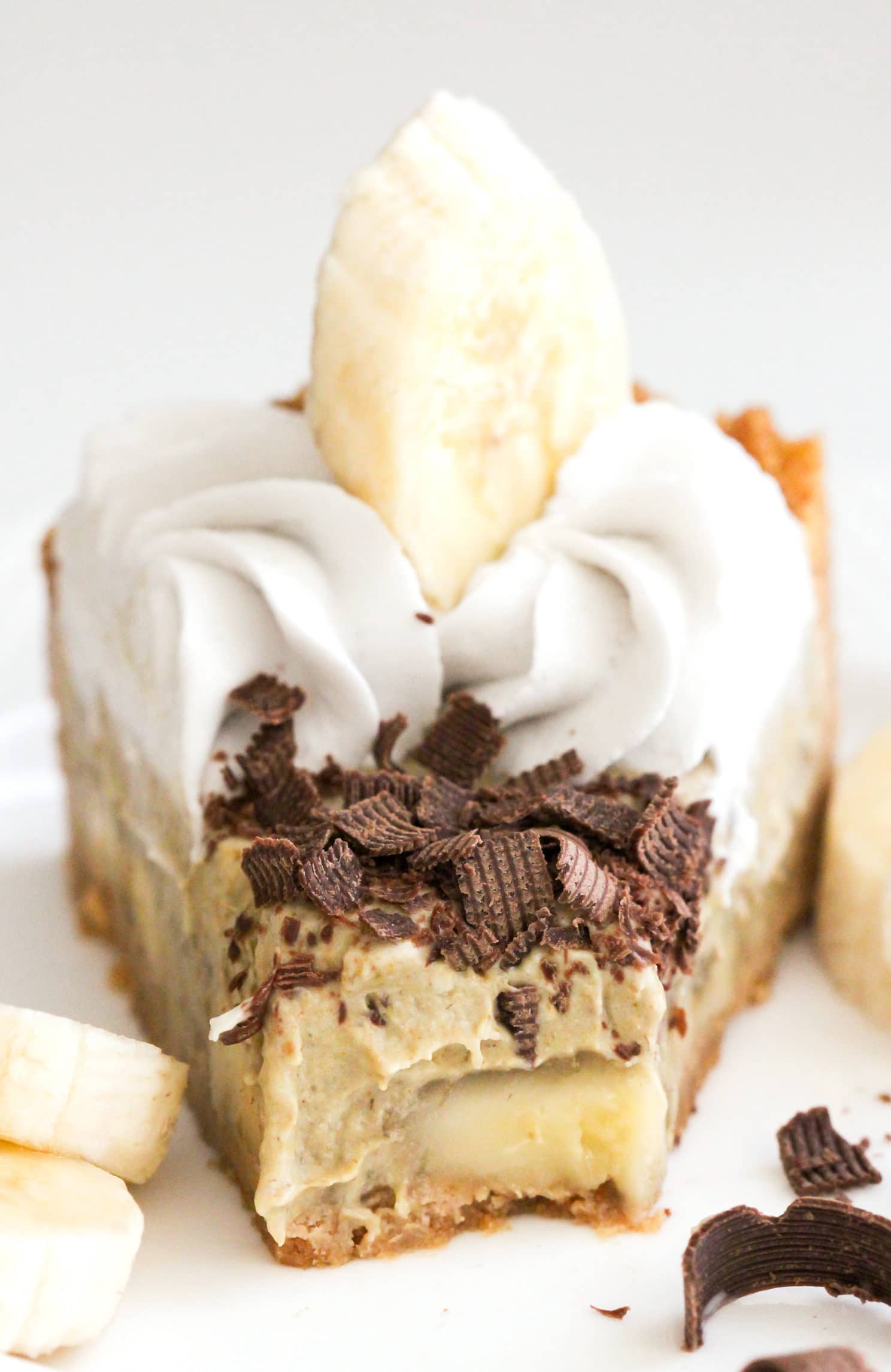 Healthy Banoffee Pie
Prep Time: 40 minutes
Cook Time: 12 minutes
Total Time: 1 hour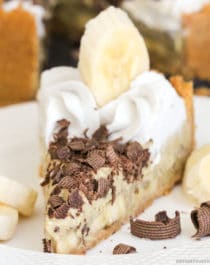 Ingredients:
Graham Cracker Crust:
2 cups Graham Cracker Crumbs**
¼ tsp Salt
56g (¼ cup) Coconut Oil, liquid
½ tsp Natural Butter Flavor (optional)
Filling:
5 Medium-Large Ripe Bananas, divided
2 cans Full Fat Coconut Milk, refrigerated (don't shake the cans!)
½ tsp Vanilla Extract
½ tsp Turmeric (optional, just for color)
Toppings:
All Natural Whipped Cream or Coconut Whipped Cream
Shaved Dark Chocolate
Directions:
For the Crust:
Preheat the oven to 350 degrees Fahrenheit.
In a medium-sized bowl, stir together the graham cracker crumbs and salt.  Stir in the coconut oil and butter flavor.  Press the mixture into an 8″ springform pan and bake for ~12 minutes.  Let cool completely.
For the Filling:
Take 3 bananas and slice them into coins.  Arrange the banana coins on the crust.
Open the cans of coconut milk and scoop the coconut cream into a bowl.  Discard (or drink) the coconut water that's left in the bottom of the cans.  Mash the remaining 2 bananas in the coconut cream.  Add the stevia extract, vanilla extract and turmeric, and whisk until completely mixed in.
Scoop the mixture over the banana coins and spread it out.  Refrigerate for ~4 hours, or until completely set.  Garnish with whipped cream, caramel sauce, and chocolate.  Serve and enjoy!
Notes:
All images and text ©
.
I'm so glad I made this Healthy Banoffee Pie!  My entire family loved it  🙂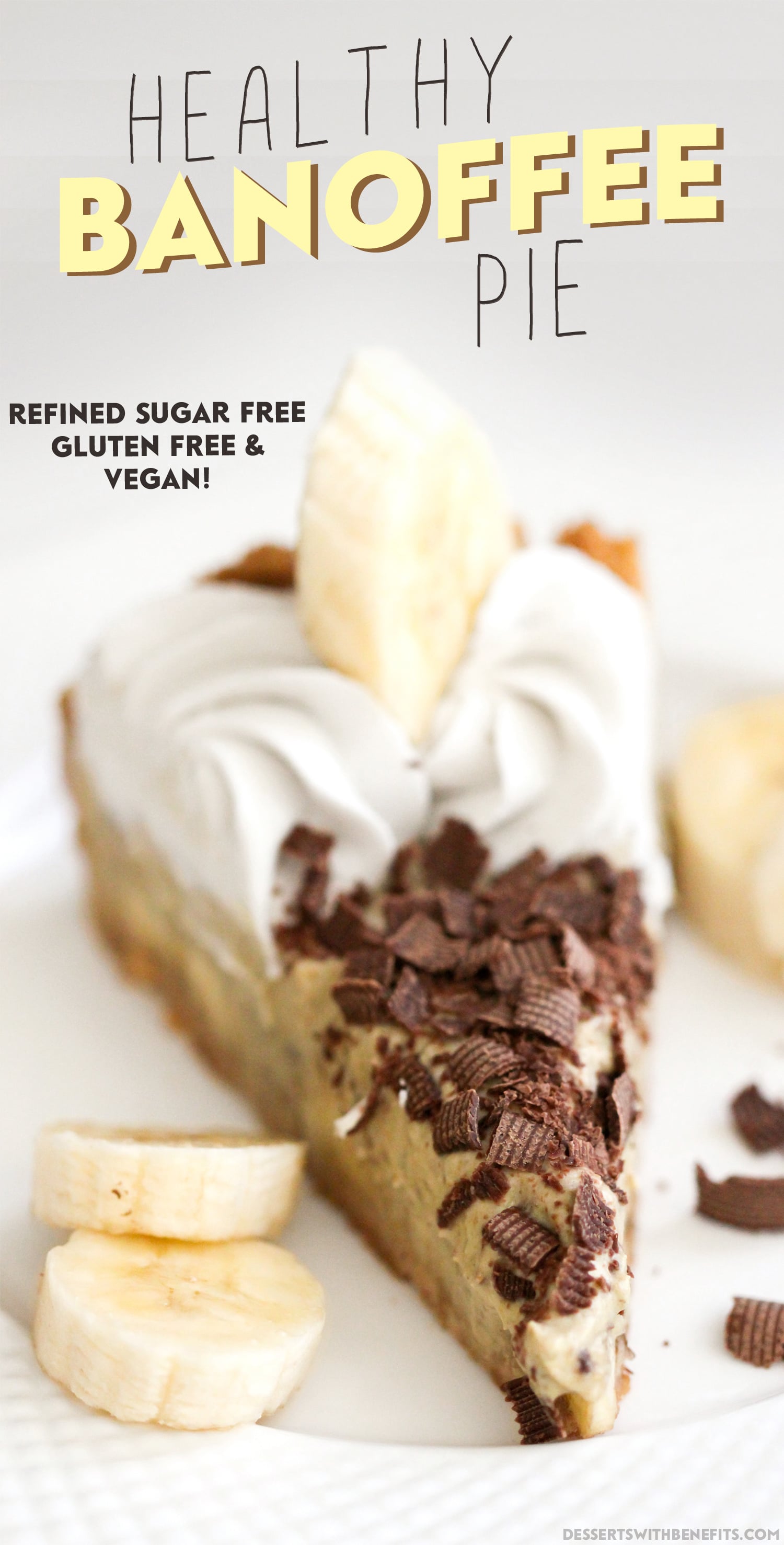 Enjoy!
.
– Jess
.