Healthy Carrot Cake Blondies with Orange Frosting
I'll get to the Healthy Carrot Cake Blondies recipe, but I have to tell you something first…
My sister got a puppy!!
He's a French Bulldog and five months old.  He's a tiny (yet heavy) ball of energy and when he runs he reminds me of a baby pig/cheetah, if that makes sense?  But when he's not running he's sleeping, whether it's on your lap, on the floor, in your arms or flat on his back.
He also reminds me of a chubby stuffed sausage  😉
This makes me laugh just about every time I see it.  I hope it makes you smile  🙂
Can't wait to make Jax some of my Healthy Homemade Pumpkin Peanut Butter Dog Treats.
But, a new dog can be expensive!  You need to get the food, treats, toys, beds, carseat, etc. so I thought I would bake something up for her so she could have a few less meals to think about and a few more hours to play with/walk/train her little puppy.  My sister loved my healthified Carrot Cake, but I didn't have any tofu or yogurt on hand so I chose to make something else instead.  I swear, I thought I was done with the blondies, but then I remembered how delicious they were and needed to make them again.  Plus, it's one more flavor I get to cross of my "blondie flavor to-do list."
These Healthy Carrot Cake Blondies are sweet, chewy and dense.  Even with one whole cup of grated carrot, my sister and I couldn't taste any vegetables at all!  If you were to eat these blindfolded, you would think you were eating a cinnamon roll (seriously, they tasted like Cinnabons).  These blondies are moist and decadent, but healthy…  enjoy!
Healthy Carrot Cake Blondies with Orange Frosting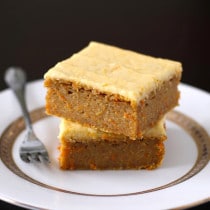 Ingredients:
Directions:
For the Blondies:
Preheat the oven to 350 degrees Fahrenheit. Grease an 8" brownie pan with oil and line with parchment paper both ways, set aside.
Grate the carrots and place in a large mixing bowl. Whisk in the applesauce, erythritol, oil, zest and stevia.
In a medium-sized bowl, whisk together the brown rice flour, oat flour, xanthan gum, baking powder, salt, cinnamon and nutmeg. Dump into the wet ingredients and fold together.
Scoop batter into the prepared pan and spread to the edges. Bake for ~45 minutes, or until the edges have browned slightly (the surface may form an air pocket on the surface in the oven, this is okay, it will deflate as it cools).
Let blondies cool in the pan for 20 minutes, then transfer to a wire cooling rack.
For the Frosting:
Drain the orange cup and puree the oranges in a blender.
Add the erythritol to a bowl and stir in the orange puree 1 tablespoon at a time. Spread onto the cooled blondies, refrigerate for 10 minutes then slice.
Notes:
Feel free to add some raisins or nuts to the batter too!
If that doesn't scream "guilt free!!!" I don't know what does.
PS:  Please let me know if you have any healthy/natural homemade dog treat recipes!  I'd love to make something for that adorable stuffed sausage little puppy  😉