Healthy Banana Cake with Peanut Butter Frosting
This Healthy Banana Cake with Peanut Butter Frosting is super moist, packed with fresh banana flavor, and it's secretly good for you too — free of butter and sugar and full of fiber, protein and whole grains!
Peanut Butter & Jelly is so yesterday.  The combination that is about to ROCK. YOUR. WORLD. is Peanut Butter + Banana!  The peanut butter adds richness and decadence, the banana adds natural sweetness and pure satisfaction.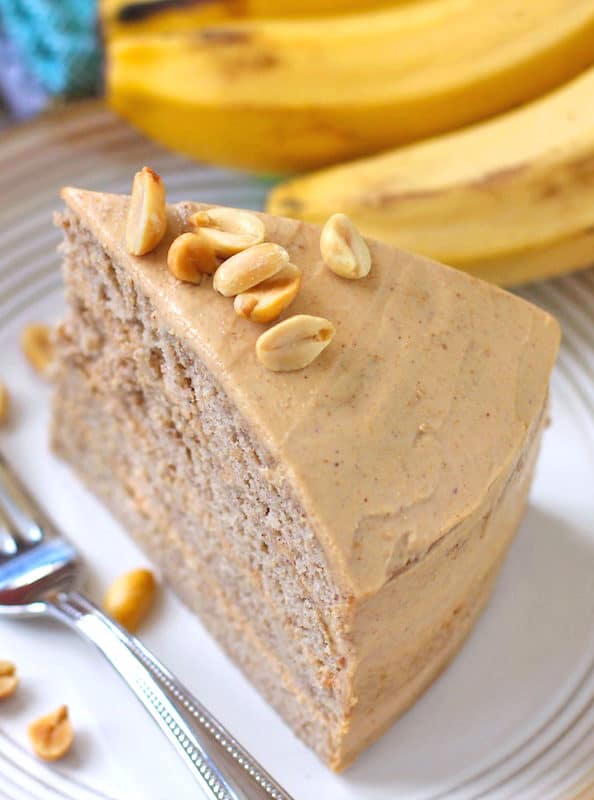 This Healthy Banana Cake is so moist and rich it tastes like it's full of butter, oil and sugar.  But it isn't.  It's like Banana Bread in cake form and cloaked with peanut butter  🙂  Heaven, yes?
And it's also light, yet surprisingly filling.  So, as much as you want another slice you'll be satisfied with just one.
One bite of this and your socks are bound to fly off.  Tooootally  😉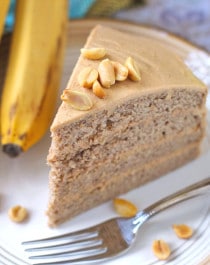 Print Recipe
Pin Recipe
Healthy Banana Cake with Peanut Butter Frosting
This Healthy Banana Cake is so moist and rich it tastes like it's full of butter, oil and sugar. But it isn't. It's like Banana Bread in cake form and cloaked with peanut butter.
Instructions
For the Cake:
Preheat the oven to 350 degrees Fahrenheit and spray two 8" cake pans with cooking spray (I also lined my pans with parchment paper circles).

In a medium-sized bowl, whisk together the sorghum flour, rice flour, vanilla sugar, starch, baking powder, cinnamon, apple pie spice and salt.

In a large bowl, whisk together the almond milk, egg whites, vanilla extract, stevia extract, and butter flavor.

In a measuring cup, mash 2-4 bananas until you get 1 cup. Stir in the vinegar.

Pour the banana/vinegar mixture into the large bowl with the other wet ingredients and whisk together until mixture is smooth and even (~1 minute)

Slowly add the dry ingredients to the wet ingredients while whisking. When all is incorporated, whisk the batter vigorously to break up any clumps. Make sure to whisk the sides of the bowl to make sure all the flour is incorporated.

Pour the batter into the prepared pans and bake for ~31-33 minutes, or until the surface of the cakes spring back when tapped. Let the cakes cool in the pan for ~30 minutes then flip them over onto a wire cooling rack and let cool completely.
For the Frosting:
In a stand mixer bowl with whisk attachment, add the greek yogurt, peanut flour and truvia. Mix on medium speed. Add the almond milk tablespoon by tablespoon, until the desired texture is achieved.

Frost the cakes then refrigerate for 30 minutes.  Slice and serve!
Recipe Notes
If you want a four-layer cake like shown in the post, slice each cake into two with a long and sharp knife.
Nutrition Facts
Healthy Banana Cake with Peanut Butter Frosting
Amount Per Serving (1 serving = 1/8th of cake with frosting)
Calories 280
Calories from Fat 36
% Daily Value*
Fat 4g6%
Cholesterol 3mg1%
Sodium 150mg7%
Carbohydrates 46g15%
Protein 20g40%
Vitamin A 100IU2%
Vitamin C 3.3mg4%
Calcium 150mg15%
Iron 1.8mg10%
* Percent Daily Values are based on a 2000 calorie diet.
I was curious to see what the nutrient breakdown of this recipe would look like so I made a nutrition label for the cake and the frosting.  To put it simply, I was shocked…  in a good way!  So delicious.  So nutritious.
Then I wondered how this Healthy Banana Cake's nutrition label would stack up to a typical/unhealthy recipe, so here's the nutrition label for Betty Crocker's Banana Cake with Peanut Butter Frosting…
I am horrified by what I calculated, especially when side by side to my healthy recipe's nutrition label.  A smaller (⅒th) slice of Betty Crocker's cake has double the calories of a larger (⅛th) slice of my cake.  My mind is blown.  And to make matters worse, that small slice of cake has 68g of sugar.  That is more than a ⅓ cup of sugar per slice (that's 5 tablespoons and 2 teaspoons to be exact).  A slice of that cake has the same amount of sugar as four Pop Tarts and more sugar than three Hershey's chocolate bars.  That really upsets me.
My recipe only has 280 calories for both the cake AND frosting…  uhhh, YES please!  Thanks to the 6g of fiber and 20g of protein, you'll be full and satiated after one slice.  Highly unlike the typical kind of cake, where one slice is never enough.  We've aaaallll been there…
Because my cake is pretty low in fat I like to serve it alongside some extra peanut butter banana goodness.  I mix a spoonful of my Banana-Infused Peanut Butter with a tiny splash of almond milk to make a rich and tasty glaze.  I think it goes without saying that we all deserve a little extra peanut butter lovin'  😉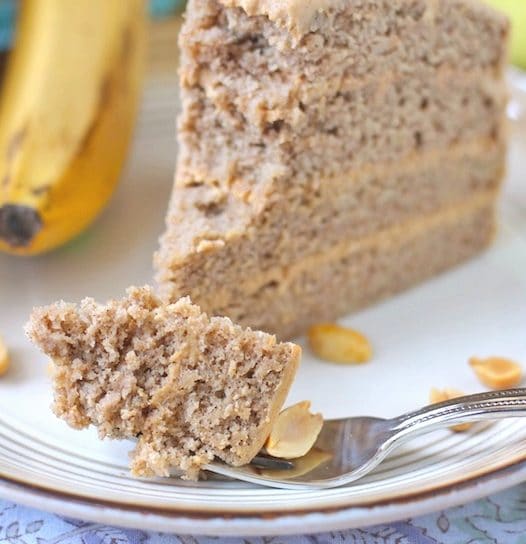 See how moist this Healthy Banana Cake is?  It's seriously like heaven on a fork…  soon to become magic in your mouth.
.
With love and good eats,
.
– Jess
.