Healthy Homemade Gummy Bears — Green Apple Popeye Flavored
Healthy Homemade Green Apple Gummy Bears — yes, they're green, but they don't taste "green" at all.  They taste just like the storebought kinds — soft, chewy, sweet and bursting with apple flavor.  You'd never know they're fat free, refined sugar free and all natural.  YUP, that means NO high-fructose corn syrup, artificial food flavorings, synthetic food dyes, or preservatives whatsoever!
These Green Apple Gummy Bears were inspired by one of my favorite childhood movie theatre candies, Apple O's.
Except these are actually good for you.  Seriously.  And just like my Homemade Orange Gummy Bears, these DIY Green Apple Gummy Bears are made with a secret ingredient.  I'll give you a couple hints:
It's 

green

Popeye ate it…  like, a lot.
Secret Ingredient = Spinach
DON'T RUN AWAY!!
Yes, these Gummy Bears might have spinach in them, but you'd don't taste it, I promise you.  I kinda hate the bitter taste of spinach (and its gritty texture) and I literally ate 16 of these Gummy Bears in a row…  hehehe.  They taste like apples in the form of Gummy Bears.  They taste like those Apple O's too!  And you get some veggies in.  Hmmm, I think I'll take 16 more  😉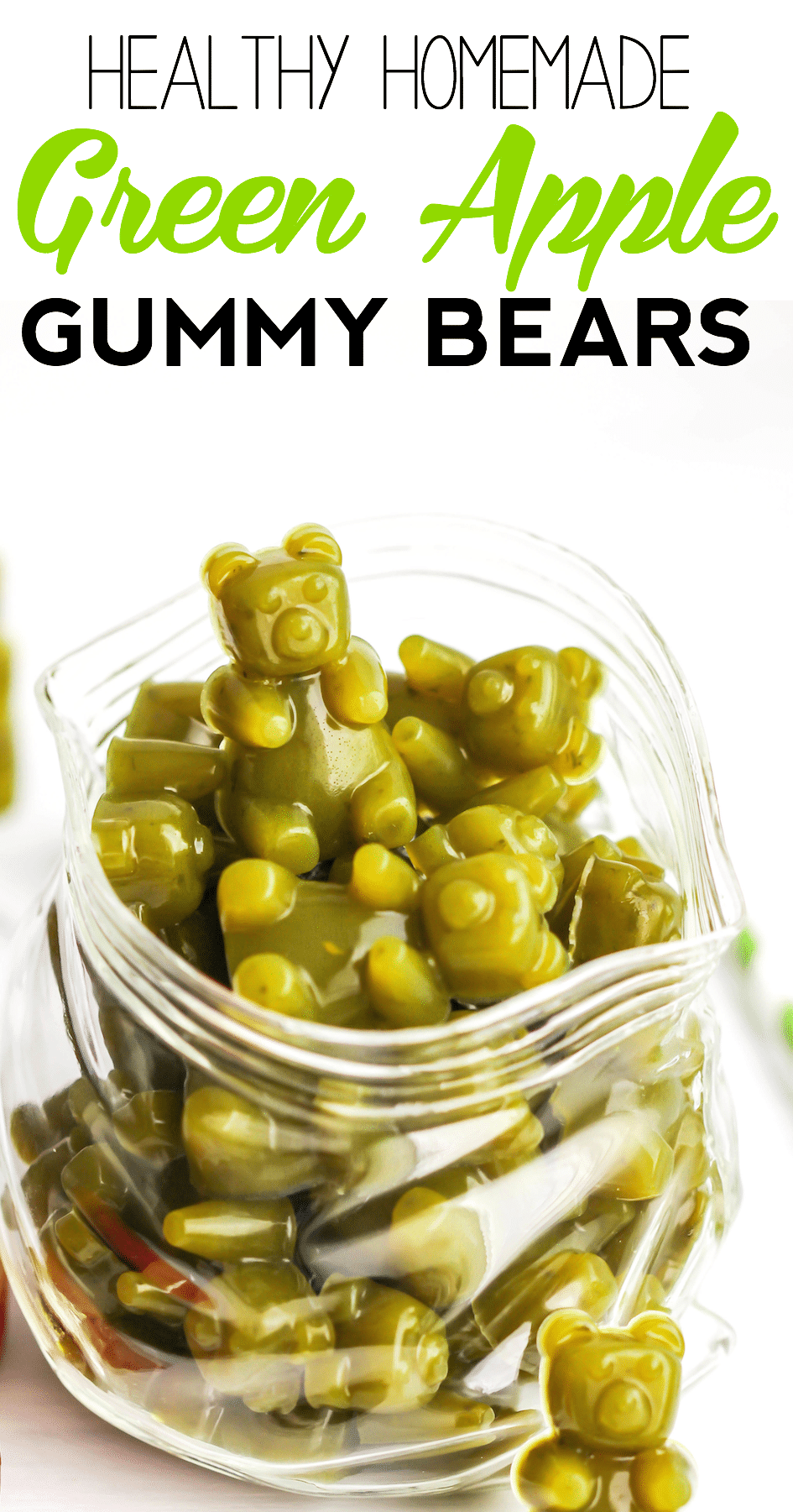 I'm clearly enjoying my KitchenAid® Juicer Attachment.  I nearly finished using up the ~25 pounds (!!!) of organic fruits and veggies I got last week — from organic spinach to kale to carrots to strawberries, raspberries, blueberries, apples, oranges and lemons.  Definitely got my fill of fruits and veg.  My body tooootally loves me right now.
After "breathing in" those Orange Gummy Bears in like, half a day (no lie) I needed to make another batch.  I was out of oranges so I needed to whip up a new flavor.  I had some apples and a pound of untouched spinach and BAM — Green Apple Popyeye Gummy Bears came to mind.  I edited the recipe to use apples instead of oranges, and to add vibrant green color (without using any food coloring) I added some spinach.
I'm completely obsessed with the results.  I walk to the fridge every twenty minutes to grab a few gummies (they make good study snacks, btw).  I know I'll be making this recipe again and again and again.  It's so easy!
So grab some apples and spinach and whip out that juicer  🙂
GO GO GO!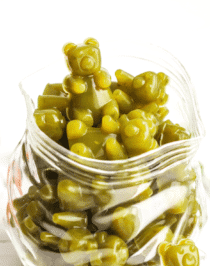 Print Recipe
Pin Recipe
Healthy Green Apple Popeye Gummy Bears
These Green Apple Gummy Bears may be green, but they don't taste "green" at all. They taste just like storebought gummies -- soft, chewy, sweet and bursting with apple flavor. You'd never know they're fat free, refined sugar free and all natural too!
Instructions
Wash the apples and then core them. Chop them into quarters so they can fit into the juicer chute.

Rinse the spinach and drain the excess water. Lightly chop the spinach (I used kitchen shears) so it's easier to shove into the chute once you're juicing (when the leaves are whole, they tend to stick).

Attach the

KitchenAid Juicer Attachment

to your 

stand mixer

with the high pulp filter, then place a tall container underneath the juice opening and another container underneath what I call the "poop shoot."

Turn the stand mixer on high speed and start juicing! Juice the apples and spinach at the same time, alternating some sliced apples and a mini handful of spinach into the chute, until you get 3¾ cups** worth of juice.

In a nonstick saucepan, stir together the apple/spinach juice, lemon juice, stevia extract and apple flavor with a rubber spatula. Sprinkle the gelatin on top, stir lightly, then let it sit for 5 minutes.

Place the pan over medium/medium-high heat and smush the big clumps of gelatin, but you don't need to worry, they'll dissolve.

Stir constantly until the mixture begins to bubble. When you can't stir the bubbles away, keep it on the heat for 30 more seconds and then remove from the heat.

Place your

gummy bear molds

 on a cookie sheet, and then fill the molds with the green apple gummy bear mixture. Let cool on the counter for about an hour, then place them in the fridge.  Refrigerate until firm (I leave them overnight).  Refrigerate to store. Keeps for ~3 days.
Recipe Notes
**You'll need a total of 3¾ cups worth of juice. For me, that required 7 medium-sized Gala apples and 4oz of baby spinach.
6-ingredient Healthy Homemade Green Apple Popeye Gummy Bears!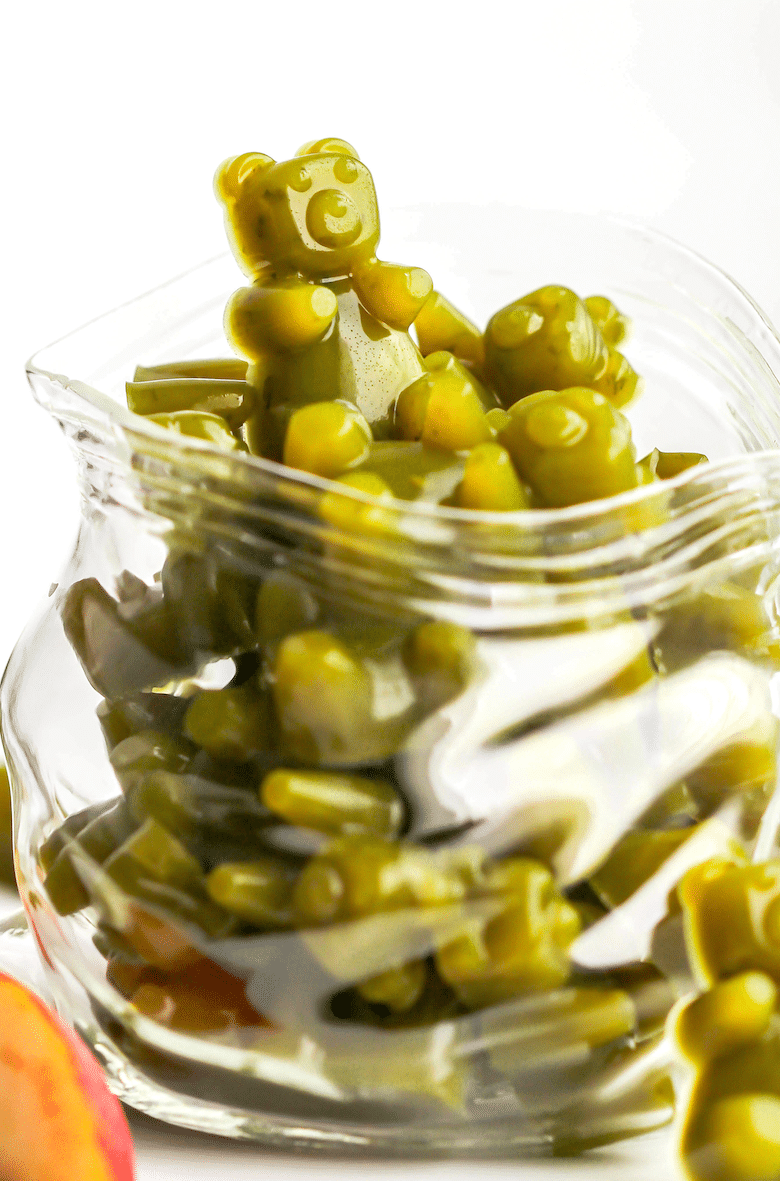 Enjoy!
.
With love and good eats,
.
– Jess
.