Healthy Nutella Frozen Yogurt
This Healthy Nutella Frozen Yogurt is smooth, creamy, rich, sweet, nutty, chocolatey and…  healthy?  Oh yes.  No heavy cream, refined sugar or artificial ingredients here!  This delicious fro yo is THE definition of a nutritionally balanced, guilt-free snack.
Can we have a moment of silence please?  You know, just to observe the creaminess?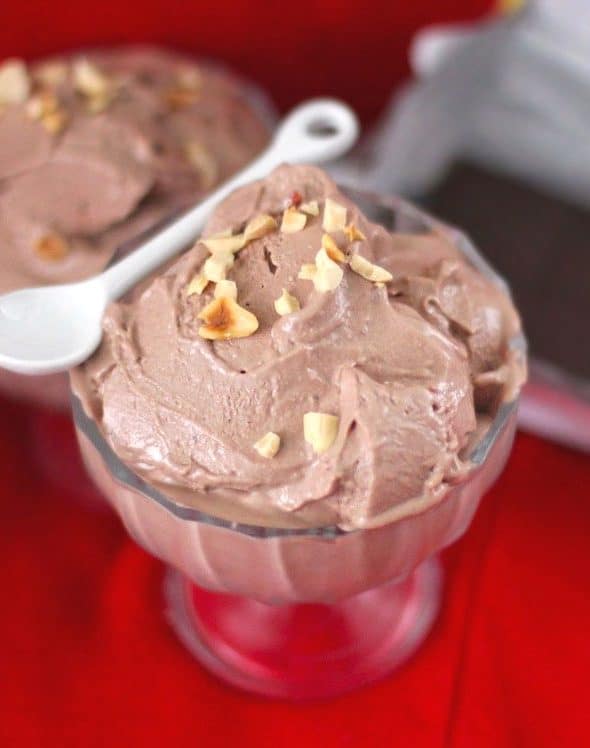 And can we have another moment of silence?  But this time because our mouths are full of this delicious chocolate-hazelnut AWESOMENESS?  😉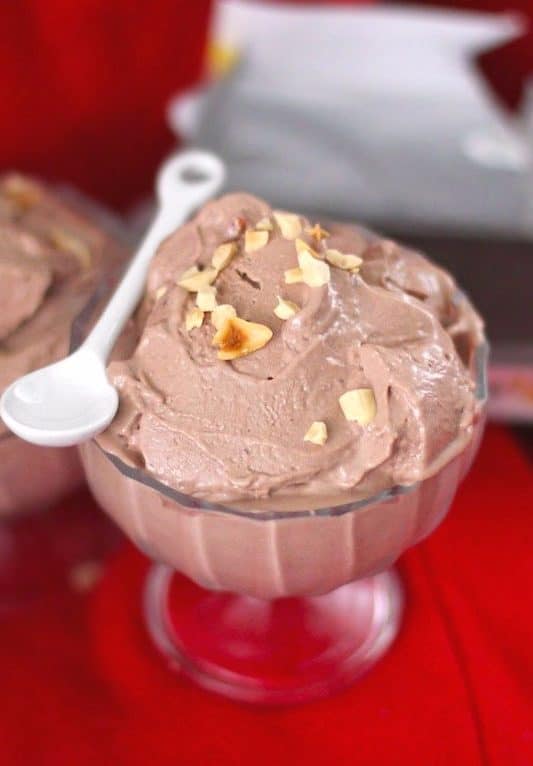 This super easy 6-ingredient Healthy Nutella Frozen Yogurt is a must make.
I have made this twice in the last week and a half.  It's uber creamy and decadent but without all the refined sugar, high fructose corn syrup and nasty preservatives that storebought ice creams have.  Everyone enjoyed this, surely you will too!
Healthy Nutella Frozen Yogurt
Prep Time: 30 minutes
Cook Time: 0 minutes
Total Time: 30 minutes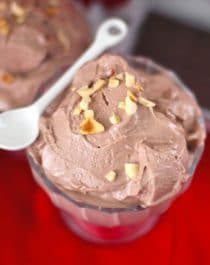 Fat per serving: 9
Calories per serving: 150
Ingredients:
Directions:
Freeze your ice cream maker bowl for 24+ hours (I used my Cuisinart).
In a stand mixer bowl with whisk attachment, add the yogurt, nutella, stevia extract, butter extract and vanilla paste. Whisk on low.
In a small bowl, whisk together the xanthan gum and salt. Slowly add this into the mixing stand mixer and increase speed to medium. Whisk until the mixture is even, and scrape down the sides of the bowl if necessary.
Take whisk attachment off stand mixer and place inside the bowl. Freeze for 1 hour.
Reattach the whisk onto the stand mixer and whisk mixture on medium speed. When the mixture looks even, turn off the stand mixer and remove the bowl.
Place the frozen ice cream bowl onto the ice cream machine and turn the machine on. Scoop the ice cream mixture into the spinning ice cream bowl and churn for ~12 minutes.
Scoop the ice cream into a freezer-proof container and freeze until it is the texture you like (~2-4 hours).  Scoop into chilled bowls and serve!
All images and text ©
.
I've already shown you how mouthwatering this fro yo is so now I'm going to show you how much healthier it is than the typical fro yo recipe.  Here, I compare my recipe's nutrition label to Williams Sonoma's chocolate-hazelnut gelato recipe…  you won't believe the difference.
Williams Sonoma's nutrition label is on the left, the Desserts with Benefits label is on the right: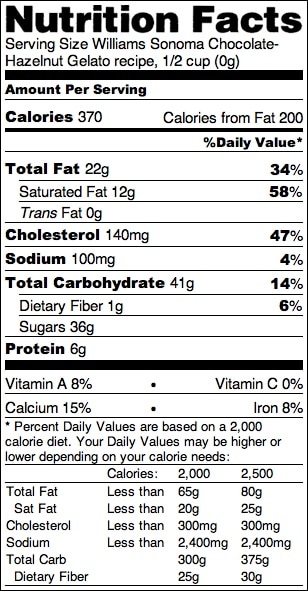 UNBELIEVABLE.  For the same amount of ice cream, my recipe has 220 less calories, 13g less fat, 11.5g less saturated fat and 32g less sugar.  Williams Sonoma's recipe has 3 tablespoons of sugar for every 1/2 cup serving…  that's kinda ridiculous if you ask me.
So let's boycott the storebought tubs of ice cream and unhealthy homemade recipes full of refined white sugar and hormone-filled heavy cream!  We all need to make a batch of this all natural, refined sugar-free and absolutely addictive Healthy Nutella Frozen Yogurt.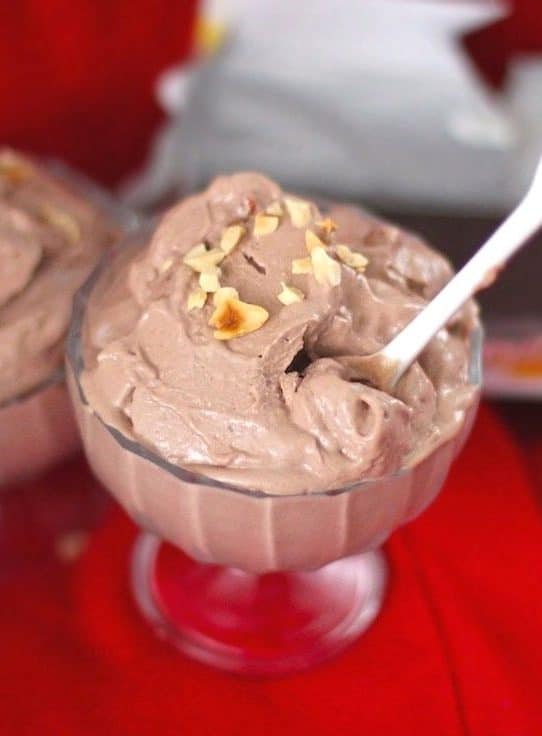 Time to dig in!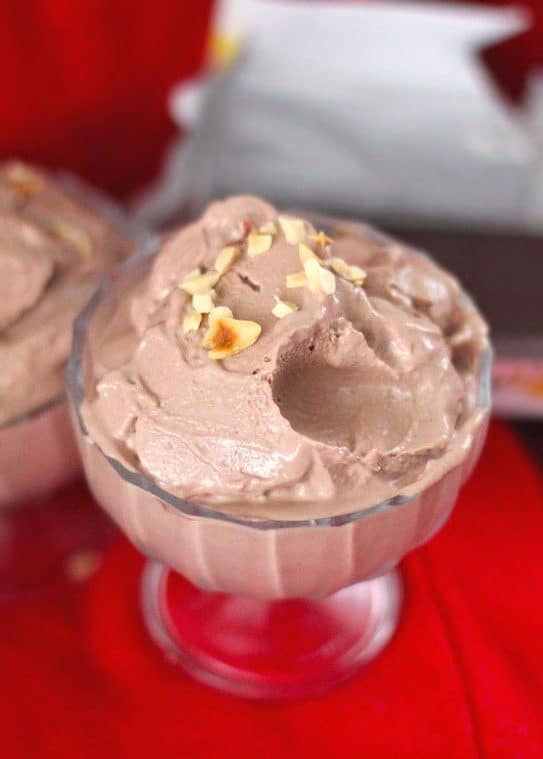 OH. SO. GOOD.
.
With love and good eats,
.
– Jess
.