Healthy Oreo Cookie Butter
This Healthy Oreo Cookie Butter is so thick, rich, sweet, and chocolatey, you'd never know it's sugar free, low calorie, low fat, gluten free, dairy free, and vegan!  This amazing spread will beat peanut butter and almond butter ANY DAY.
Those are some serious claims, I know, but I will back those up wholeheartedly.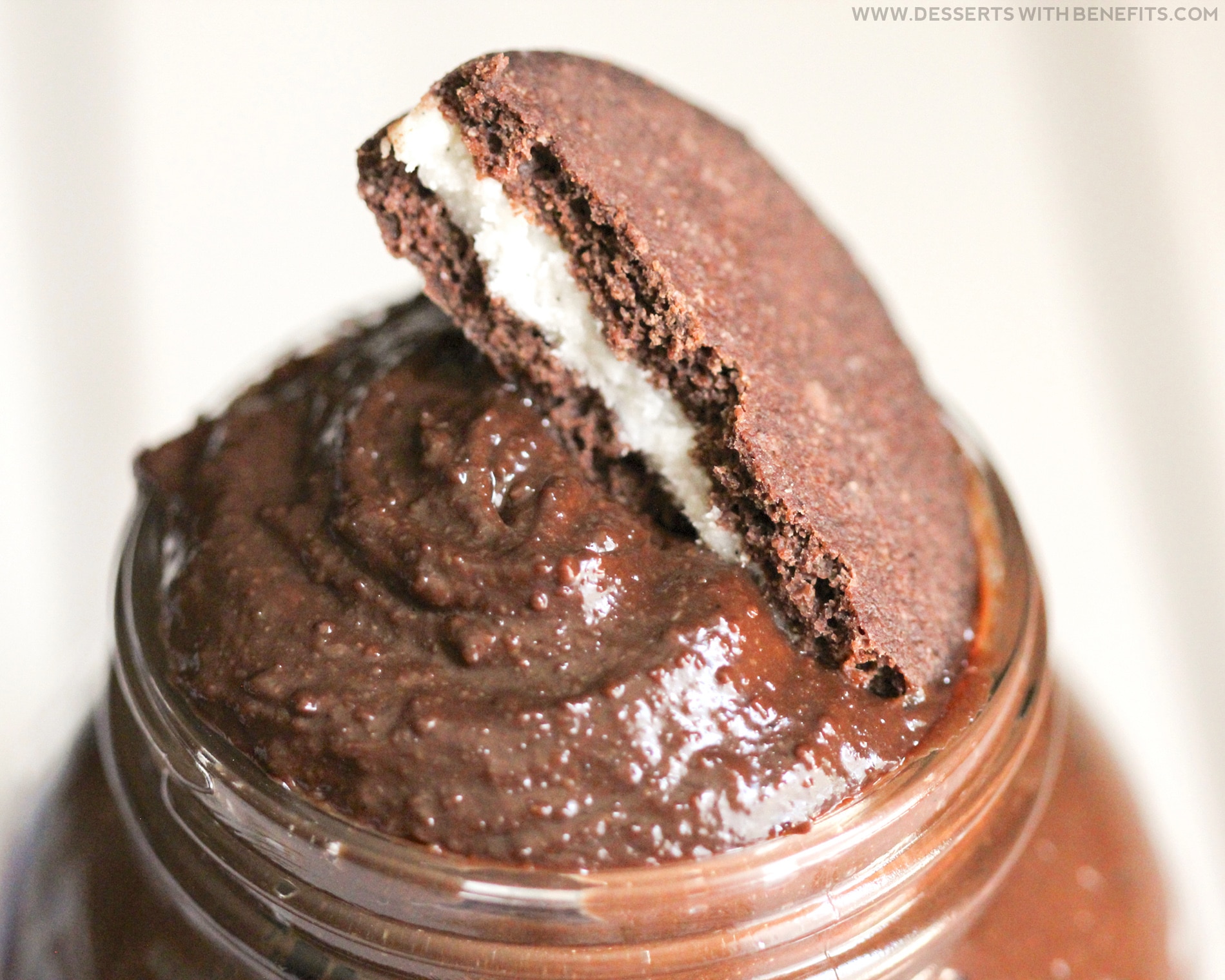 I've been eating my Healthy Homemade Oreos practically nonstop lately.  I've made the recipe three times in the last month!  I've given away a portion of each batch to friends and family and we're all lovin' 'em.
I mentioned in the post that you should only frost and sandwich the Oreos the day you serve them.  While they last about a week or so if they're stored in the fridge, the filling will soften the cookies over time.  On my latest batch, I was feeling ambitious and frosted all of the cookies at once.  Two days later, I had just 10 Oreos left.  I decided I'd make another recipe with them.  BUT WHAT OH WHAT SHOULD I MAKE??
Oreo Cheesecake Dip?
Cookies 'n' Cream Ice Cream?
Oreo Milkshake?
Oreo Cookie Truffles?
Oh wait, I KNOW.  I HAVE THE ANSWER 🙋🏻
Healthy. Oreo. Cookie. Butter. 🍫
*jaw drops to floor*

BOOM BOOM BOOM SHAKALAKA!
And that's how this Healthy Oreo Cookie Butter came to be.  It's thick and rich and totally luxurious.  It's chocolatey and sweet and decadent and satisfying.  Every bite feels like you're indulging in something naughty, when really, it's nice.  This is the greatest, chocolatiest, and secretly healthiest thing to ever grace planet Earth.
Can I get a slow clap? 😏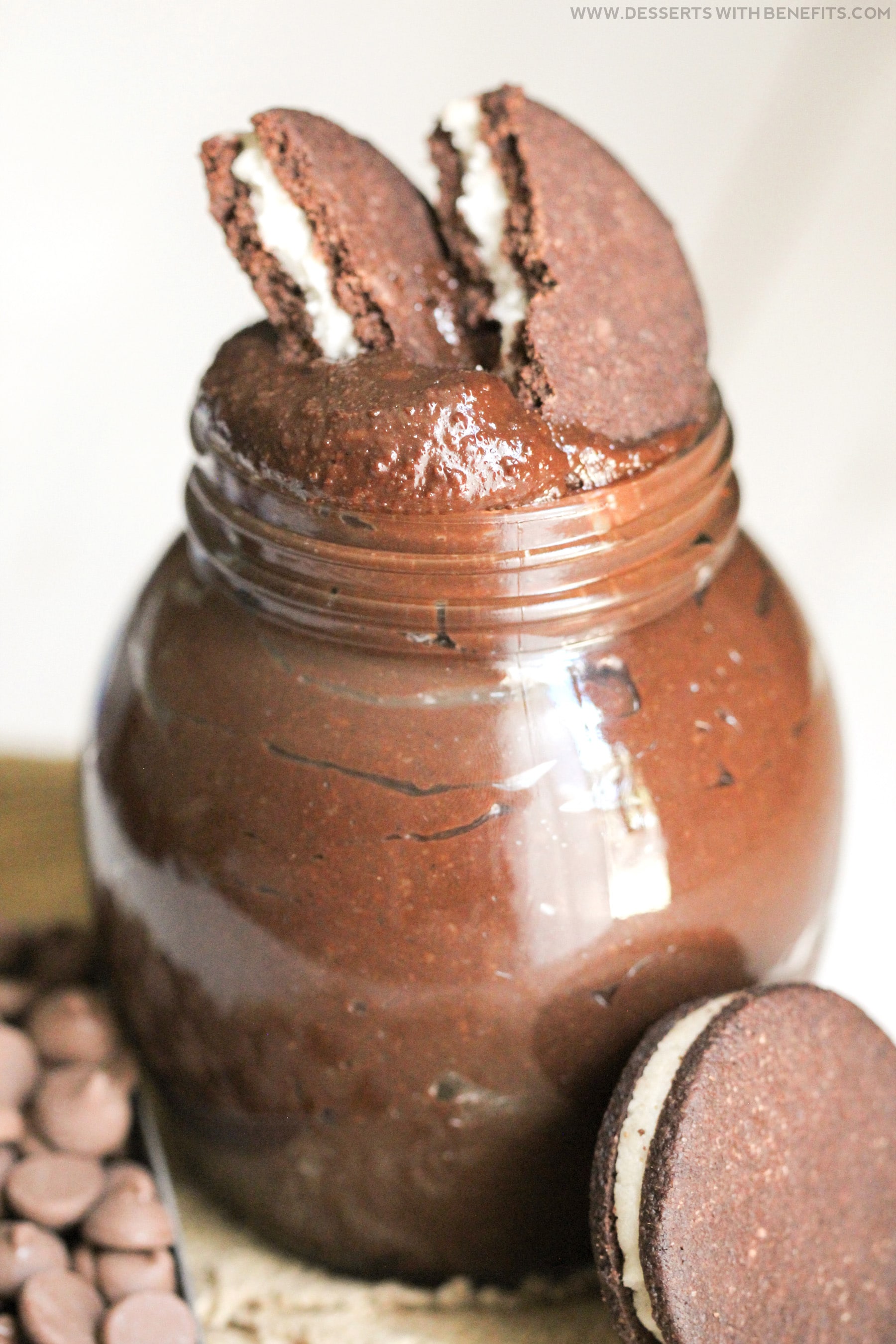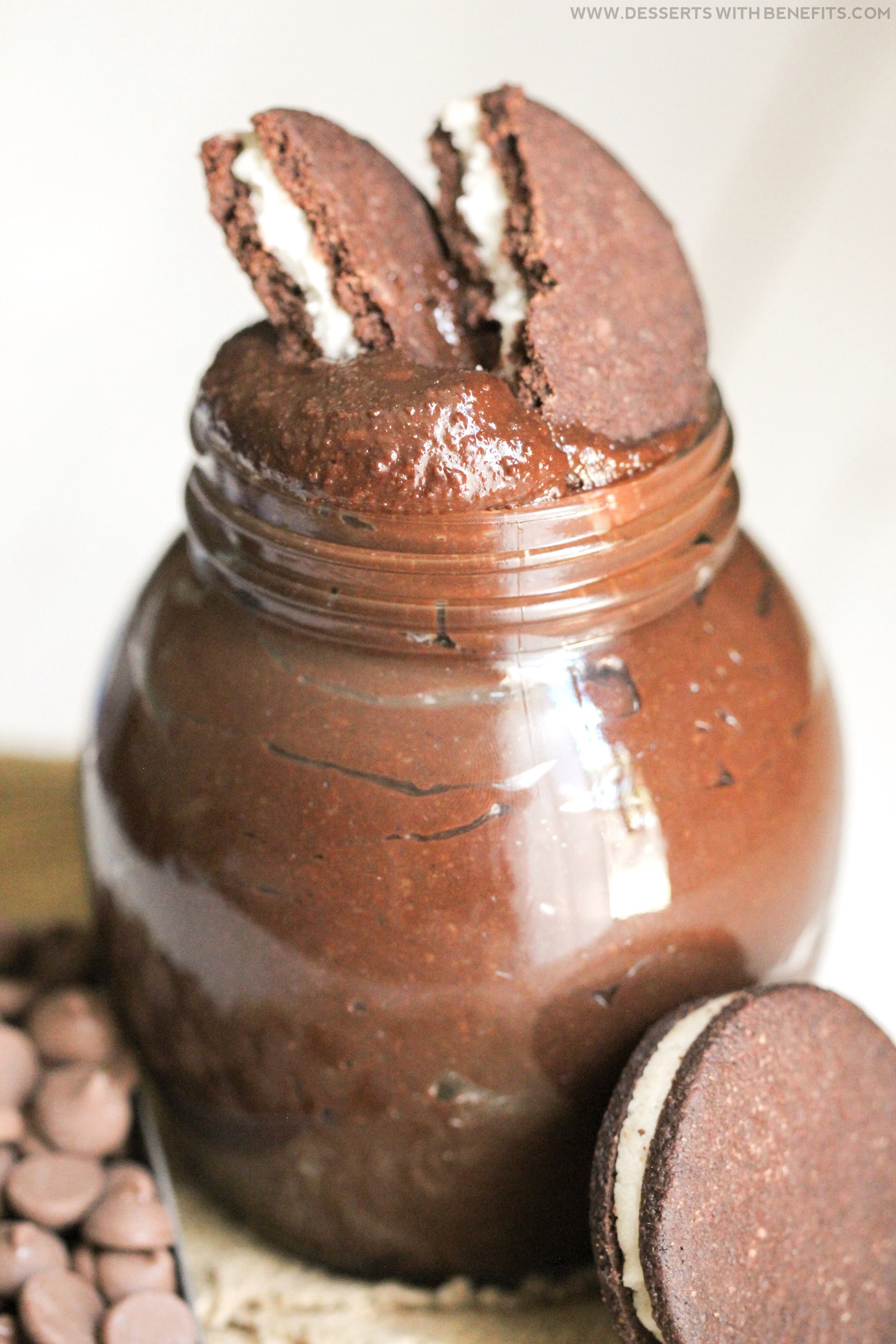 Healthy Homemade Oreo Cookie Butter
Ingredients:
Directions:
In a powerful blender or food processor (I used my NutriBullet), add all of the ingredients.  Process until smooth, scraping down the sides of the blender when necessary.
Scoop the cookie butter into a jar, seal tightly, and store in the fridge.  Keeps for ~2 weeks.
Notes:
Be sure to follow @DessertsWithBenefits on Instagram!  If you try this recipe, make sure to snap a picture of it, tag me @DessertsWithBenefits, and hashtag #DessertsWithBenefits.  I'd love to see it and feature you on #FanFaveFridays!
.
Here is the recipe's nutrition label:
YES, THIS IS REAL LIFE GUYS.  Just 90 calories for a serving of this Healthy Oreo Cookie Butter!  A far cry from the storebought version from Trader Joes.  Compared to the storebought version for the same serving size, my Oreo Cookie Butter has:
120 less calories
9g less fat
10g less carbs
16.5g less sugar (my recipe actually has zero added sugar)
I'm still in shock.  Someone pinch me.  Better yet, someone wave a spoonful of this Healthy Oreo Cookie Butter in my face and I'll snap right out of it (while grabbing the spoon outta your hand and running off with it) 😜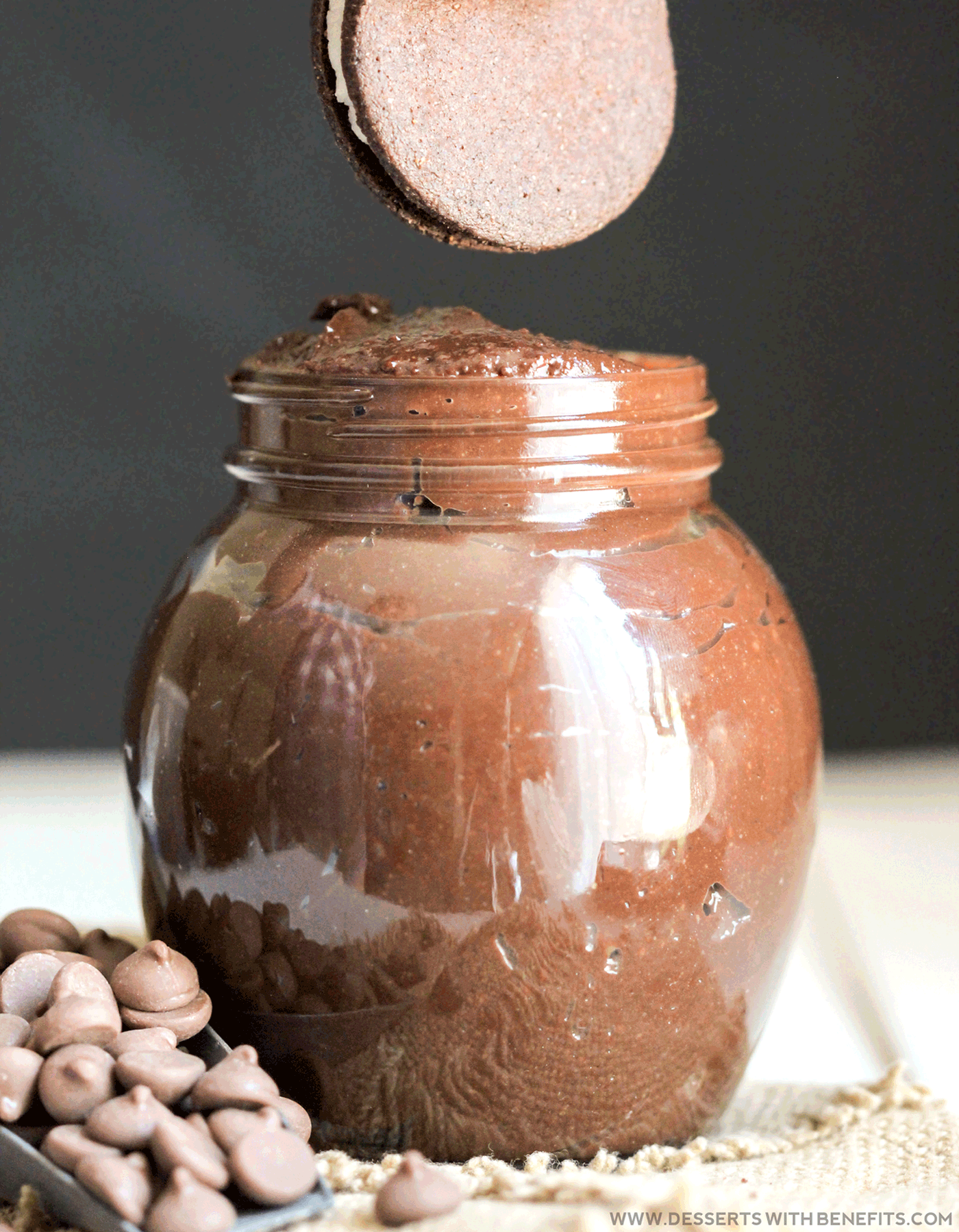 WARNING:  THE FOLLOWING CONTAINS GRAPHIC IMAGES OF A DELICIOUS HOMEMADE OREO COOKIE BEING DUNKED INTO THE DREAMIEST OREO COOKIE BUTTER.

Thick. Creamy. Chocolatey.
Nuff said.
Now go make a batch of this ASAP!
You can use it just as you would use peanut butter or Nutella — spread on toast, stuffed in a crêpe, added to a smoothie, in a bowl as a fruit dip, on a spoon (or finger) for a quick and sweet snack, etc.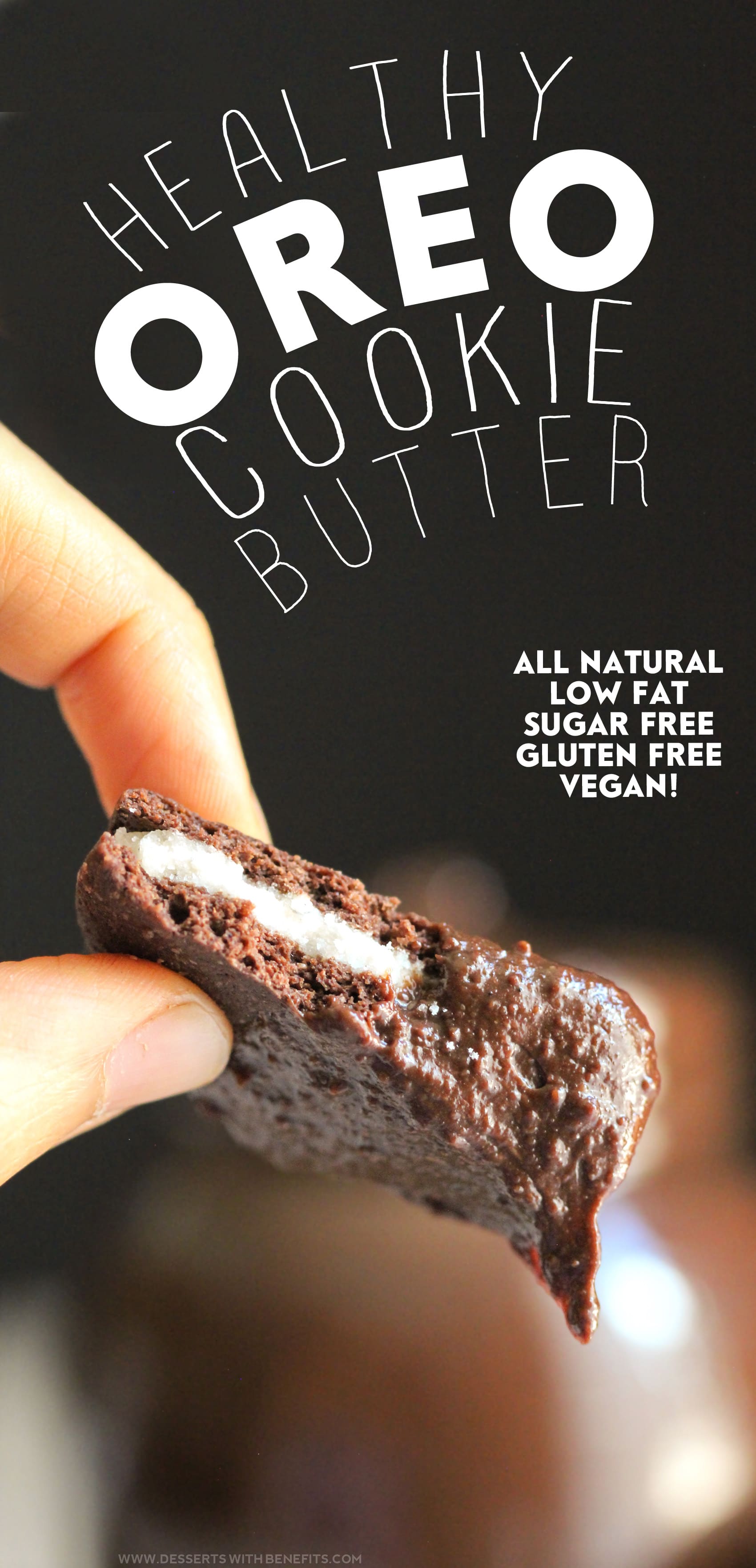 Enjoy (and I think you most certainly will)!
.
– Jess
🎂🍴💕
.