Healthy Red Velvet Loaf
Hey.  Hi.  I made you this Healthy Red Velvet Loaf.  It's like Red Velvet Cake but in quick bread form, and made all natural, refined sugar free, low fat, high protein, high fiber, gluten free, and dairy free too!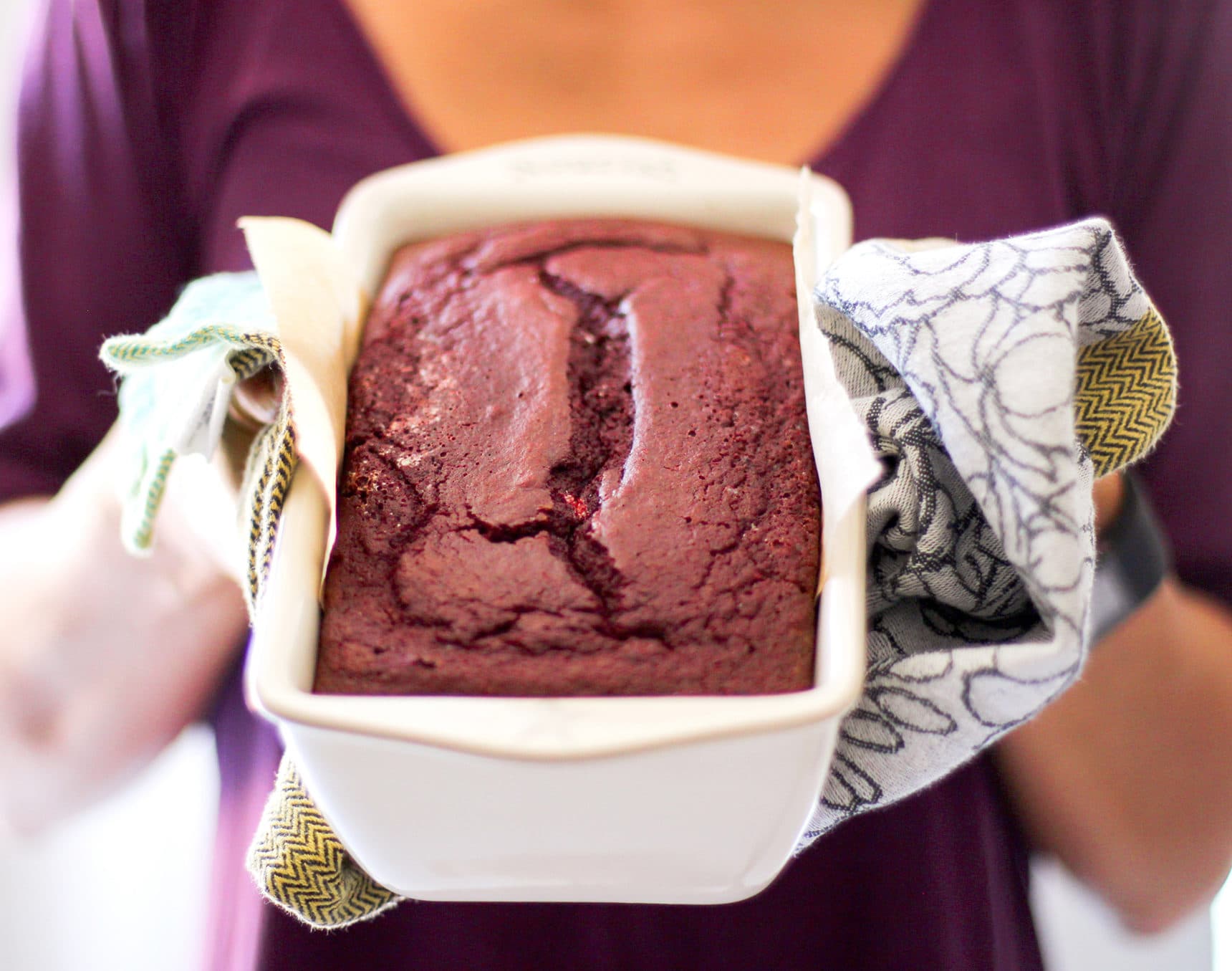 Now, this isn't like some other Red Velvet desserts out there.  The color is a dark and rich crimson red.  It's not brown, but it's not burn-the-back-of-your-eyeballs bright red either…  because the only way to achieve that hideously unappetizing highlighter red color is to use Red Dye #40, which is completely horrendous and unnecessary and doesn't belong in any food product whatsoever.  Okay, rant over.
I gave half of the loaf to my parents and kept the other half for me (duh).  I stored each slice in a sandwich baggie so I can easily grab one on my way to work.  And guess what.  This loaf gets better THE NEXT DAY.
Read:  THE NEXT DAY!
I mean, it's still good the same day you bake it, but I could detect the beets.  I had to smother my slice with whipped cream and shaved chocolate (which I highly suggest, by the way).  The next day, I tried a bite all on its own and could NOT. stop. eating. it.
It was super good.  The beet flavor went away and the loaf became more moist and flavorful in general.  I wish I had taken a good picture of the loaf the next day so I could show you the texture I'm talking about.  But, I photographed the loaf the second it cooled after baking since the sun was going down and wanted to use that natural light in my photography.  Sadly, the next day, it was cloudy and raining and none of my pictures were usable.
SO.  You'll just have to trust me here.  Wait until the next day after baking to stuff this goodness in yo face.  I'm pretty sure there is a direct correlation between each bite of this Healthy Red Velvet Loaf and your day getting infinitely better.
If you're an avid beet-hater (like me), I would suggest adding ½ cup of No-Sugar-Added Chocolate Chips to the recipe.  I think I'll try this sometime down the road, but I'm perfectly happy waiting to dig into this loaf the day after baking.  Plus, I'm really diggin' the whipped cream + chocolate as toppings.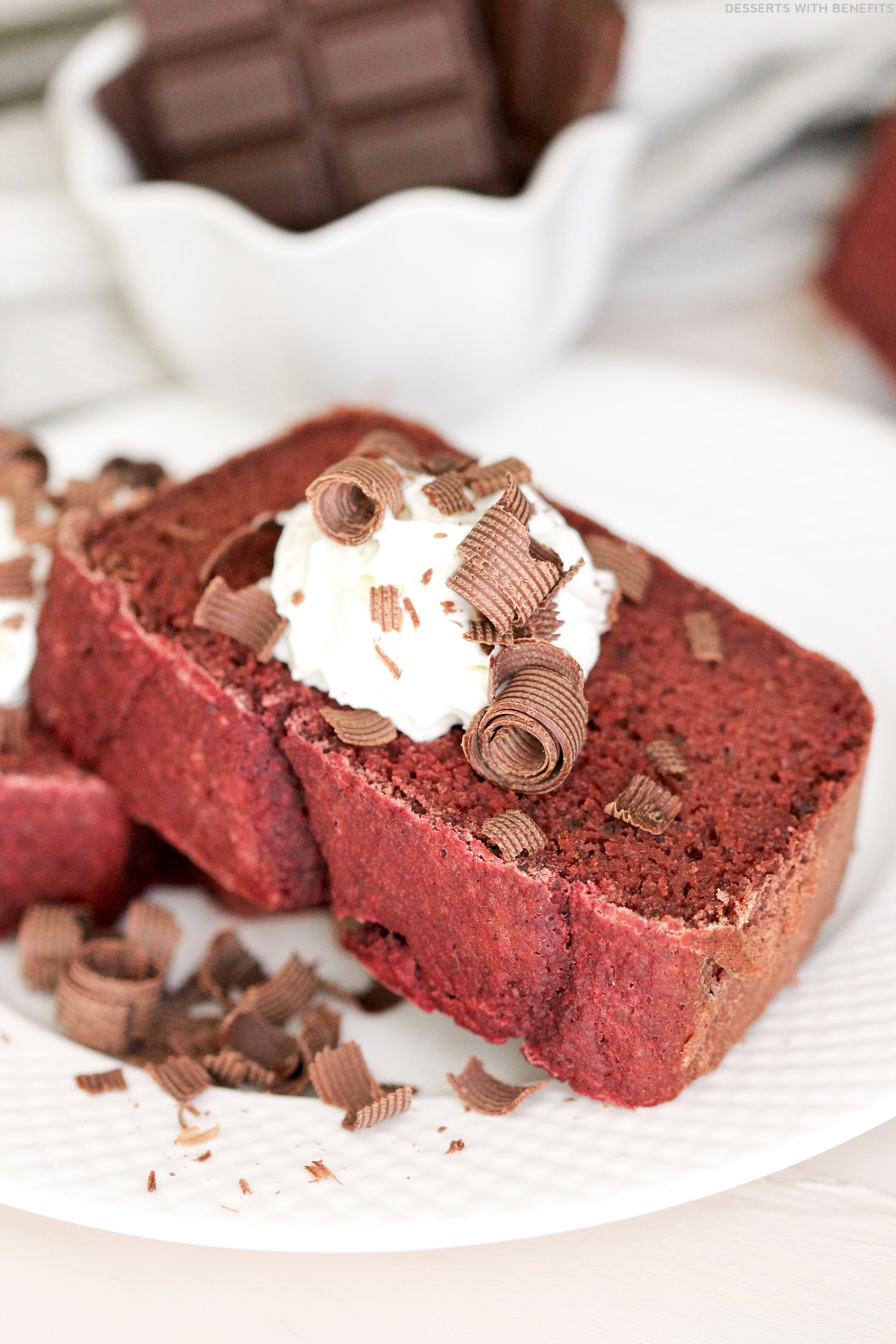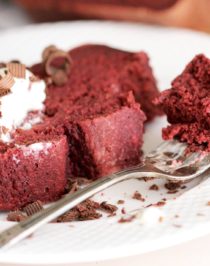 Print Recipe
Pin Recipe
Healthy Red Velvet Loaf
This Red Velvet Loaf is like Red Velvet Cake but in quick bread form, and made all natural, refined sugar free, low fat, high protein, high fiber, gluten free, and dairy free too!

Ingredients
Topping Options:
Cream Cheese Frosting

+ Chopped Pecans

Melted Chocolate Drizzle

All Natural Whipped Cream + Shaved Chocolate
Instructions
Preheat the oven to 350 degrees Fahrenheit and spray a 9x5" loaf pan (I used a heavy ceramic loaf pan, as seen in the first photograph) with cooking spray.

In a medium-sized bowl, whisk together the oat flour, erythritol, sorghum flour, arrowroot starch, cocoa powder, baking powder and salt.

In an electric stand mixer bowl fitted with a beater attachment, add the roasted beet purée, almond milk, eggs, vanilla paste, butter flavor and stevia extract.  Mix on low speed.

Add the dry ingredients to the stand mixer and increase the mixer speed to medium.  Mix until the ingredients are fully incorporated.  Scrape down the sides of the bowl if necessary.

Add the vinegar to the stand mixer and mix one last time.

Pour the batter into the prepared loaf pan.  Bake for 70 minutes, or until the surface springs back when tapped.  Let cool in the pan.

Slice the loaf into eight slices, then tightly wrap the slices with plastic wrap and leave overnight.  Serve the next day with the optional toppings!
Recipe Notes
This loaf will keep at room temperature for 2-3 days.  After that, store it in an airtight container in the fridge for up to ~3 more days.
Nutrition Facts
Healthy Red Velvet Loaf
Amount Per Serving (1 serving = 1/8th of loaf)
Calories 190
Calories from Fat 36
% Daily Value*
Fat 4g6%
Cholesterol 80mg27%
Sodium 280mg12%
Carbohydrates 32g11%
Protein 7g14%
Vitamin A 200IU4%
Calcium 200mg20%
Iron 1.8mg10%
* Percent Daily Values are based on a 2000 calorie diet.
Whaaatttt??  Only 190 calories and 4g of fat per slice??  Plus 4g of fiber and 7g of protein?  I'll take it.  I'll take TWO please ✌️
I adapted this recipe from the Red Velvet Cake recipe in my Naughty or Nice Cookbook.  I didn't have any natural red food coloring on hand so I used SCIENCE to achieve the vibrant red color!  These are the subs I made:
Used Sorghum Flour instead of Brown Rice Flour
Increased the Baking Powder to 1 tablespoon
Swapped the Natural Red Food Coloring for more Almond Milk
Swapped the Coconut Oil and Cacao Butter for more Almond Milk
Used 3 Eggs instead of 6 Egg Whites
Increased the Vinegar to 2 tablespoons
I honestly had no faith in myself and my knowledge of science to bake a dye-free Red Velvet anything.  Have I told you about the Red Velvet Cheesecake recipe I'm working on?  I've baked it 7 times, changing ingredients here and there, and CANNOT achieve the red color.  It's impossible!  It starts off red, then bakes into a bright neon fuchsia.  I want it RED, not PINK.
But this Healthy Red Velvet Loaf has restored my faith.  If I can bake something Red Velvet without any natural dyes, I CAN and WILL succeed at that Healthy Red Velvet Cheesecake!  Okay, second rant over.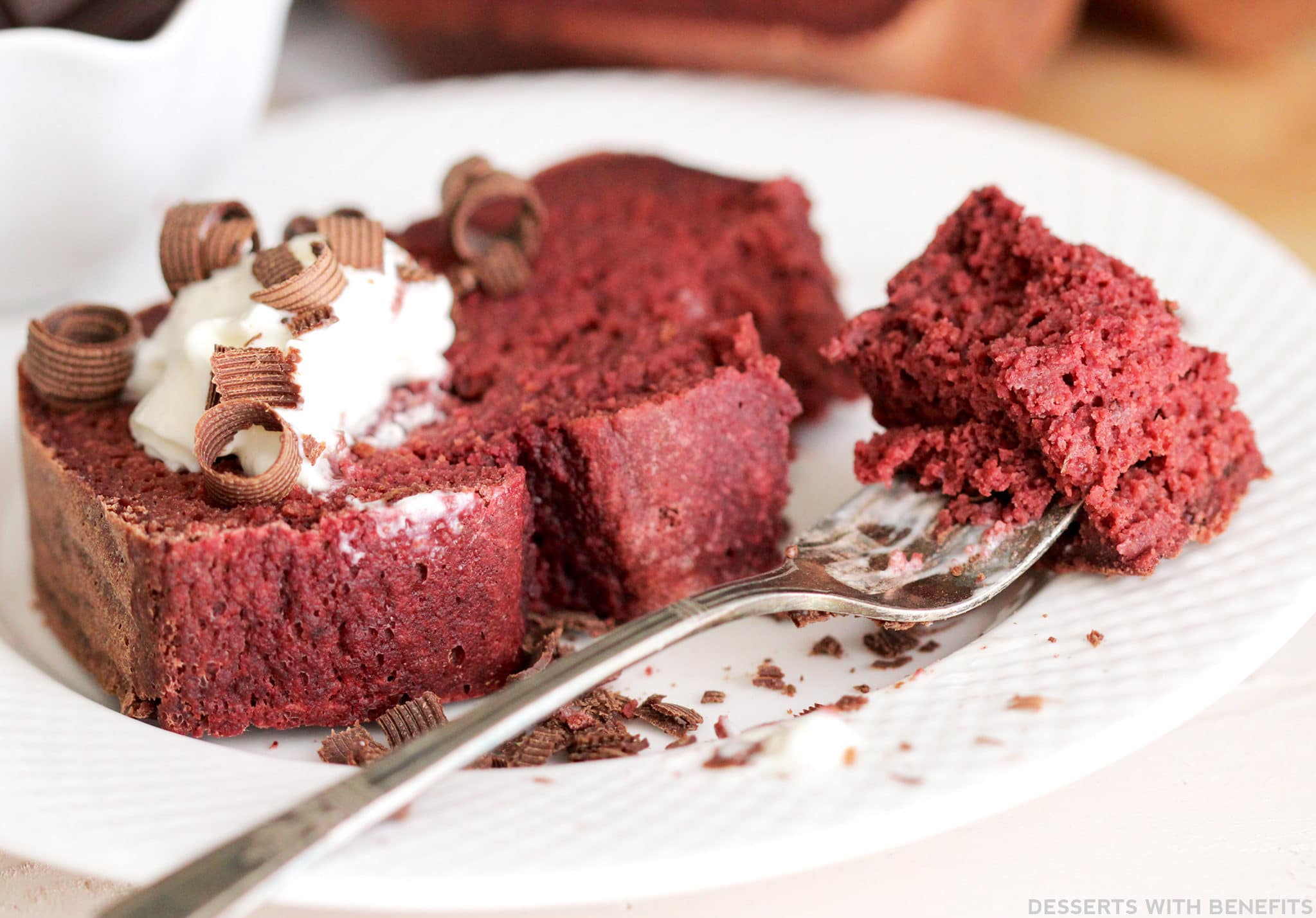 Enjoy!
.
– Jess
.