Healthy Strawberry Cupcakes with Strawberry Frosting
Healthy Strawberry Cupcakes with Strawberry Frosting — sweet and springy cupcakes with a creamy, 100% delicious frosting.  Taste tested by friends and family, and enjoyed by ALL.  No one knew these were refined sugar free, low fat, high protein, and whole grain!
This post was sponsored by KitchenAid.  All opinions are mine and mine alone.  Thanks for supporting the brands that keep Desserts With Benefits going!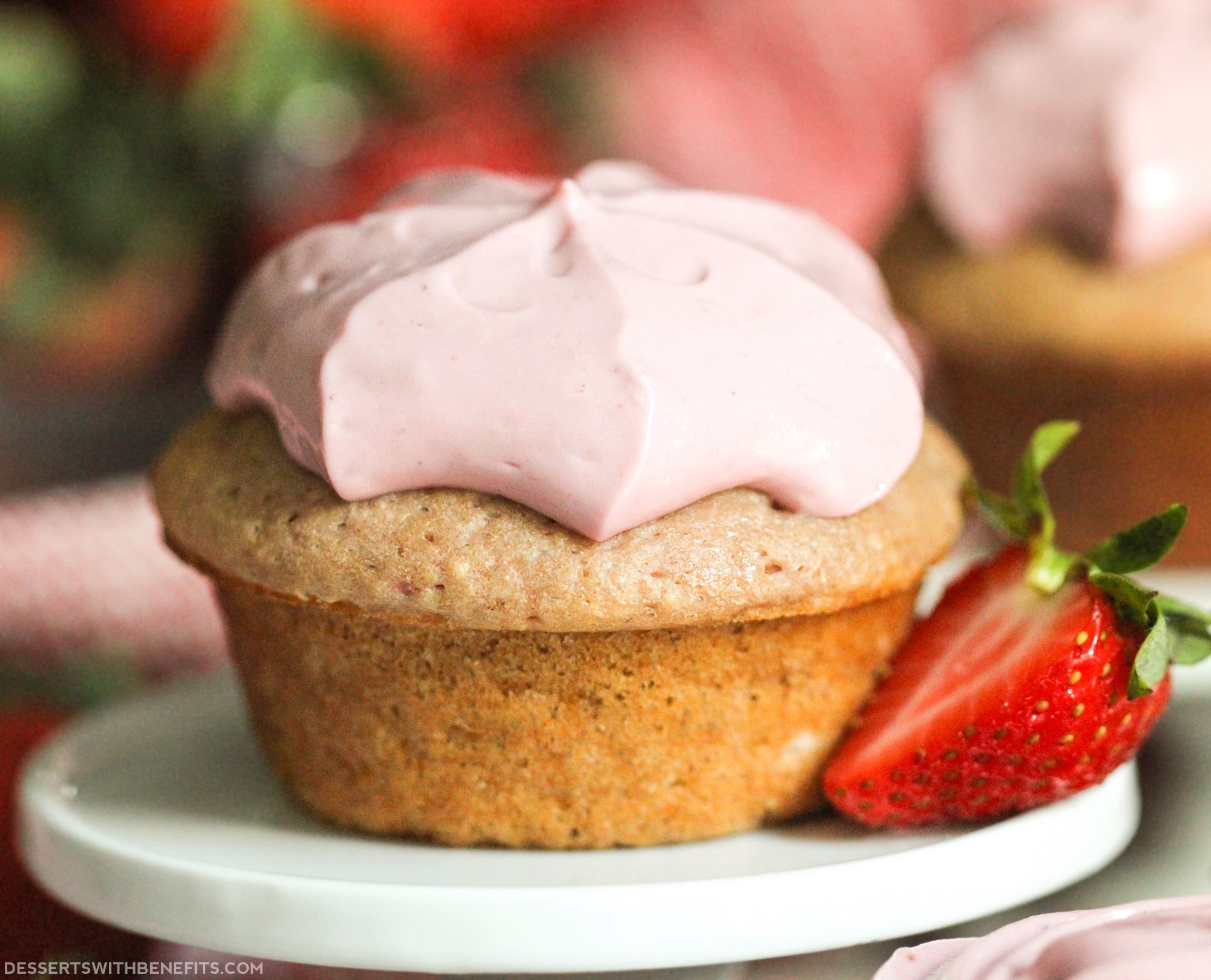 The grocery store's baking aisle never ceases to amaze me.  I am mesmerized pretty much every single time I walk through it.  Every location carries different products and different brands at different prices and different sizes…  but there are some things that never change:  boxed baking mixes.  I don't know why but I love to stare at them.  For a good five minutes, probably.  I guess I like the variety?  From chocolate to vanilla to red velvet to even BLUE velvet.  One particular box always grabs my attention:  the strawberry cake mix.  The cake pictured on the outside of the box is so vibrantly pink and delicious looking, it's hard not to stare.  You can almost taste it just by looking at it.
One day, I stopped staring and finally picked up the box to look it over.  I glanced at the nutrition label and read (or, attempted to read) the ingredient list.  My eyes opened wide in shock, I gently placed the box back on the shelf, and walked away in awe.  How could so many bad things come in such a pretty package??  On my drive home, I was determined to make a healthier, all natural, homemade version.
Pink cupcakes for October?  PERFECT.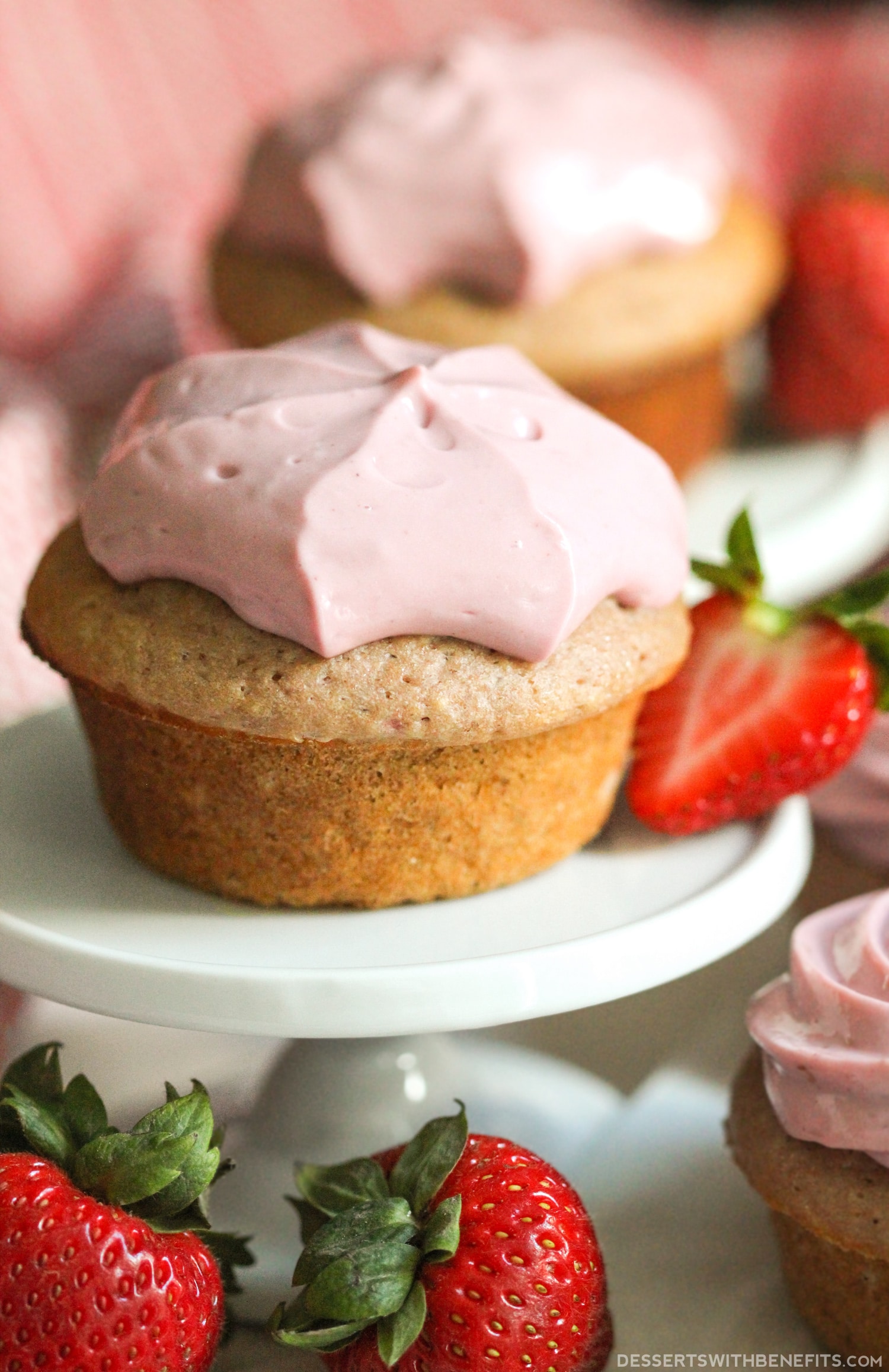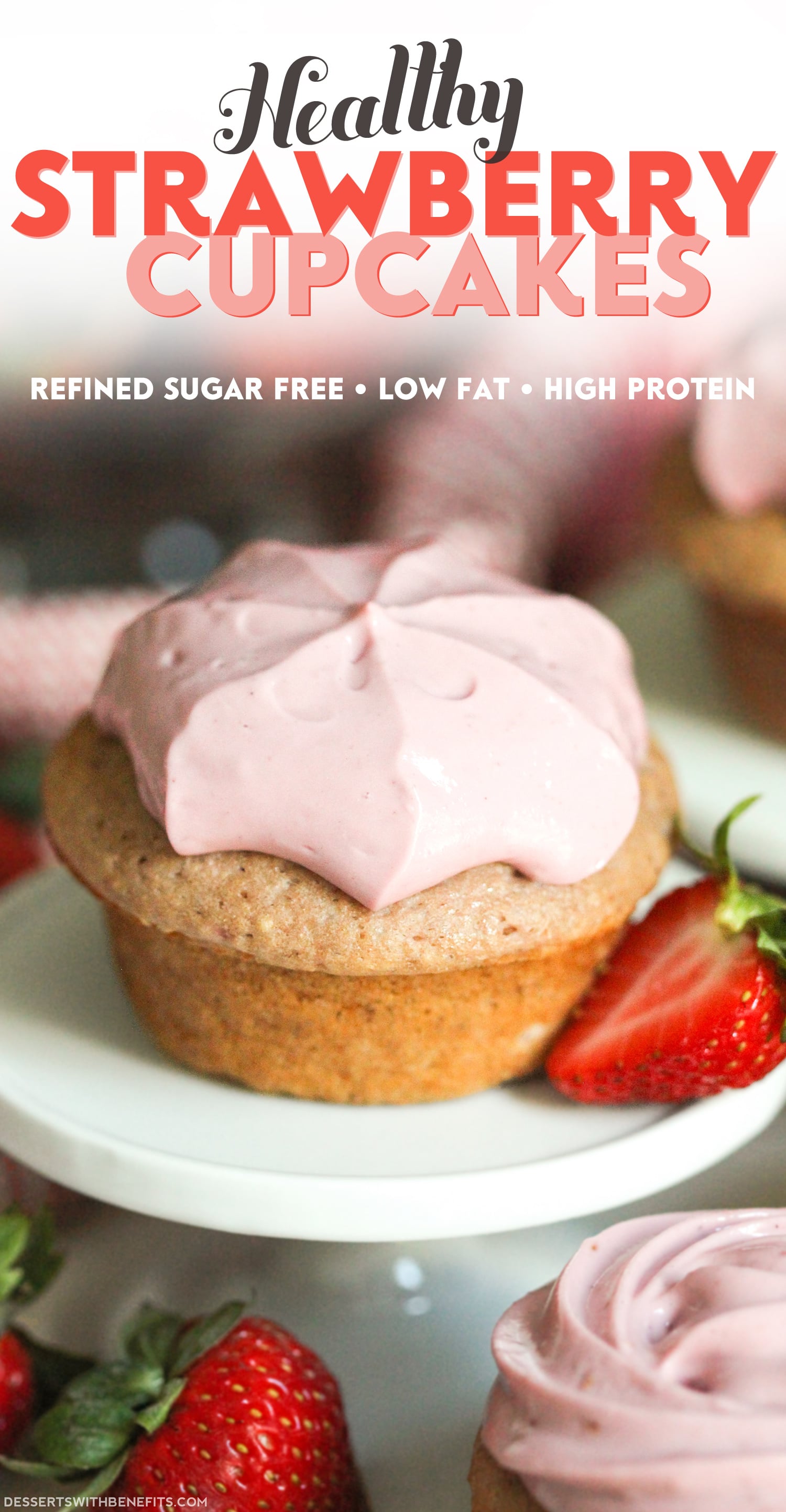 In 2001, KitchenAid first partnered with Susan G. Komen's foundation, "Cook for the Cure," which raises funds to support the breast cancer movement and save lives by sparking peoples' passions for cooking.
Here we are, 15 years later, in 2016.  Since 2001, KitchenAid has raised over $10,000,000 (!!!) by hosting fundraising events, auctions, etc., all for the Cook for the Cure campaign.  To celebrate this feat and bring more awareness to October being Breast Cancer Awareness Month (the month of pink!), I made these (naturally pink) Healthy Strawberry Cupcakes with Strawberry Frosting.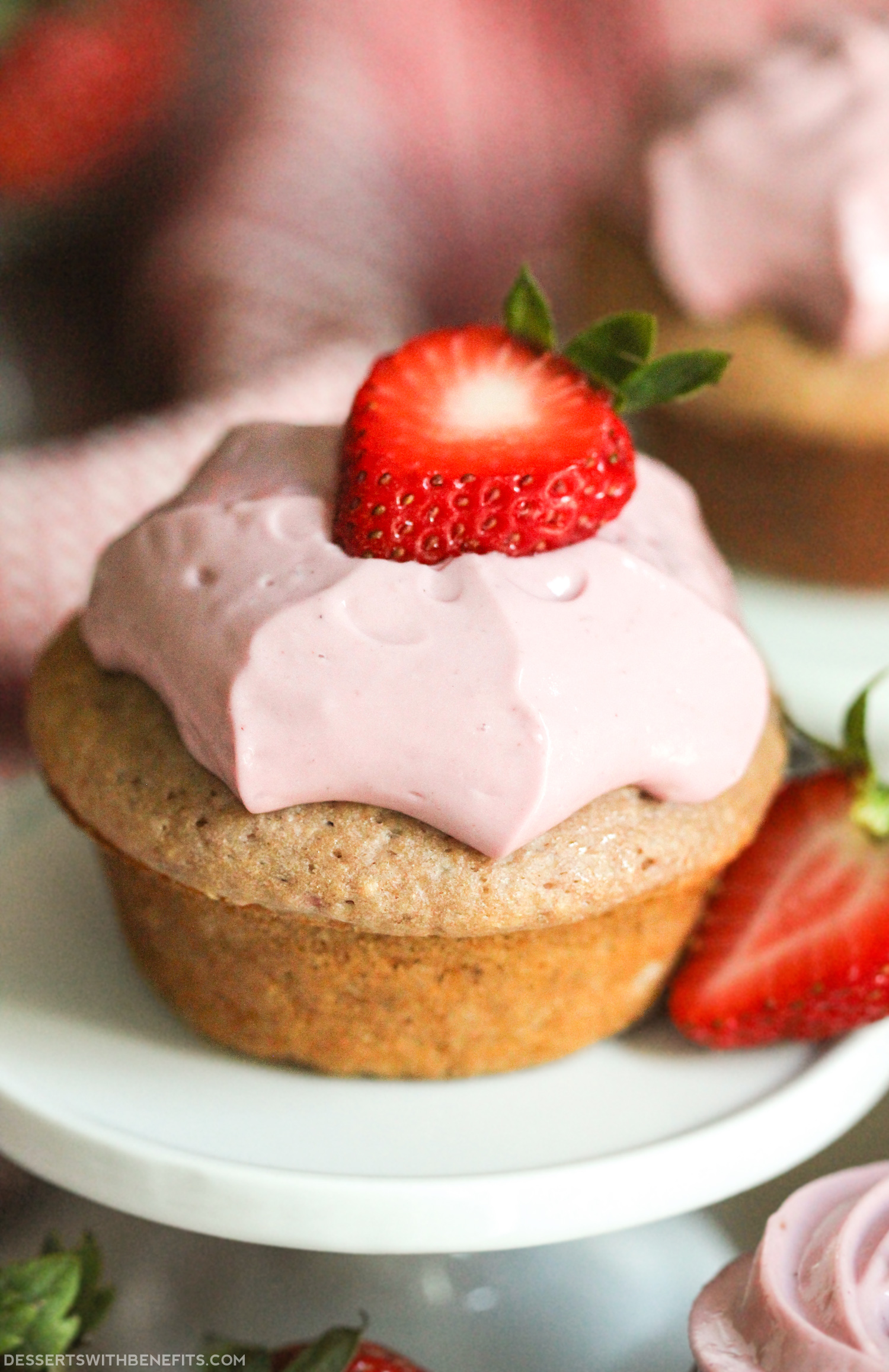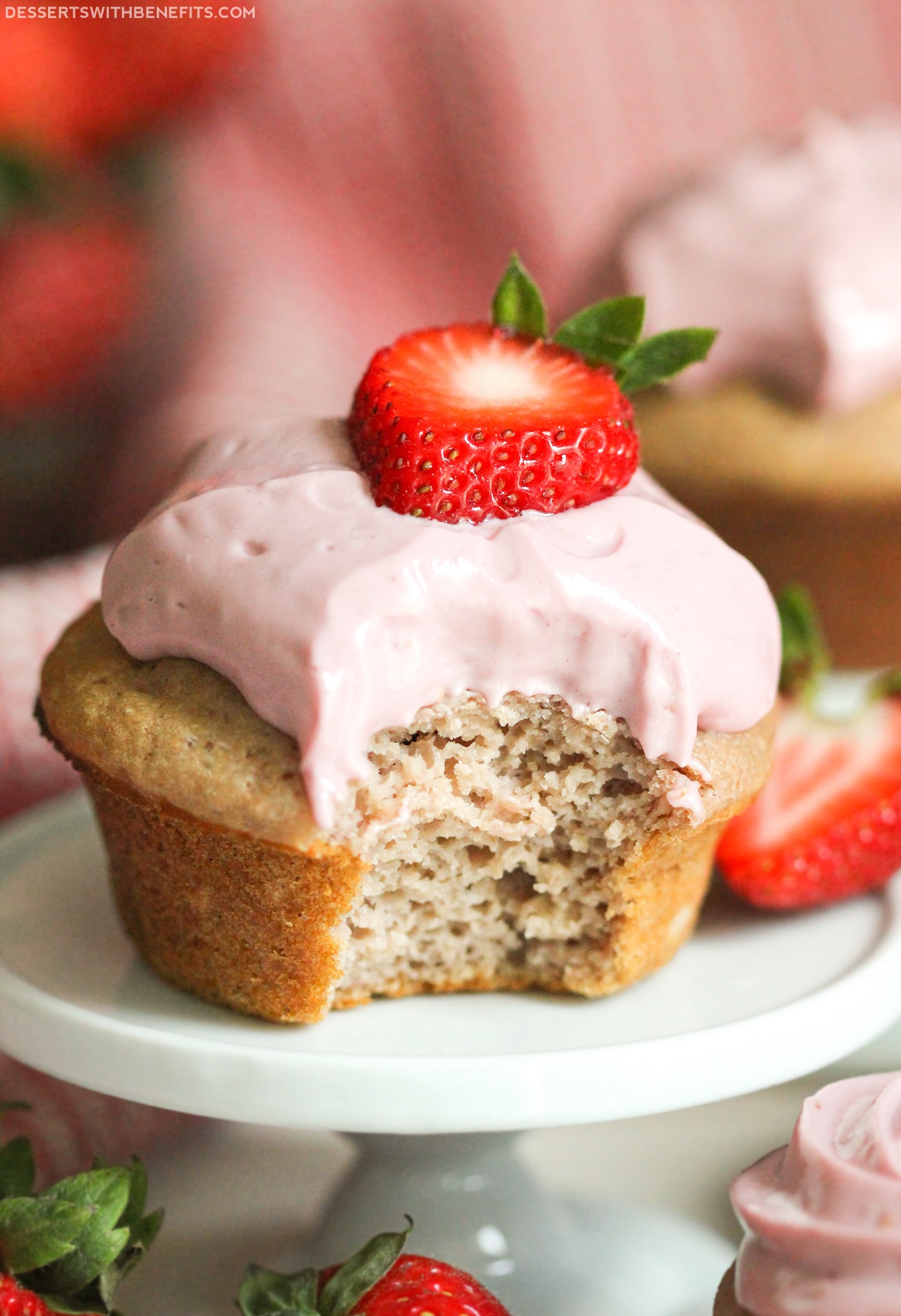 Almost all recipes for strawberry cupcakes call for artificial red food coloring and/or sugary jello mix…  no thanks.  I was all on my own to handcraft a recipe.  Aaaaand as embarrassing as it is, I gotta tell you the truth — these cupcakes were a long time coming!  It took me four completely failed batches to get these cupcakes to be a success.  Every failed experiment, the cupcakes were incredibly dense and chewy and rubbery and terrible.  The first two batches weren't sweet at all, the third wasn't pink (it was actually kind of grey, ew), and the fourth was "okay," but not something I was proud of.
When the kitchen timer would go off — Riiiiing.  Riiiiing.  Riiiiing. — my heart would jump into my throat.  How would these turn out?  Would they be bland?  Would they be mushy?  Should I give up baking for life???
(This is also my first recipe on the blog using whole wheat flour in years.  The majority of things on this blog are gluten-free, and everything I make at the bakery I work at is gluten-free too.  It kinda feels like I'm learning to bake for the first time again.  My nerves are up to HERE! *raises hand above head*)
I would slip on my oven gloves and peer through the oven window.  I'd take a deep breath, exhale, open the door, and remove the cakes.
It was only on the 5th batch that things were looking up.  The cupcakes formed perfect little domes, they had a slightly pinkish tint, and they were surprisingly fragrant.  Once the cupcakes were cooled and frosted, I took a bite.  My anxiety slipped away.  I melted.  These Healthy Strawberry Cupcakes with Strawberry Frosting are so good, you'll eat 1, 2, 3 cupcakes.  But no worries, they're good for ya and totally guilt-free!
Healthy Strawberry Cupcakes with Strawberry Frosting
Prep Time: 30 minutes
Cook Time: 25 minutes
Total Time: 1 hour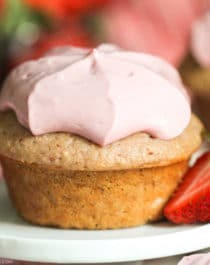 Fat per serving: 2
Calories per serving: 110
Ingredients:
Directions:
Preheat your oven to 350 degrees Fahrenheit and spray cupcake tins with cooking spray.
In a small bowl, whisk together the whole wheat pastry flour, erythritol, starch, protein powder, baking powder and salt.
*For the strawberries–  rinse the berries, slice the greens off, and puree in a blender until completely smooth.
In a stand mixer bowl with beater attachment, add the strawberry puree, yogurt, eggs, stevia and vanilla extract.  Mix on low speed until completely mixed.
Turn off the stand mixer and dump in the dry ingredients.  Mix on low speed, then increase the speed to medium.  Mix until JUST incorporated, you don't want to overmix this!  Add the vinegar and quickly fold in with a spoon or spatula.
Scoop the batter into the prepared cupcake tins and bake for ~25 minutes, or until the cupcakes spring back when tapped.  Let cool in the pan for 5 minutes, then transfer to a wire cooling rack to cool completely.
Notes:
If you want cupcakes that are BURSTING with strawberry essence, add ¾ tsp of strawberry extract to the wet ingredients!
If you want a gluten-free recipe, check out the Strawberry Cake recipe in my Naughty Or Nice Cookbook.  Simply scoop the batter in cupcakes tins rather than cake pans and bake for ~25 minutes.  The frosting recipe pictured in this post is also from the cookbook.
All images and text ©
.
.
Here is the recipe's nutrition label:
A yummy cupcake for only 110 calories and 2g of fat?  Plus 6g of protein and 3g of fiber??
*falls to knees and bows*
I'll take it.  I'll take seven, actually.  This is totally a suitable breakfast option (I mean, I ate these for brekky).  Whole grains, fruit, yogurt, eggs…  this beats a big bowl of sugary cereal by far.  Join me, will ya, and have some cupcakes for breakfast.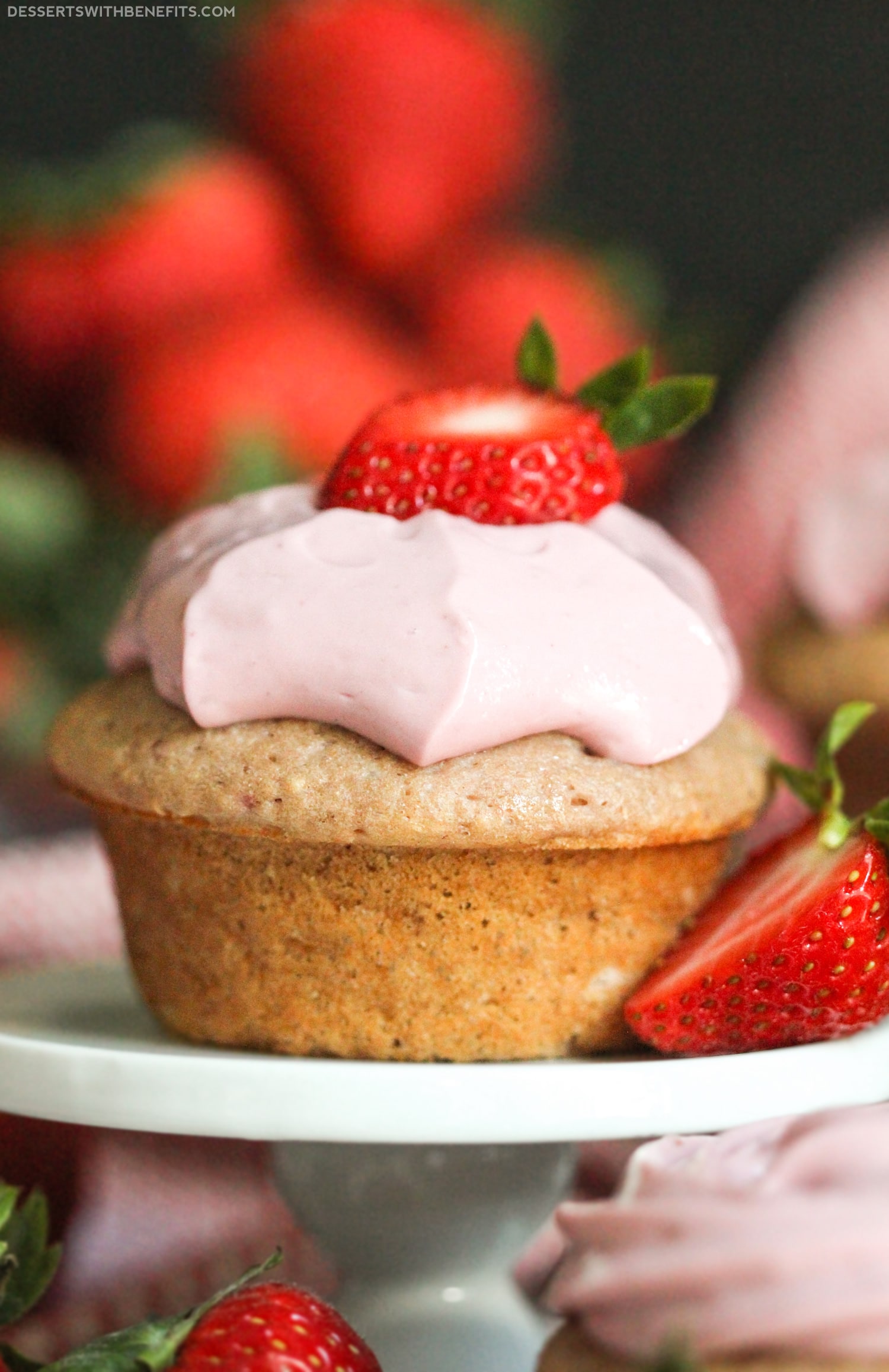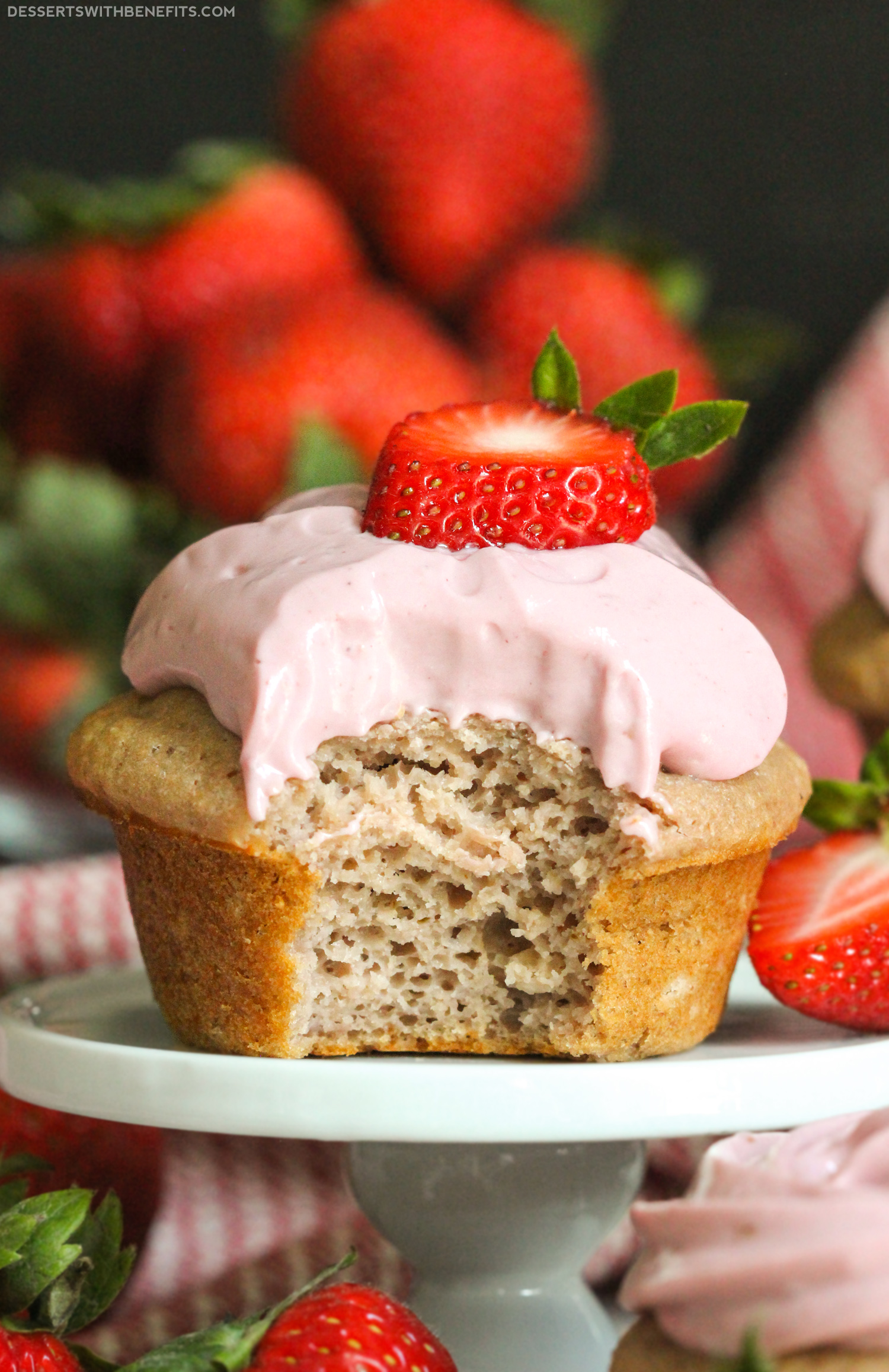 Enjoy!
.
With love and good eats,
.
– Jess
.