Healthy Homemade Pop Tarts
Ohmygod ohmygod ohmygod ohmygod OHMYGOD.  Homemade Pop Tarts.  HEALTHY Homemade Pop Tarts!
Life is good.  All the problems of today just flew out the window.  Bills, rising gasoline prices, car payments, schoolwork and the 72 essays you have to write by next week, none of it matters when you sink your teeth into these Healthy Homemade Pop Tarts!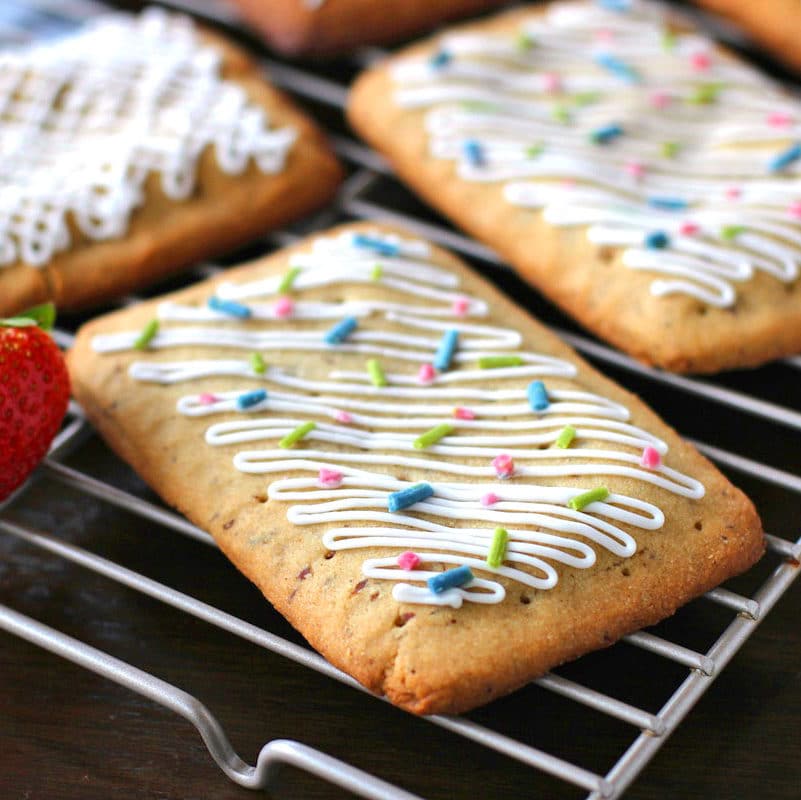 I saw a quite some time ago and finally decided to try it out.  I used a blend of buckwheat flour, oat flour and brown rice flour, but the gluten free tart dough broke apart easily and was extremely delicate.  After baking, it only got worse… it was impossible to pick up pop tarts without them breaking.  Here's a picture:
Oh, and they didn't taste very good either.  The dough was too salty and too dry.  I started over and made a new recipe.  I omitted the buckwheat and used more oat flour, reduced the salt, shortening and agave, and incorporated flax to help bind the dough.
The result?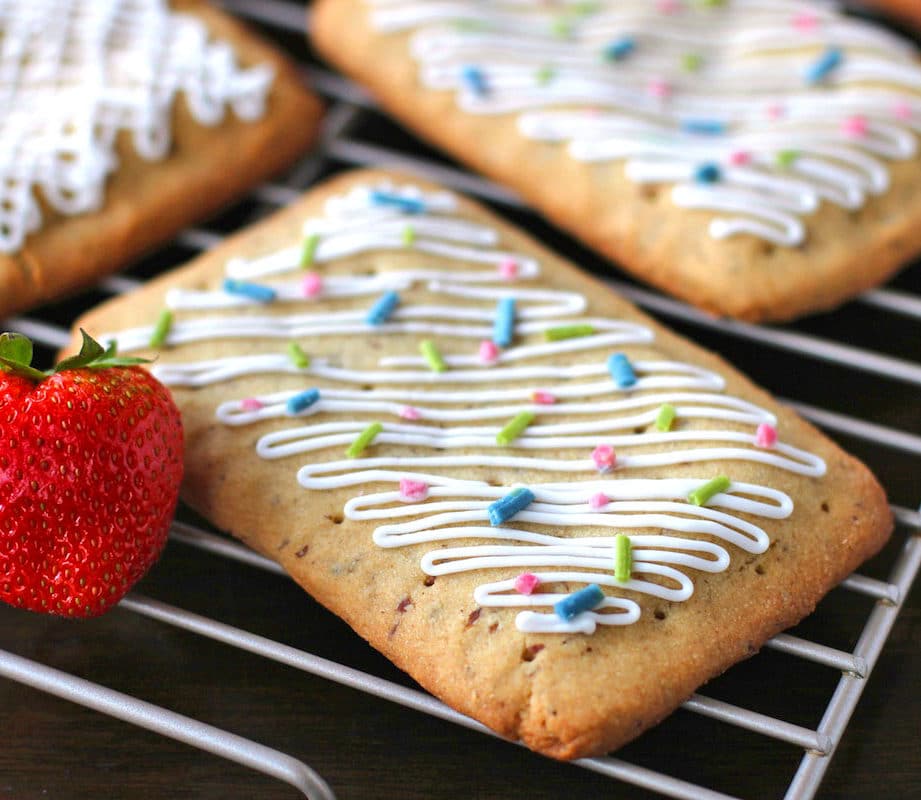 Amazing.  These taste very authentic.  I used to eat the real Pop Tarts almost every day in high school, so I know what I'm talking about!  I remember always breaking off the crusts because it was dry and crumbly and indulging in the filling.  I was alllll about the filling  😉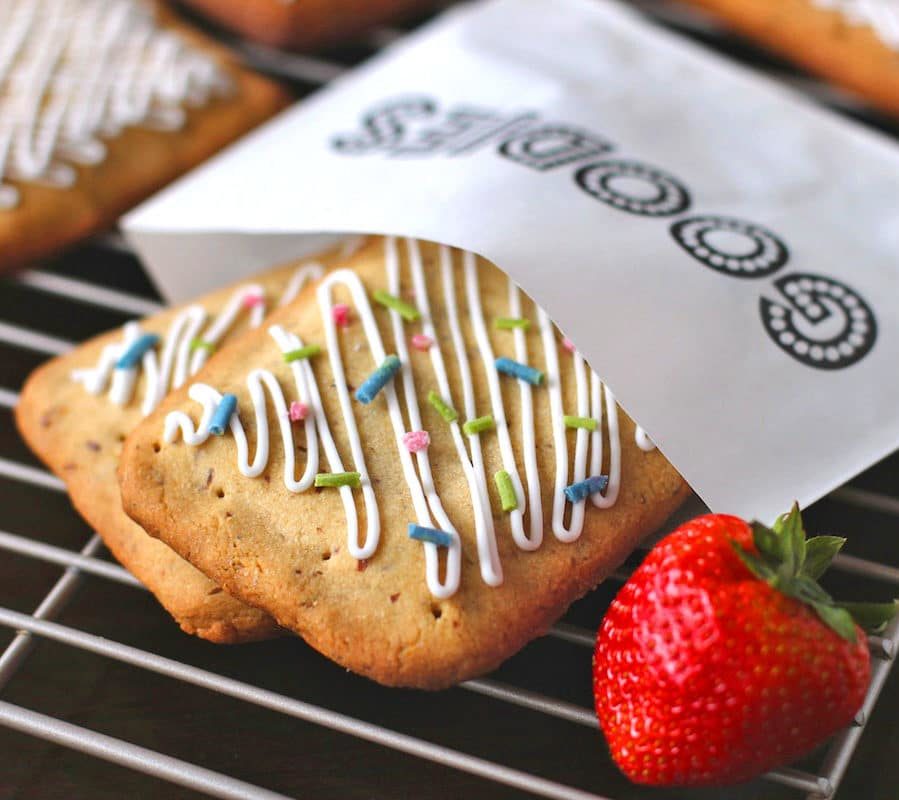 The crust on these homemade Pop Tarts are almost exactly the same, however I must admit they are a bit more crumbly, but that didn't stop all my taste-testers from gobbling these up!  We just learned to hold a hand under our mouth while simultaneously shoving a Pop Tart into our face  😉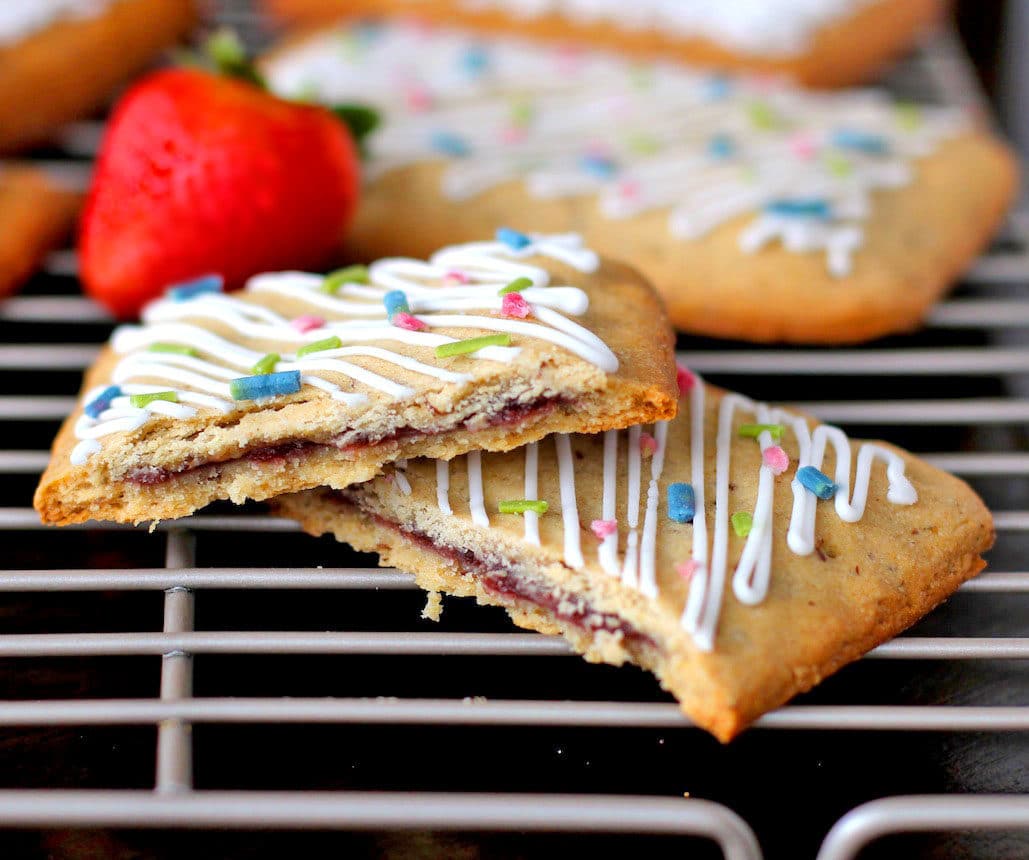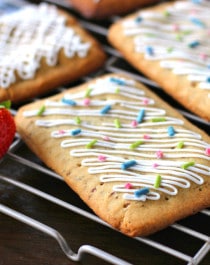 Print Recipe
Pin Recipe
Healthy Homemade Pop Tarts
Ingredients
Oat Flour

Ground Flaxseed

Salt

Unsweetened Applesauce

Coconut Oil

Vanilla Extract

100% Fruit Strawberry Spread

Unsweetened Vanilla Almond Milk

DIY Rainbow Sprinkles

(recipe also in the cookbook!)
Recipe Notes
I originally wasn't going to share the recipe here because I worked so incredibly hard on publishing Naughty or Nice.  But, I understand not having a recipe here can be frustrating.  So, I'll meet you halfway...  how does that sound?  I'll show you all the ingredients I use in the recipe.  That way, you can determine on your own whether or not the cookbook is for you!
Nutrition Facts
Healthy Homemade Pop Tarts
Amount Per Serving (1 tart)
Calories 320
Calories from Fat 131
% Daily Value*
Fat 14.5g22%
Sodium 135mg6%
Carbohydrates 42g14%
Protein 6g12%
Vitamin C 1.7mg2%
Iron 1.4mg8%
* Percent Daily Values are based on a 2000 calorie diet.
Enjoy!
.
With love and good eats,
.
– Jess
.