Vegan Pie Pops
If you like pie but don't like sharing, then these Pie Pops are for YOU!  These are a guaranteed crowdpleaser and you can make them in whatever flavor you like — strawberry to blueberry to apple to cranberry and more.  No one could tell these were totally guilt-free, low sugar, and vegan!
Thanks to Immaculate Baking Co. for sponsoring this post, and thank YOU for supporting the brands that keep Desserts With Benefits going!  All opinions are mine and mine alone.

I used strawberry jam as the filling for these Pie Pops because I'm pretty basic (I'll admit it, haha), it reminds me of my favorite Pop Tart flavor, and strawberry pie a classic!  I used a 100% fruit strawberry spread that I found at the grocery store since it was the easiest option and doesn't contain any added sugar or corn syrup.  You're more than welcome to use homemade jam as well!  I have 2 strawberry jam recipes here on the blog — one requires cooking and the other is a no-cook recipe.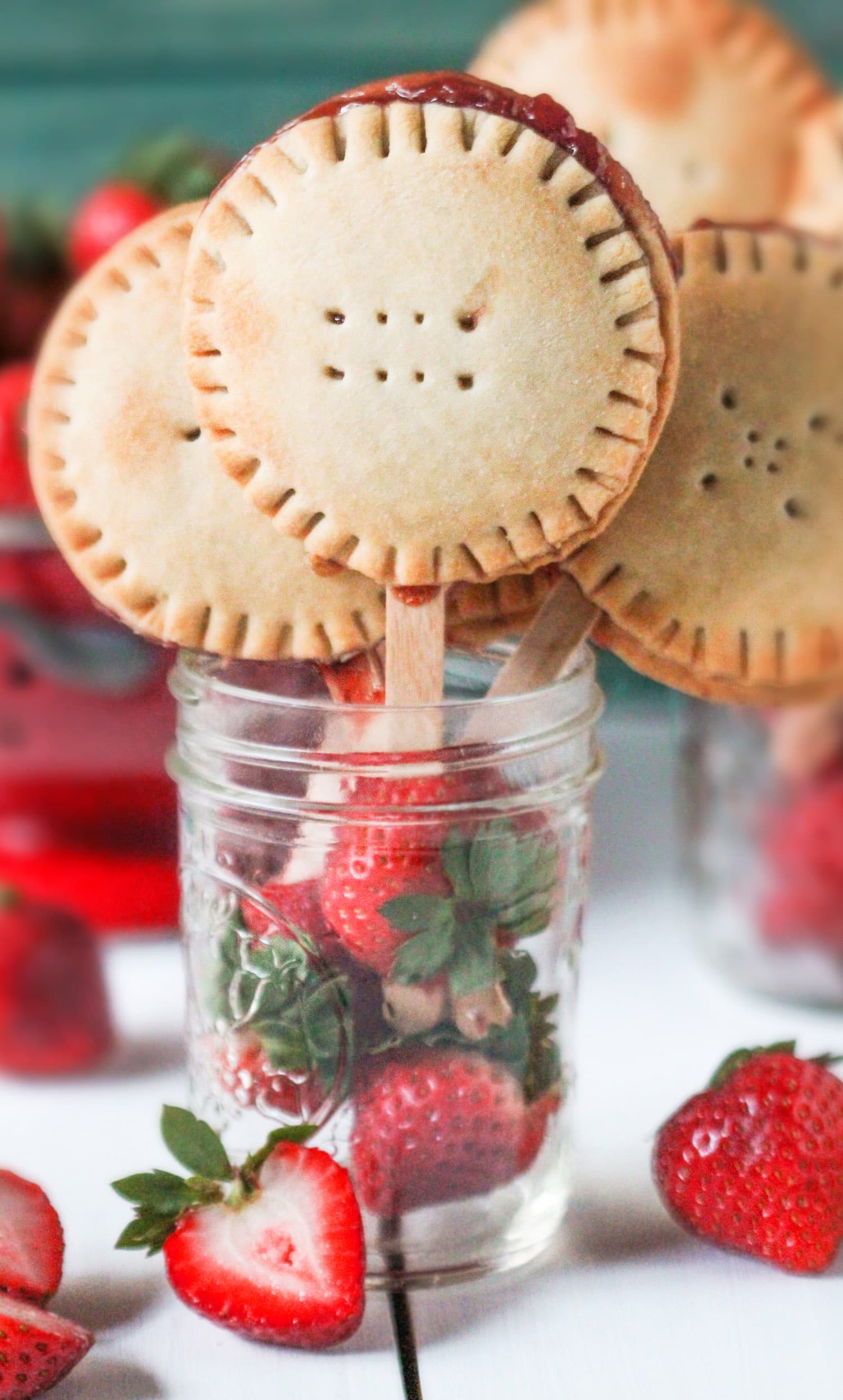 I brought a batch of these Pie Pops to a local meetup group I attend in Austin for women entrepreneurs and business owners.  The second I walked in with a plate full of these beauties, I was SWARMED in a crowd.  I placed the Pie Pops down next to the other snack on the counter — a big bowl of baby carrots plus some hummus and guac.
I'm sure you can imagine which snack was snapped up first  😉

Guilt-Free Pie Pops
Prep Time: 25 minutes
Cook Time: 20 minutes
Total Time: 45 minutes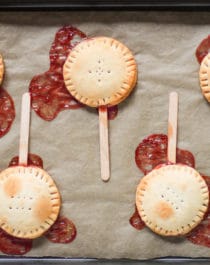 Ingredients:
Directions:
Preheat your oven to 350 degrees Fahrenheit and line two baking sheets with parchment paper.
On a clean surface, unroll both pie crusts.  Use a 3″ circle cookie cutter to punch 18 circles out of both of the pie crusts.  If you want to make lattice pie pops, you can make a few more pops (around 11-13), you just need to slice the pie crust leftovers into thin strips.
Place half of the pie crust circles onto the prepared baking sheets and place popsicle sticks (or cake pop sticks) on top.
Spoon the strawberry spread in the center of each circle.  Place the remaining pie crust circles on top and crimp with a fork.  If making the lattice pie pops, arrange the strips over the jam and tuck the ends of the pie crust strips under the base pie crust circle.
Bake for 18 minutes, or until the pie pops are golden brown.  Let cool completely, then serve and enjoy!
Notes:
**You can also use another pie filling if you like — apple pie, blueberry pie (try out my Blueberry Compote!), cranberry pie, etc.
All images and text ©
.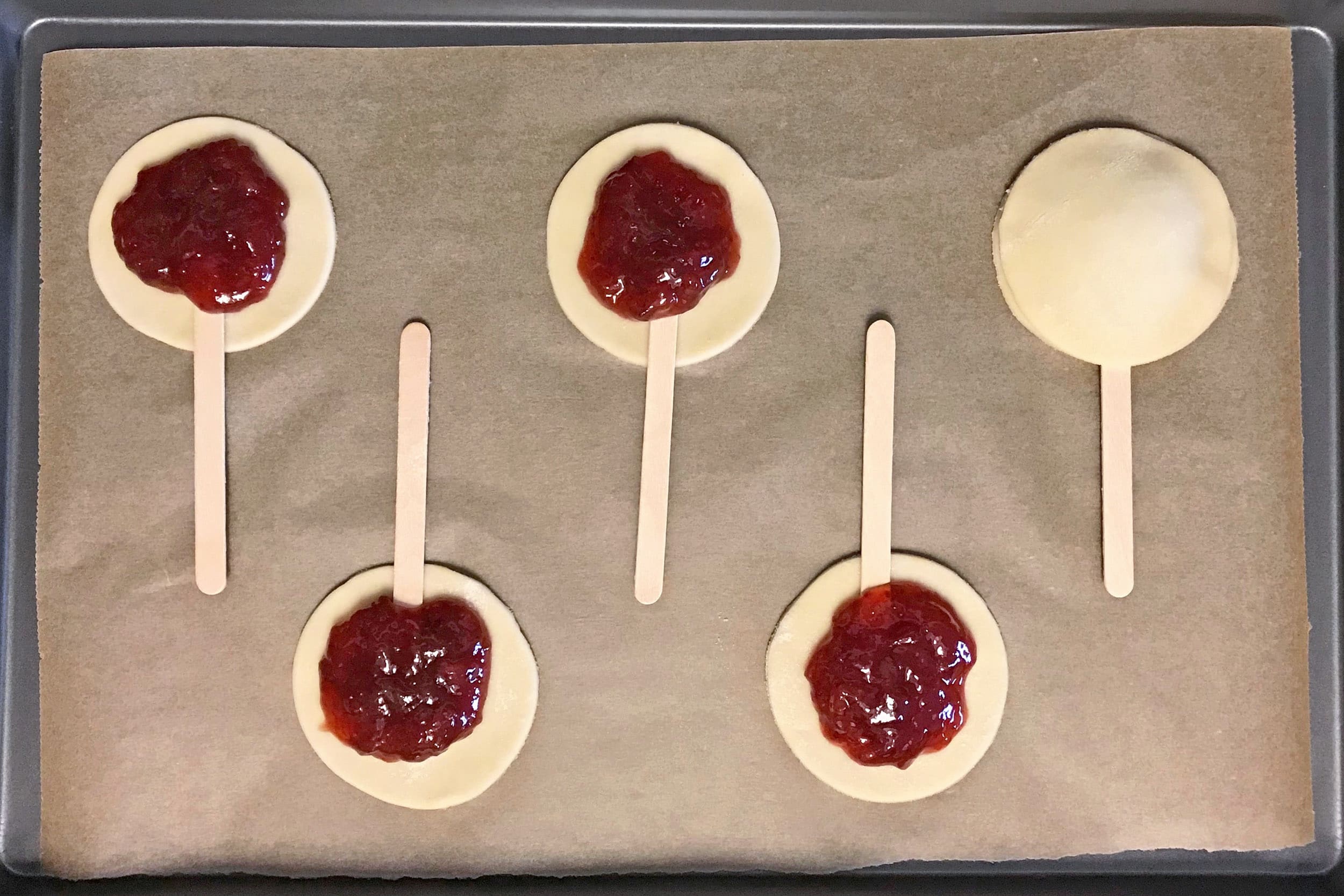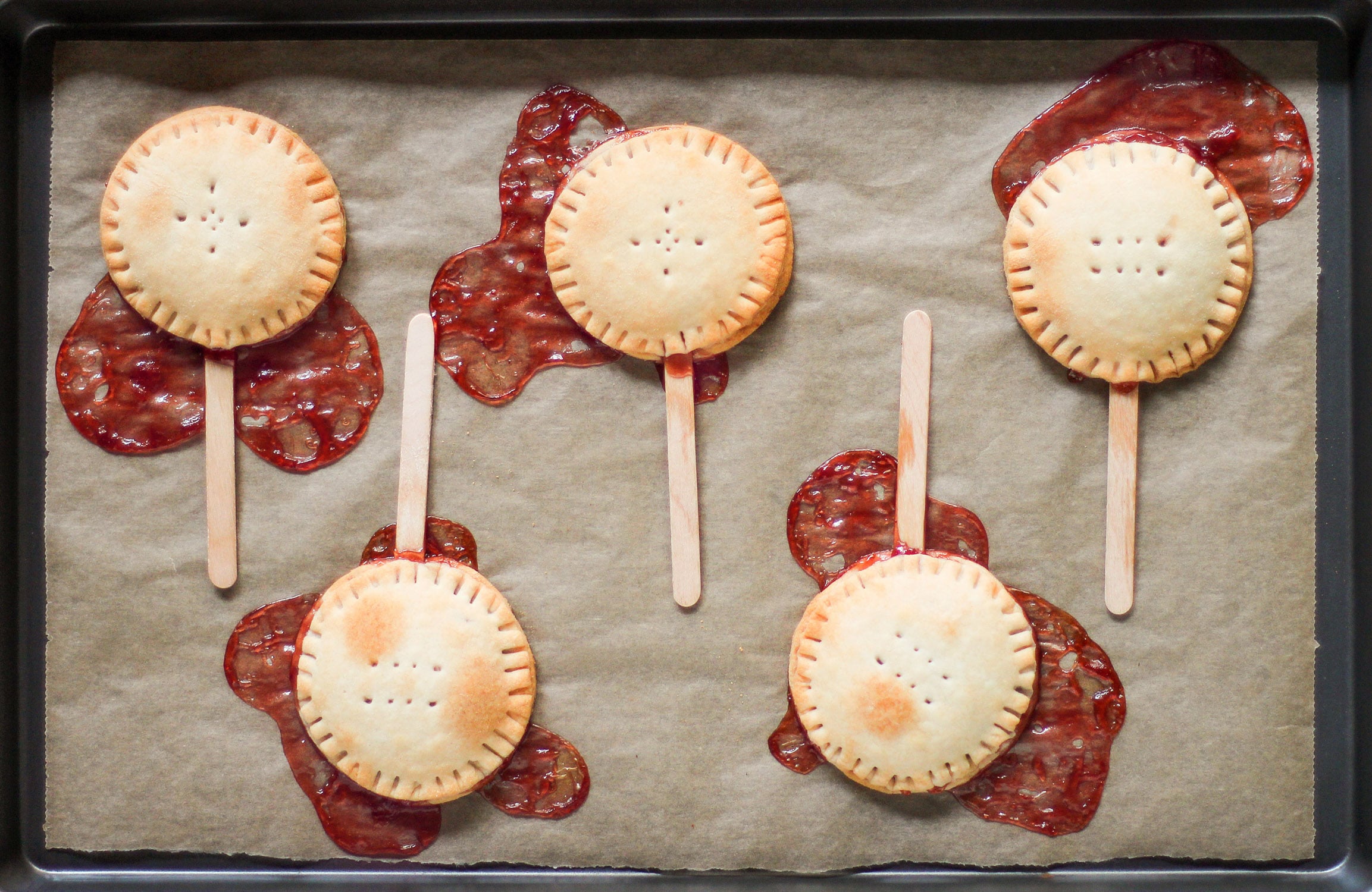 If you're not vegan, feel free to brush the Pie Pops with an egg wash (1 egg yolk + 1 tbs water) to get a nice and shiny golden-brown crust.  Similar to how I did in my Cranberry Galette recipe.
If you are vegan but want to dress these up a little, you're more than welcome to drizzle them with a simple icing.  Just whisk together ½ cup of powdered erythritol with a tiny splash of water or almond milk (add some Vanilla Paste for some pretty vanilla bean flecks!), then scoop the mixture into a piping bag and drizzle over the Pie Pops.
Though, based off of the reaction I got from that meetup I attended, these Pie Pops are delicious just as they are.  I can also attest to their deliciousness  😉

This is the perfect treat to celebrate the new year without derailing your New Year's resolutions.  You gotta make them ASAP!
Enjoy!
.
With love and good eats,
.
– Jess
.