Guilt Free Homemade Twix® Candy Bars
HI, HELLO, HOW ARE YOU?  I have something very important to say…  I made Guilt Free Homemade Twix Candy Bars and they are REVOLUTIONARY, LIFE-CHANGING, and SERIOUSLY DAMN DELICIOUS!
Thanks to Immaculate Baking Co. for sponsoring this post, and thank YOU for supporting the brands that keep Desserts With Benefits going!  All opinions are mine and mine alone.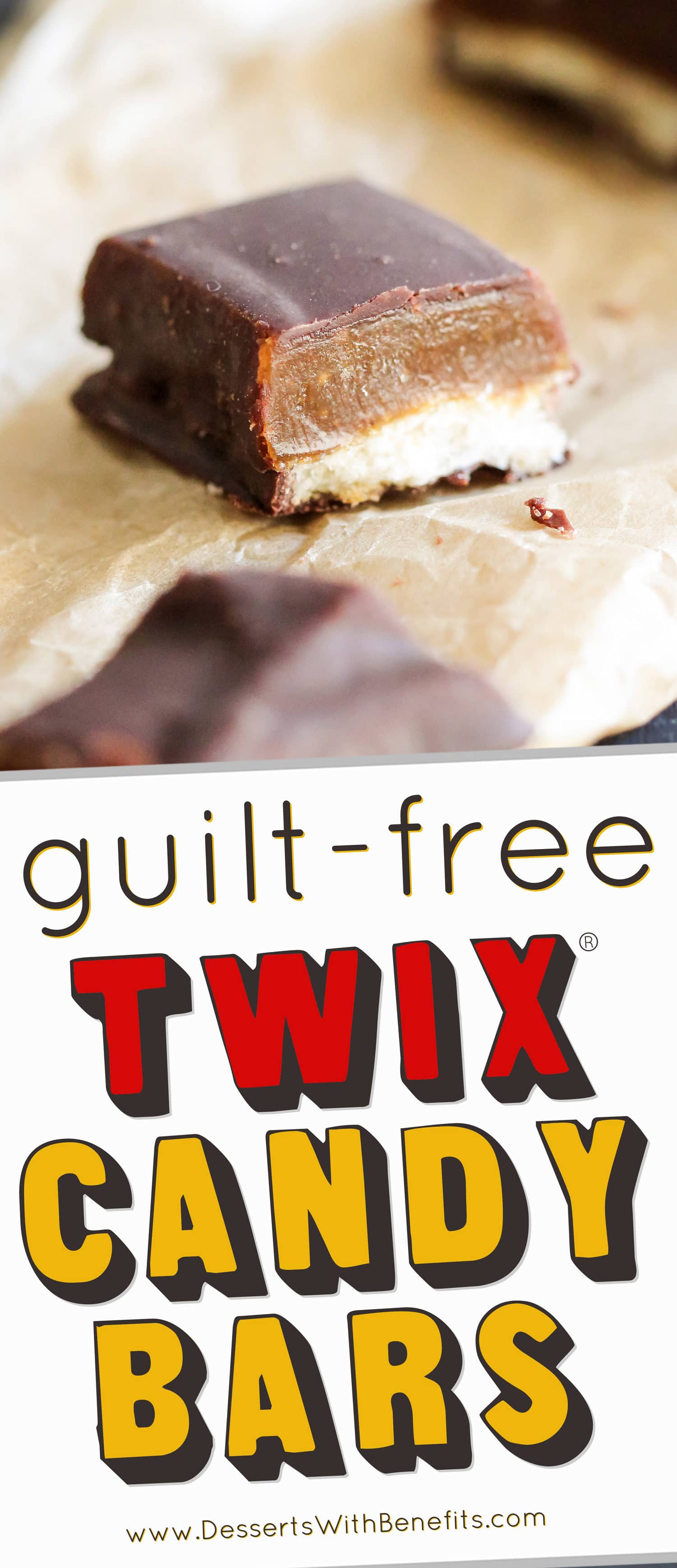 If you ever find yourself craving a Twix® — you know, those candy bars with a crunchy biscuit base and gooey caramel filling, all enrobed in a thick layer of chocolate?  Yeahhhh, me too — but don't want all the refined sugar, artificial flavorings, and preservatives…  make 'em yourself!
These Guilt Free Homemade Twix Candy Bars taste just like the storebought kind, sans the nasty ingredients.
Oh, and they're secretly dairy free and vegan too, shhhh!
Fellow sweet teeth, let us rejoice over these candy bars.  If you are what you eat, is that why we're so sweet?  😉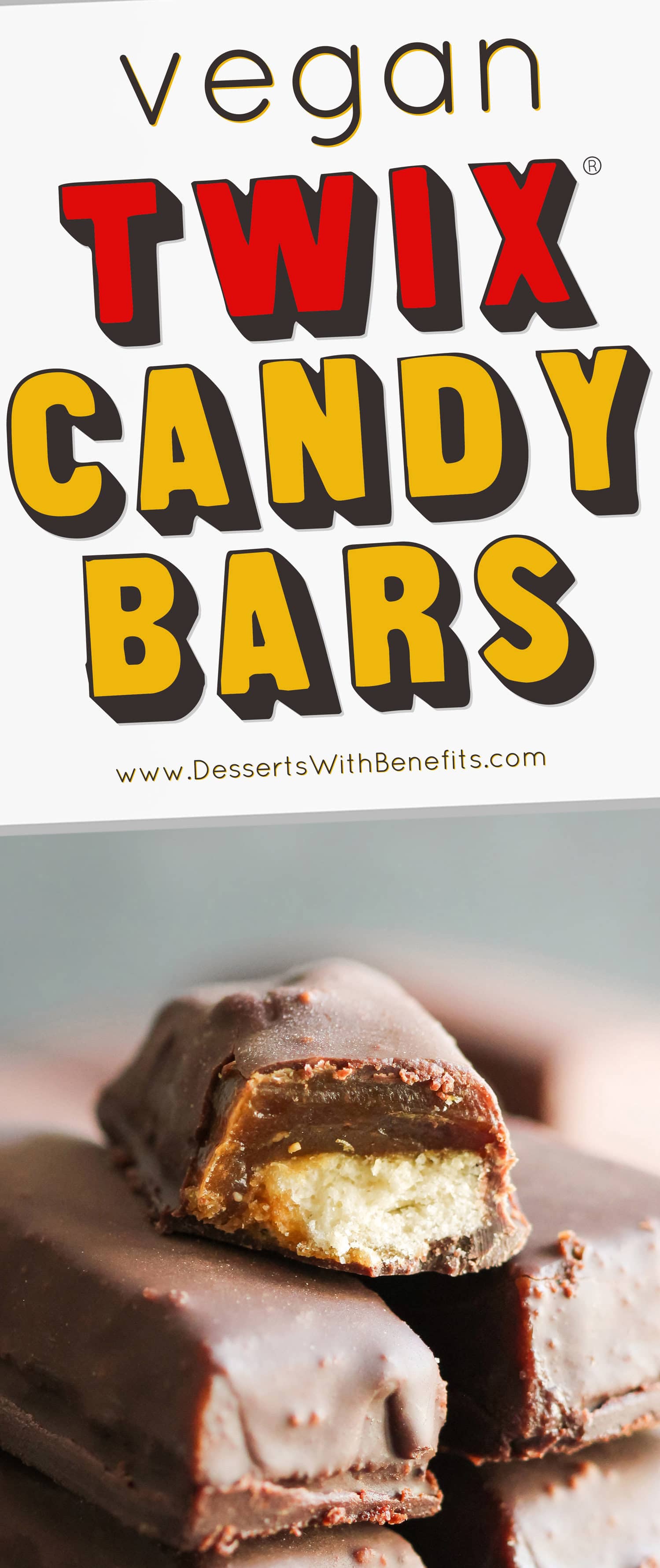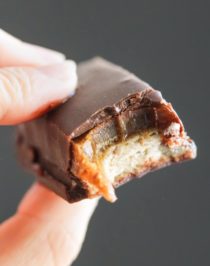 Print Recipe
Pin Recipe
Homemade Twix Candy Bars
These guilt free homemade Twix candy bars taste just like the original, except these are all natural, vegan, dairy free, and reduced sugar. One bite and you'll think you're eating something full of sugar, fat, and calories, but you're not!
Ingredients
Caramel Filling:
⅔

cup

Light Coconut Milk

(canned)

56g

(¼ cup )

Coconut Oil

(melted)

¼

tsp

Salt

252g

(¾ cup)

Pure Maple Syrup

2

tbs

Water

192g

(1 cup)

Sucanat

96g

(½ cup)

Granulated Erythritol

1

tsp

Vanilla Extract
Instructions
For the Biscuit Base:
Preheat your oven to 350 degrees Fahrenheit.

Press the crescent roll dough into an unlined, ungreased 8x8" brownie pan.  Bake for ~12 minutes, or until surface is just slightly golden brown. DO NOT OVERBAKE! Let cool in the pan.
For the Caramel Filling:
In a small bowl, whisk together the coconut milk, coconut oil, and salt.  Set aside.

In a 2- or 3-quart saucepan, add the maple syrup, water, sucanat, and erythritol.  Do not stir. Add a candy thermometer to the pan and place over medium-high heat.

Without stirring, let the mixture come to a boil.  When it reaches 250 degrees Fahrenheit, whisk in the set aside coconut milk/oil mixture.

Let the mixture come to a boil again.  When it reaches 266 degrees Fahrenheit, remove from the heat and whisk in the vanilla extract.  Pour over the baked crust and let cool for ~3 hours, then place in the refrigerator to cool and firm up completely.
For the Chocolate Coating:
Grease an offset spatula and run it along the edges of the brownie pan to separate the caramel+biscuit layer from the pan, then use pie servers or a pancake turner to transfer the entire block onto a cutting board.

With a greased knife, slice the block into 18 bars (I sliced the block 3 x 6 to get 18).  Refrigerate for 1 hour and prepare the Chocolate Coating while the bars chill.

Line a large baking sheet with parchment paper and place it in the fridge so that it's cold.

When the Chocolate Coating has the consistency of melted dark chocolate, dip the Twix one at a time, and transfer onto the chilled baking sheet.  When all the Twix have been coated, refrigerate until the chocolate is completely firm.  Serve and enjoy!
Recipe Notes
**There will be some chocolate leftover.  Feel free to chill the Twix and re-coat with a second layer of chocolate!
Caramel adapted from the Soft Caramels in my Naughty or Nice Cookbook!
I was looking at the ingredient list of Twix® bars and, honestly, it's pretty shocking (and not in a good way).  Sugar is listed FOUR times, they contain the preservative, PGPR, and they're made with bleached white flour and artificial flavorings.
But not here.  Not these Guilt Free Homemade Twix Candy Bars!
I started these off with Immaculate Baking Co.'s Organic Crescent Rolls as that classic Twix® crunchy biscuit base.  No bleached flour, no artificial flavors, no preservatives, and no hydrogenated oils.  Sadly, those are all common ingredients in typical storebought crescent roll dough.
I topped off the biscuit base with Homemade Caramel.  No white sugar, no corn syrup, no heavy cream, and no butter (common ingredients in typical caramel).
After slicing into bars (and maybe sneaking 1 or 3 to snack on…  ALL the exceptions for the chef!), I coated the bars in Homemade Dark Chocolate.  I think all chocolate is good, though, so you can use storebought if you don't want to make it yourself  🙂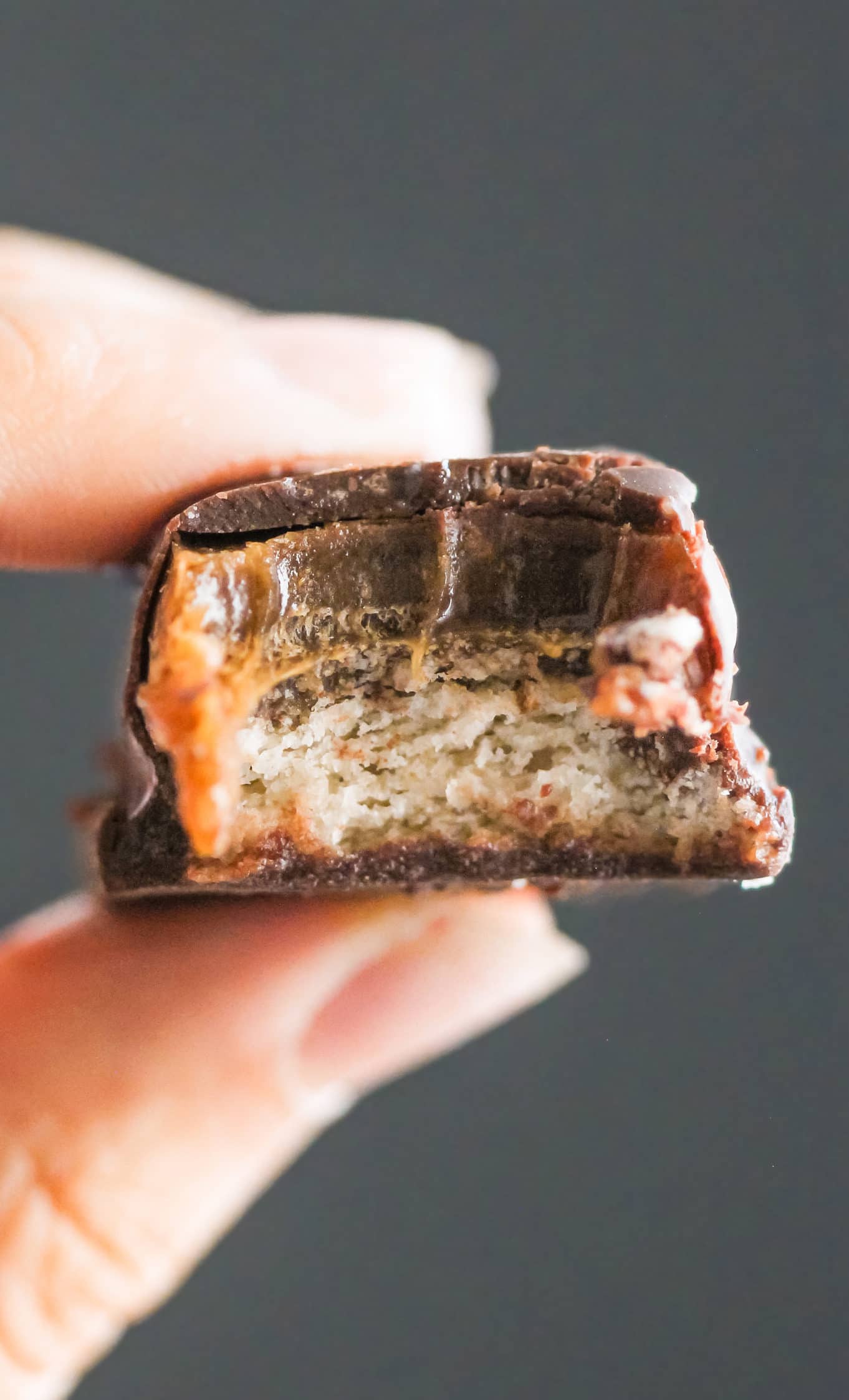 Make every day healthy dessert day and make a batch of these Homemade Twix Candy Bars!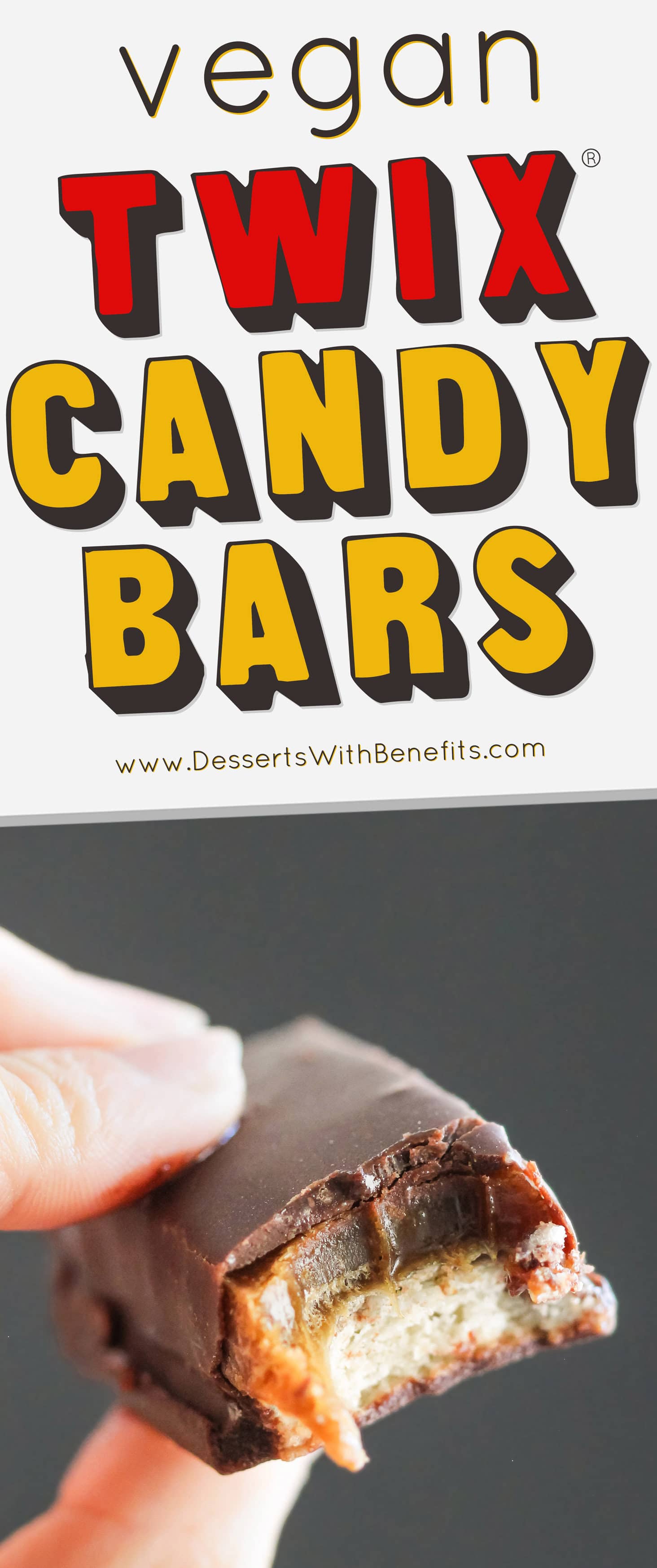 Enjoy!
.
With love and good eats,
.
– Jess
.