Healthy Matcha Green Tea Sugar Cookies
These super unique and sweet Healthy Matcha Green Tea Sugar Cookies are packed with that classic matcha green tea flavor.  And the texture?  It's heavenly.  They're soft and chewy, just like storebought sugar cookies, but without the refined flour, butter and sugar!
Would you ever guess that these cookies are sugar free, gluten free, dairy free, vegan, and whole grain??  Nopity nope.  With every bite, mind = blown.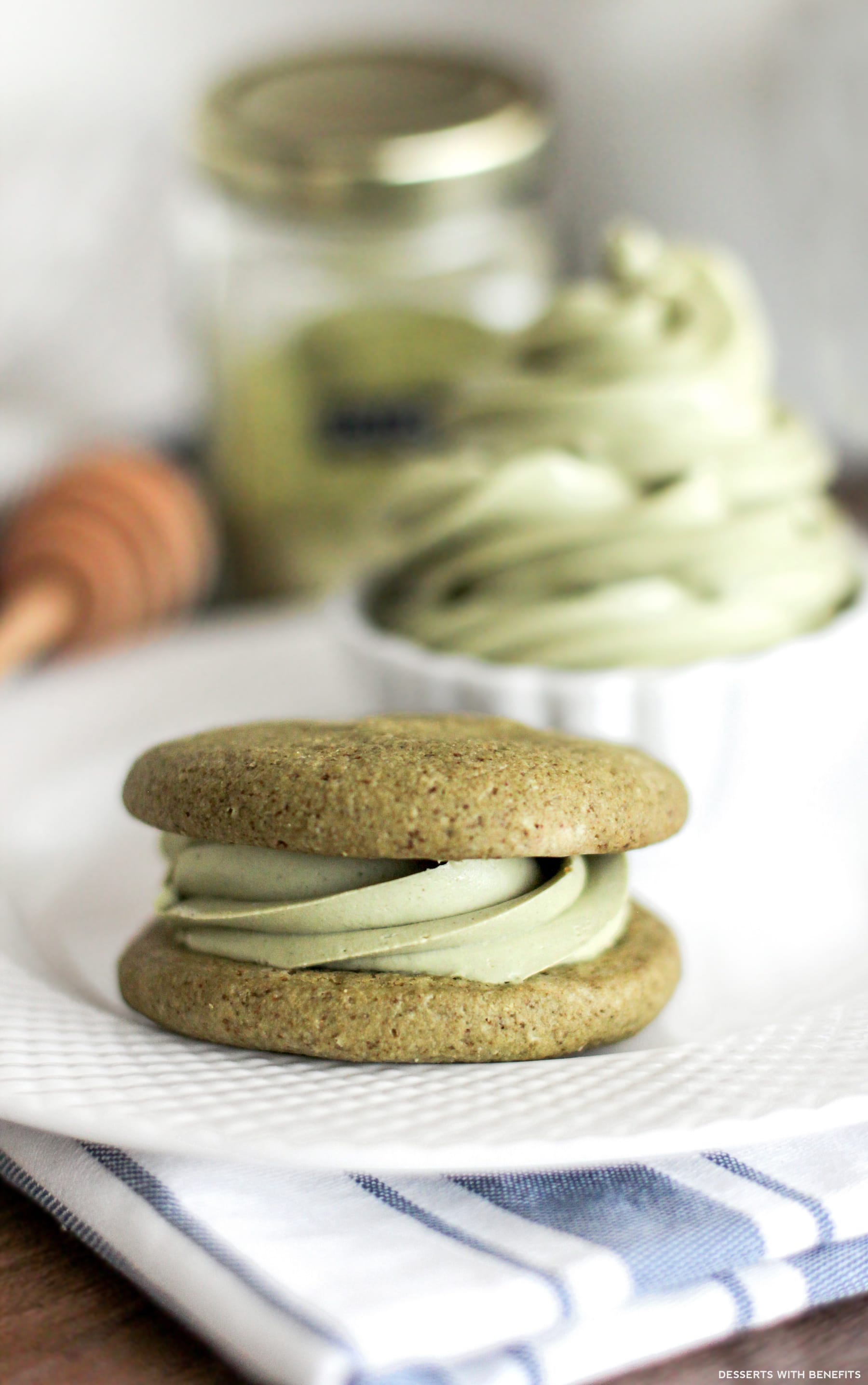 In the last 7 months, I…
Graduated university
Moved twice (from AZ to CT to TX)
Became a proud, first-time "mother" of my puppy girl, Cherry
Got hired as a baker at a local restaurant
Published the Naughty or Nice Cookbook
Today, I'm sharing the recipe for these amazing Healthy Matcha Green Tea Sugar Cookies.  The recipe is adapted from one of my favorite recipes in the cookbook (the Chocolate Chip Cookies).
My dad, who literally could not care less about desserts and sweets of all kinds (HOW ARE WE RELATED???), ate one of these cookies and loved it.  He immediately asked for a second.  For real, I thought I was dreaming.
These cookies are absolutely scrumptious, and you need to make a batch ASAP.
Matcha!  Cookies!  Matcha Green Tea Sugar Cookies FO' LIFE YO!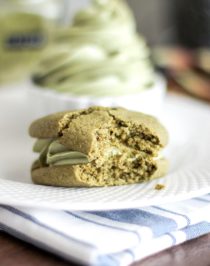 Print Recipe
Pin Recipe
Healthy Matcha Green Tea Sugar Cookies
These Healthy Matcha Green Tea Sugar Cookies are secretly good for you! They're sugar free, gluten free, whole grain, eggless, dairy free, and vegan too!
Instructions
Preheat the oven to 350 degrees Fahrenheit and line a cookie sheet with parchment paper.

In a medium-sized bowl, whisk together the oat flour, erythritol, matcha, baking powder and salt.

In a large bowl, whisk together the coconut oil, almond milk, vanilla extract, butter flavor, stevia extract and almond extract.

Dump the dry ingredients over the wet ingredients and fold together.  Fold until the mixture can form into a dough ball (it will look sticky at first, but then the oat flour will absorb the liquid and turn into a play-doh/cookie dough texture).

Use a medium cookie scoop to portion out the dough onto the prepared cookie sheet.  Roll the dough portions into balls, then use your fingers to press them into patties.  Form them just a tiny bit thicker and smaller than you prefer your cookies -- they spread out a little.  Bake for 12-14 minutes, or until baked through (when you tap the center of the cookie, it should be soft, but shouldn't leave a permanent fingerprint indentation).

Slide the parchment paper off the cookie sheet and let the cookies cool.  Serve immediately, or transfer them to a freezer bag, seal tightly, and store in the freezer for up to one month.  For a "freshly baked" cookie straight from the freezer, place a cookie on a plate and microwave for ~20 seconds!
Nutrition Facts
Healthy Matcha Green Tea Sugar Cookies
Amount Per Serving (1 cookie)
Calories 130
Calories from Fat 81
% Daily Value*
Fat 9g14%
Sodium 75mg3%
Carbohydrates 10g3%
Protein 2g4%
Calcium 40mg4%
Iron 0.7mg4%
* Percent Daily Values are based on a 2000 calorie diet.
I photographed these cookies with some Matcha Cream Cheese.  It just made sense to me to make Double Matcha Cookie Sandwiches.  Derrrrr  😉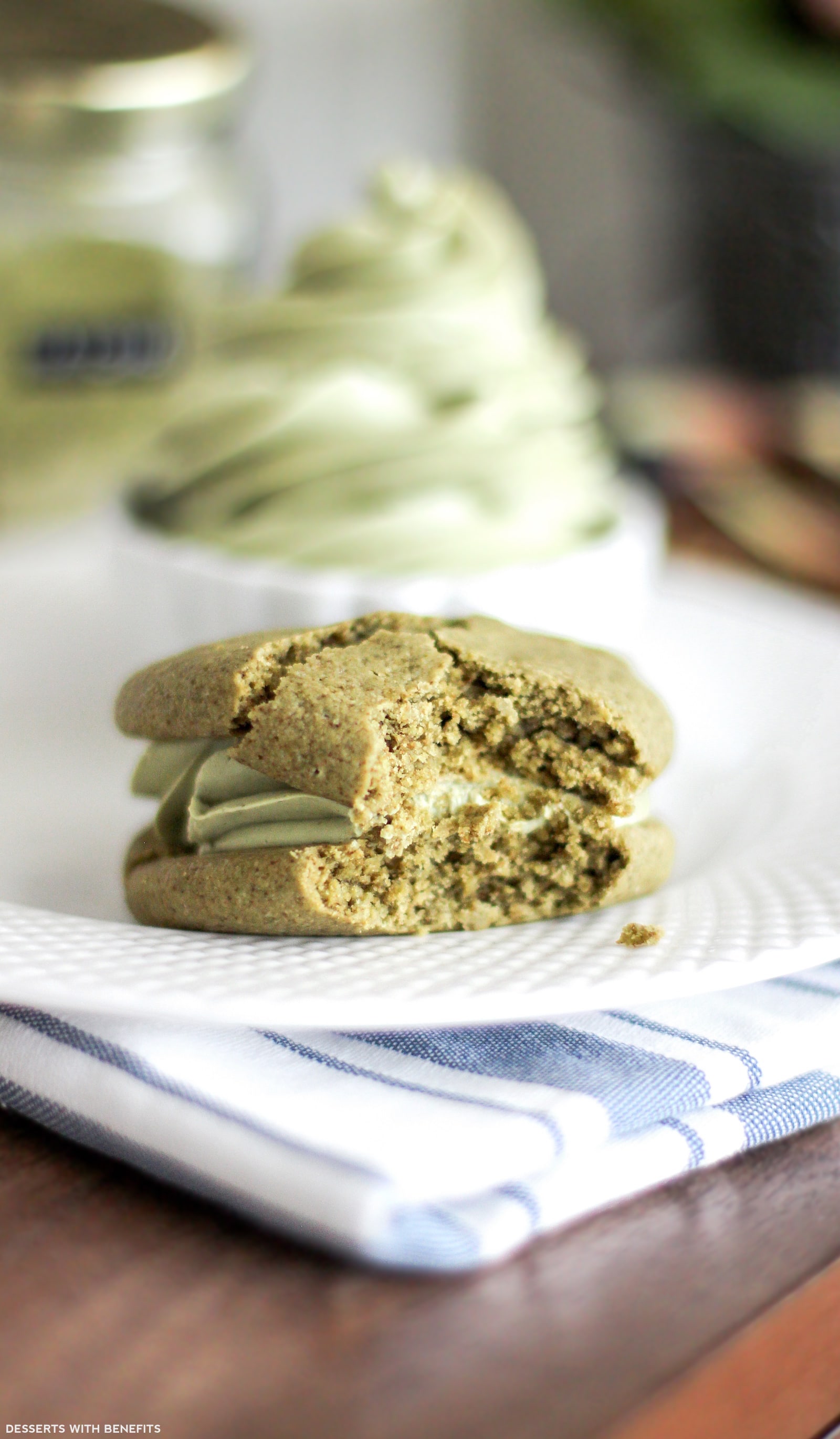 .
With love and good eats,
.
– Jess
.