Healthy Red Velvet Cheesecake Ice Cream
Rich, velvety, creamy, chocolatey decadent…  what more could you ask for in a Red Velvet Cheesecake Ice Cream??
I guess a little side of "healthy" wouldn't hurt, right?

Whoa, whoa, wait a minute.  You're telling me that this ice cream is…  good for me?
Oh yes.  This ice cream is all natural (no artificial food dyes), sugar free, low carb and high protein.  With a secret ingredient too.  This is the perfect recipe for when you are in need of some (guilt-free) indulgence!
Smooth and creamy and totally delicious.
It's like red velvet cheesecake in ice cream form…  but with a little healthy oomph!
Healthy Red Velvet Cheesecake Ice Cream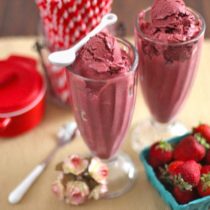 Ingredients:
32oz Low Fat Organic Cottage Cheese
124g (½ cup) Roasted Beet Puree (see this post for Directions)
4 tsp Stevia Extract
1 tbs Vanilla Paste (I used homemade!)
1 tbs Natural Butter Flavor
2 tsp Apple Cider Vinegar
½ cup Unsweetened Vanilla Soy Milk (or "milk" of choice)
40g (½ cup) Unsweetened Regular Cocoa Powder
Directions:
Freeze your ice cream maker bowl for 24+ hours (I used my KitchenAid mixer attachment).
Place a large, freezer-safe bowl in the freezer (this is the bowl you will be storing the ice cream in so make sure it is large enough).
In a blender or food processor, add the cottage cheese, beet puree, stevia, vanilla paste, butter extract and vinegar. Puree until smooth.
In a small bowl, whisk together the soy milk and cocoa powder. Pour into the blender/food processor and puree until smooth, scraping down the sides of the bowl when necessary.
Assemble the ice cream machine and bowl and pour in the ice cream batter. Churn for 15-25 minutes, or until a soft serve consistency.
Scoop the ice cream into the chilled dish and freeze until firm to your liking (usually takes 1-3 hours).  Scoop into bowls and serve!
Sooo you just saw the ingredients…  are you surprised?  Yep, this ice cream contains A VEGETABLE.  But don't worry, you can't taste it.  Trust me, I despise beets but I love this ice cream.  I could marry this ice cream, that's how delicious it is.  I've made it three times.  It's the only reason I've been buying beets lately.
But now it's time for surprise #2.  The nutrition label.  It's a good surprise, don't worry.  I compared it to Ben & Jerry's Red Velvet Ice Cream, which has a pretty unhealthy ingredient list and nutrition label.
The Ben & Jerry's nutrition label is on the left, the Desserts with Benefits label is on the right:
WOW.  Really?  A half-cup serving of ice cream with 250 calories, 8g of saturated fat and 23g of sugar?  No thanks.  I'll take my healthified version  😉
My recipe has nearly a third the calories of the Ben & Jerry's version, so you can help yourself to another (guilt-free) serving.  My recipe not only saves you calories, but it saves you fat, saturated fat, carbs and sugar.  Yeah, so let's avoid the storebought ice creams that are packed with refined white sugar, hormone-filled heavy cream, artificial flavorings and artificial food dyes.
I mean, c'mon, my ice cream has a vegetable in it.  That means…  extra scoop for you!
And me too.