Healthy Red Velvet Cheesecake Ice Cream
This healthy Red Velvet Cheesecake Ice Cream is not only naturally colored — oh yes, this contains ZERO artificial food dyes whatsoever! — but it's sugar free, low carb, and high protein too!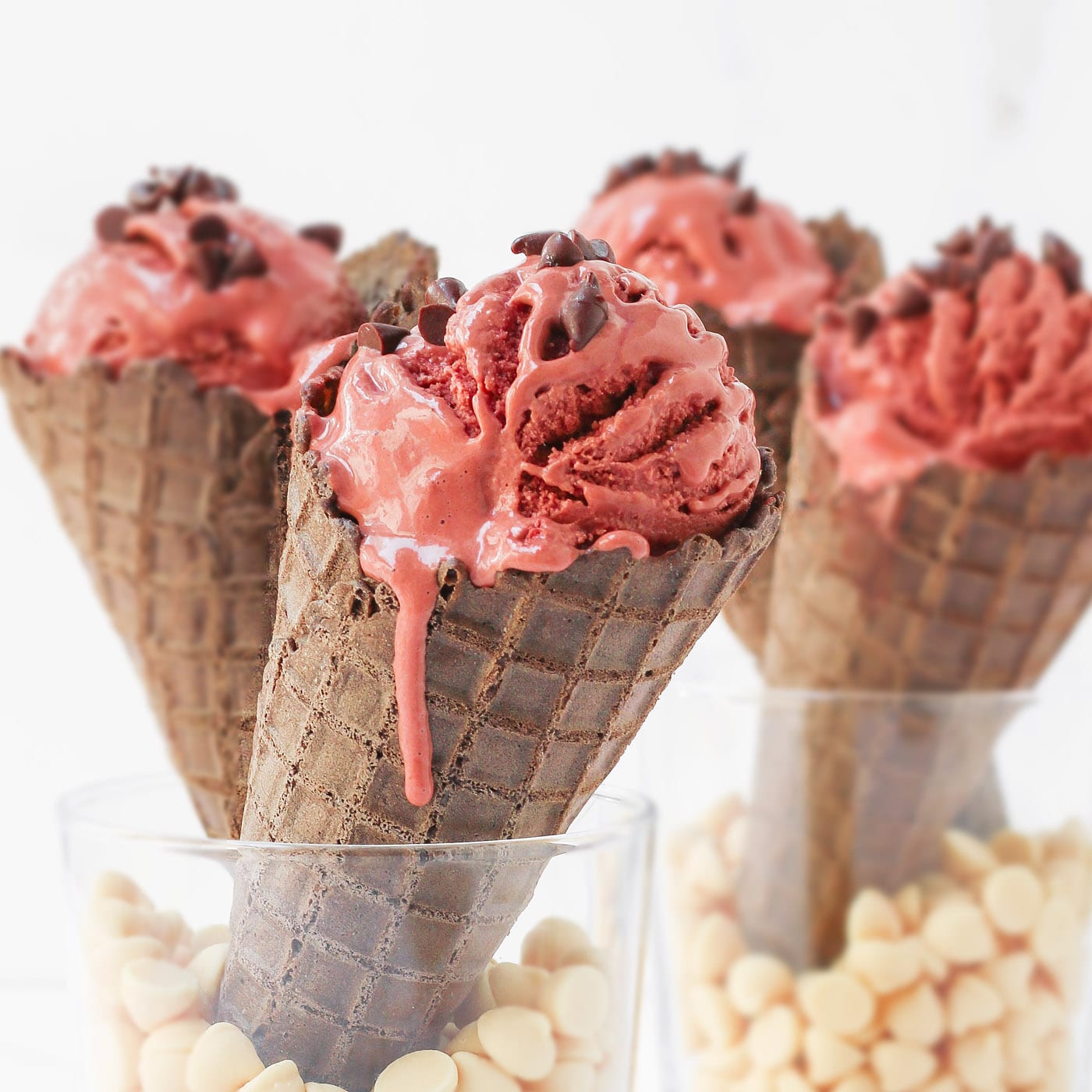 Rich, velvety, creamy, and decadent…  what more could you ask for in ice cream??
I guess a little side of "healthy" wouldn't hurt, right?
WAIT.  Whoa, whoa, whoa.  Wait a minute.  You're telling me that this ice cream is…  good for me?!?
Ohhhhh YES!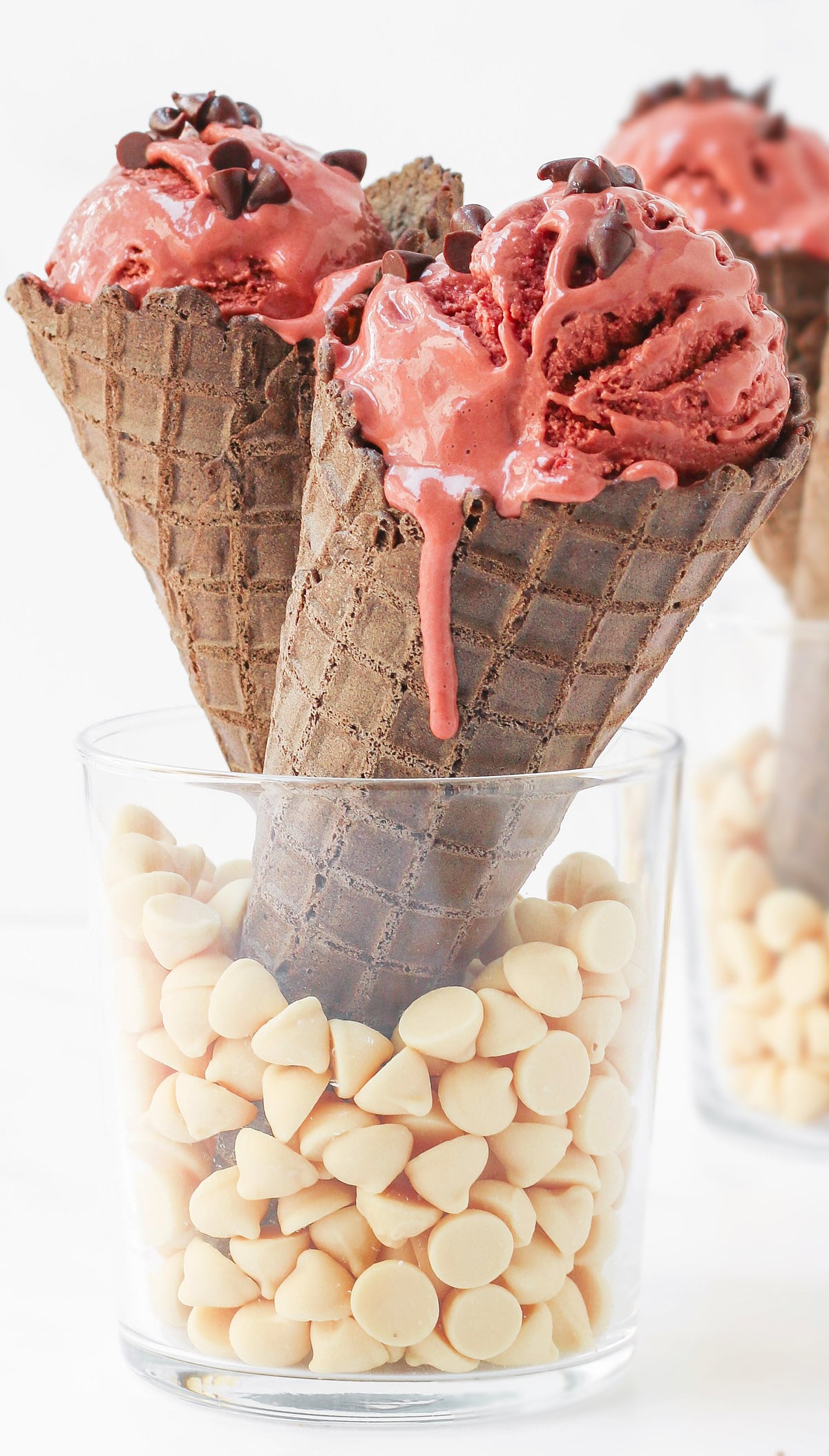 And it's made with a secret ingredient too.  A secret healthy ingredient.
Okay, I can't keep the secret any longer.  The secret ingredient is a VEGETABLE…
Any guesses?
…
BEETS!
…
Yep, this 85-calorie Red Velvet Ice Cream contains A VEGETABLE.
But don't worry, you can't taste it.  Trust me, I despise beets but I love this ice cream.  I could marry this ice cream, that's how delicious it is.  I've made it five times already.  It's the only reason I've been buying beets lately.
This is the perfect recipe for when you are in need of some (guilt-free) indulgence!  It's smooth and creamy, and totally delicious.
This easy, homemade ice cream is like red velvet cheesecake in ice cream form…  but with a little healthy oomph!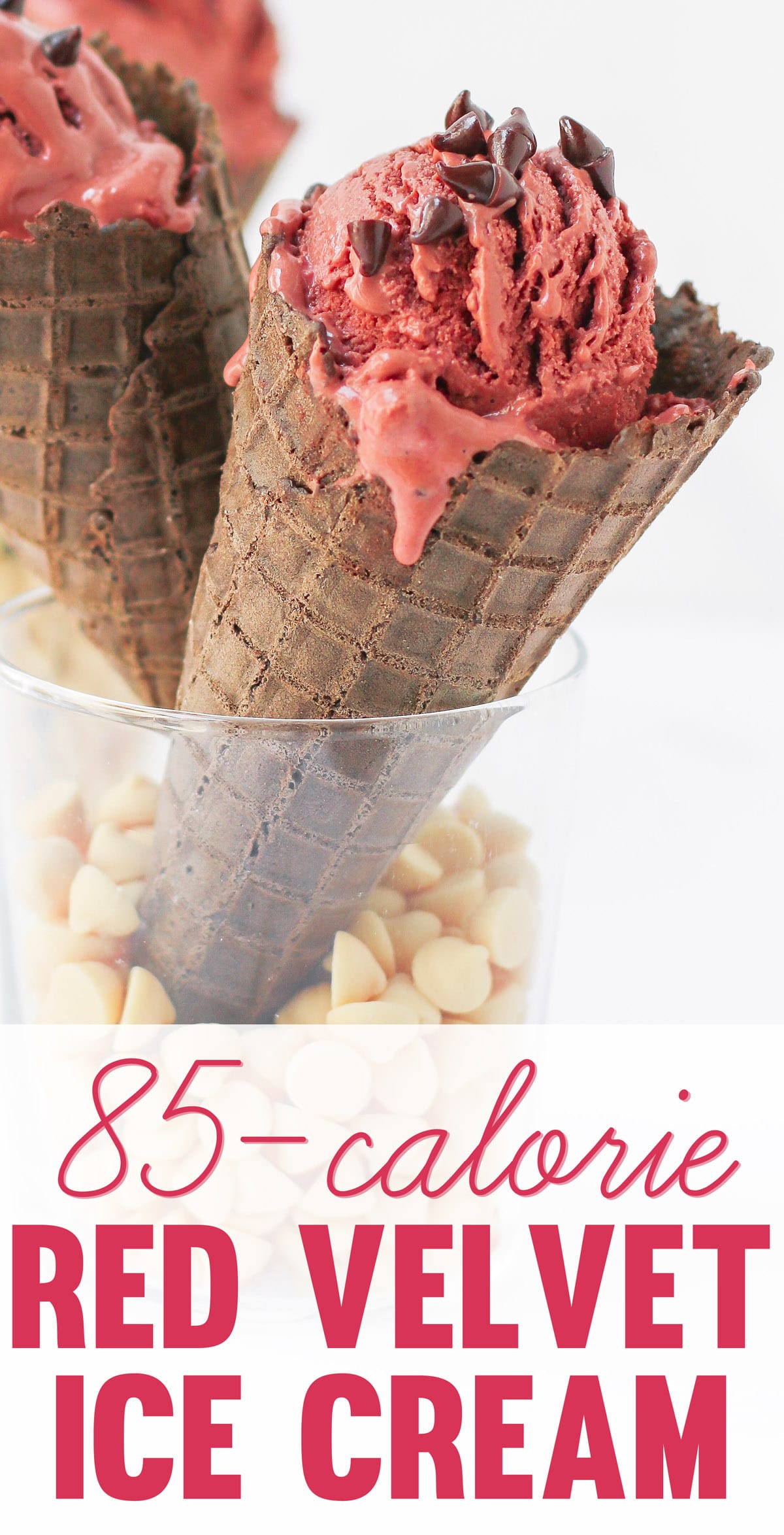 For a nutrition label comparison, here are the nutrition facts for Ben & Jerry's Red Velvet Ice Cream.
WOW.  Really?  A half-cup serving of ice cream with 250 calories, 8g of saturated fat and 23g of sugar??  No thanks.  I'll take my healthified version.  Their ice cream has a pretty unhealthy ingredient list and nutrition label.
My recipe has ⅓ the calories of Ben & Jerry's, so you can help yourself to another serving (or two), guilt-free!  My recipe not only saves you calories, but it saves you fat, saturated fat, carbs, and sugar too.  Yeah, let's avoid the store-bought ice creams that are packed with refined white sugar, hormone-filled heavy cream, artificial flavorings, and artificial food dyes.
I mean, c'mon, my ice cream has a vegetable in it.  That means an extra scoop for you!  And an extra scoop for me too  😉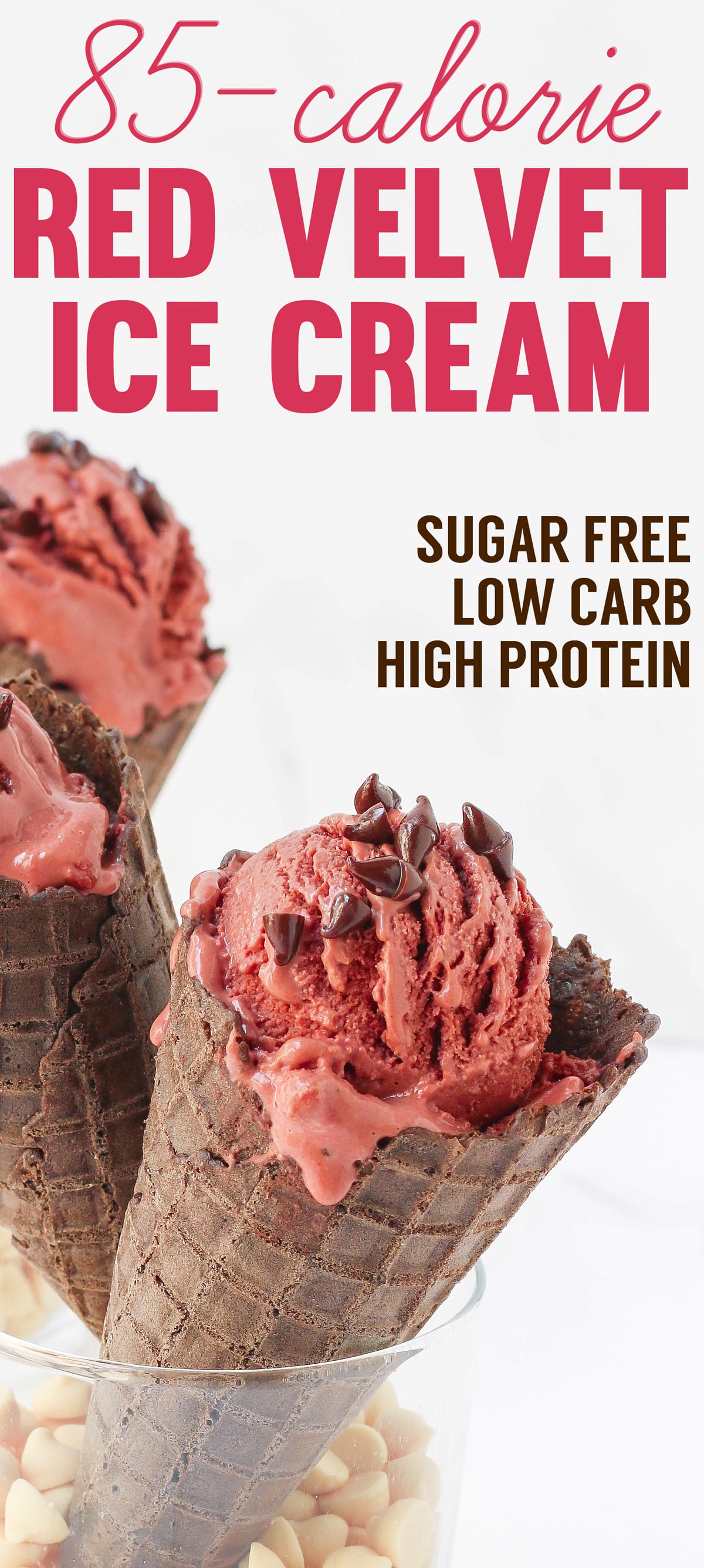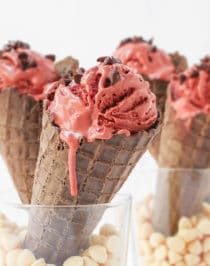 Print Recipe
Pin Recipe
Healthy Red Velvet Cheesecake Ice Cream
This Healthy Red Velvet Cheesecake Ice Cream is rich and velvety and creamy and chocolatey! Oh, and it just so happens to be all natural (no artificial food dyes), sugar free, low carb, and high protein too!

Instructions
Place a large, freezer-safe bowl in the freezer (this is the bowl you will be storing the ice cream in, so make sure it is large enough to hold 3 cups of ice cream).

In a blender or food processor, add the cottage cheese, beet puree, almond milk, stevia extract, vanilla paste, and butter flavor. Puree until smooth.

Add the cocoa powder and blend again. Then, add the vinegar and blend one last time.

Assemble the ice cream machine and bowl and pour in the ice cream batter. Churn for 15-20 minutes, or until a soft serve consistency.

Scoop the ice cream into the chilled dish and freeze until firm to your liking (for me, that's ~2 hours).  Scoop into bowls and serve with a sprinkle of chocolate chips. Enjoy!
Nutrition Facts
Healthy Red Velvet Cheesecake Ice Cream
Amount Per Serving (1 serving = ½ cup)
Calories 85
Calories from Fat 14
% Daily Value*
Fat 1.5g2%
Cholesterol 10mg3%
Sodium 300mg13%
Carbohydrates 8.5g3%
Protein 9g18%
Vitamin A 1IU0%
Calcium 10mg1%
Iron 1mg6%
* Percent Daily Values are based on a 2000 calorie diet.
Enjoy!
.
With love and good eats,
.
– Jess
.