Healthy Soft Sugar Cookies
These Soft Sugar Cookies are so sweet, buttery, rich, and delicious, you'd never know they're made without the sugar, butter, and white flour!
Sugar free, gluten free, dairy free and vegan SUGAR COOKIES?!?  Um, hi, oh yes, I'll take seven.
Cookies are very difficult to "healthify" compared to other desserts like cake and ice cream since they require a specific ratio of butter:sugar:flour.  Or, maybe they're just difficult for ME to healthify because I don't use butter, sugar and flour.
I've always struggled with baking cookies…  they either turn into soft and puffy muffin tops or crunchy cracker thingies.  They're either to moist or too dry.  Or they crumble between your fingers.  Or I burn them (oops).  But finally, some good news:  these cookies!
These Healthy Soft Sugar Cookies are a breakthrough.  A triumph.  They're soft and chewy, sweet and rich, addictive yet satisfying…  and surprisingly healthy.
They taste like Pillsbury sugar cookies sans the dangerous hydrogenated oils, unhealthy white sugar and bad-for-you bleached flour.
As a baker and food blogger, my kitchen is constantly pumping out yummy new treats.  True story, one day I made 2 layer cakes, a batch of brownies, and 3 batches of cookies.  Yes, my life is amazing.  If you're slightly jealous, I suggest you get baking ASAP!  And maybe start off with a batch of these deliciously sweet and chewy, (secretly) Healthy Soft Sugar Cookies  😉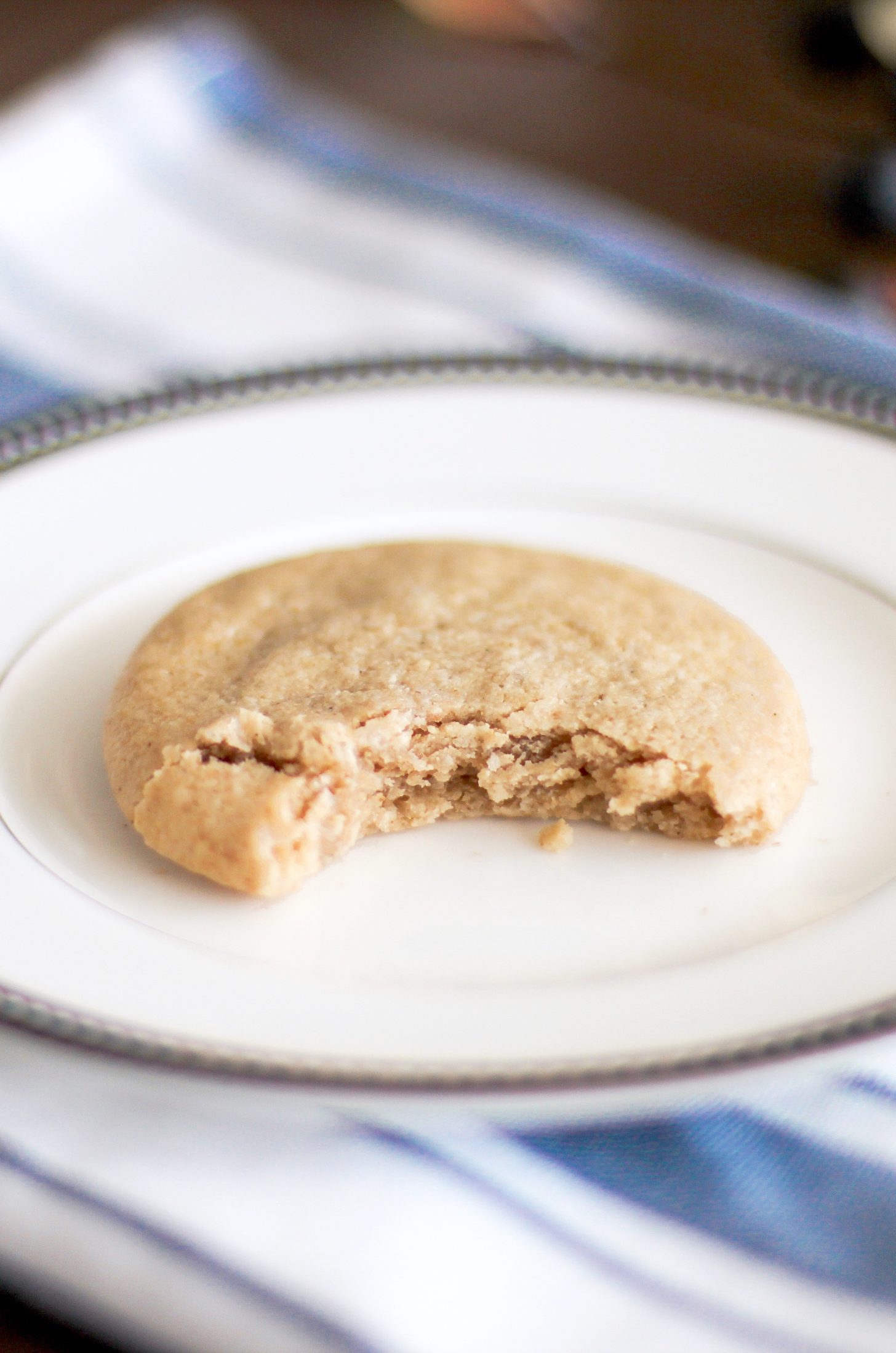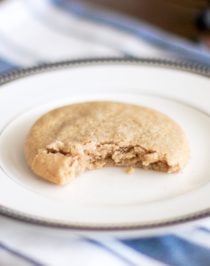 Print Recipe
Pin Recipe
Healthy Soft Sugar Cookies
These Healthy Soft Sugar Cookies are secretly guilt-free! You'd never know they're sugar free, gluten free, whole grain, eggless, dairy free, and vegan.
Instructions
Preheat the oven to 350 degrees Fahrenheit and line a cookie sheet with parchment paper.

In a medium-sized bowl, whisk together the oat flour, erythritol, baking powder and salt.

In a large bowl, whisk together the coconut oil, almond milk, vanilla extract, butter flavor, stevia extract and almond extract.

Dump the dry ingredients over the wet ingredients and fold together.  Fold until the mixture can form into a dough ball (it will look sticky at first, but then the oat flour will absorb the liquid and turn into a play-doh/cookie dough texture).

Use a medium cookie scoop to portion out the dough onto the prepared cookie sheet.  Roll the dough portions into balls, then use your fingers to press them into patties.  Form them just a tiny bit thicker and smaller than you prefer your cookies -- they spread out a little.  Bake for ~12-14 minutes, or until baked through (when you tap the center of the cookie, it should be soft, but shouldn't leave a permanent fingerprint indentation).

Slide the parchment paper off the cookie sheet and let the cookies cool completely.  Serve immediately, or transfer them to a slider freezer bag and store in the freezer for up to one month.  For a "freshly baked" cookie straight from the freezer, place a cookie on a plate and microwave for ~20 seconds!
Nutrition Facts
Healthy Soft Sugar Cookies
Amount Per Serving (1 cookie)
Calories 130
Calories from Fat 81
% Daily Value*
Fat 9g14%
Sodium 75mg3%
Carbohydrates 10g3%
Protein 2g4%
Calcium 40mg4%
Iron 0.7mg4%
* Percent Daily Values are based on a 2000 calorie diet.
For a cookie that tastes almost identical to a Pillsbury sugar cookie, the difference in health is pretty drastic.  Pillsbury sugar cookies have 3g of trans fats and nearly 1 tablespoon of sugar PER cookie, while mine have 0g of both.
Are you curious to see the ingredients inside a Pillsbury sugar cookie?  Look no further (unhealthy ingredients are in bold):
Sugar, Enriched Flour Bleached, Partially Hydrogenated Soybean and/or Cottonseed Oil, Water, Wheat Protein Isolate, Eggs, Baking Powder, Salt, Artificial Flavor.
Ahhh!  My eyes!  My eyes!
Like, seriously?  Sugar, Bleached Flour, Partially Hydrogenated Oils?  The first 3 ingredients alone are incredibly detrimental to your body.  I can't believe I used to eat that crap for the holidays (and any other festivity that included cookies).
ANYWAYS.  Onto the bigger and better.  These healthy homemade cookies  🙂
Hope you enjoy!
.
With love and good eats,
.
– Jess
.
SaveSaveSaveSave