Healthy Homemade Lemon Gummy Bears
Today, I bring to you these chewy and delicious Lemon Gummy Bears!
These healthy homemade Lemon Gummy Bears are way better than the storebought version – they're chewy and gummy, tart and sweet, and totally guilt-free.
Best of all, this super fun and easy recipe is made without the corn syrup, white sugar, artificial flavors, and artificial food dyes.
Instead of corn syrup and sugar, we use applesauce and stevia.
Instead of artificial flavors, we use natural flavors.
Instead of artificial food dyes, we use turmeric.
Whether you're a newbie or a maven to the healthy-eating world, you'll fall in love with these adorable, tart but sweet treats.

If you've read My Story, then you know what a sugar-addict I was as a kid.  Over the years I've grown and learned a lot, but one thing remains:  my sweet tooth.
Dessert cravings hit me daily, so I am constantly making healthy dessert recipes to satisfy my sweet tooth without overindulging in excess sugar and calories.  That's truly my only secret to being healthy and happy.
Who needs storebought ice cream when you've got homemade ice cream that tastes just as good?
Who would crave candy bars when you can make 'em at home?
Who would buy gummy bears when you can whip up a batch in your own kitchen?
Healthy Homemade Lemon Gummy Bears
Prep Time: 10 minutes
Cook Time: 15 minutes
Total Time: 25 minutes
These Healthy Homemade Lemon Gummy Bears are gummy, tart, sweet, and totally guilt-free.  This super easy (and fun!) DIY recipe is made without the corn syrup, white sugar, artificial flavors, and artificial food dyes.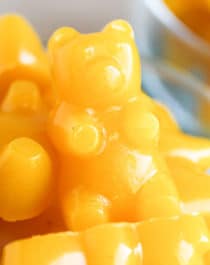 Calories per serving: 50
Ingredients:
1½ cups Lemon Juice (I used bottled lemon juice)
¾ cup Unsweetened Applesauce
½ tsp Ground Turmeric
60g (6 tbs) Unflavored Gelatin
1 tsp Stevia Extract
½ tsp Lemon Flavor
Directions:
In a nonstick saucepan, whisk together the lemon juice, applesauce, and turmeric.
Sprinkle the gelatin on top and let sit for 5 minutes.  It should absorb most of the liquid.
Place the pan over medium-high heat. Whisk occasionally until the mixture is smooth. When the gelatin is completely melted and the mixture is hot, remove from the heat.
Whisk in the stevia extract and lemon flavor.
Place your gummy bear molds on a cookie sheet and then fill the molds with the gummy bear mixture. Let cool on the counter for about an hour, then place the pan in the fridge. Refrigerate until firm (I leave them overnight).  Refrigerate to store. Keeps for ~3 days.
.
Here is the recipe's nutrition label:
I have the same sweet tooth today as a 24-year-old as I did as a 10-year-old. I gotta eat sweets on the daily. If you're the same way, you'll ADORE these Healthy Homemade Lemon Gummy Bears.  It'll squash your sweet cravings without the extra calories and sugar.  Now THAT is a match made in heaven for easy summer living.

Enjoy!
.
With love and good eats,
.
– Jess
.