Healthy Homemade Lemon Gummy Bears (and my Secret to Being Healthy and Happy!)
Today, I bring to you these Healthy Homemade Lemon Gummy Bears and my secret to being healthy and happy!
This post was sponsored by Collective Bias, Inc. and Aquafina. All opinions are mine and mine alone! Thank you for supporting the brands that keep Desserts With Benefits going! #AquafinaSparkling #CollectiveBias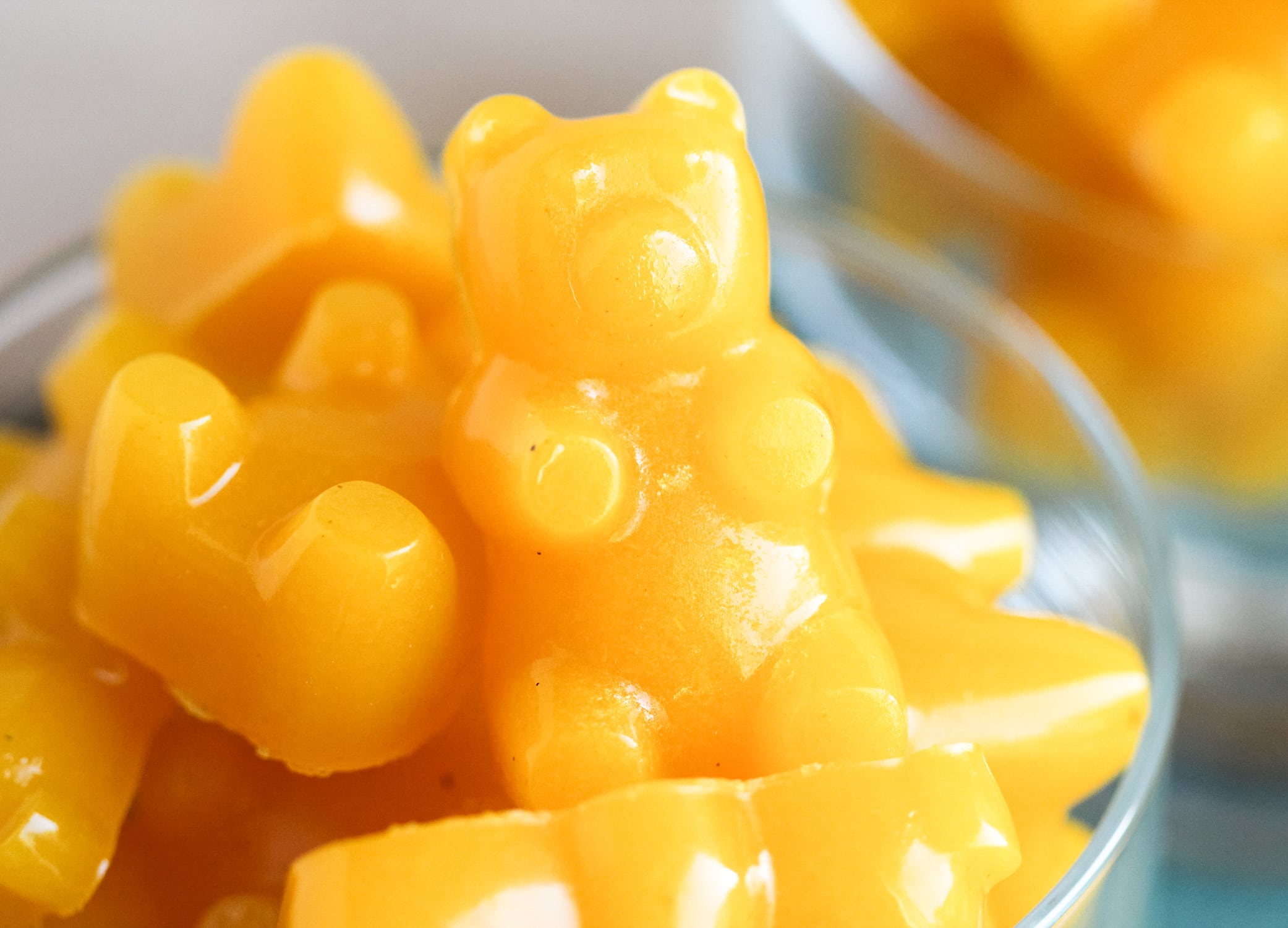 These Healthy Homemade Lemon Gummy Bears are WAY BETTER than the storebought version – they're chewy and gummy, tart and sweet, and totally guilt-free.  This super easy (and fun!) DIY recipe is made without the corn syrup, white sugar, artificial flavors, and artificial food dyes.
Instead of corn syrup and sugar, we use applesauce and stevia.
Instead of artificial flavors, we use natural flavors.
Instead of artificial food dyes, we use turmeric.
Whether you're a newbie or a maven to the healthy-eating world, you'll fall in love with these adorable, tart but sweet treats.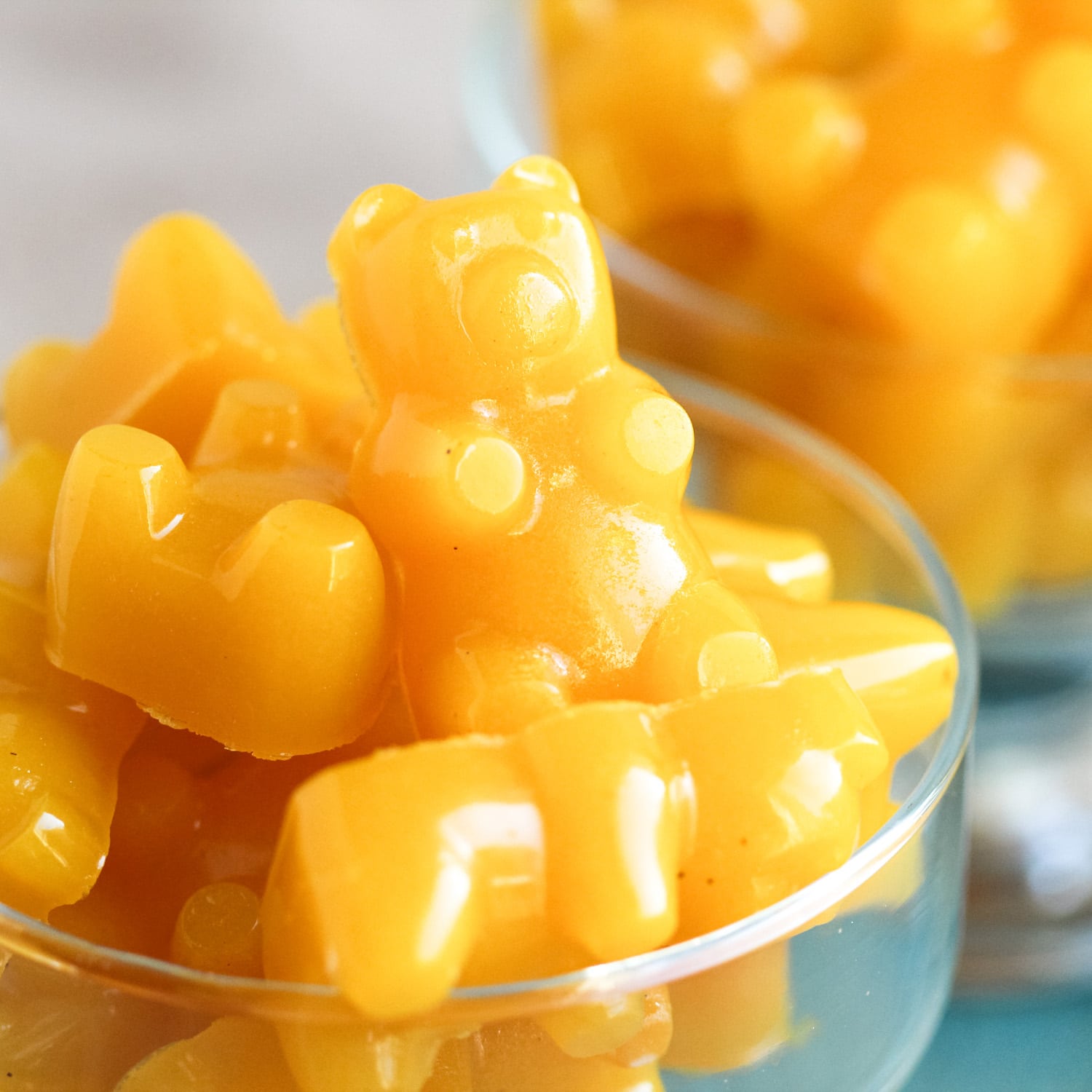 If you've read My Story, then you know what a sugar-addict I was as a kid.  Over the years I've grown and learned a lot, but one thing remains:  my sweet tooth.
Dessert cravings hit me daily, so I am constantly making healthy dessert recipes to satisfy my sweet tooth without overindulging in excess sugar and calories.  That's truly my only secret to being healthy and happy.
Who needs storebought ice cream when you've got homemade ice cream that tastes just as good?
Who would crave candy bars when you can make 'em at home?
Who would buy gummy bears when you can whip up a batch in your own kitchen?
These delicious Healthy Homemade Lemon Gummy Bears were inspired by the light and citrusy flavors of one of my favorite beverages:
As a former soda-drinker (more like soda-addict) and someone who admittedly doesn't drink enough water because it's so…  boring, I am a HUGE, huge fan of sparkling water.  I drink it on a regular basis in homemade sodas, mocktails, AND cocktails.
My usual mix is a can of flavored sparkling water, a few drops of stevia extract (totally optional), and a squeeze of citrus.  Orange, grapefruit, lemon, lime — it's all good!  You can't go wrong with a little apple juice or orange juice added either.  And if you're feeling frisky, a little splash (or two) of Homemade Limoncello 😉
Because seltzer water gives you that soda feel without all the calories and high-fructose corn syrup, you can satisfy your soda craving the healthier way.  Seltzer fills you up fast, all while being calorie- and sugar-free!
My best friend of almost 13 years (we met in MIDDLE SCHOOL!) recently flew down to Texas to visit me for a couple of weeks.  We get closer and closer every time we hang out and I'm so proud to call her my friend.
We dropped by Target to get some groceries for her stay, and since we're both seltzer-lovers, we immediately gravitated towards the beverage aisles.  There are so many flavors to choose from nowadays, but the most common are lemon and lime.  They're classics.  We already put the lemon lime and orange grapefruit 8-packs of Aquafina Sparkling in our cart, but when we spotted their brand new black cherry dragonfruit and mango pineapple flavors, those obviously landed in our cart too.
Aquafina Sparkling has 0 calories, 0g sugar, and 0 artificial flavors.
Cheers to that!
If you want to try Aquafina Sparkling, it's available at Target.  There will even be samplings and tasting stations in certain locations, so if you wanna try it before you buy it, be sure to stop by your local Target!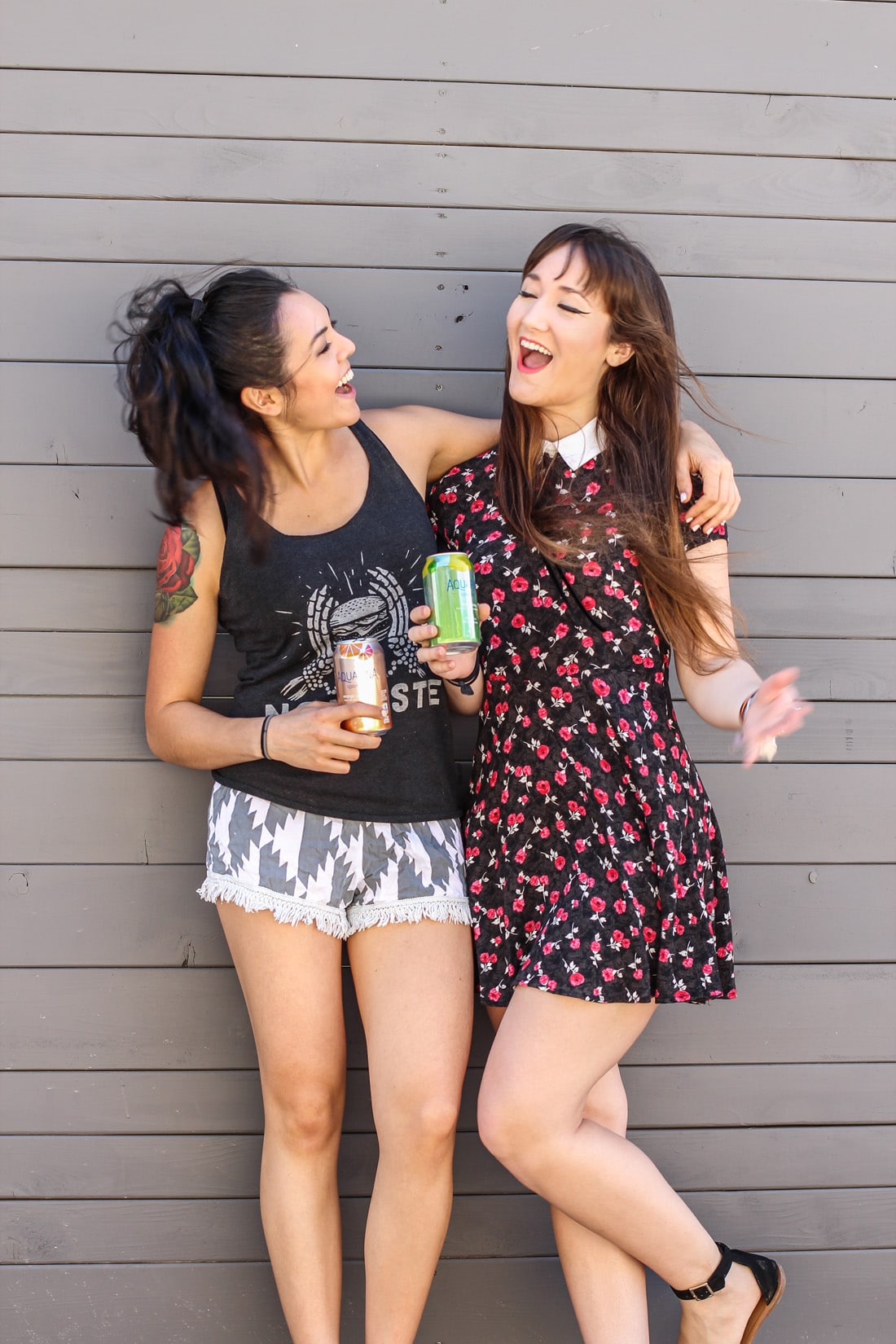 My friend and I drove home, went on a walk under the Texas sun, and sipped on this super fun bubbly all along the way.
I can't believe we met in 7th grade.  We've been through it all — the good and the bad, the college days and the "real life" days.  We live in different states now but I'm so glad we can visit each other every now and then.
And because we're both goofs at heart, I had to throw this one in there…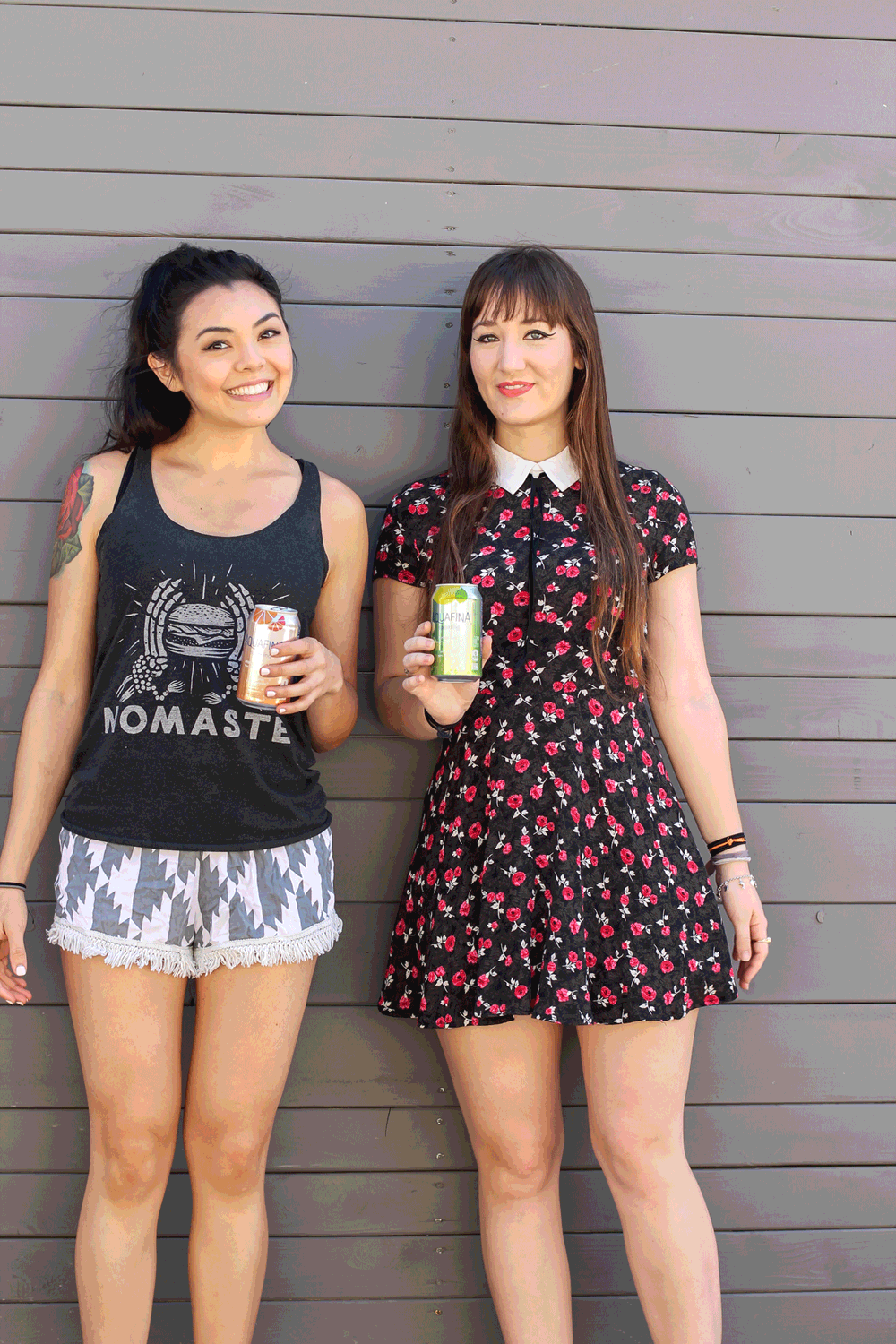 In May, we will both be bridesmaids to another girl we're best friends with, who I actually met in 5th grade (!!!).  It's so hard to believe that the three of us basically grew up together and despite living so far apart, managed to stay close after all this time.
Lifelong friends is where it's at.
EDIT:  Lifelong friends who are as dessert-obsessed as you is where it's at.
Homemade Ice Cream, Homemade Soda, Homemade Lemon Gummy Bears…  we ate it all!

Healthy Homemade Lemon Gummy Bears
Prep Time: 10 minutes
Cook Time: 15 minutes
Total Time: 25 minutes
These Healthy Homemade Lemon Gummy Bears are gummy, tart, sweet, and totally guilt-free.  This super easy (and fun!) DIY recipe is made without the corn syrup, white sugar, artificial flavors, and artificial food dyes.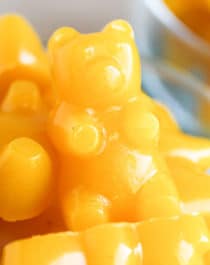 Calories per serving: 50
Ingredients:
1½ cups Lemon Juice (I used bottled lemon juice)
¾ cup Unsweetened Applesauce
½ tsp Ground Turmeric
60g (6 tbs) Unflavored Gelatin
1 tsp Stevia Extract
½ tsp Lemon Flavor
Directions:
In a nonstick saucepan, whisk together the lemon juice, applesauce, and turmeric.
Sprinkle the gelatin on top and let sit for 5 minutes.  It should absorb most of the liquid.
Place the pan over medium-high heat. Whisk occasionally until the mixture is smooth. When the gelatin is completely melted and the mixture is hot, remove from the heat.
Whisk in the stevia extract and lemon flavor.
Place your gummy bear molds on a cookie sheet and then fill the molds with the gummy bear mixture. Let cool on the counter for about an hour, then place the pan in the fridge. Refrigerate until firm (I leave them overnight).  Refrigerate to store. Keeps for ~3 days.
.
Here is the recipe's nutrition label:
I have the same sweet tooth today as a 24-year-old as I did as a 10-year-old. I gotta eat sweets on the daily. If you're the same way, you'll ADORE these Healthy Homemade Lemon Gummy Bears along with some lemon lime Aquafina Sparkling.  It'll squash your sweet cravings without the extra calories and sugar.  Now THAT is a match made in heaven for easy summer living.

Enjoy!
.
With love and good eats,
.
– Jess
.