Healthy Homemade Gummy Bears — Orange Flavored
These 5-ingredient Healthy Homemade Orange Gummy Bears are just like the storebought kinds — they're soft, chewy, sweet and bursting with orange flavor!  You'd never know they're fat free, refined sugar free and all natural…  YUP, that means no high-fructose corn syrup, artificial food flavorings, synthetic food dyes or preservatives whatsoever!
These Homemade Orange Gummy Bears are super chewy, sweet and addicting, you'd never know they're made with a little secret ingredient.
Can you guess what it is?  I'll give you a few hints:
It's

orange

It's crunchy
A lot of people like it (but I hate it)
Rabbits eat 'em
Secret Ingredient = Carrots!
Yes, these Homemade Orange Gummy Bears have carrots in them.  But you'd never know it, I swear.  You gotta trust me on this one.  I absolutely despise the taste of raw carrots and I ate these Gummy Bears one after another, after another, after another.  No carrot taste in the slightest.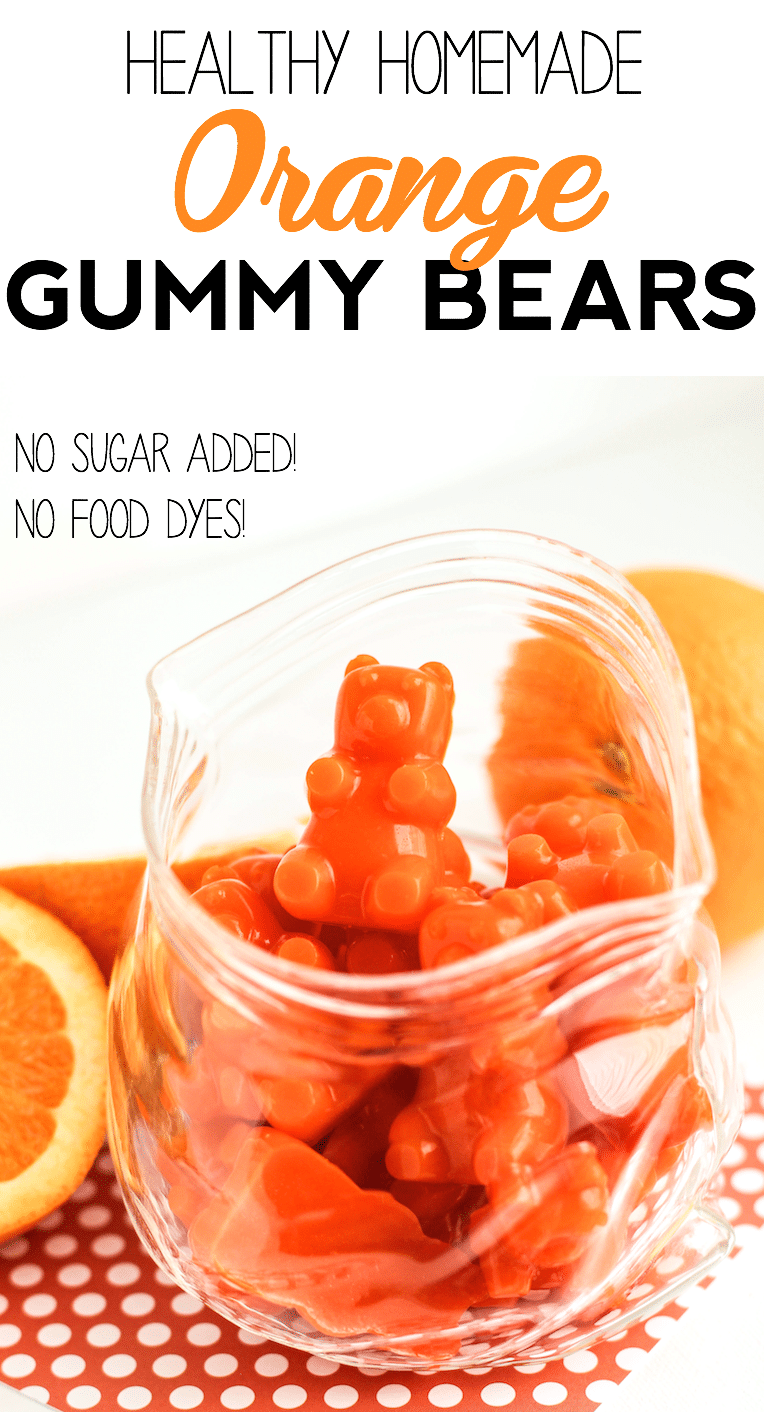 To be completely honest, I'm probably not the best Nutritional Sciences student out there.  I eat healthy and everything, but I definitely don't eat enough vegetables on a daily basis.  I mean, how could I when I have over 40 homemade Protein Bars stashed away in my freezer right alongside a big tub Chocolate Frozen Yogurt?  And that's not all…  I always have a fresh batch of sweets in the fridge.  Last week I had Peanut Butter Fudge and this week I have a triple-sized batch of Pumpkin Pie Cheesecake Dip waiting for me.  I swear, it's calling my name right now.
Ohmygodmylifeisfallingapart.
Just kidding.  Because I got some veggies in with these Healthy Homemade Orange Gummy Bears  😉
When KitchenAid® sent me their Juicer Attachment I was beyond excited, but a little nervous too — this is my first juicer and I've never juiced before in my life.  My nerves flew out the window when I turned to my little "healthy food community" on Instagram.  I asked what I should make with the juicer first and got a bunch of great ideas for some daily juice recipes.  I knew right then that this was an opportunity for me to incorporate more vegetables into my diet.  Rather than eating vegetables just at dinner and sometimes during lunch and snacks, I could now eat veggies for breakfast, snacks and dessert in the form of juices!  I literally ran over (okay, I drove over) to Costco and got about 8,052 pounds (okay, more like ~25 pounds) of fresh, organic fruits and veggies to start juicing.  I got organic spinach, kale, carrots, strawberries, raspberries, blueberries and apples.  Then I went to Whole Foods for some organic oranges and lemons.
As I was hauling all that fruit and veg up the stairs to my apartment, I planned on what desserts I should make with them.  Juices?  Smoothies?  Applesauce?  Nah.
I was craving oranges and then my Strawberry Gummy Bears popped into my head.  Yup, gummy bears it is.  I edited the recipe to use oranges instead of strawberries, and to add vibrant orange color (without using any food coloring) I added some carrots too.
About six or seven years ago, my dad had a health scare and decided to start living a healthy lifestyle (this is what made me so interested in nutrition!).  He bought a (stand-alone) juicer but ended up absolutely hating it.  My mom tried it out and pretty much wanted to chuck the thing out the window.  It was clunky, it was heavy, it took up way too much counter space, it was loud and impossible to clean.  Because of their bad experiences, I had a few negative preconceived notions about juicers…
But that changed about a week ago.  I tried out the KitchenAid® Juicer Attachment and was totally shocked…  in a good way.  It didn't have any of the problems my parents had with their juicer.  Since it attaches to the head of your stand mixer, it doesn't take up any counter space.  Plus, it's dishwasher safe (haaaallelujah), it extracts a ton of juice and it's super easy to use.  Even for me, the most technologically inept person on earth…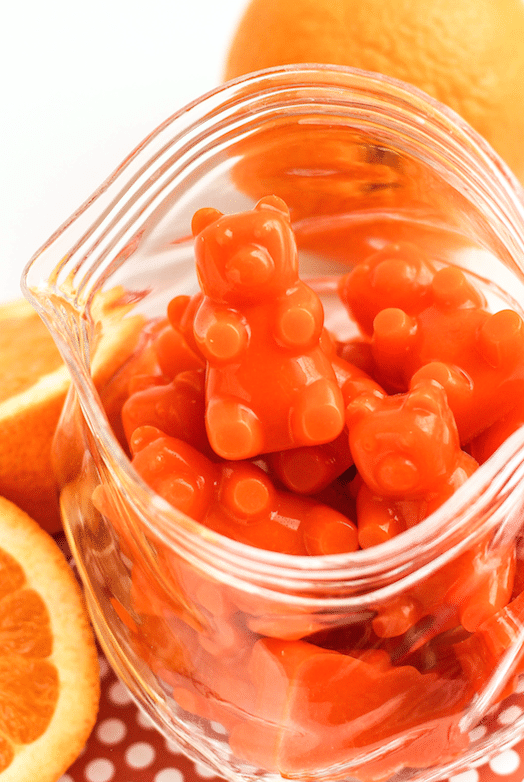 Grab some oranges and carrots and get on juicin'!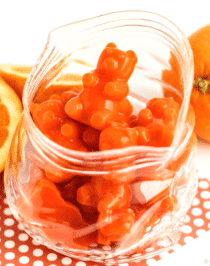 Print Recipe
Pin Recipe
Healthy Homemade Orange Gummy Bears
These 5-ingredient Healthy Homemade Orange Gummy Bears are just like the storebought kinds -- they're soft, chewy, sweet and bursting with orange flavor! You'd never know they're fat free, refined sugar free and all natural!
Instructions
Give the oranges a rinse, then slice off the orange peels with a sharp knife. It doesn't have to be perfect, just get the majority of the peel off. Slice the oranges in half.

Wash the carrots, chop the ends off and then chop into 4" chunks (no need to peel the carrots).

Attach the

KitchenAid Juicer Attachment

 to your 

stand mixer

fitted with the high pulp filter, then place a tall container underneath the juice opening and another container underneath what I call the "poop shoot."

Turn the stand mixer on high speed and start juicing! Juice the oranges until you get 1⅔ cups worth of juice, and juice the carrots until you get ⅔ cup worth of juice.

In a nonstick saucepan, stir together the orange juice, carrot juice, stevia extract and orange flavor with a rubber spatula. Stir in the gelatin, then let it sit for 5 minutes.

Place the pan over medium/medium-high heat. Stir occasionally until the mixture begins to bubble. When it starts to bubble, stir constantly and keep it on the heat for ~2 more minutes.  Remove from the heat.

Place your 

gummy bear molds

 on a cookie sheet and then fill the molds with the gummy bear mixture (I use a ¼ cup measuring cup). Let cool on the counter for about an hour, then place the pan in the fridge. Refrigerate until firm (I leave them overnight).  Refrigerate to store. Keeps for ~3 days.
Enjoy  🙂
.
With love and good eats,
.
– Jess
.