Healthy Chocolate Chip Cookie Dough DIY Protein Bars
I'm really surprised that I've never gotten sick with Salmonella.  I used to eat raw cookie dough by the tub.  The 36oz tubs.  From Costco.  Yeahhh.  So I'd be lying if I said I didn't miss grabbing a movie, a spoon and the cookie dough tub then plopping myself on the couch… ehem… so I solved that problem by making cookie-dough-meets-protein-bar.
These protein bars are super sweet, buttery and decadent, just like the cookie dough you'd buy from the store only a lot healthier.  These are chewy with the occasional crunch from the chocolate chips.  They don't taste healthy by a long shot, you need to make them ASAP!
If you are the on-the-go type, wrap each bar in parchment paper, tape to close and keep covered on a plate, that way you can easily grab them out of the fridge.
Quite honestly, this recipe shouldn't be limited to just protein bars… you can totally eat it straight out of the mixing bowl.  Or just keep it in the fridge.  You know, for emergency snacks… emergency snacks that must contain chocolate.
I'd choose these Healthy Chocolate Chip Cookie Dough DIY Protein Bars over cookie dough, storebought protein bars and junk food in every way, shape and form.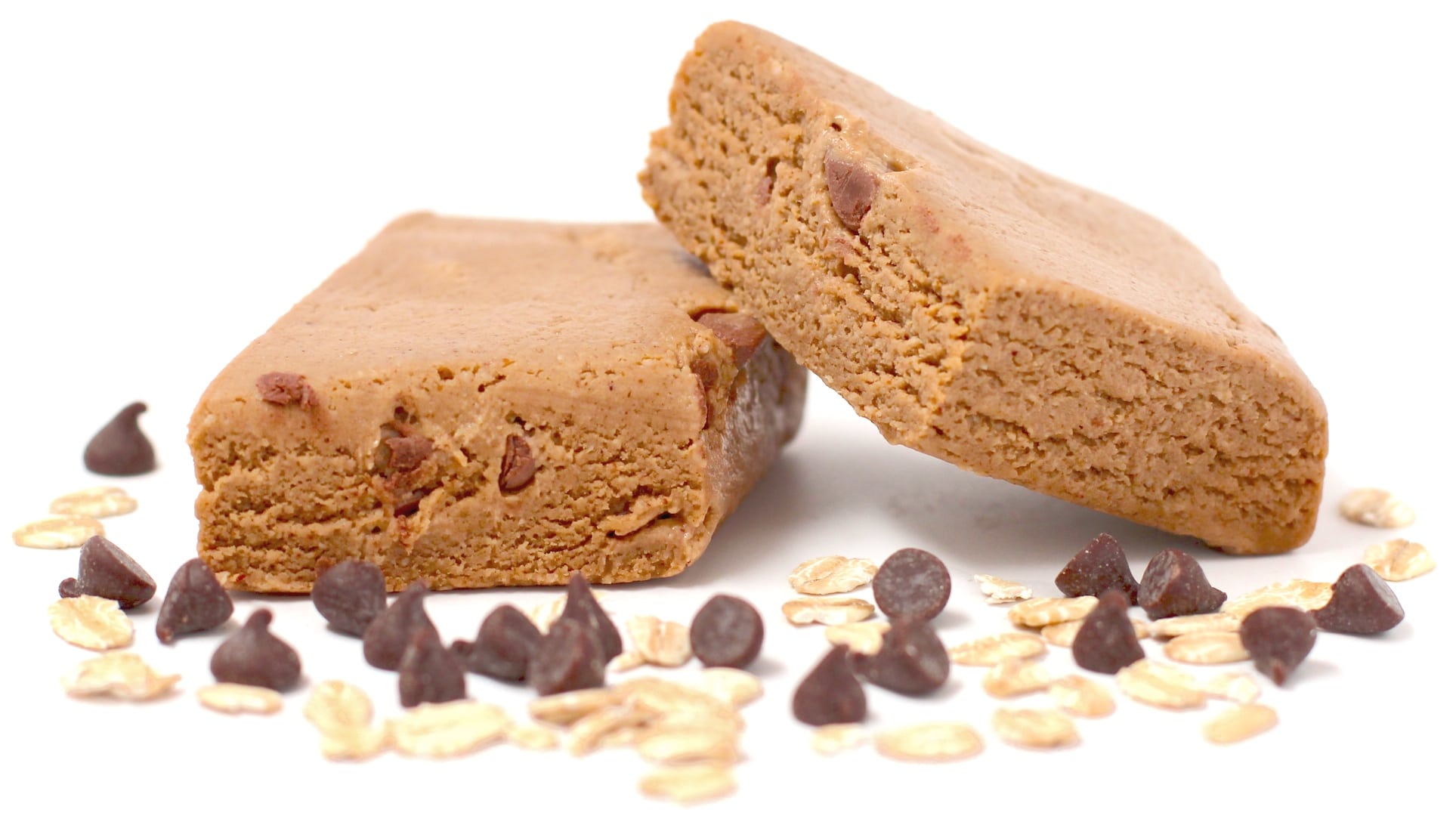 Does that look healthy to you?  I didn't think soooo  😉
Healthy Chocolate Chip Cookie Dough DIY Protein Bars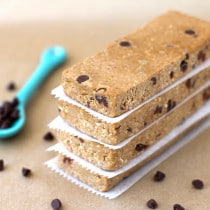 Ingredients:
Roasted Almond Butter
Unsweetened Vanilla Almond Milk
Vanilla Crème-Flavored Liquid Stevia Extract
Natural Butter Flavor
Vanilla Brown Rice Protein Powder
Oat Flour
Salt
Mini Semi-Sweet Chocolate Chips
Directions:
Notes:
I originally wasn't going to share the recipe here because I worked so incredibly hard on publishing 
DIY Protein Bars
.  But, I understand not having a recipe here can be frustrating.  So, I'll meet you halfway...  how does that sound?  I'll show you all the ingredients I use in the recipe.  That way, you can determine on your own whether or not the cookbook is for you!